Discover more from The Upside Newsletter
Data, insights, and stories from the world of sports, business, and technology.
Over 6,000 subscribers
🏈 38M Americans to bet on NFL games
Dear Friends and Members,
Last Friday, we published our analysis:🏒 NHL replaces tech partner in player, puck tracking, in which we discussed the current tech tracking technologies used in various sports. To access this analysis be sure to sign up for our premium subscription by clicking the "subscribe now" button below.
Looking for access all of our previously published analysis, insights, data, podcast interviews, and more? Subscribe now to unlock access!
On Friday we plan to publish our next weekly sports and tech analysis.
📰 Top Stories We're Reading This Week 
🥽 Apple AR headset details may have been discovered in hidden iOS code
🥽 BAE Systems shows off AR glasses prototype
👓  NHL replaces tech partner in player, puck tracking
🎒 Yves Saint Lauren backpack breathes new life into Project Jacquard
🏊 Polar is bringing real-time heart rate to Form AR swimming goggles
🎮 Twitch Named Exclusive Streaming Partner of National Women's Hockey League
💸 Latest Investment Trends
📊 Tech Stats of the Week
📸 Snapshots of the Week
Let's jump right into the insights and upside for all of these top stories
---
🎮
AR/VR/Video Sports News
🥽 Apple AR headset details may have been discovered in hidden iOS code | Via: Wearable
An Apple AR headset or smartglasses may well still be a thing despite recent speculation that the idea was being canned.
The evidence that it is still very much a thing lies in code found in an insider build of Apple's iOS 13 operating system, where references to a 'STARTtester' app that can apparently switch between in and out of a head-mounted mode were found.
Additional revealing info include mentions of two head-mounted states that are being tested, which include 'worn' and 'held'. There are also details of a 'Starboard' system for Stereo AR-enabled apps, which could be an indication of some form of augmented reality headset.
The build also drops the codename Garta as being associated with an augmented reality device Apple is in the process of developing. MacRumors did more digging and found further references that could suggest work on an augmented reality is currently taking place.
For a while now, Apple has been rumored to be working on an AR wearable of some form that was tipped to be launching in 2020. It's also been making big improvements to its ARKit platform, which is largely accessible through Apple's smartphones and tablets.
Back in July, there were reports that Apple reportedly terminated development of its AR smartglasses according to Digitimes, who have been hit and miss when reporting about the inner workings of Apple in the past.
With Apple's next big event set to take place on 10 September, we are expecting to hear details about the Apple Watch Series 5. Maybe Apple could be saving one of its famous 'One more thing' moments for our first peek at an AR wearable too.
⬆️ The Upside:  This should not come as a surprise. Based on our sources, Apple is set to launch its smart glasses in 4Q20. Apple is well positioned to being smart glasses to the masses and become a serious leader in this emerging space. We expect Apple to convert a good portion of its iOS users to its upcoming smart glasses.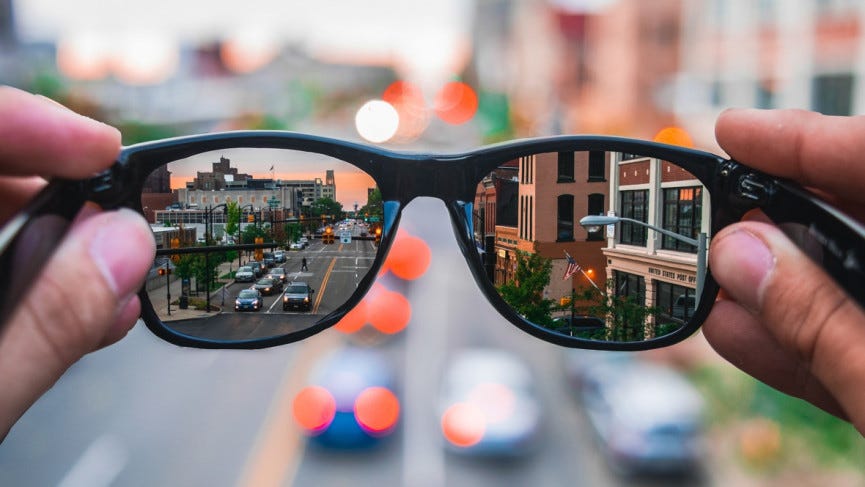 🥽 BAE Systems shows off AR glasses prototype | Via: Wearable
AR glasses are one of those bits of tech that's constantly being worked on by countless companies in the background. Prototypes don't roll round all that often, though, so it's great to see something concrete, from BAE Systems this time.
The UK aerospace and defence company says it has finalised the prototype of its AR glasses, which are designed to display guidance, targeting and mission informations to users (who sound a lot like pilots to us). The glasses have a full-color display, have doubled their field of view versus previous versions to 40 degrees by 30 degrees, and have inertial head-tracking to boot.
BAE says this is the penultimate phase of development, with the prototype now to be turned into a final product that fits comfortably and use free-space tracking to display its guidance more accurately and helpfully. Sounds like pilots rocking smartglasses aren't too far away from being a reality.
⬆️ The Upside:  We believe that these BAE AR glasses could have great potential for select verticals like the military, especially that BAE manages to build a coherent suite of contextual AR apps.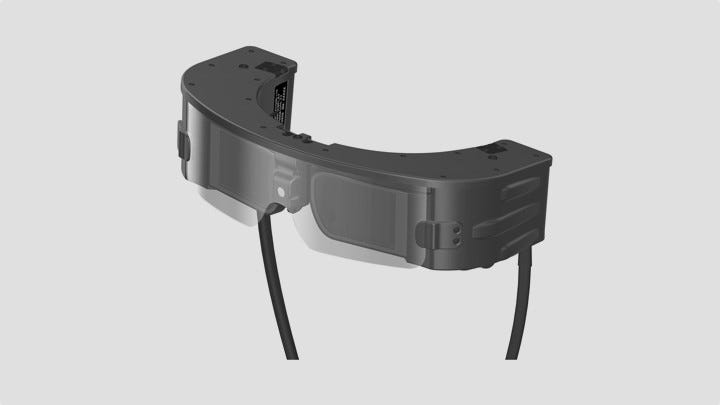 Picture: BAE
👓  NHL replaces tech partner in player, puck tracking | Via: ESPN
This week the NHL announced that it has dropped Jogmo World Corp. as a primary technology partner in its player and puck tracking plans, but vows to have the highly anticipated data collection system up and running by the 2020 Stanley Cup Playoffs.
"We're in the process of making a switch," NHL commissioner Gary Bettman told ESPN on Thursday. "Jogmo had some organizational and financial challenges which we were concerned about at the offset, but actually came to fruition. We have a new partner who can do it and we're very confident that that hasn't slowed us down."
A league source said that technology company SMT is the league's new partner.
⬆️ The Upside: We believe this is a great move by the NHL. SMT has a solid track record when it comes to building robust players' tracking technologies for live TV across many leagues. Plus the NHL already has a commercial relationship with SMT, which likely played a critical role here.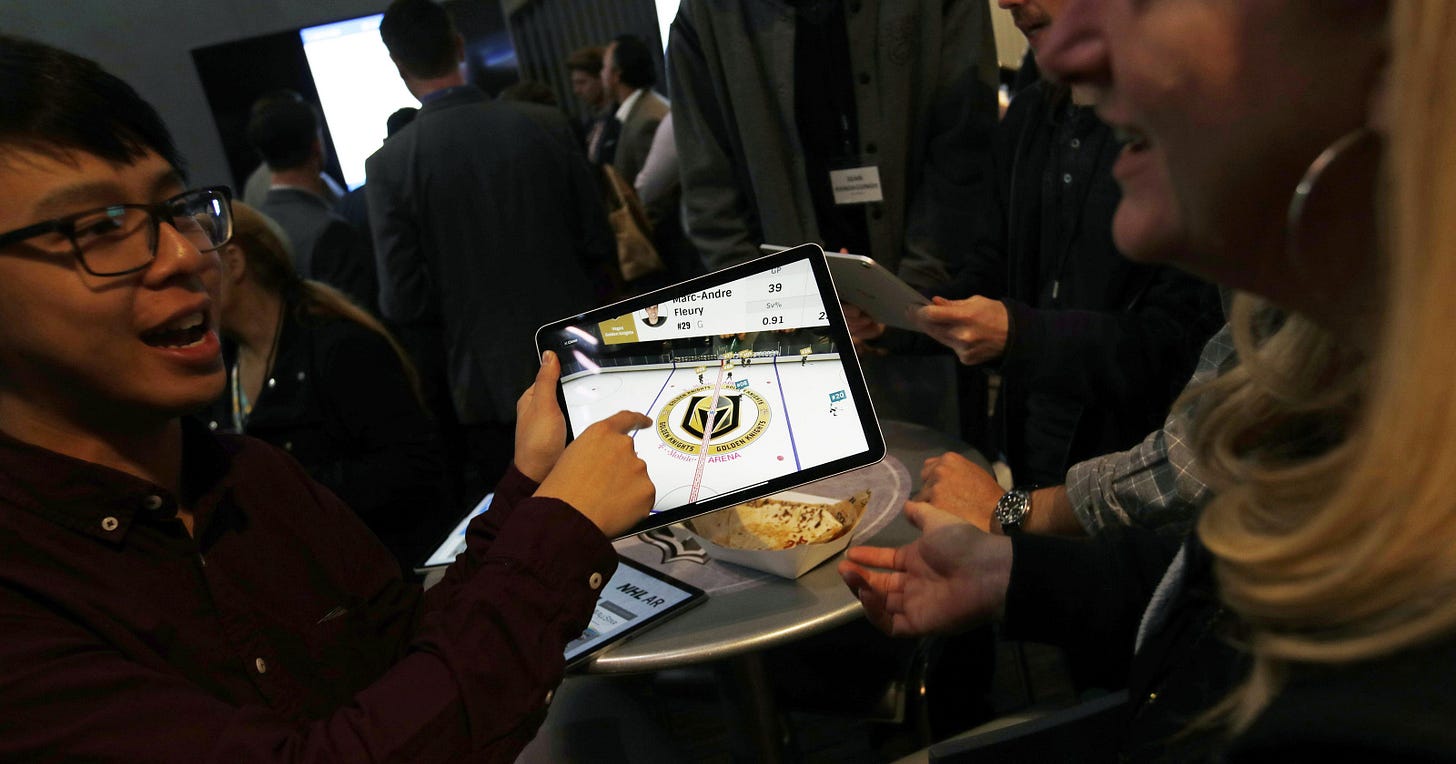 Picture: NHL
---
🚑 Wearables, Health, Nutrition News
🎒 Yves Saint Lauren backpack breathes new life into Project Jacquard | Via: Wearable
Google has revived its Project Jacquard smart clothing integrations, with the addition of a pricey backpack from Yves Saint Laurent.
The Cit-E backpack is a €795 black canvas backpack with some smartphone-controlling smarts built in, and will ship in mid-October.
The backpack is a sleek number, and about as subtle as an Yves Saint Laurent bag comes, missing the YSL branding that normally adorns its more outwardly showy handbags and luggage.
The connected part of the bag comes on one of its shoulder straps - that's where Google's Jacquard is located. The strap can be interacted with in a few ways, including swiping up or down, double tapping, and covering it up. These will control a connected smartphone without the need to get it out of your pocket (or, say, backpack). The strap also has a notification indicator to let you know when alerts arrive.
The last major output from Project Jacquard was the connected Levi's Commuter Jacket, and there are clearly some shared details here despite the intervening years between that jacket's release and now. Both are powered by a removable tag, with the Cit-E bag's slotting into a receiver inside its main pocket. That tag is rated IP54 resistance to water, meaning it'll be fine in rain.
⬆️ The Upside: We believe that this partnership with YSL makes sense. Project Jaquard is a premium technology which will help YSL provide a premium feature. For Google, it is a logical step for the tech company which is trying to drive the adoption of its technology through B2B partnerships. We expect Google to announce similar partnerships with other luxury brands in the coming months.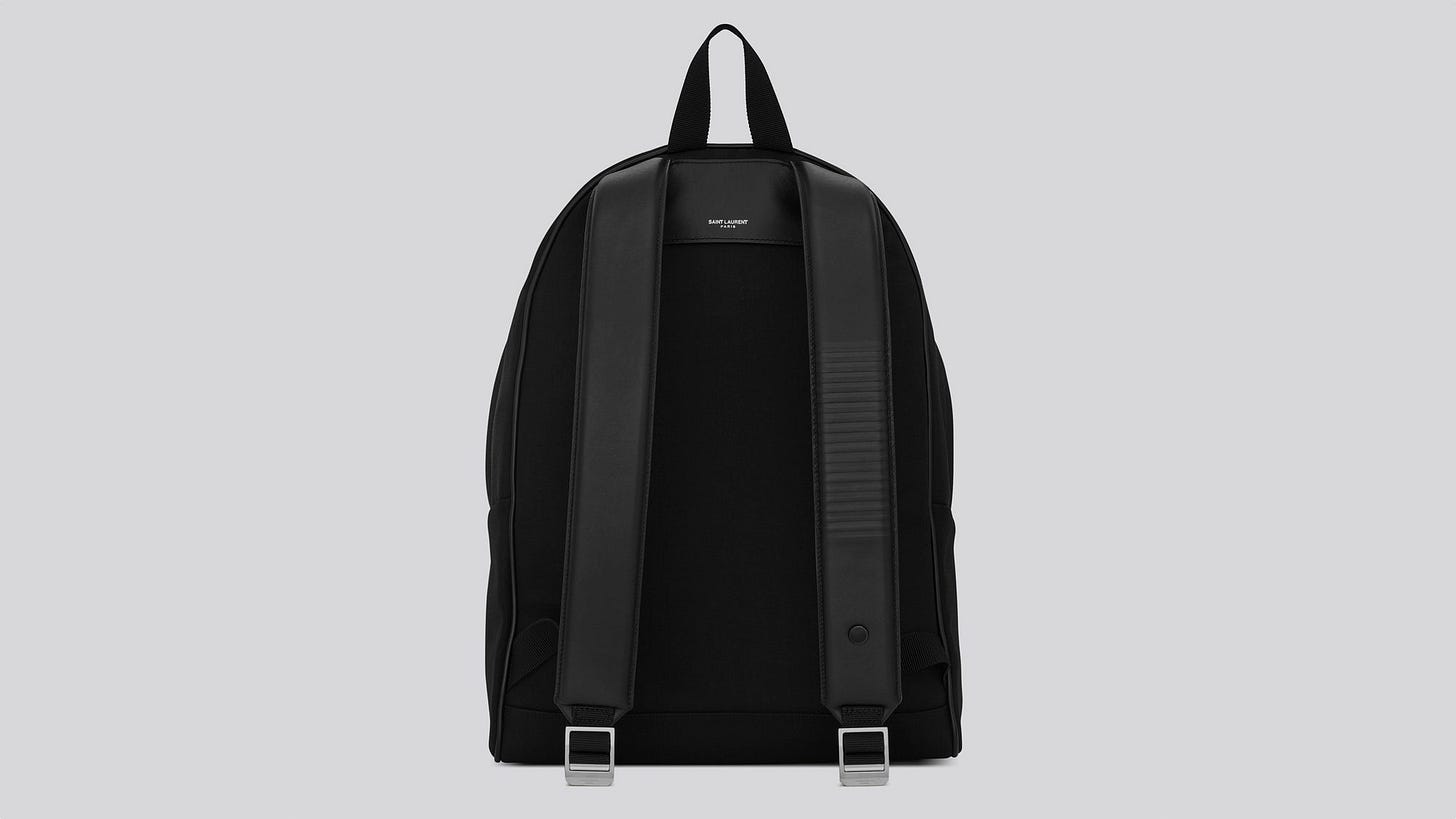 Picture: Google
🏊 Polar is bringing real-time heart rate to Form AR swimming goggles | Via: Wearable
Polar is teaming up with startup Form to let you view heart rate data through its swimming goggles with a built-in AR display.
Owners of the Form Swim Goggles will be able to pair them up with either the Polar OH1 or Polar OH1+ optical heart rate monitors. These are the monitors that are designed to be clipped onto the strap of a pair of goggles.
When paired, data from the HR monitor will be transmitted wirelessly to the goggles enabling you to view that heart rate data in your line of sight during your swim alongside existing metrics such as split times, stroke count and lap counts.
The addition of heart rate means you have a metric that can now offer an insight into the intensity and effort level put into your swimming session. When the goggles are synced to the companion Android or iOS app, that HR data will now be added to your session's data too.
"FORM has worked closely with Polar since 2018 to enable this functionality," said Dan Eisenhardt, founder and CEO of Form. "We've done extensive testing in the pool with swimmers of all levels, including elite competitive swimmers, and we couldn't be more pleased with the results."
We recently put the Form Swim Goggles to the test and were big fans of the swimming wearable. We didn't quite have the same experience putting Polar's waterproof OH1+monitor to the swimming test, though we are keen to pair the two together to see how they get on as a duo.
⬆️ The Upside: We think it makes a lot of sense for FORM to team up with Polar to add HR biosensing capabilities. We also expect FORM to continue to add new biosensors (HRV..) in the future in order to enhance the capabilities of its connected Goggles.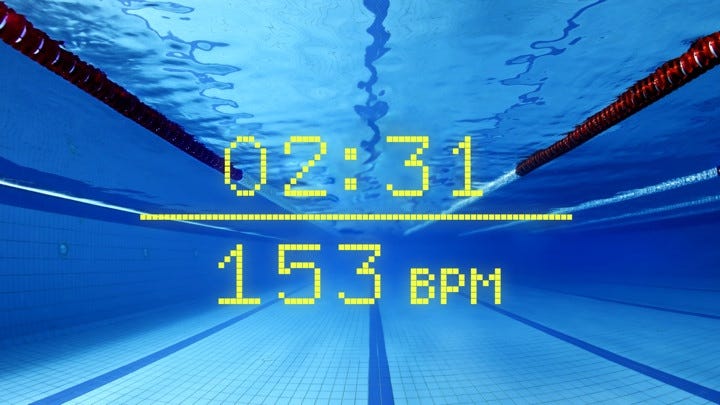 Picture: FORM
---
🎮 eSports & Crypto-Currency News
🎮 Twitch Named Exclusive Streaming Partner of National Women's Hockey League | Via: eSports Observer
Twitch has been named the exclusive streaming partner of the National Women's Hockey League (NWHL). For the next three years beginning Oct. 5, Twitch will stream all NWHL regular season, Isobel Cup Playoff, and special event games. 
As part of the agreement, Twitch will collaborate with NWHL to create "innovative content" designed to increase "the deep connection" between NWHL players and their fans, according to a statement. In addition, Twitch will help provide "new fan engagement opportunities" as part of the live game viewing experience.
"The live broadcasts of every single NWHL game on Twitch will allow us to both foster and grow our current community while introducing professional hockey to a new audience for the first time," NWHL Commissioner Dani Rylan said in the announcement. "Twitch's platform also provides our fans and players the unique opportunity to collaborate on the viewing experience."
⬆️ The Upside: We think this is a great move by Twitch, which has become a key player in esports space as well as the sports streaming space. Since 2017, Twitch has made a number of traditional sports partnerships including the NBA, NFL, and Lucha Libre AAA Worldwide.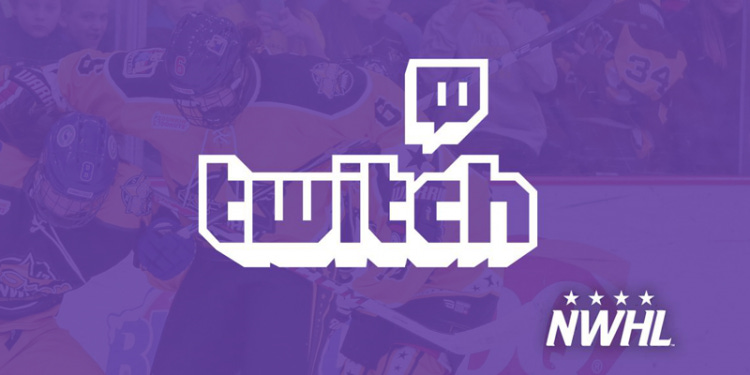 Picture: Twitch
---
💸 Sports Investment Trends — September, 2019
Southeast-Asian esports franchise Team Flash has raised $1.5M in a seed round led by Singapore-based family office Octava. Read on here.
---
📊 Key Tech Sports Stats of The Week
$2.3B: Previous AGA research found the NFL stands to make $2.3B annually with legal sports betting because of this extra engagement.
38M: More than 38M Americans, or 15% of the U.S. population, are planning to bet on NFL games this season, according to the American Gaming Association. 
$34.3M: Dota 2 is the highest paying eSports event, as it awarded $34.3M in 2019.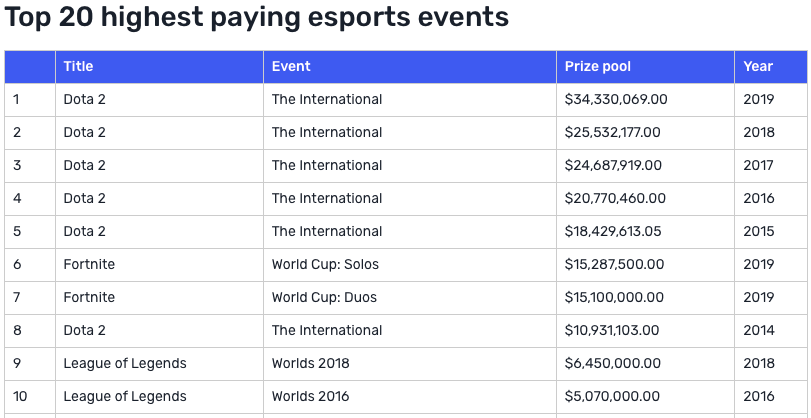 $33.7M: Team Liquid is the top esports organization in terms of earnings, with $33.7M.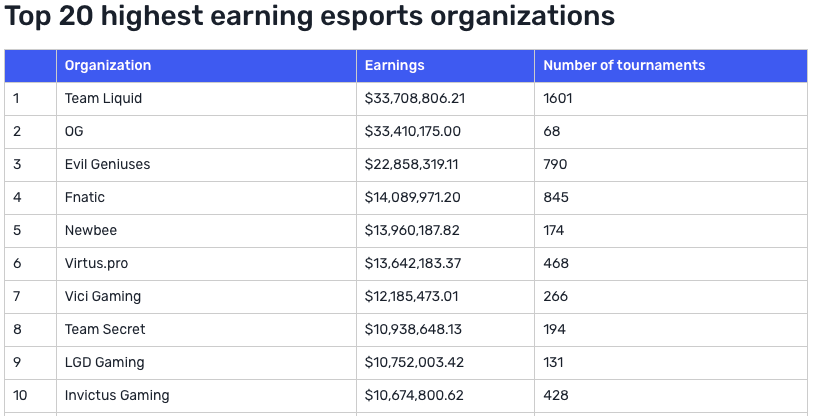 658: Entering the 2019-2020 NHL season with 658 goals, Alex Ovechkin is in elite company as one of the league's all-time greatest scorers.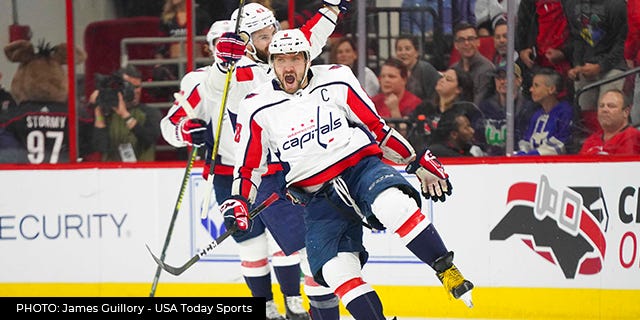 208: In 2019, the NFLPA assisted 208 different NFL players in the planning and execution of day camps that served over 61,000 kids.
---
📸 The Upside: Snapshots of The Week
Allied's New Fortress. Allied Esports has partnered with Australia's Fortress Esports to develop the "largest video gaming and esports entertainment venue in the Southern Hemisphere." The two-story Fortress Melbourne will be in the city's central business district and is set to open early next year. Fortress Melbourne will include 160 PCs, console gaming suites, streamer pods, and an RPG and tabletop games area. The venue will also have a full-service restaurant, two bars and a 200-seat esports arena with a production facility.