Discover more from The Upside Newsletter
Data, insights, and stories from the world of sports, business, and technology.
Over 6,000 subscribers
🏀 ESPN Augments NBA Playoffs Experience With AR
Dear Friends and Members,
Last Friday, we published the second part of our special analysis of the "sports tech" investment trends, in which we discussed top M&As, current and future areas of investments like the wearable, fitness tech, sports neurotech, eSports, and sports blockchain markets. To access this analysis be sure to sign up for our premium subscription by clicking the "subscribe now" button below.
Looking for access all of our previously published analysis, insights, data, podcast interviews, and more? Subscribe now to unlock access!
On Wednesday, we'll also publish our podcast interview with Ben Payne, the head of eSports at McLaren, a top F1 team. On Friday premium members will also be able to get access to our eSports analysis: "Hype Vs Reality" where we will talk about the segments, key players, and best practices for pro teams and leagues to successfully enter the eSports space.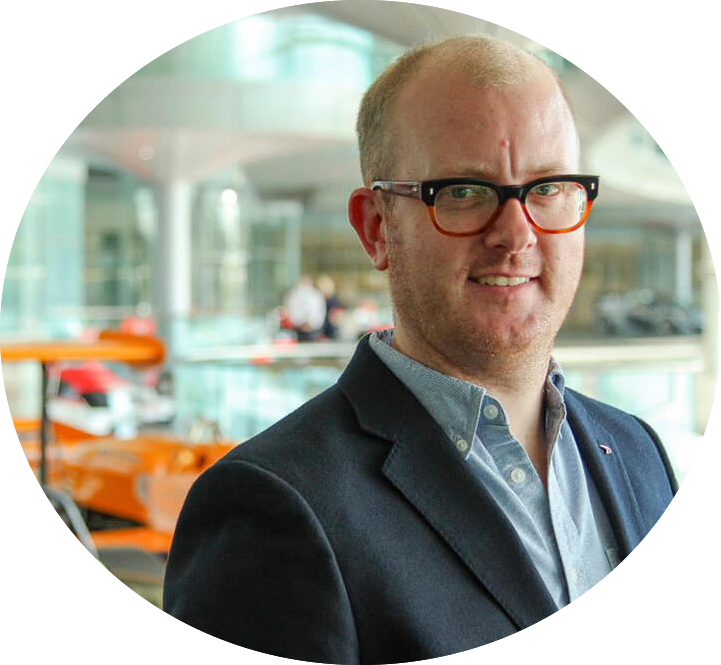 📰 Top Stories We're Reading This Week 
👓 Facebook files AR glasses patent
🏀 ESPN adds AR option for the NBA playoffs thanks to Second Spectrum
👓 Google unveils new version of Google Glass Enterprise Edition
📈 Weekly Sports Startup Case Study & ROI: Roger Federer's hologram
⌚️Whoop 3.0 now tracks training and recovery longer
🔊 Amazon Alexa will soon recognize human emotions
⌚️Samsung adds new features to its Samsung Gear Watch
🏟 The UFC is teaming up with Aurora Cannabis on advanced CBD research
🎮 Fortnite bundles features Nike Air Jordans in first real-life brand partnership
💸 Facebook plans to launch its crypto currency in 2020
❤️ The first woman in the NBA 2K League is focused on putting in the work
🏈 The NFL and NFLPA team up to study use of marijuana for pain management
💸 Latest Investment Trends
📊 Tech Stats of the Week
📸 Snapshots of the Week
Let's jump right into the insights and upside for all of these top stories
---
🎮
AR/VR/Video Sports News
👓 Facebook files AR glasses patent | Via: SocialMediaToday
While Facebook has previously noted that functional AR glasses are still several years away, The Social Network is developing its own variation of the wearable technology. And this week, we got a new look at how Zuck and Co. are planning to approach one specific element of the device, with a new patent outlining a 'cartilage conduction audio system' which would pipe related sound directly into the wearers' ear.
As you can see here, Facebook's AR glasses will aim to manipulate both visual and audio parameters, with the new sound system built into the glasses' arms. The patent - the second AR glasses patent Facebook has filed - was lodged back in January, but was only made available this week.
⬆️ The Upside: We believe this is a great move by Facebook. This is part of Facebook's overall strategy to offer hybrid AR/VR glasses with a sleek form factor. Facebook has gained great traction recently with the launch of its new Oculus Quest at $400, but it is already looking beyond VR and building a large team to build AR glasses as well. But Facebook will face fierce competition in the AR space as Apple is expected to launch its AR glasses in 4Q20.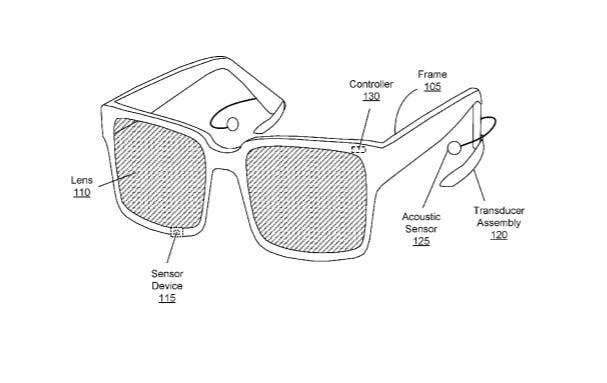 Picture: Facebook
🏀 ESPN adds AR option thanks to Second Spectrum | SportsPro
Sports data intelligence company Second Spectrum, which introduced real-time augmented-reality (AR) content to ESPN's NBA play-offs coverage last season, has created a continuous on-court graphic called 'ESPN Mode', which has been added to ESPN's digital offering.
This new feature, which essentially combines Second Spectrum's 'Coach Mode', 'Player Mode' and 'Mascot Mode', debuted during game three of the NBA Western conference finals between the Portland Trail Blazers and the Golden State Warriors. The platform weaves in-game stats, play and ball movement diagrams, as well as player identification and stats live into the broadcast.
The new on-court graphics will also be made available to platform users for game four. ESPN is also offering a number of new features for its digital users, including feed from a robotic camera above the rim, along pre-game layup lines, and during warmups for both teams. Matches also feature ESPN's new NBA Twitter and YouTube pre-game show, Hoop Streams, as well as At The Mic, which covers post-game press conferences.
⬆️ The Upside: This is a great move by ESPN as it will help the media company and the NBA to improve the fans engagement. It makes sense as Mobile AR is now taking off and reached $2B in revenue last year. The timing is right and the market is gaining great momentum. Of note, Second Spectrum is not the only key player in the space. ShotTracker is another leading player there as it built a similar AR experience for broadcasters and has built an innovative AR stats app as well. In addition, the NBA is not the only league moving into the mobile AR space. In fact the NHL is set to offer a similar experience next season. If you want to learn more about this topic, we covered this topic extensively in our AR sports analysis here. If you want to get access to it, you can do so by becoming a premium member.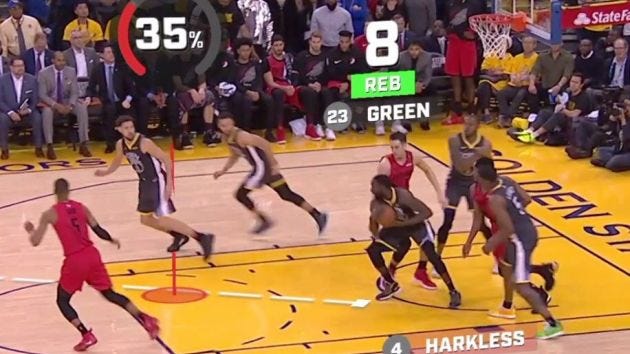 Photo: ESPN AR app via Second Spectrum
👓 Google unveils new version of Google Glass Enterprise Edition | Via: The Verge
Last night, Google announced a new version of its business-focused Glass augmented reality headset, which it's now designating an official Google product instead of an experiment. The Glass Enterprise Edition 2 costs $999, although, like its predecessor, it's not being sold directly to consumers. It's got a new processor, an improved camera, a USB-C port for faster charging, and a variety of other updates.
Google still isn't positioning Glass as a mainstream product. But it seems to be expecting greater sales of the Glass Enterprise Edition 2. The device has been moved out of Google parent company Alphabet's X "moonshot factory" and into the Google family of products, letting Google "meet the demands of the growing market for wearables in the workplace," according to a blog post.
The basic Glass design hasn't changed much. It's still a relatively simple heads-up display, not a Microsoft HoloLens-style mixed reality headset. But it's gotten a processing boost with Qualcomm's Snapdragon XR1 chip, which is designed for augmented and virtual reality. Google says that with the XR1's power, the new Glass headset can incorporate "computer vision and advanced machine learning capabilities." Google has already released a consumer-focused computer vision tool called Lens, which offers features like sign translation and restaurant recommendations.
Google is also adding new safety frames to Glass in partnership with Smith Optics, plus a bigger battery and other upgraded components. Glass also now runs on Android, with support for Android Enterprise Mobile Device Management. The Glass Enterprise Edition 2's existence leaked months ago, complete with news that it would likely be moving to Android. But we haven't gotten a full picture of Google's plans for it until now.
⬆️ The Upside: This should not come as a surprise to see Google release a new version of Google Glass which is more enterprise (MDM..) ready. Why? Because there is a growing demand for enterprise AR glasses. Competing vendors like Microsoft Hololens have gained great traction in the enterprise AR space. Contenders like Magic Leap and Vuzix are very active there as well. Will these new Google glasses appeal to pro teams? It does not seem to be the focus but it may appeal to some teams that are looking for affordable AR glasses ($999) and who cannot afford to spend $2-3k on AR glasses.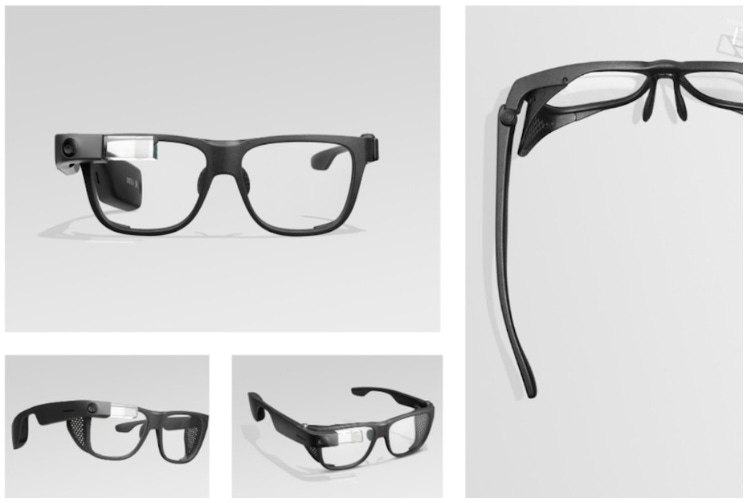 Picture: Google
---
📈
Our weekly Sports Tech Case Study / ROI
Each week we'll highlight a sports tech case study with a technology that helped sports teams get a solid ROI (injury reduction, ticket sales improvement, cost savings, diversity improvement, etc.).
So what's our weekly sports tech case study?
Mercedes-Benz wanted to engage fans during the US Open and capitalize on their endorsement deal with tennis legend Roger Federer. They teamed with VNTANA to create an holographic experience that allowed fans to interact with a hologram of Tennis star Roger Federer.
Over 8,000 fans went through the activation, increasing consumer engagement by 20% from past years.
So how does it work?
Every consumer got to see their hologram live next to Roger Federer's hologram, get a picture with him, and serve him a virtual tennis ball! Valuable contact information was captured for every participant, who were then encouraged to post their pictures on social media which expanded the reach of the event.
⬆️ The Upside: We believe that Holographic type experiences are a great way for teams, and brands to engage fans, and drive activations. Brands can leverage such an innovative medium to capture contact information that may lead to potential leads and future sales. Teams can attract more fans to their sports events as well. It is a win win situation for the brands, the athletes, and the teams. That being said, brands and teams have to invest carefully into these types of mediums to make sure that they can get a tangible ROI Vs how much they spent on such technology.
Picture: VNTANA, Roger Federer
---
🚑 Wearables, Health, Nutrition News
⌚️Whoop 3.0 now tracks training and recovery longer | Via: Wearable
Whoop, the startup that built the wearable loved by pro athletes, is back with the third generation of its device and surprise, surprise, it's called the Whoop Strap 3.0.
The new Whoop Strap looks a lot like its predecessor offering a waterproof wearable that can measure a host of data 24/7 including heart rate, ambient temperature and heart rate variability. The goal is to analyse that data and help users to better understand the relationship between the strain that training places on their bodies, and the sleep and rest necessary to recover from it.
It's now available in arctic, carbide and onyx colors, while battery life has been beefed up from the 3 days you got with the Strap 2.0 up to a five days. It's also bringing big new features to make more use of your data. Up first is the Strain Coach, which will now tell you whether you need to push harder in your training sessions in real time.
Whoop Snap+ is a feature that allows you to overlay data recorded by the wearable over videos and photos with the view to better understanding where your performance peaks or drops off. A big addition is the ability to broadcast heart rate data to third party fitness apps and devices that are compatible with Bluetooth Connect like exercise bikes, treadmills and rowing machines.
Perhaps the most interesting aspect of the Whoop's third coming is the fact you can no longer buy it out right and must sign up to membership, which starts at $30 a month. The move to a subscription service happened last year with the aim of making it cheaper to own, but it does now mean you have to commit yourself to a monthly membership.
⬆️ The Upside: This move from Whoop does not come as a surprise for several reasons: (1) Competing against the Apple and Fitbit of the world is hard, so for Whoop to no longer offer a buy option but only the membership pricing for $30 per month makes sense. Based on our sources, only a few NBA teams have been using the Whoop band and pricing seemed to be part of the problem. We expect many more wearable sports startups to offer leasing/membership pricing as a way to drive sales and adoption. We also expect many wearable sports startups to move beyond sports and sell their devices to the industrial space (construction, mining, oil & gas) to scale faster and show higher revenue to their investors.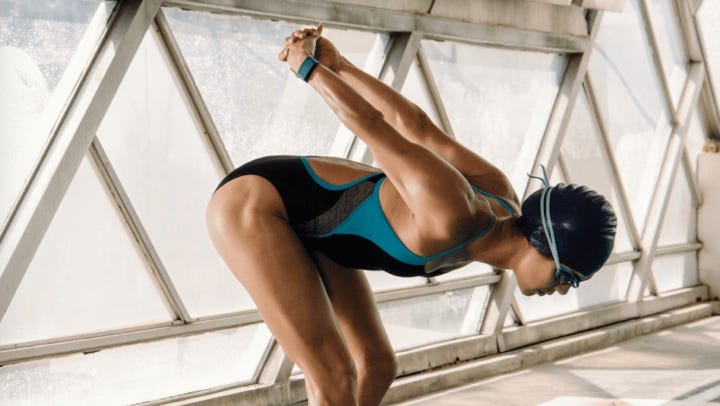 Picture: Whoop
🔊 Amazon Alexa will soon recognize human emotions | Via: Bloomberg
Amazon is developing a voice-activated wearable device that can recognize human emotions. The wrist-worn gadget is described as a health and wellness product in internal documents reviewed by Bloomberg. It's a collaboration between Lab126, the hardware development group behind Amazon's Fire phone and Echo smart speaker, and the Alexa voice software team.
Designed to work with a smartphone app, the device has microphones paired with software that can discern the wearer's emotional state from the sound of his or her voice, according to the documents and a person familiar with the program. Eventually the technology could be able to advise the wearer how to interact more effectively with others, the documents show.
⬆️ The Upside: This should not come as a surprise to see Amazon working on something like this for several reasons: (1) This is part of Amazon's big plan to become a major player in healthcare and it fits nicely into its JV with JPMorgan Chase and Berkshire Hathaway to disrupt healthcare in the US. (2) This also nicely complements Alexa's healthcare oriented skills. Of note, Alexa can already provide instructions for CPR as well as heart attack and stroke warning signs. Amazon also filed patents that will enable Alexa to detect a cough or cold and notice a user's illness by detecting a change in their voice, and suggest medicines.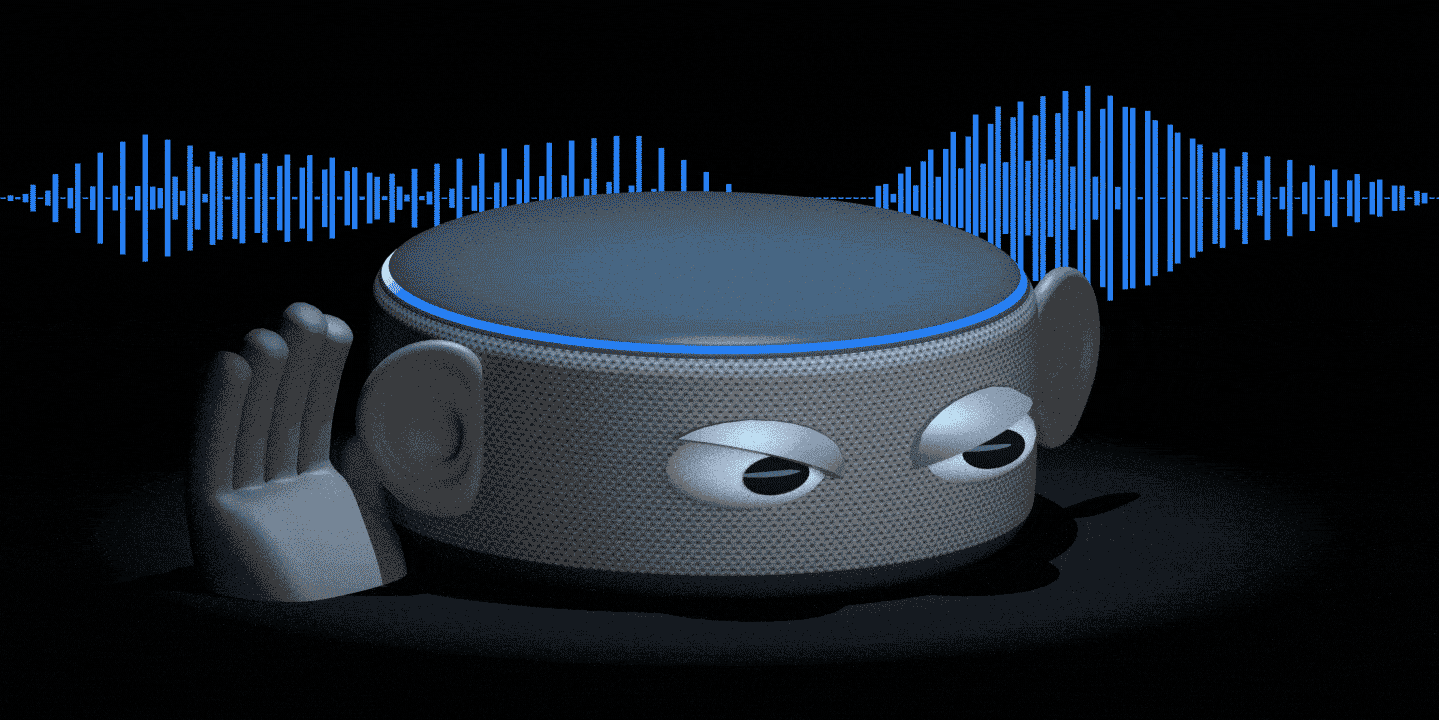 ⌚️ Samsung adds new features to its Samsung Gear Watch| Via: Wearable
Samsung isn't leaving owners of its older Gear smartwatches out in the cold, rolling out new features that recently debuted on the Galaxy Watch Activesmartwatch.
Anyone with a Gear S3, Gear Sport or the other Samsung Galaxy Watch models will be able to enjoy Samsung's One UI, which previously only appeared on the company's smartphones before making the leap to the Active this year. The new UI was brought over with the hopes of decluttering the feel of Samsung's software on its smartwatch and now it's going to do the same for its other watches.
In addition to the arrival of that One UI, fitness features will be improved, too, with the ability to track workouts in a simpler way via the Samsung Health app and dedicated widget. Outdoor swimming has been added into the tracking mix for the Galaxy Watch only (the Gear S3 is not fit for the pool), which is good news for any open water swimming fans.
On the health front, you'll get high heart rate alerts, more detailed sleep tracking and the addition of a Daily Activities screen viewable on your watch. Samsung is also making tweaks in other places bringing new settings like the ability to enable or disable the Touch to wake-up feature. You can also control the frequency of Daily briefing updates and now Samsung's Goodnight mode, which mutes the notification noise at night is making the leap onto the other Samsung watches. If you liked the look of some of those Samsung Galaxy Watch Active faces, a select few will be available too. There's improvements on the battery front as well, with Samsung having made performance tweaks to help extend the time you get with your watch before you need to grab that charger. This will be a source of good news for Galaxy Watch owners, who may have had mixed results getting the promised big battery life Samsung promised, particularly with its 46mm model Galaxy Watch.
The big update will start rolling out to compatible watches now, but will vary by region in terms of when those new features will be available.
⬆️ The Upside: This is a good move by Samsung. The improved features (activity tracking, high HR alerts..) and improved battery life make sense but we believe that Samsung should push the envelop in terms of innovation and add new types of biosensors to measure new metrics like hydration, electrolyte, Ph, sodium, podium…to have a chance to take market shares away from Apple in the smartwatch space.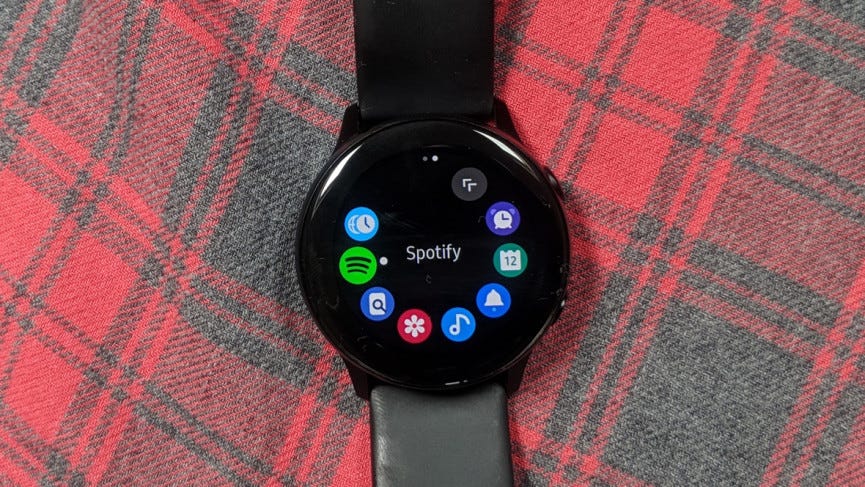 Picture: Samsung
🏟 The UFC is teaming up with Aurora Cannabis on advanced CBD research | Via: Yahoo Finance
Aurora Cannabis Inc. (ACB.TO) is getting in the octagon with the UFC in an "exclusive, multi-year, multi-million dollar, global partnership" to advance CBD research. The Edmonton-based cannabis producer said it will work with the fight league's athletes in clinical studies involving pain management, inflammation, injury, exercise recovery, and mental well-being.
"This global partnership places focus squarely on the health and well-being of UFC's talented and highly trained athletes," Aurora CEO Terry Booth wrote in a news release on Tuesday. "The Aurora-UFC research partnership creates a global platform to launch targeted educational and awareness campaigns, while creating numerous opportunities to accelerate our global CBD business."
Aurora's research will be led by Dr. Jason Dyck, a professor at the University of Alberta and a Canada Research Chair in molecular medicine. He also serves as an independent director on Aurora's board.
The research will be conducted at the UFC's Performance Institute in Las Vegas.
"Since the day we opened the Performance Institute, our primary goal was to offer UFC athletes the best possible training, nutrition, and recovery services," UFC President Dana White added in the release.
⬆️ The Upside: We think this move by the UFC makes total sense. This move comes after a baseball team, a car racing team, and the NHL Alumni Association, all teamed up with CBD companies in the past few weeks. Of note, the 2018 FIFA World Cup along with the World Anti-Doping Agency (WADA) already officially removed CBD oil from the list of banned substances. Going back to the UFC, pain management is a big problem in the UFC and with MMA fighters. The UFC is known for being a bit more progressive than other traditional leagues. So the UFC is the perfect fit for CBD. We expect many other pro teams and leagues to follow suit and team up with CBD brands as a way to increase sponsorship revenue, and attract a new audience.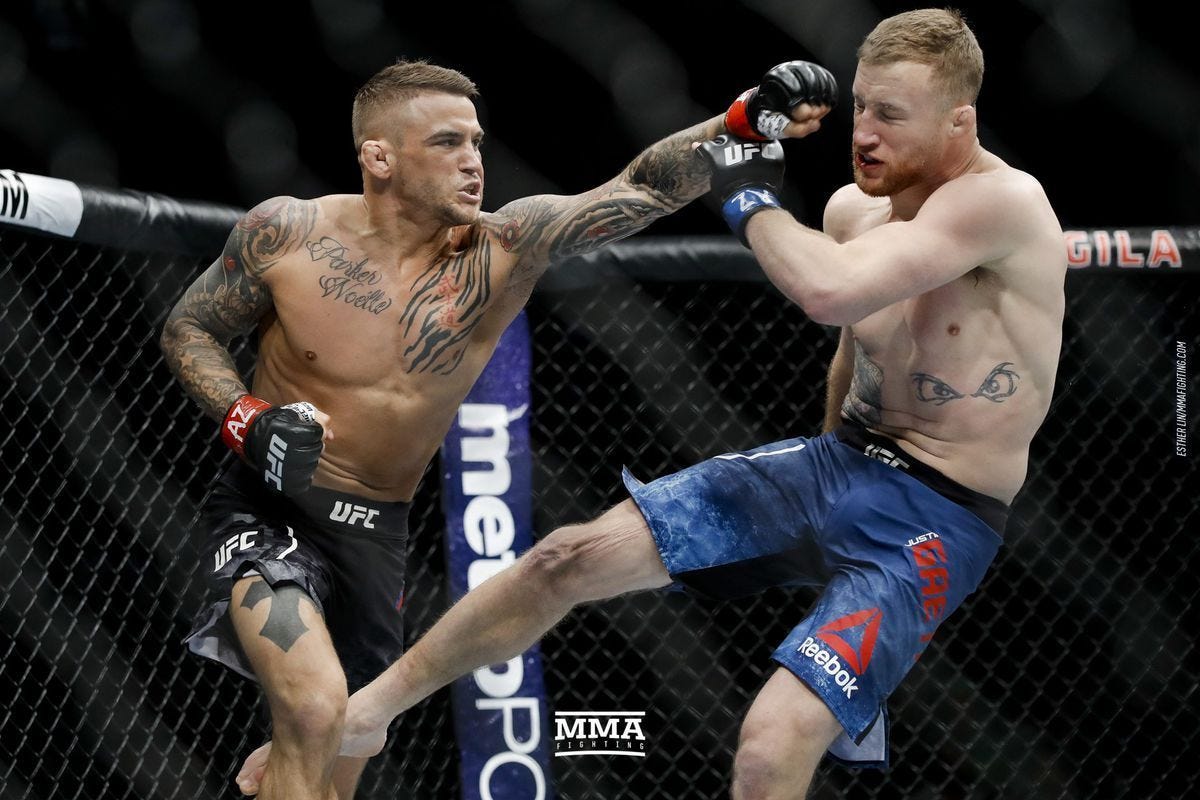 Photo: UFC
---
🎮 eSports & Crypto-Currency News
🎮 Fortnite bundles features Nike Air Jordans in first real-life brand partnership | Via: eSports Observer
Nike's Air Jordan brand has partnered with Epic Games for a branded activation inside Fortnite. The Hang Time bundle costs 1,800 V-Bucks (in-game currency), which equates to roughly $20 USD. It includes the Air Jordan branded Grind and Clutch outfits as well as a challenge pack unique to the set.
A challenge mode called Downtown Drop LTM by Jordan was designed for Fortnite by creative artists NotNellaf & Tollmolia. Free to all players, the skateboarding themed mode allows players to collect coins by navigating a terrain of urban streets and jumps.
⬆️ The Upside: This partnership makes sense for both Fornite and Nike Air Jordans. For Nike Air Jordans, it can help the brand tap into the 250M Fornite fans worldwide to help them drive the sales of its products (sneakers, jerseys..) Fornite, on the other end, can leverage Nike Air Jordans' strong brand which, according to Forbes, is valued at $1.05B, including $150M in debt.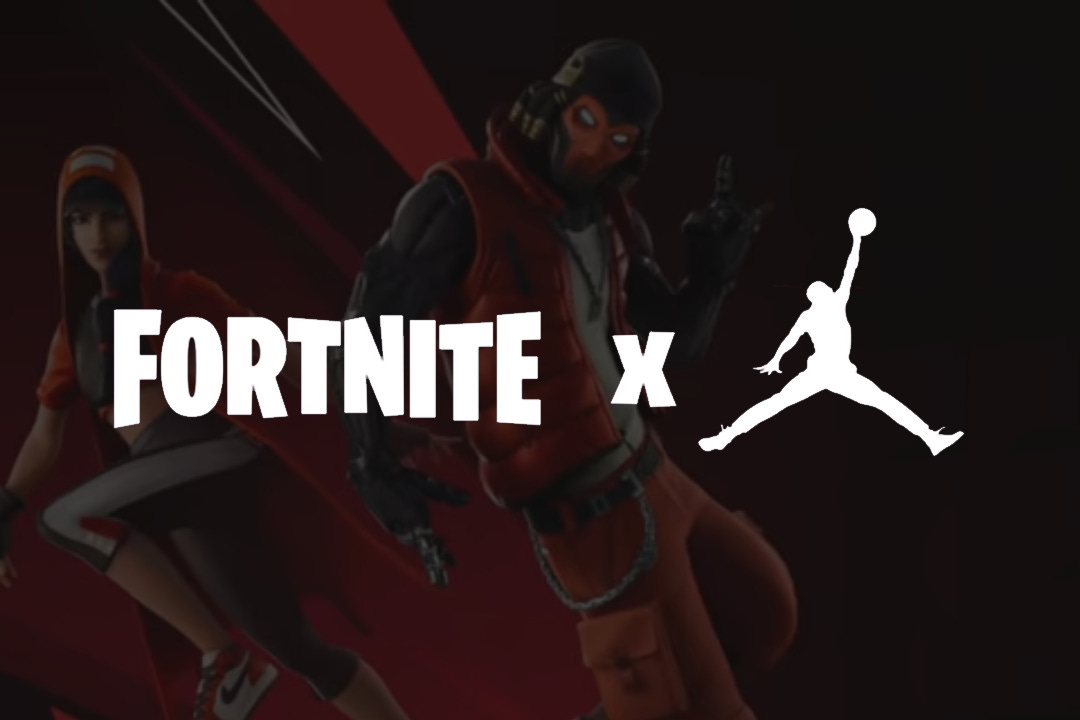 Photo: Fortnite, Air Jordans
💸 Facebook plans to launch its own cryptocurrency in 2020 | Via: The Guardian
Facebook is planning to launch its own cryptocurrency in early 2020, allowing users to make digital payments in a dozen countries. The currency, dubbed GlobalCoin, would enable Facebook's 2.4B monthly users to change dollars and other international currencies into its digital coins. The coins could then be used to buy things on the internet and in shops and other outlets, or to transfer money without needing a bank account. Mark Zuckerberg, the founder and chief executive of Facebook, last month met the governor of the Bank of England, Mark Carney, to discuss the plans, according to the BBC.
⬆️ The Upside: As we noted in a previous newsletter, Facebook is making a big bet on blockchain in order to drive its top line and generate additional revenues. Some analysts believe that this new new cryptocurrency business could add $19B to Facebook's top line so there is a lot at stake here. Of note, Former PayPal CEO David Marcus is currently leading Facebook's division building this new cryptocurrency.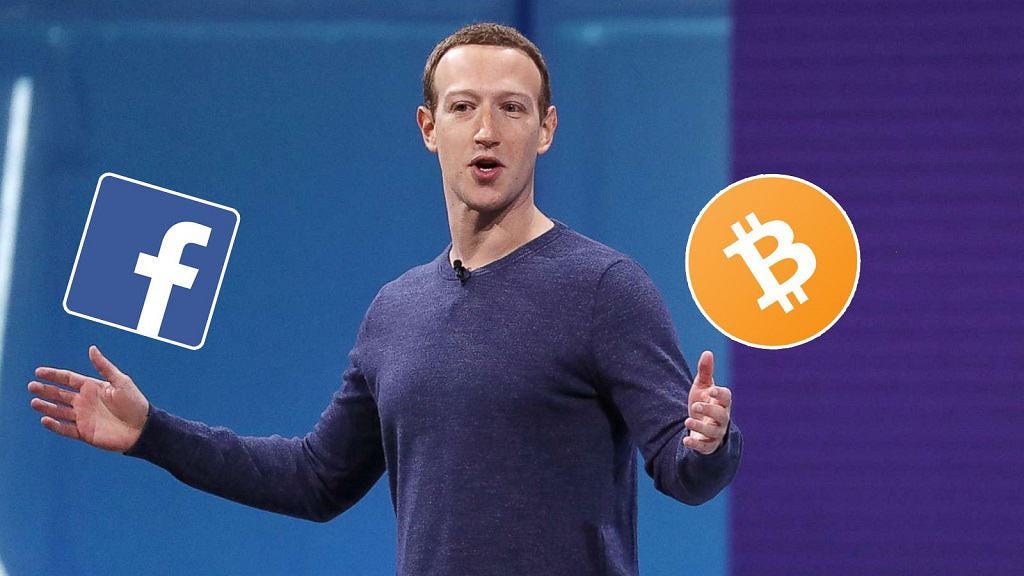 Picture: Facebook
---
🙌🏻 Social Impact Sports Tech News
❤️ The first woman in the NBA 2K League is focused on putting in the work | Via:  Polygon
Chiquita Evans has been a professional esports athlete for barely a month, and yet she already sounds like a seasoned veteran when she's talking to the media.
"The first few days, everybody's moving in, is getting to know each other, hanging out and stuff like that," Evans tells Polygon of the transition to Oakland, California. "And then it's straight to work, straight to business, you know, trying to make sure that we're getting the team chemistry that we need in order to be successful in the league this year."
Evans plays for the Warriors Gaming Squad — the esports affiliate of the NBA's Golden State Warriors — in the league's esports organization, the NBA 2K League, which is partway through its second season. On a half-hour phone call in early April, just before the regular season, Evans is game to discuss a variety of topics when asked: living with her Warriors Gaming Squad housemates; the challenges of being a sneakerhead in the Bay Area; the differences between the retail NBA 2K19 game and the version used in the 2K League; and yes, the fact that she's the first and only woman to make the league.
But the overriding theme — seemingly every other word — is the team. Her answers always come back to competitive play, and working on her game so she can help her teammates in any way possible. It's the kind of stuff you hear in most sports interviews: putting the team before the individual, focusing on the game rather than off-the-court distractions, just trying to do one's part.
With Evans, it doesn't come off as a media-trained athlete relying on easy cliches rather than risking a controversial comment. But even if it did, it'd be understandable. As the first female player in the NBA 2K League, Evans has something to prove. And the best place to do it is on the court.
⬆️ The Upside: We believe Chiquita Evans is an inspiration to many women who aspire to become pro esports gamers. Female eSports gamers like Chiquita Evans are just as capable as male eSports gamers. We expect other major leagues and teams to draft female eSports gamers. For the NBA this is also great news as the NBA is focusing on improving diversity in its league.
Picture: NBA 2K League
🏈 The NFL and NFLPA team up to study use of marijuana for pain management | Via: The Washington Post
The NFL and the NFLPA are making a commitment to mental health, thanks to a new joint agreement signed by the two parties. What does it cover? The agreement, which was announced last week, includes requiring that a team employ a mental health professional that will be present and on-site at team facilities a minimum of 8-12 hours per week. The Clinician will be in charge of coordinating treatment programs specific to individual player needs. They will also be required to compose a Mental Health Emergency Action Plan for the 2019 season. What else should you know? Last year, the Carolina Panthers led the charge when it comes to players' mental health with the hiring of Tish Guerin as the first in-house psychological clinician in the NFL. Many around the league sense that this committee will be pivotal in how the league approaches the use of medical marijuana by players going forward.
"With regard to marijuana, certainly there's a lot of discussion about not only cannabis but cannabinoid compounds, CBD, and it's something that health care providers are exploring outside of football. That type of research will certainly be part of the mission of this committee and this program." - Dr. Allen Sills, the NFL's chief medical officer, to Dan Graziano of ESPN
⬆️ The Upside: We think this is a great move by both the NFL and NFLPA to team up to study the potential use of marijuana for pain management. Pain management has become a major problem in the NFL. This is why many NFL players have used majiruana as a way to cope with pain. In fact, retired tight end Martellus Bennett believes that 89% of NFL players use marijuana currently. While some believe that this number is a bit high there is no question that it has become a common practice in the NFL. Beyond pain management, those advocating for marijuana's use in the NFL point to research into the possibility the drug can be used to combat chronic traumatic encephalopathy (CTE). A 2013 study at a Portuguese university found cannabis helped regenerate brain cells in mice, a 2012 Israeli university study showed low doses of cannabis can aid in the recovery from brain injuries and a 2005 Canadian university study showed cannabis could be used as an anti-anxiety treatment.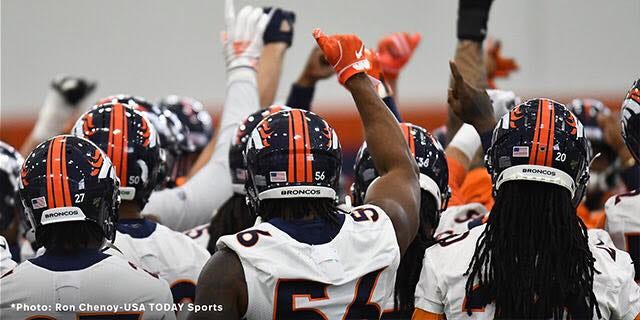 ---
💸 Sports Investment Trends — May, 2019
Mixed Reality startup Magic Leap acquires telepresence startup Mimesys. Read on here.

Mediapro has acquired the remaining shares in Liga de Videojuegos Profesional (LVP) owner Fandroid (eSports), taking full control of the company. Read on here.
---
📊 Key Tech Sports Stats of The Week

$12B: According to the Associated Press, the cost of Premier League broadcast rights has risen almost 8% to $12B for the next three seasons.
$2B: NASCAR has committed to acquire International Speedway Corp for $2B.
$1.05B: The Nike Air Jordans brand is valued at $1.05B. Michael Jordan's net worth is valued at $1.65B (Source: Forbes).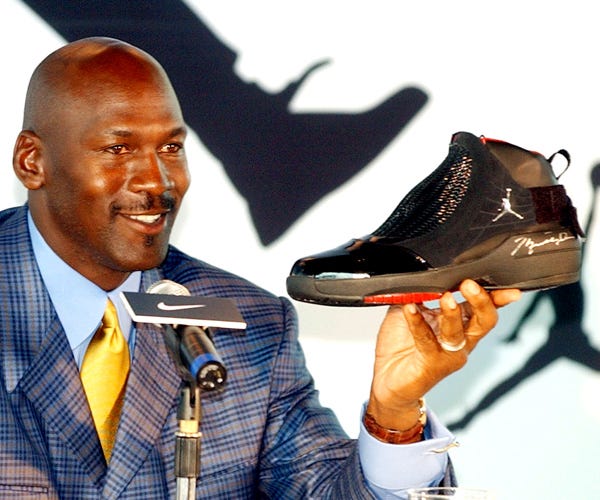 $900M: Originally expected to only cost $600M to renovate the stadium to host the NHL team in Seattle, that number has now jumped to above $900M.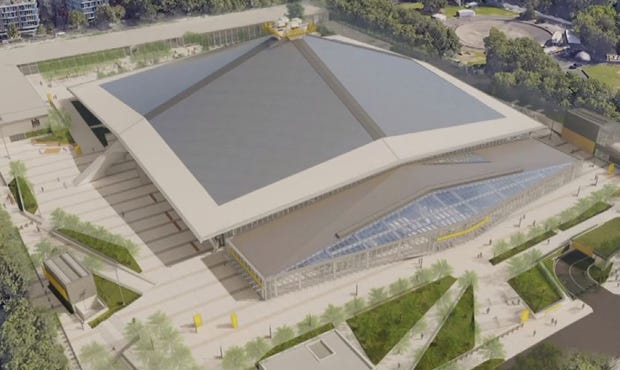 A slide in NHL Seattle's presentation to City Council, depicting a fully-renovated KeyArena (NHL Seattle)
$725M: The NHL franchise Washington Capitals are now valued at $725M. In 1999, Ted Leonsis acquired the Washington Capitals for $85M.
$247M: While no other team will be able to sign him, the Bucks can present Antetokounmpo with a five-year contract extension that is expected to be worth a league-record $247M, according to projections by Bobby Marks, ESPN's front office insider.
$224M: According to the Nashville Convention & Visitors Corp, the NFL Draft generated a record $133M in direct spending and $224M in economic impact.
$221M: Here is what KD's max contract with the Warriors ($221M) and the Knicks ($164M) could look like.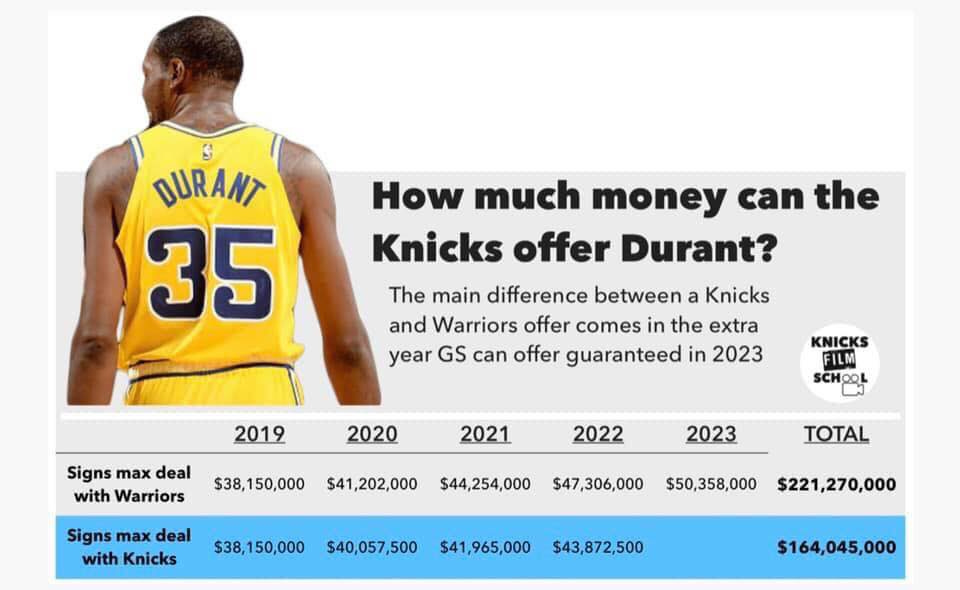 $180M: While teams in the Premier League have some of the most sponsor power in all of global sports, the one place many haven't taken advantage of is their stadium. According to Duff and Phelps, stadium deals in the Premier League would be worth $180M per year across all the clubs.
$112M: The Monaco F1 GP brings in $112M to the Automobile Club of Monaco.
$40M: The budget to produce the Monaco F1 GP is $40M.
$33.5M: Aaron Rodgers was the highest paid QBs in 2018, according to NFL Research / Front Office Sports.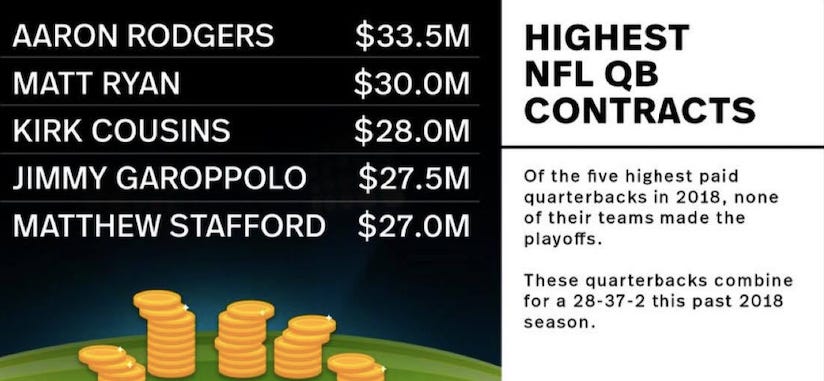 $13M: In 2018, the total amount of the purse from the last 5 races was $13.08M. By comparison, the winner of the Indy 500 earned $2.5M in 2018 (Source: The drive, Jerry Perez, Front Office Sports).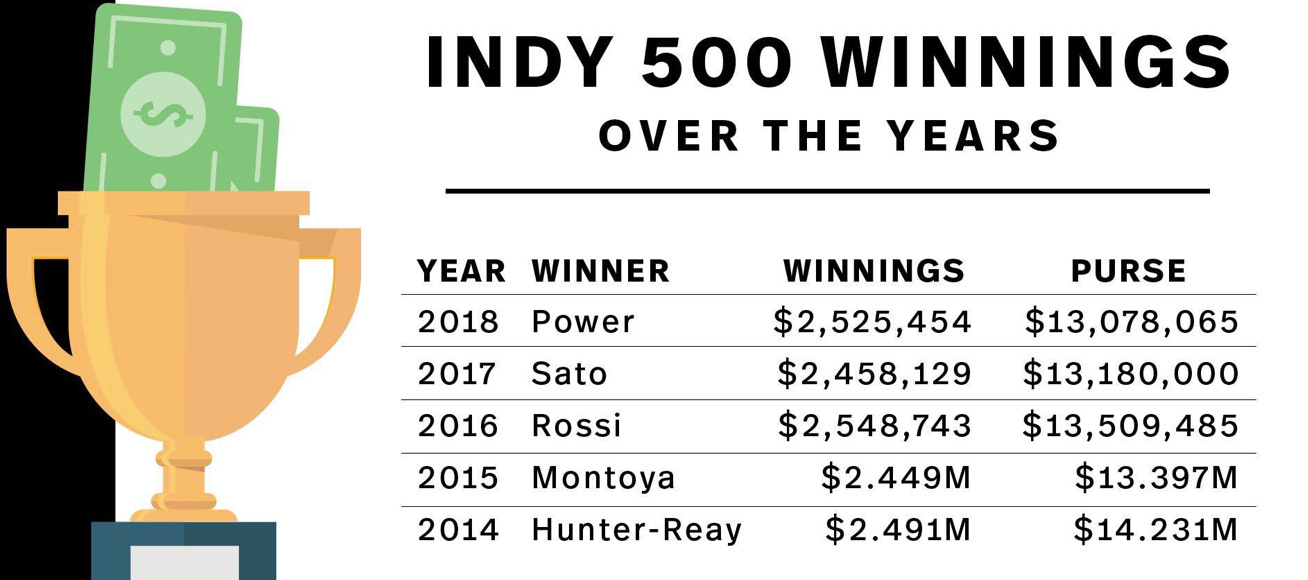 $3.5M: The BorgWarner Trophy (Indy 500) was valued at $10,000 back in 1935. It is now worth $3.5M (Source: The Drive, Jerry Perez).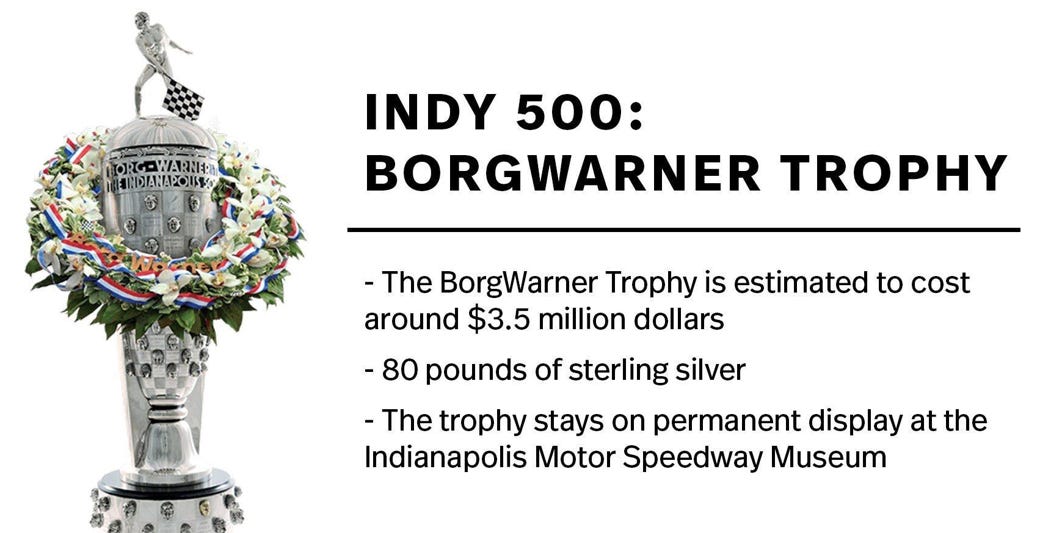 2M: ESPN+: The OTT streaming service now has a reported 2M subscribers after a year of being live.
$85,000: The median household income of Indy 500 fans is $85,000.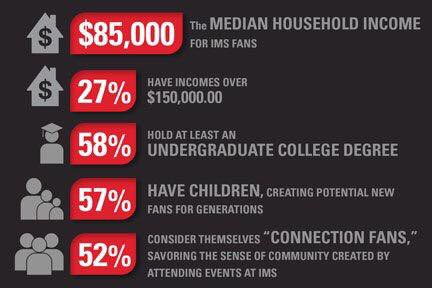 36: Messi scored twice during Barcelona's final game of the season, a 2-2 draw with Eibar, to reach 36 goals in 34 games. He will become the first player in history to win the Golden Shoe in three consecutive years after netting 37 goals during the 2016/17 season and 34 last campaign.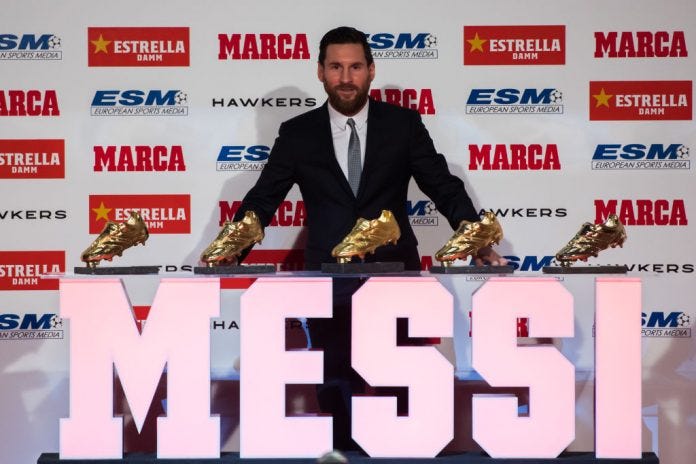 35.8: In the five full games that Durant has missed since injuring his calf in the second round of the playoffs, Curry has taken over for the Golden State Warriors. Over that span, he is averaging 35.8 points per game, 7.6 rebounds, 6.6 assists on 46% shooting, 41% from three-point range.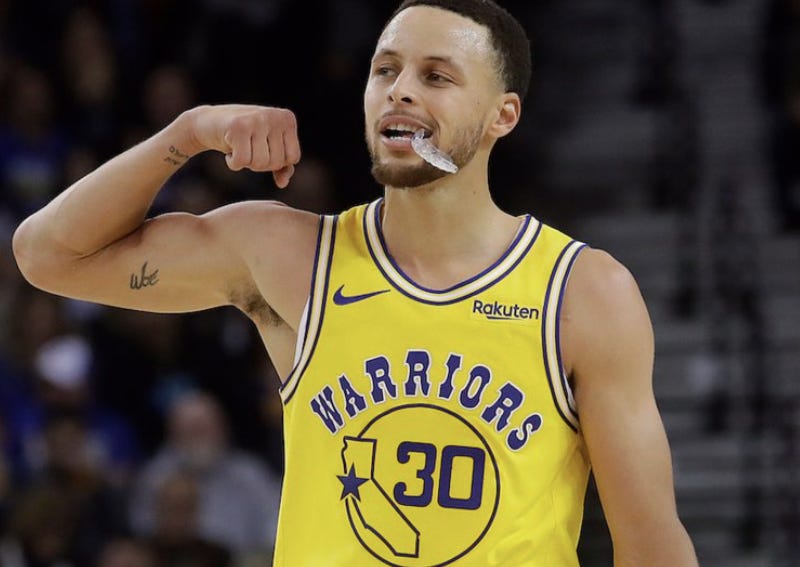 32: FIFA abandoned plans to expand 2022 World Cup in Qatar to 48 teams due to political and logistical issues. The tournament will remain at 32 teams.
25: LeBron James joins NBA royalty for most All-NBA selections in league history.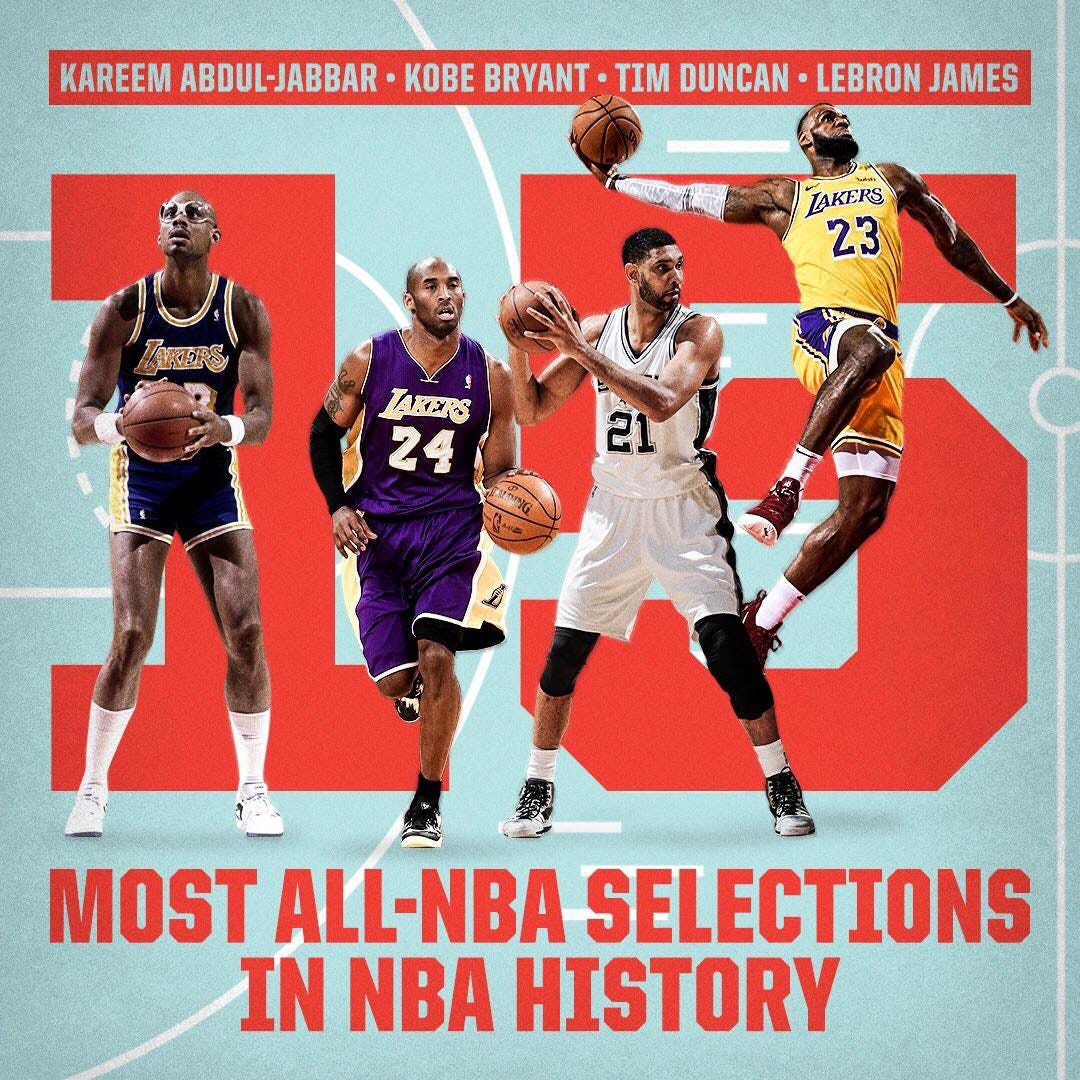 1: The Toronto Raptors (NBA) beat the Bucks over the weekend and have now reached their first NBA Finals.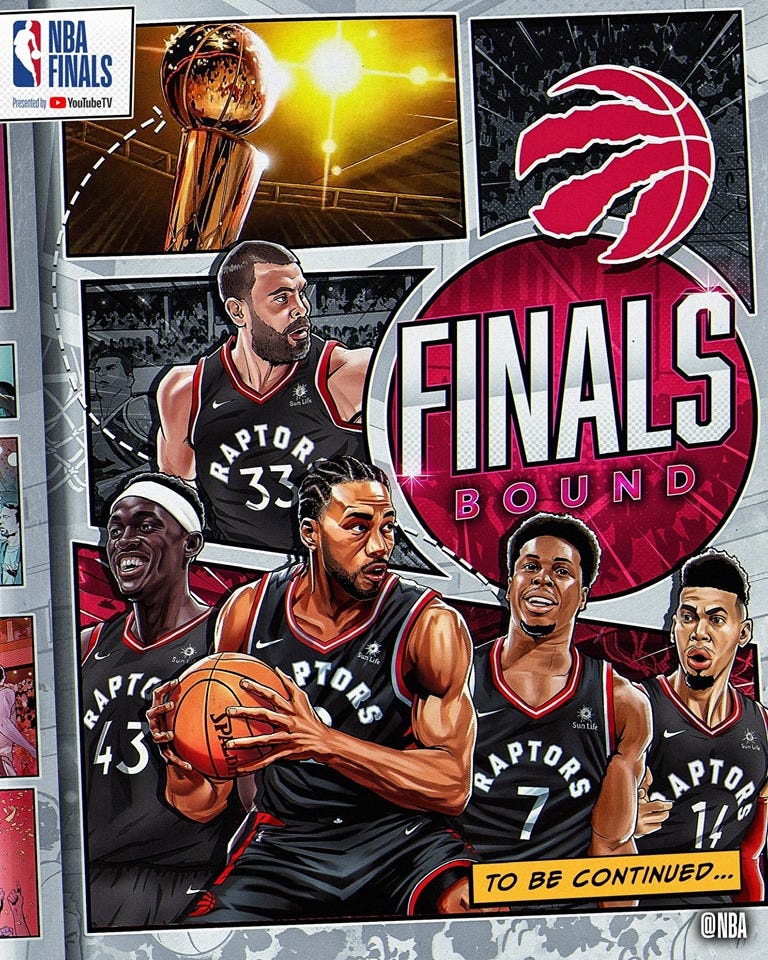 ---
📸 The Upside: Snapshots of The Week

The 2019 NBAFinals are now set! Game 1: Golden State Warriors at Toronto Raptors on May 30.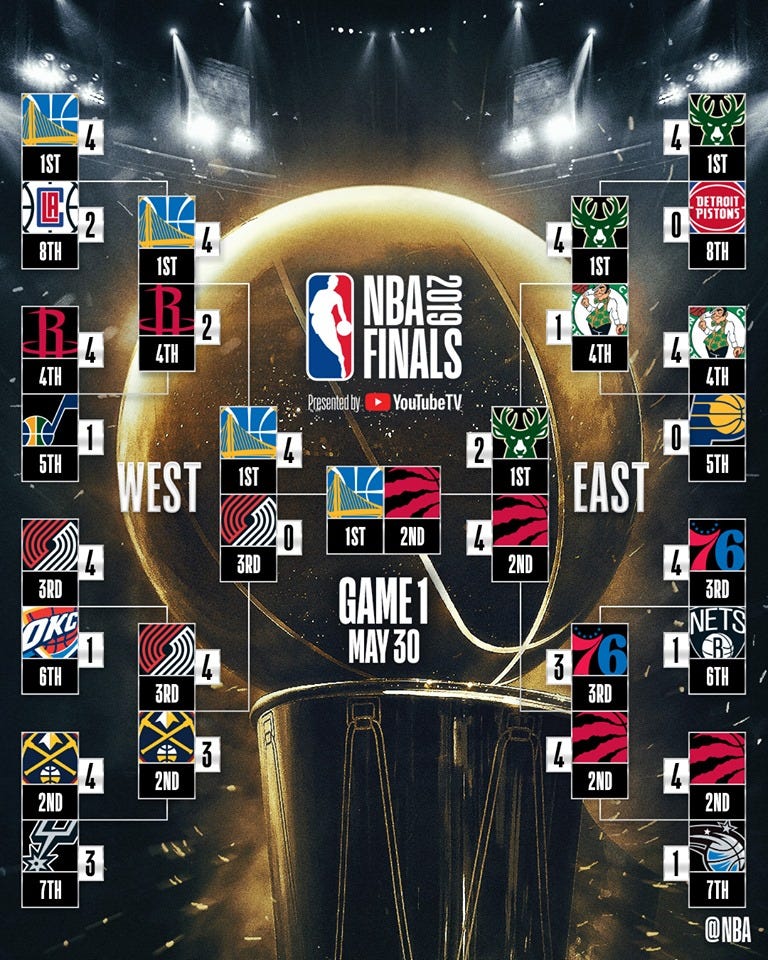 Rapper Drake did it again. The Raptors beat the Bucks this weekend, and naturally Drake had to ham it up again for the cameras, getting up from his courtside seat to give Toronto Coach Nick Nurse a shoulder rub.