Discover more from The Upside Newsletter
Data, insights, and stories from the world of sports, business, and technology.
Over 6,000 subscribers
👀 Google Glass 3 details surface
Dear Friends and Members,
Last Friday, we published our Swim tech analysis, in which we discussed the current and future tech trends in the swim tech market for the coming years. To access this analysis be sure to sign up for our premium subscription by clicking the "subscribe now" button below.
Looking for access all of our previously published analysis, insights, data, podcast interviews, and more? Subscribe now to unlock access!
On Friday we plan to publish our next weekly sports and tech analysis.
📰 Top Stories We're Reading This Week 
👀 Google Glass 3 details surface
👀 Apple's new patent for MR facial recognition
⌚️ Huawei Watch 3 could be on the way as revealing details emerge
⌚️ Microsoft wants to make wearable health sensors better
🎮 F1 New Balance Esports Series China Championship Details Announced
💸 Latest Investment Trends
📊 Tech Stats of the Week
📸 Snapshots of the Week
Let's jump right into the insights and upside for all of these top stories
---
🎮
AR/VR/Video Sports News
👀 Google Glass 3 details surface | Via: Wearable
Google Glass isn't going away anytime soon - and a new report from DigiTimes indicates the company already has the third generation in development. Details are naturally scarce at this early stage, though the outlet suggests the smartglasses will offer the most lightweight and svelte design yet. Glass, though, which has undergone somewhat of a resurgence in industry circles since the infamous first iteration, will reportedly see its battery life suffer as a result of the new look.
In between charges, Glass 3 could allegedly offer as little as 30 minutes of action. That's a big deviation from the first and second generation, which brought a few hours of use on a single charge. That could be due to the arrival of Pegatron, who will be building the glasses alongside Quantra, the previous sole supplier of Glass.
Expect to her more whispers over the coming months, as Google looks to prepare the next generation of its smartglasses.
⬆️ The Upside: We should not come as a surprise to see Google working on the next generation of Google Glass. That being said, while the form factor seems to be appealing, not being able to offer a long battery life would be a mistake. This will be critical as Google would need to offer a pair of Google glasses with a battery life that lasts the full work shift (9 hours minimum) if it wants to have a chance to effectively compete against other AR glasses vendors like Microsoft Hololens, or Vuzix.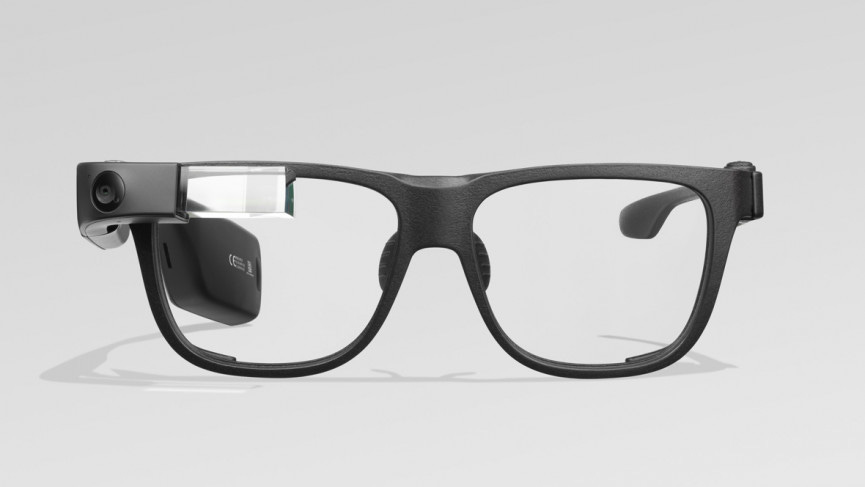 Picture: Google
👀 Apple's new patent for MR facial recognition | Via: Wearable
Apple has been granted a new patent - uncovered first by Variety - for a mixed reality headset that could look to track the eyes and facial expressions of the wearer.
The filing, titled "Display System Having Sensors", details a system whereby the headset would feature built-in sensors to bring "3D virtual views of a user's environment augmented with virtual content".
Essentially, these sensors would work to capture the user's position, orientation and motion, while also tracking areas of the face, such as the eyebrows, lower jaw and mouth. It won't just capture user information, either, with environment data, including lighting and depth, also proposed in the headset.
As with all patents, there's no guarantee that this technology will ever find its way into any potential Apple headset, though the fact the company continues to explore patents in the area (with this particular one filed very recently, in March 2019) is interesting in itself.
⬆️ The Upside: We believe that if Apple does decide to offer a future pair of AR glasses with facial recognition capabilities it will be critical to clearly identify the use case. Will it be to authenticate the user while wearing the Apple glasses by using a biometric type of facial recognition mechanism? This could be an interesting use case in the enterprise space where security is critical. Industrial workers would likely share their Apple glasses so enabling a multiuser authentication feature for enterprise customers could be a valuable solution.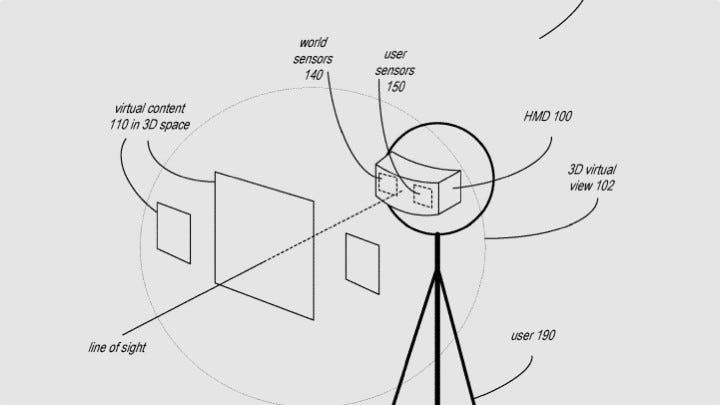 Picture: Apple
---
🚑 Wearables, Health, Nutrition News
⌚️ Huawei Watch 3 could be on the way as revealing details emerge | Via: Wearable
Huawei looks set to unleash a collection of new smartwatches and one could well be the Huawei Watch 3.
Evidence of the new watches come courtesy of certification listings on the Bluetooth Special Interest Group. This is usually where devices turn up to get the thumbs up for meeting the required standard for Bluetooth technologies.
The listings reveal three products all described as a smart watch. There's also an additional listing for a kids watch. Those four products are assigned with the numbers CSN-AL00, CSN-AL01, CSN-BX9 and ALX-AL10. Some digging by Gadgets and Wearables (Googling) revealed that the BX9 number is already associated with the Huawei Watch 2 so could hint to it being its successor.
The fact there are three model numbers here seems to suggest there will be different variants that we can expect. There is also the possibility that what we could be looking at details of a new Huawei Watch GT. The sporty watch with more limited smartwatch skills saw the company ditch Wear OS for its own Lite OS operating system. It's currently available in three different models. The standard GT and the more recently introduced Elegant and Active editions.
If this our first evidence of a Huawei Watch 3, it's a smartwatch that's been long overdue an upgrade. The Wear OS watch launched in 2017 and was updated in the form of the Huawei Watch 2 2018 edition, which added eSIM to add the ability to make calls from the wrist.
Huawei's CEO Richard Yu had previously confirmed a new Huawei Watch would happen, but it wanted to wait until it could improve features like battery life to make it a more compelling device. It did manage to improve things like battery life significantly on the Watch GT so Yu could well have been talking about that.
Since then though, Huawei has changed tact on the software front and with the recent fallout between the company, the US government and Google, it's become more apparent why it may have been moving away from using another company's operating system.
Whether we are looking at the Huawei Watch 3 or a new Watch GT, it's a big indication nonetheless that multiple devices are on the way from the company.
⬆️ The Upside: We believe it is a good move by Huawei. Now two important questions need to be answered: (1) Will those new smartwatches be using Android or a new OS? If Huawei does move away from Android this could be a risky move as it would not benefit from a large community of developers to grow its new app ecosystem. (2) Will these new smartwatches offer advanced biosensors and algorithms going beyond HR, calories..? It will be critical for Huawei to move in that direction in order to continue to drive the adoption of its smartwatches.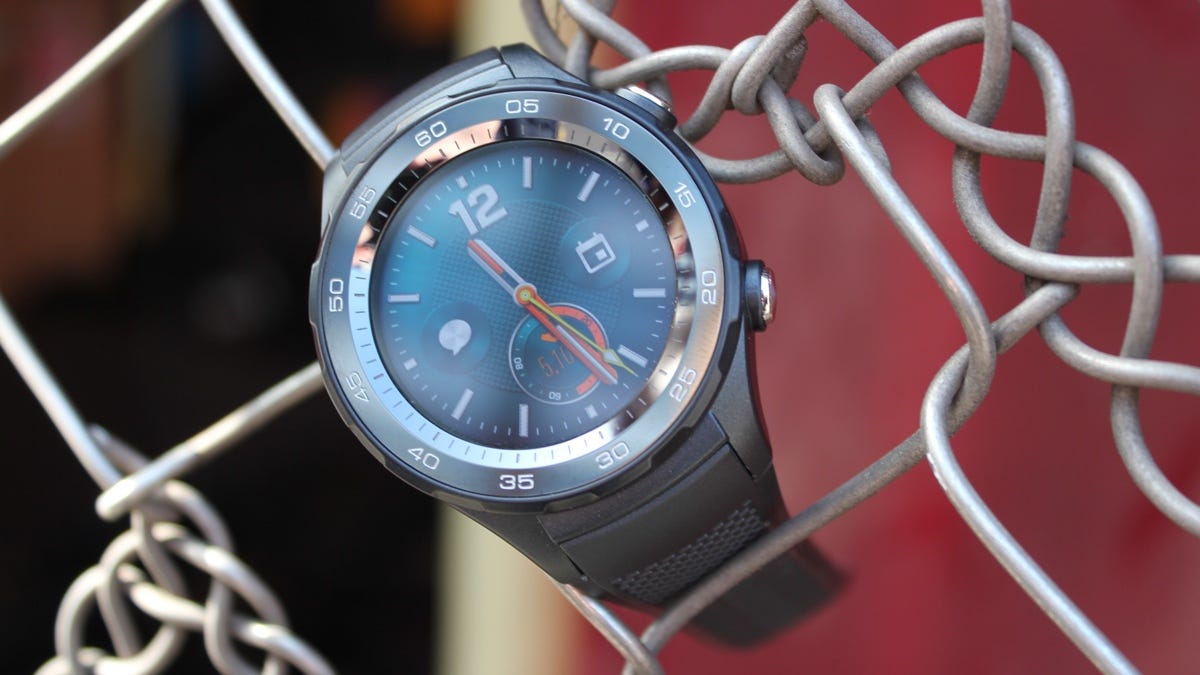 Picture: Huawei
⌚️ Microsoft wants to make wearable health sensors better | Via: Wearable
Microsoft got out of the wearable game when it decided to ditch its Band fitness tracker/smartwatch hybrid. Since then, we've seen more and more patents crop up that suggests it's not done with wearable hardware just yet. The latest patent describes a non-invasive multi dimensional optical sensor that could be incorporated into a wearable. In the patent, Microsoft argues that it can get rid of the inaccuracies currently associated with the one dimensional sensors used in wearables today with this new setup.
This multi dimensional sensor will apparently be capable of measuring a whole host of data including arterial heart rate, pulse waveform, arterial stiffness, tissue pulse rate, and arterial blood oxygenation.
The images accompanying the patent filing suggest that the sensor could be worn in a variety of places including the wrist, upper half of the arm and even on a pair of glasses. Like all patents, we can never know whether something like this will ever see the light of day. But it is interesting that there seem to be more of these wearable-related patents cropping up from Microsoft, which seem to suggest its wearable ambitions are far from done.
⬆️ The Upside: While this could be a good by move to re-enter the wearable space, we believe that it would be quite challenging for Microsoft to take share away from incumbents like Apple and Fitbit. That being said we do like the fact that Microsoft is thinking about how to differentiate its future wearable health device with advanced types of biometric data (e.g. arterial heart rate, pulse waveform, arterial stiffness, tissue pulse rate, and arterial blood oxygenation). We also like the fact that Microsoft is looking at new type of form factors (e.g. on a pair of glasses or on the upper arm of the arm) going beyond the wrist.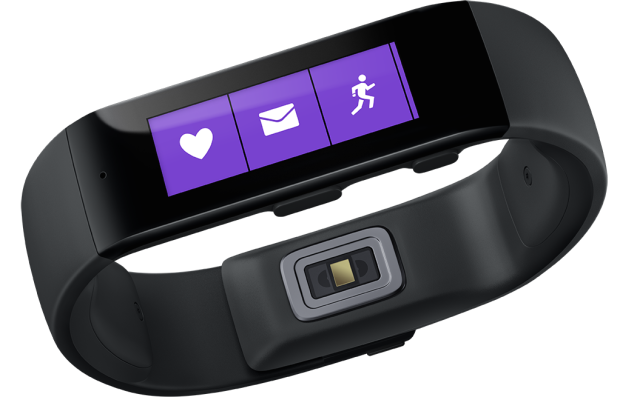 Picture: Microsoft
---
🎮 eSports & Crypto-Currency News
🎮 F1 New Balance Esports Series China Championship Details Announced | Via: eSports Observer
Formula One (F1) and Juss Intellisport will begin the F1 New Balance  Esports Series China Championship in August, with the new regional competition set to last through the end of 2019.
The China Championship is an offshoot of the current F1 New Balance Esports Series for Codemasters'  F1 2019  game, and will have qualifying events for the Eastern, Northern, Southern, and Midwestern regions of China. Following the Regional Finals, the 100 top racers will proceed to a Grand Finals event.
Only the winner and runner-up of the China Championship Grand Finals will make it to the 2020 F1 Esports Pro Draft, where the 10 official Formula One teams will choose new drivers to represent them for next season. A warm-up qualifying event will be held from July 29 to August 3 at the CapitaMall LuOne in Shanghai, with a China Championship kick-off event to be held there on August 4.
"We are thrilled to be launching the F1 Esports Series China Championship, our first-ever regional qualification championship, only two years after our entry into the burgeoning world of esports," said F1 head of growth and esports, Julian Tan, in a release. "China is an incredibly important market to Formula One, and we believe there is massive potential to grow the passion for motorsport and cultivate the love for F1 as a sport in this region through F1 Esports, particularly amongst our next generation of fans. We want to engage with them in new and innovative ways, and esports is a powerful tool to do that. We cannot wait to meet our first-ever Chinese F1 Esports qualifiers and welcome them to our 2020 Pro Draft."
The 2019 F1 New Balance Esports Series has a $500K USD prize pool and an expanded events schedule, and also introduces Ferrari as an official team.
⬆️ The Upside: We think this is a great move by both parties. F1 federation has a large install base of fans in China, with a total of 68M F1 fans. But more importantly there is an estimated 100M eSports fans in China so it makes sense for both the F1 federation and New Balance to continue to focus their eSports efforts in China.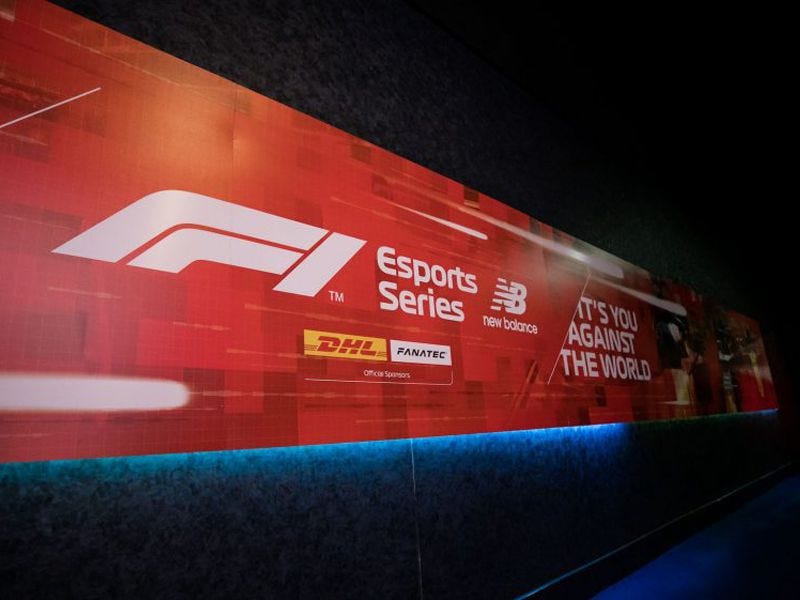 Picture: Activision Blizzard
---
💸 Sports Investment Trends — July, 2019
Esports mobile app Strafe has raised a $3M seed round, led by BITKRAFT Esports Ventures. Read on here.

Sports podcast startup Blue Wire Sports Podcasting raised $150k from 500 Startups.
---
📊 Key Tech Sports Stats of The Week
$5B: While the Dallas Cowboys might be America's Team, they again find themselves atop the global Forbes ranking for the world's 50 most valuable sports teams as the only team worth $5B. This is the fourth-straight year in which the team has been able to claim this title.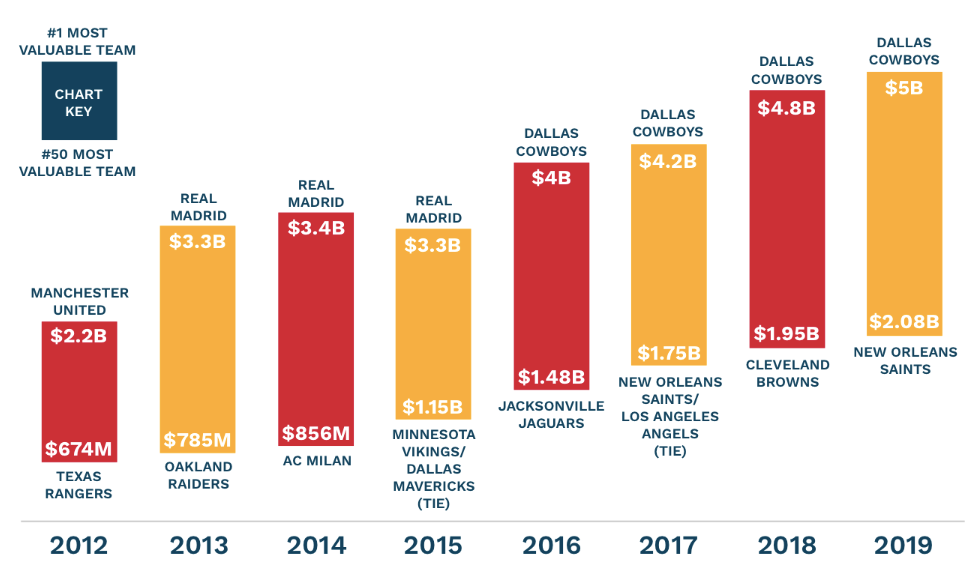 Picture: Forbes
SowWho rounds out the top 10?

2. Yankees - $4.6B
3. Real Madrid - $4.24B
4. Barcelona - $4.02B
5. Knicks - $4B
6. Manchester United - $3.81B
7. Patriots - $3.8B
8. Lakers - $3.7B
9. Warriors - $3.5B
10. Dodgers / NY Giants / Red Sox - $3.3B
$2.7B: With less than a year to go till Tokyo 2020, Facebook is rolling out a B2B campaign in hopes of capitalizing on the brand interest in the Olympics. As part of the campaign, the company tapped Jack Weatherley, who has directed ads for Nike and Uefa, to create a spot encouraging brands to "start your 2020 game plan now". By comparison, according to Goodfellow, Facebook said Rio 2016 saw an increase of $2.71B in global advertising spend.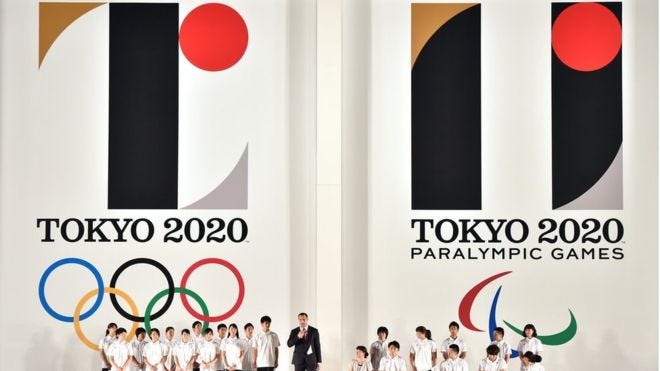 $1B: Every NFL, NBA and MLB franchise is now worth at least $1B, according to a new study from Forbes.
$447M: According to The Telegraph, Tottenham has signed a new eight-year, $44M shirt sponsorship deal with AIA. The $55M-a-year partnership is thought to be the third-biggest in the Premier League after Manchester United and Manchester City.
$365M: The Dallas Cowboys reported an operating income of $365M in 2018. By comparison, Barcelona, according to a new report from Forbes.

$13.9M: The amount of total compensation that Mark Parker, Nike's CEO and president and board chair, was given during the company's 2019 fiscal year. For reference, the salary of a "median" Nike employee is $25,386, according to the company.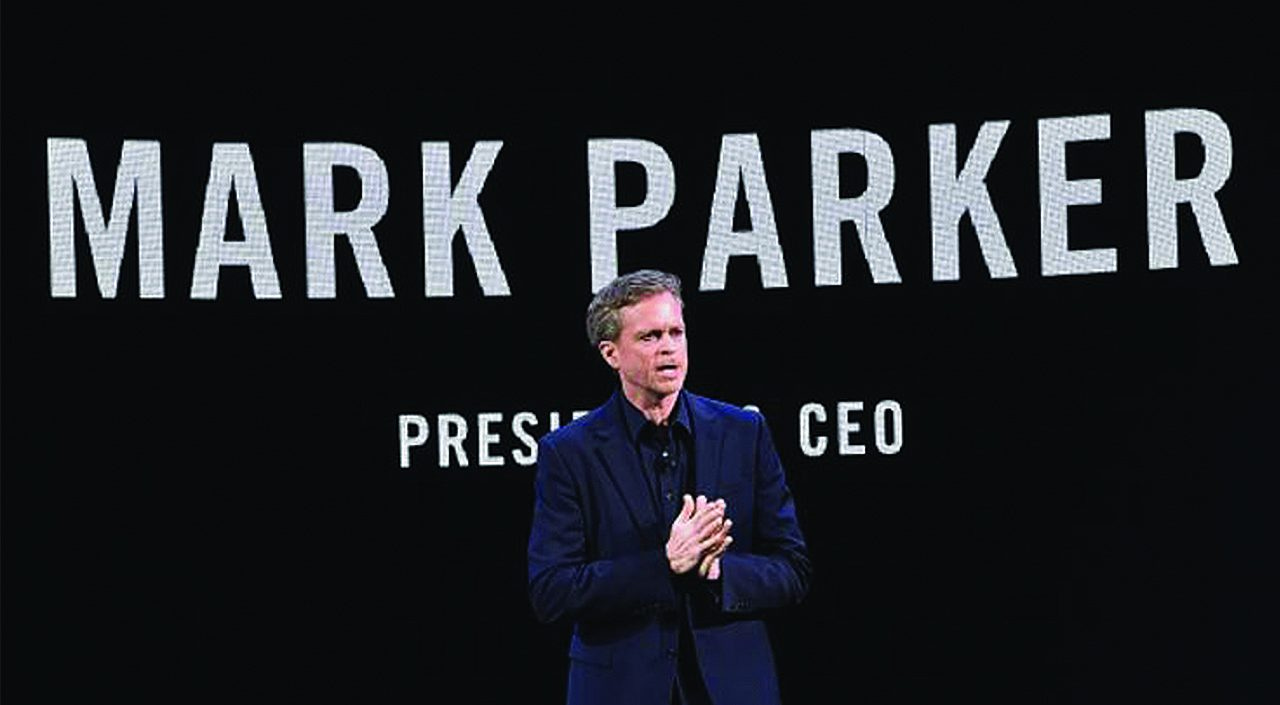 50%: The NFL remains the most dominant sports leagues in the world with 50%+ of the 50 most valuable sports franchises, according to a new report from Forbes.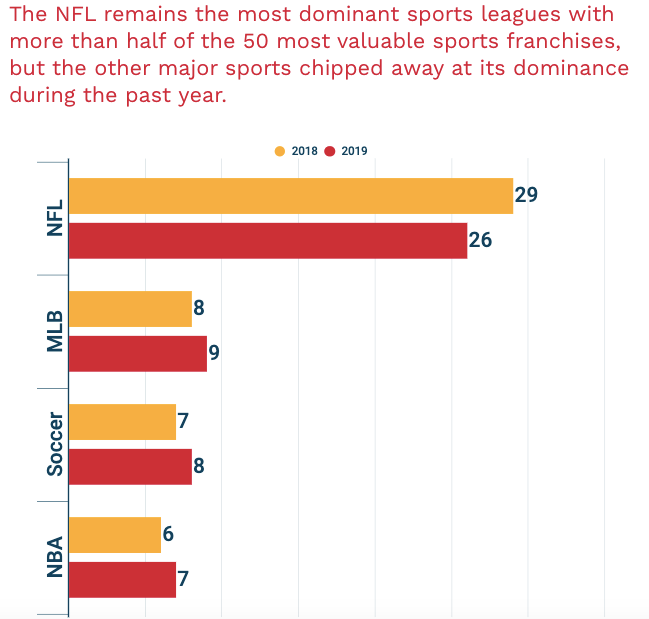 ---
📸 The Upside: Snapshots of The Week
New digs. Last week the LA Clippers (NBA) unveiled their plan to build a new arena in 2024. According to the Andrew Greif of the LA Times, if everything goes according to plan, the 18,500-seat arena would open for play in 2024.