Discover more from The Upside Newsletter
Data, insights, and stories from the world of sports, business, and technology.
Over 6,000 subscribers
🏟️ ⚽ 🇩🇪 Latest in Sports? Virtual Crowds & Fans in Stadiums. 3.7M Fans Watched The Bundesliga. Premier League is Next.
$1B in TV ads May Disappear. Apple Buys NextVR
Dear Friends and Members,
It's been nearly 2 months since the beginning of the COVID-19 crisis. The world of elite sports is now starting to see the light at the end of the tunnel. The Bundesliga, one of the best soccer leagues in the world, restarted this weekend. The competition resumed without fans, and with virtual sounds and cheers. It was a success as Sky Germany drew 3.68M viewers, which was twice as many as normal. The games were shown on more than 70 broadcasts across the globe.
Players and coaches were screened with temperature scanners before the games. Ball kids wore masks, balls were sprayed and cleaned every 15 minutes and plenty were kept on the side of the pitch as coaches had face masks on and players sat apart on the bench, as five subs can now be used under new FIFA rules. It was strange but that's the new norm that we are living in in the world of elite sports. We just have to get used to it for now. NASCAR was also back this weekend. The good news here for German soccer teams is that they can now earn TV rights to offset the revenue loss in ticket sales. Of note, TV rights made up 30%+ ($1.35B) of the Bundesliga clubs's overall revenues in 2018. Of note, the Bundesliga is the second-richest division in world football, behind the Premier League. The NHL, NBA, MLB and NFL must have been watching and taking notes on how it all worked as the Bundesliga was the first of Europe's 'top five' to return.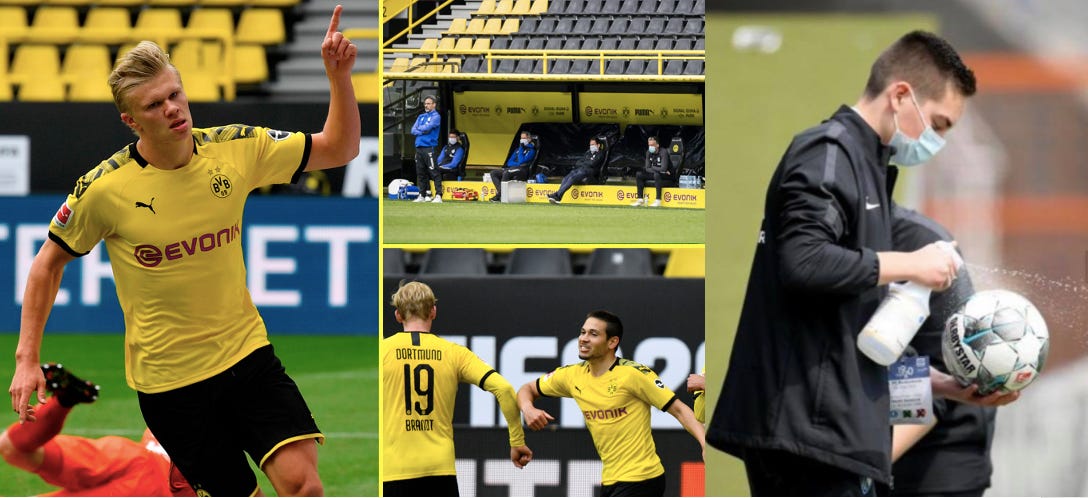 Picture: Bundesliga: Borussia Dortmund beats Schalke 4-0, May 16, 2020.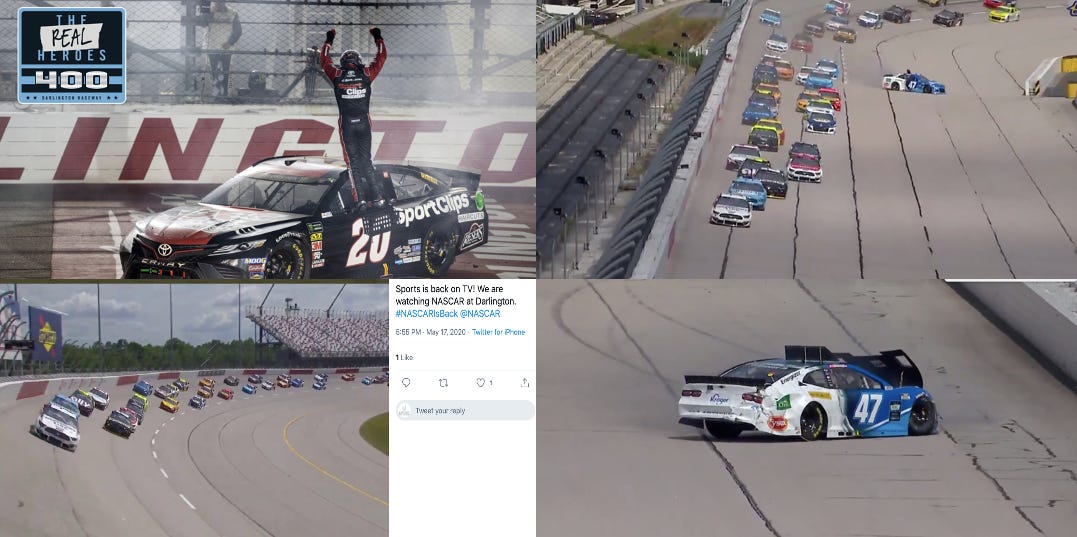 Picture: NASCAR, May 17, 2020.
In addition, the Premier League cleared to resume on June 1 after the British government lifted the coronavirus-enforced lockdown in England which could see the Premier League restart on June 1.
In the world of VR and digital, Apple bought NextVR, and Fox Sports announced its plan to pump in virtual crowd noises during NFL games. In the fitness and wearable space, Wahoo announced a new fitness tracker, and Apple is rumored to soon introduce AirPods Studio which will feature head and neck detection, custom equalizer settings, more. In the world of esport, the Charlotte Hornets NBA 2K League team announced a new Jersey sponsor.
On Wednesday we will publish our recent interview with Len Zaichkowsky, PhD, retired Professor from the Boston University, World-class' sports biofeedback expert, and performance consultant who has worked with many elite pro teams (Vancouver Canucks (NHL), Real Madrid, National Spanish soccer team…) over the years. We will discuss how he started his career in biofeedback, how important biobeedback is to players' mental health and how it can impact their performance over time, and his experience working with pro teams like the Spanish national soccer team (La Furia Roja) during the 2006 Soccer World Cup in Germany.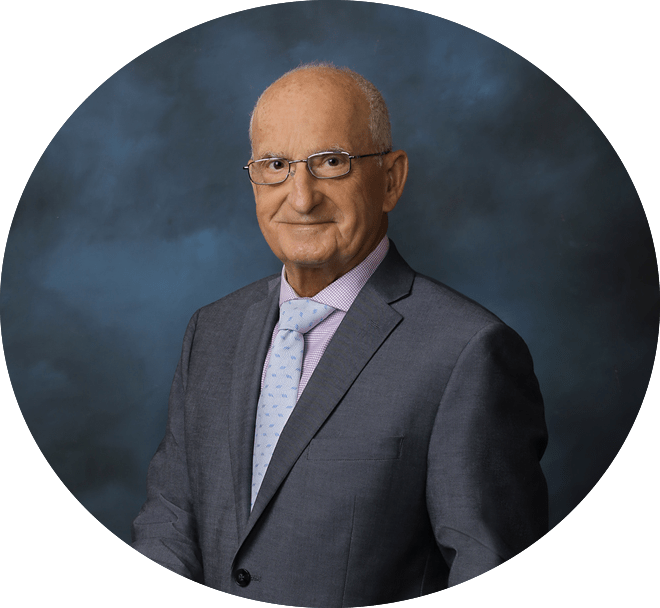 Source: Len Zaichkowsky
To get access to our paid analysis make sure to become a paid member by clicking on the link below:
As a reminder, in the coming weeks we plan to introduce a new major initiative that will better bring our sports tech community of thousands of sports tech execs (Pro teams, leagues, sports startups, VCs/investors, brands, etc.) together, so stay tuned!
If you have any questions about The Upside, need help with business development or fund raising, want to join our community of thousands of sports and tech execs (pro teams, leagues, athletes, investors..), or want to have access to our premium content, please check out Sports Tech Advisors and contact us at info@sportstechadvisors.co
📰 Top Stories We're Reading This Week 
👓  Joe Buck: Fox Will Pump In Crowd Noise During Games Without Fans in Attendance
👓  Apple Acquires Startup NextVR that Broadcasts VR Content
👓  Standalone 5G headsets are coming in 2021
⌚ New Wahoo Tickr X heart rate monitor puts focus on running form 
⌚ Garmin is now a smartwatch player, but Apple Watch is still dominating
🎧 Exclusive: AirPods Studio to feature head and neck detection, custom equalizer settings, more
🎮  Charlotte Hornets NBA 2K League Team Signs Jersey Sponsor
💸 Latest Investment Trends
📊 Tech Stats of the Week
📸 Snapshots of the Week
Let's jump right into the insights and upside for all of these top stories
---
🎮 AR/VR/Video/Digital Sports News
👓  Joe Buck: Fox Will Pump In Crowd Noise During Games Without Fans in Attendance | Via: Sports Illustrated
During an interview with Andy Cohen Live on SiriusXM, Fox Sports broadcaster Joe Buck said the network is planning on pumping in crowd noise and projecting virtual fans in empty stadiums during their broadcasts, per John Ourand of Sports Business Journal.
"It's pretty much a done deal," Buck said. "I think whoever is going to be at that control is going to have to be really good at their job and be realistic with how a crowd would react depending on what just happened on the field. So it's really important.  "And then on top of that ... They're looking at ways to put virtual fans in the stands, so when you see a wide shot it looks like the stadium is jam-packed and in fact it'll be empty."
On Monday, Dr. Anthony Fauci, director of the National Institute of Allergy and Infectious Diseases, said it was plausible for the NFL to play games with no fans in attendance for the 2020 season.
"I think it's feasible that negative testing players could play to an empty stadium," Fauci said. "Is it guaranteed? No way ... There will be virus out there and you will know your players are negative at the time they step onto the field. "If the virus is so low that even in the general community the risk is low, then I could see filling a third of the stadium or half the stadium so people could be six feet apart. I mean, that's something that is again feasible depending on the level of infection. I keep getting back to that: It's going to depend. Like, right now, if you fast forward, and it is now September. The season starts. I say you can't have a season—it's impossible. There's too much infection out there. It doesn't matter what you do. But I would hope that by the time you get to September it's not gonna be the way it is right now."
The NFL released its 2020 schedule on May 7. The season is slated to start on Thursday, Sept. 10, with the Kansas City Chiefs hosting the Houston Texans.
⬆️ The Upside:  We believe this move by Fox sports should not come as a surprise. The reality is this: Several sports leagues (Bundesliga, South Korean soccer and baseball leagues, NASCAR..) have restarted or are about to restart and seeing games without fans in stadium is set to be the new norm in the short term. This weekend the Bundesliga pumped in crowd noise in empty stadiums during their broadcasts too. This is the new reality and many other leagues (NFL, NBA, MLS…) are set to follow suit.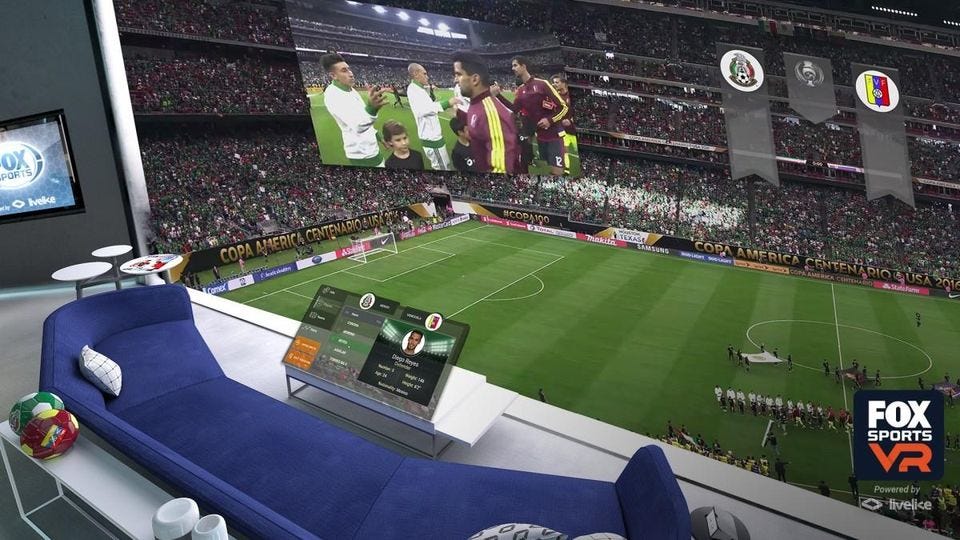 👓  Apple Acquires Startup NextVR that Broadcasts VR Content | Via: Bloomberg
Apple Inc. confirmed it acquired NextVR, a startup that provides sports and other content for virtual-reality headsets. The acquisition may help Apple's development of VR and AR headsets with accompanying software and content. NextVR supplies content to several existing VR headsets, including Facebook Inc.'s Oculus and devices from Sony Corp., HTC Corp. and Lenovo.
NextVR has deals with sports leagues including the National Basketball Association and entertainment networks such as Fox Sports. The startup also has expertise in live streaming in virtual reality, which could also be useful for live concerts and games. The Newport Beach, California-based startup officially shut down this week, saying on its website that it is "heading in a new direction." Apple said it buys smaller technology companies from time to time, and generally does not discuss its purpose or plans. It didn't disclose a purchase price, but website 9to5Mac reported in April that Apple was in talks to buy NextVR for about $100 million.
The deal is at least the third for Apple this year, following the purchase of Voysis, an Irish startup that focuses on voice technology, and Dark Sky, a popular weather app.
⬆️ The Upside:  We believe that this is a good move by Apple as part of its VR strategy. Apple is set to announce a standalone VR headset in 2021. So NextVR will help Apple in several ways: (1) Acquire VR engineering talent. (2) Acquire good VR technology (SW, VR camera,) (3) Acquire TV rights and VR deals: Of note, Apple has had ongoing conversations with the Pac-12 to acquire the conference's exclusive broadcast rights when its current $250 million deal with Fox and ESPN ends in 2024. Don't forget to check out our analysis on the VR Sports Market.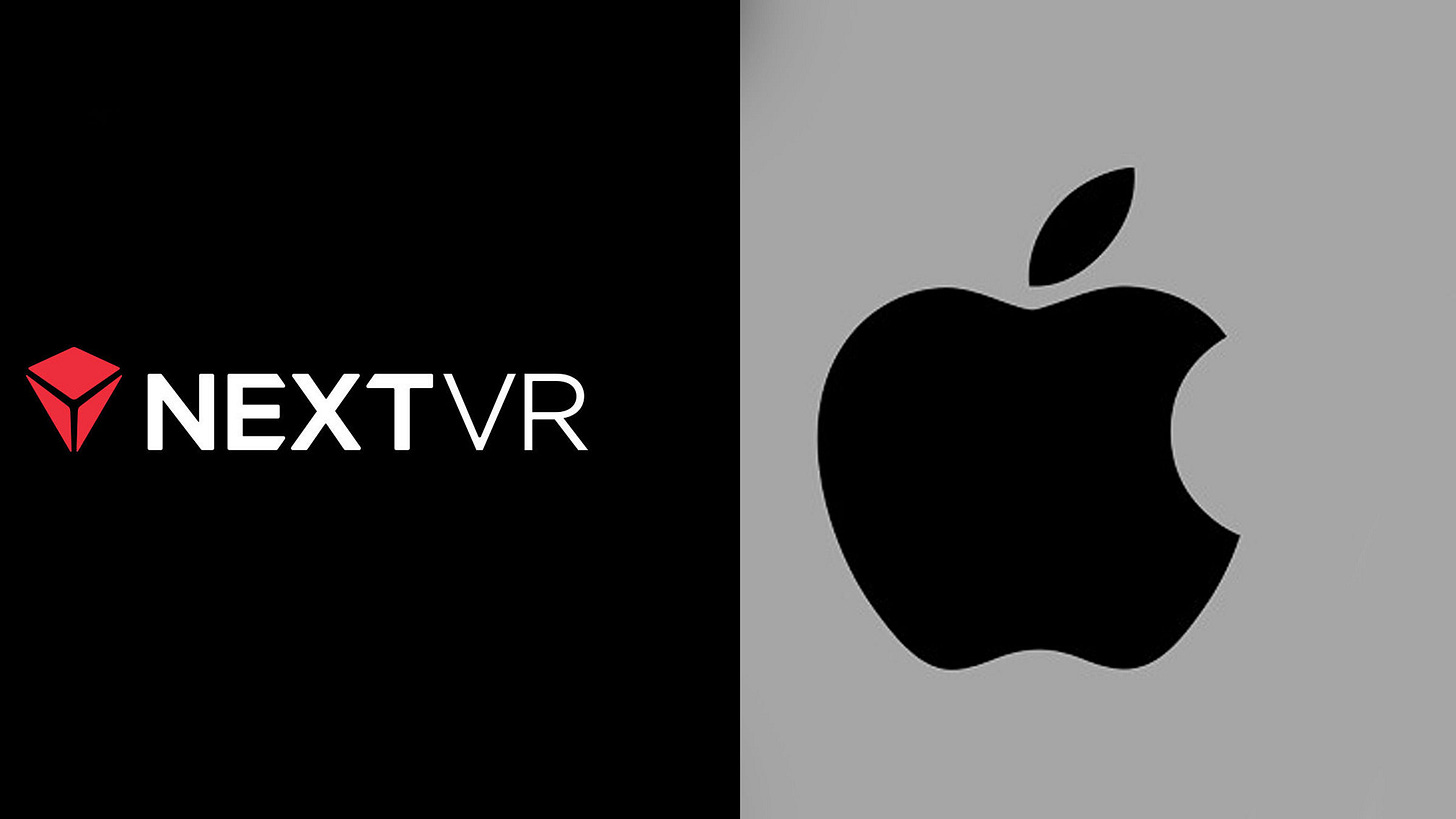 👓  Standalone 5G headsets are coming in 2021 | Via: The Ghost Howls
In the XR communities, the hype for the Qualcomm XR2 reference design is high, because it will bring many innovations to standalone XR headsets: better graphics, eye tracking, passthrough vision, AI, and much more. And inside this "much more" there is also 5G connection: headsets won't depend on Wi-fi anymore and will be able to connect everywhere to a fast mobile network that can also enable cloud rendering. It is a step forward towards the future of XR. Implementation of a 5G XR solution for retail that Qualcomm has designed together with some partners (Image by Qualcomm)
We are all waiting for 5G headsets. 5G is a technology in the middle of the hype, both in a positive sense (5G is going to revolutionize all industries!) and a negative one (5G is killing us all!). In the XR communities, 5G is considered to be able to empower immersive realities by giving the possibility of offloading some tasks from the headset to the cloud, making headsets lighter and more performant. "Cloud rendering" is a term we all love to hear. But when is this convergence coming? When can we put a 5G SIM inside our standalone headset and enjoy the future? It seems that the answer is soon, but not so soon: This confirms some rumors I unofficially heard in the last months: basically, we have to wait one year. This is not that bad considering that 5G is rolling out slowly and so even if you had such a headset today, you wouldn't be able to exploit its functionalities. Notice that I'm talking about standalone headsets: the Huawei VR viewer that is pluggable into your Huawei smartphone can immediately become 5G-powered if your smartphone is so. Take in mind these considerations if you are planning a project involving standalone headsets and 5G: 2021 is the year. Just a bit more patience, and you will be able to enjoy 5G-powered XR!
⬆️ The Upside:  We believe that standalone 5G VR and AR/MR headsets are set to become the norm in 2021. It will bring the AR/VR headsets experience to the next level. ABI Research estimates, a "10-times increase in throughput, 10 times decrease in latency, and 100 times increase in traffic capacity" over 4G capabilities. This is the kind of improvement that will help bring AR/VR headsets to the masses over time. Some research suggest that early adopters have indicated a willingness to pay as much as 32% more for 5G service than 4G service. Don't forget to check out our recent analysis on How 5G will Change the Game of Sports.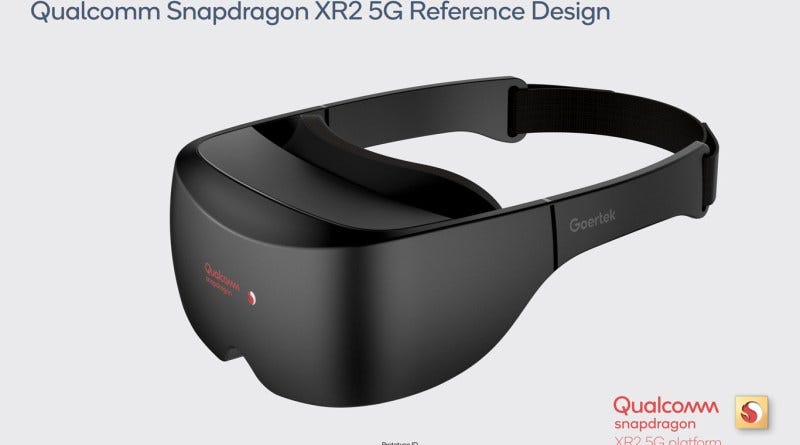 Picture: Qualcomm, 2020
---
🚑 Wearables, Health, Nutrition News
⌚New Wahoo Tickr X heart rate monitor puts focus on running form | Via: Wareable
Wahoo has released an update to its Tickr range of heart rate monitor straps – and added a bunch of new high end features. The previous generation of Tickr and Tickr X were widly popular with cyclists and runners – but have been widely sold out for a while now. The the new range has been slimmed down, and at just 48g including the strap is one of the lightest you'll find – and is immediately available. Both feature ANT+ (used by Garmin devices) and Bluetooth connectivity, and you power users will be able to enjoy broadcasting to three different devices simultaneously – which will please the cycling crowd. The company has also added LEDs to the top of the unit so you can see when it's connecting – one of the bugbears of chest straps is the mystery of what they're doing before they connect. But it's the Tickr X which gets the biggest range of new features. As well as heart rate it's now capable of tracking cadence, vertical oscillation and ground contact time in running activities. That's the feature set of top end Garmins with the Running Dynamics pod, so it's great that more people will be able to access that information. Wahoo has introduced a new metric – Running Smoothness – which looks at all these metrics and pulls them together into one score of your running form. The Tickr/TickrX can store 50 hours of workouts on board the sensor itself, so you don't need to take your phone out with you to get the data. You'll be able to see the data within the Wahoo Fitness app. And what's more, it will last 500 hours before you need to change the battery.
"We've revamped the Tickr and Tickr X to give users class-leading functionality in a design that's effortless to use and very comfortable to wear," said Wahoo Product Manager Katie DuPree. "TICKR and TICKR X redefine what you expect from a heart rate monitor by offering unmatched power, comfort, and convenience whether you're on a quick lunch ride or running a marathon."
The TICKR (£39.99) and TICKR X (£64.99) will be available for sale from the 7th May.
⬆️ The Upside: We believe that this is a good move by Wahoo. Adding heart rate, and the ability to track cadence, vertical oscillation and ground contact time in running activities, makes sense. However, what Wahoo needs to do is to focus on offering advanced biosensing (e.g. hydration, electrolyte, stress assessment) in order to further difference its wearable offering.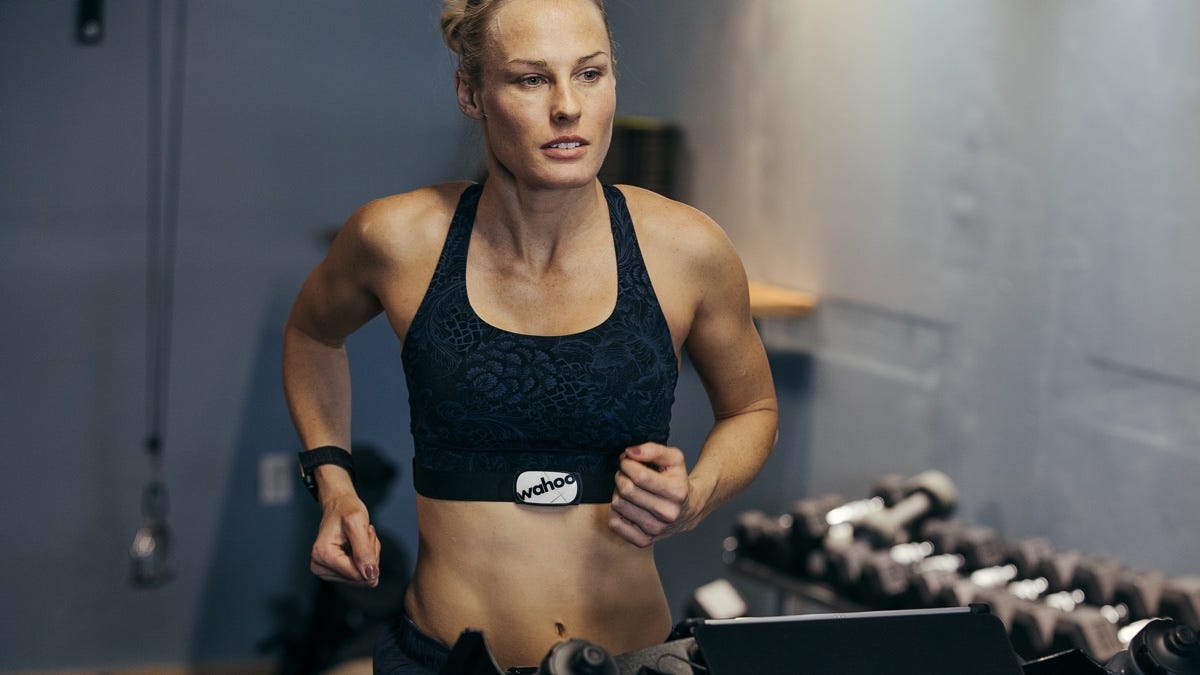 Picture: Wahoo
⌚ Garmin is now a smartwatch player, but Apple Watch is still dominating | Via: Wareable
The Apple Watch still dominates 55% of the smartwatch market – but Garmin is surging into a top three position as the market continues to grow. That's the headline stats from the latest Strategy Analytics smartwatch report, which estimates that the market as a whole grew 20% YOY in Q1 2020. So who are the winners and losers? As you might expect, Apple is still way out in front, with its sales of the Apple Watch up 22.6%, compared to Q1 2019, and it now commands 55% of the smartwatch market. Samsung is second, and boosted sales by 11% year-on-year for the Q1 period and now owning 13.8% of the market, with its Samsung Galaxy Watch Active 2. That is 1% down on 2019, where Apple has grabbed an additional 1%. But it's Garmin that comes in third. Smartwatch sales are up 37.5% and it now commands the third highest share at 8% of the market – thanks to the Garmin Venu with its AMOLED screen and the ever popular Vivoactive 4. The list doesn't detail the "others" that makes up the remaining 22% of the smartwatch market, but we would imagine thus doesn't make happy reading for Fitbit or Fossil Group – both of which are becoming also-rans. And according to Strategy Analytics, smartwatches have weathered the storm from the global coronavirus crisis – and the focus on health may indeed have driven demand:
"Despite considerable headwinds from the Covid-19 scare, global demand for smartwatches continued to grow. Smartwatches are selling well through online retail channels, while many consumers have been using smartwatches to monitor their health and fitness during virus lockdown," said Steven Waltzer, Senior Analyst at Strategy Analytics. And while the global lockdown will certainly dent growth in Q2, there are reasons to be optimistic: Smartwatches continue to have excellent long-term prospects, as younger and older people will become more health-conscious in a post-virus world. Smartwatches can monitor vital health signs, such as oxygen levels, and consumers may find comfort in having a virtual health assistant strapped to their wrist," added Woody Oh, Director at Strategy Analytics.
⬆️ The Upside: In our view, Apple will continue to dominate the smartwatch market for various reasons: 1. Apple's brand loyalty is very strong. 2. Apple's multi device ownership is 2x its closest competitor: Samsung. 3. Apple's solid HW/SW ecosystem (AirPod, Apple Watch, iPhone, iPad..) creates a lockin for Apple customers. 4. Apple is set to introduce new types of biosensors as well as a potential Apple Watch with a modular approach will enable Apple watch users to upgrade their Apple watch with new biosensors.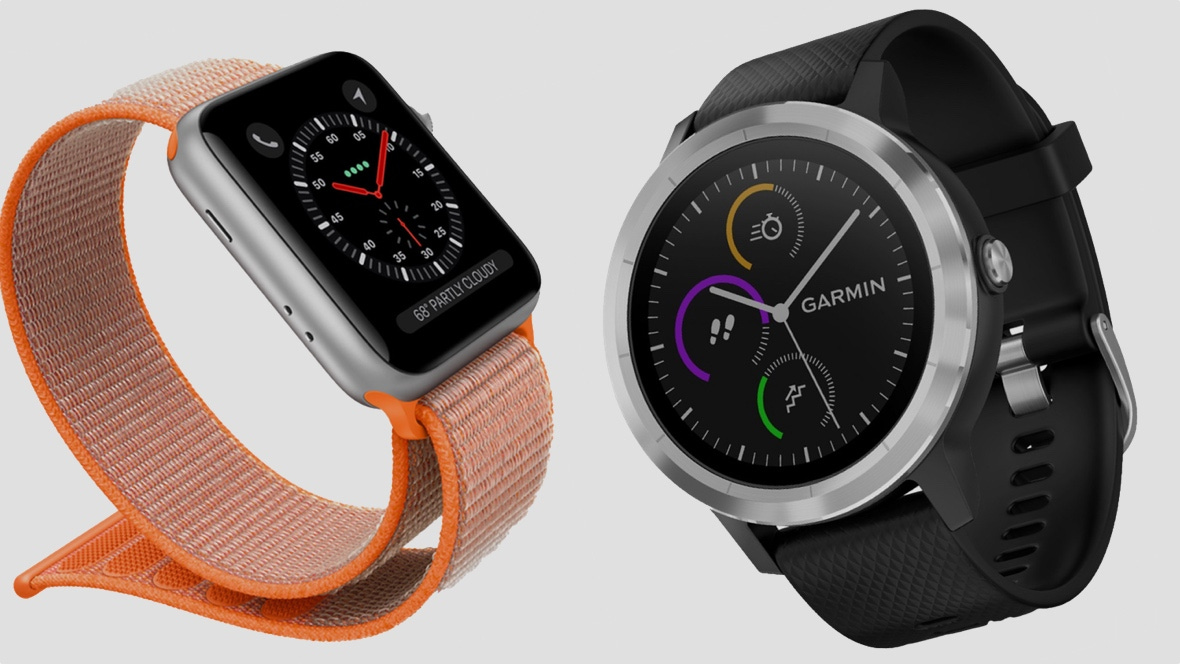 Picture: Apple, Garmin
🎧 Exclusive: AirPods Studio to feature head and neck detection, custom equalizer settings, more | Via: 9TO5Mac
We've been hearing about Apple's upcoming over-ear headphones for some time, with evidence from multiple sources pointing to the official launch later this year. And now 9to5Mac has learned more exclusive details about the "AirPods Studio", including specifications and settings, according to people familiar with the matter. One of the key features of regular AirPods is ear detection, which automatically pauses the song when you take the earphones off. We've learned that AirPods Studio will have a similar feature, but it will work in a different way. Instead of ear detection, Apple is working to include sensors that can detect whether the headphones are on your head or neck.
Based on this, we assume that AirPods Studio will play or pause content when they detect being placed on your head. Neck detection can be used to keep the headset turned on while the music is paused, just like when you take just one of the AirPods out of the ear. Another new sensor will be able to detect left and right ears to automatically route the audio channels. That means there's likely no right or wrong side to use AirPods Studio, whereas current headphones have fixed left and right channels. Just like the AirPods Pro, Apple's new headphones will have Active Noise Cancellation and Transparency Mode. Users will be able to easily switch between the two modes to reduce external noise or to hear the ambient sound. As AirPods Studio are expected to be mainly focused on professional users, pairing the earphones with a Mac or iOS device will unlock custom equalizer settings, with low, medium, and high frequency adjustments available, sources told us. According to a Bloomberg recent report, Apple's own-brand over-ear headphones will be available in at least two variations of the headphones — one using leather fabrics and another with lighter materials to fitness use cases. Bloomberg also said Apple is testing a new modular design with exchangeable magnetic ear pads.
9to5Mac has also found evidence of so-called AirPods Studio in the leaked iOS 14 beta code, including assets showing at least two color options for the new accessory. As for the price, rumors suggest that it will cost $349.
⬆️ The Upside: This would be a good move by Apple. It will help the company increase its lead in the earbubs and headphone market. Of note, according to some reports, Apple allegedly sold "nearly 60 million" AirPods in 2019, taking more than a 50% share of the global true wireless earbuds market, and raking in 71% of its revenue.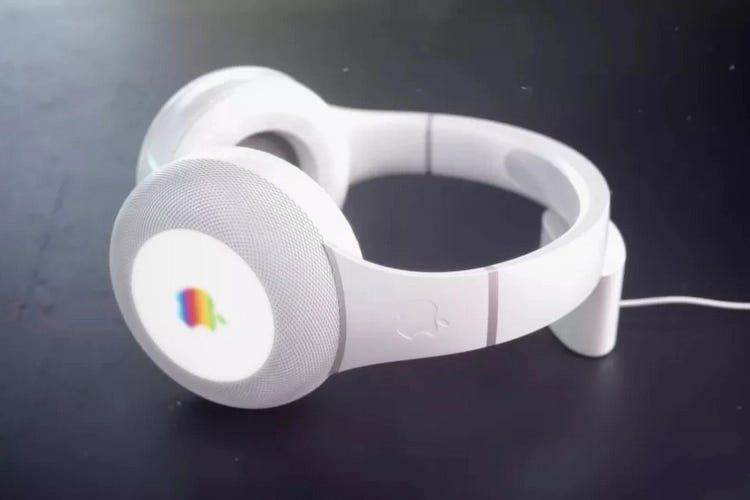 ---
🎮 Esports & Crypto-Currency News
🎮  Charlotte Hornets NBA 2K League Team Signs Jersey Sponsor | Via: AMLOSPORT.COM
Hornets Venom GT, the NBA 2K League affiliate team of the Charlotte Hornets, announced a partnership with online collectibles marketplace GoCollect. The deal includes jersey logo placement on both player and in-game jerseys. The company's branding will also be featured throughout Hornets Venom's virtual arena during home games.  Notably, this mark's the team's first partner which has no prior affiliation with the Charlotte Hornets organization.
The NBA 2K League will begin its 2020 season tonight with online matches. The league's opening was delayed due to the coronavirus pandemic (COVID-19).
⬆️ The Upside: We think this is a great move by the Hornets Venom GT. We expect to see more NBA 2K league teams to announce jersey deals in the coming quarters. As we noted previously, there is a growing interest for esport, which is set to reach $1.1B in revenue globally this year. Of note, we recently interviewed Matt Arden the head of media and content for the NBA 2K League to discuss the NBA 2K League's latest initiatives. You can check out the podcast interview here.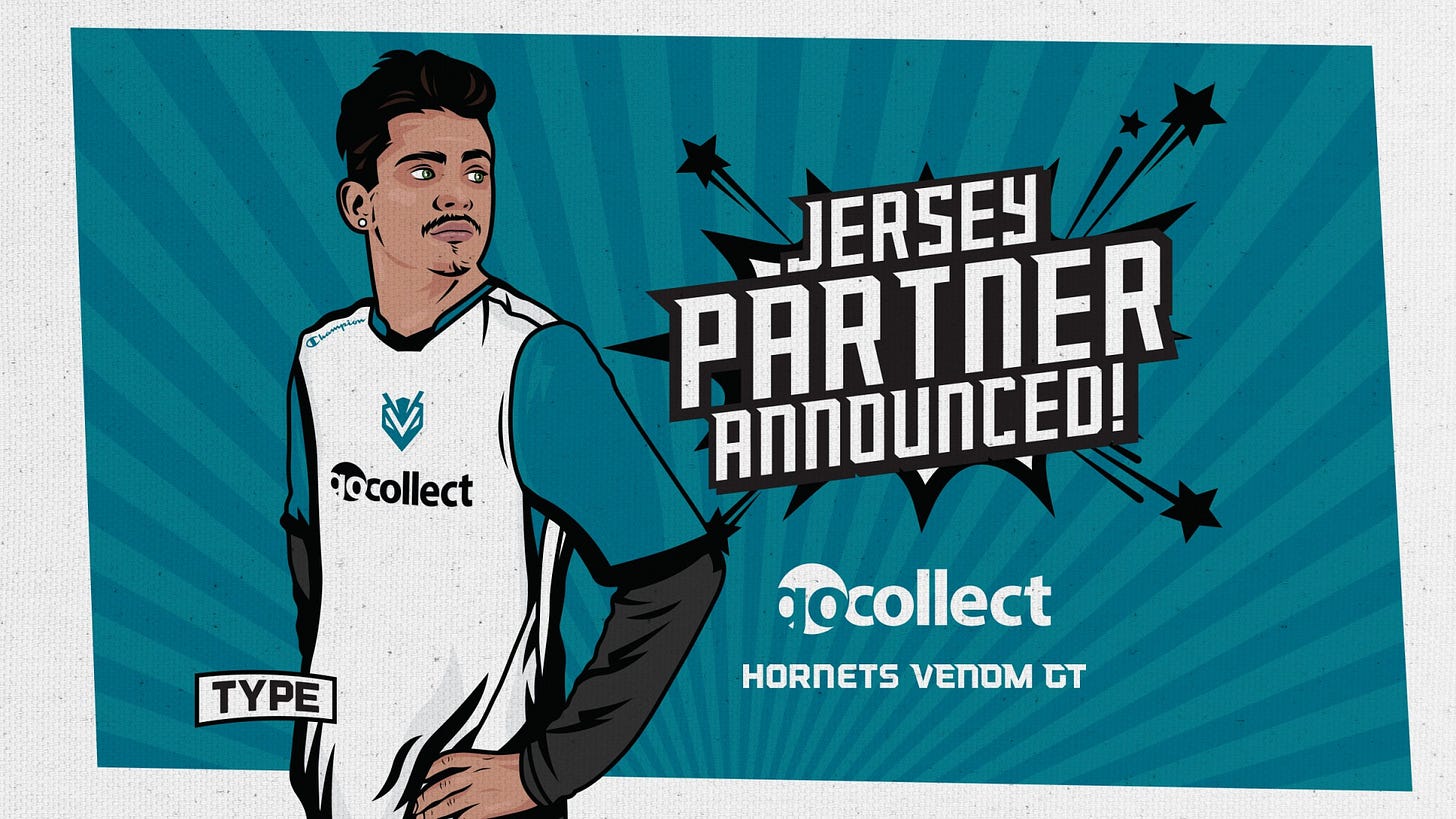 ---
💸 Sports Tech & Health Investment (Fund raising, M&As) Trends — May 2020
BLAST Secures a $13.5M Financing from Rocket Software Co-Founder and Returning Investors. Read on here.

Blitz Studios Raises $20M Series B, Launches Esports Fantasy Game. Read on here.
---
📊 Key Tech Sports Stats of The Week
$48B: Zoom is now worth $48B in terms of market cap. This equals to the combined market cap of 7 top airlines.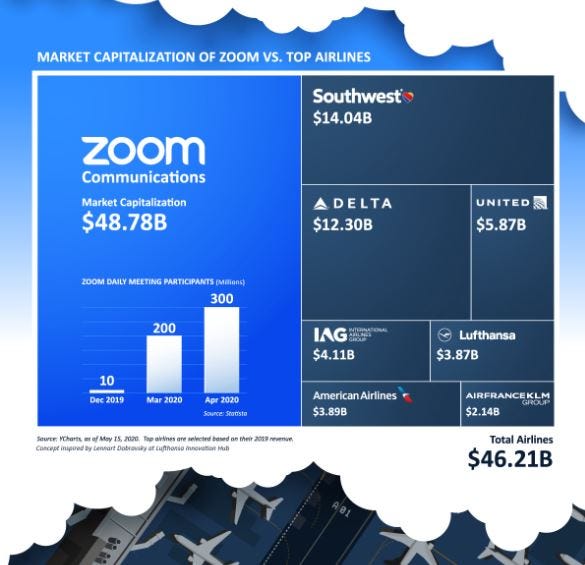 $17B: Global sports sponsorship revenue in 2020 is expected to take a $17.2 billion decrease as a result of COVID-19 according to projections made by sports marketing agency Two Circles. This year's combined sports sponsorship right-fees are projected to fall from $46.1B in 2019 to $28.9B, a 37% decrease.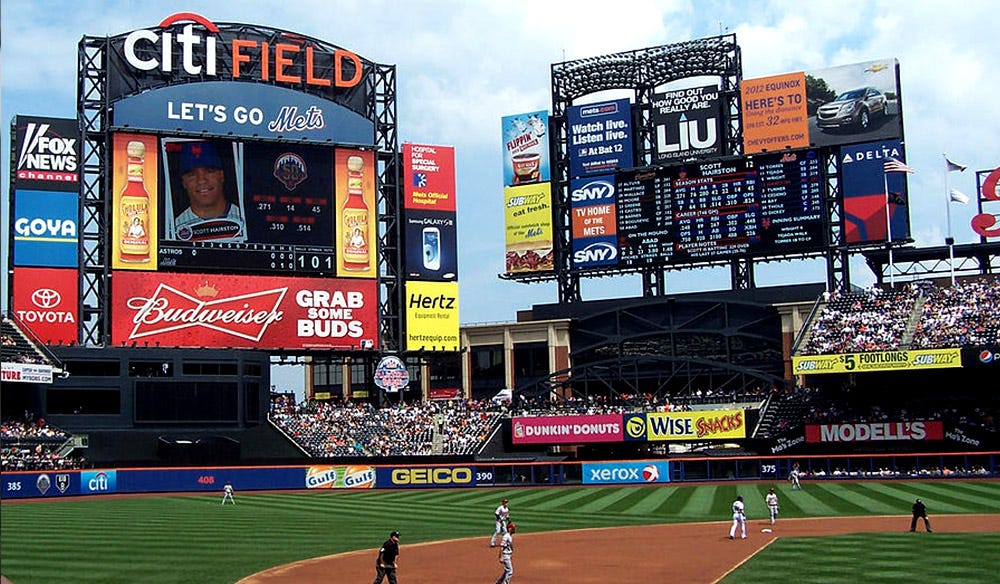 $3B: Mobile AR game Pokemon Go who is now tracking at $3B in estimated lifetime gross revenue.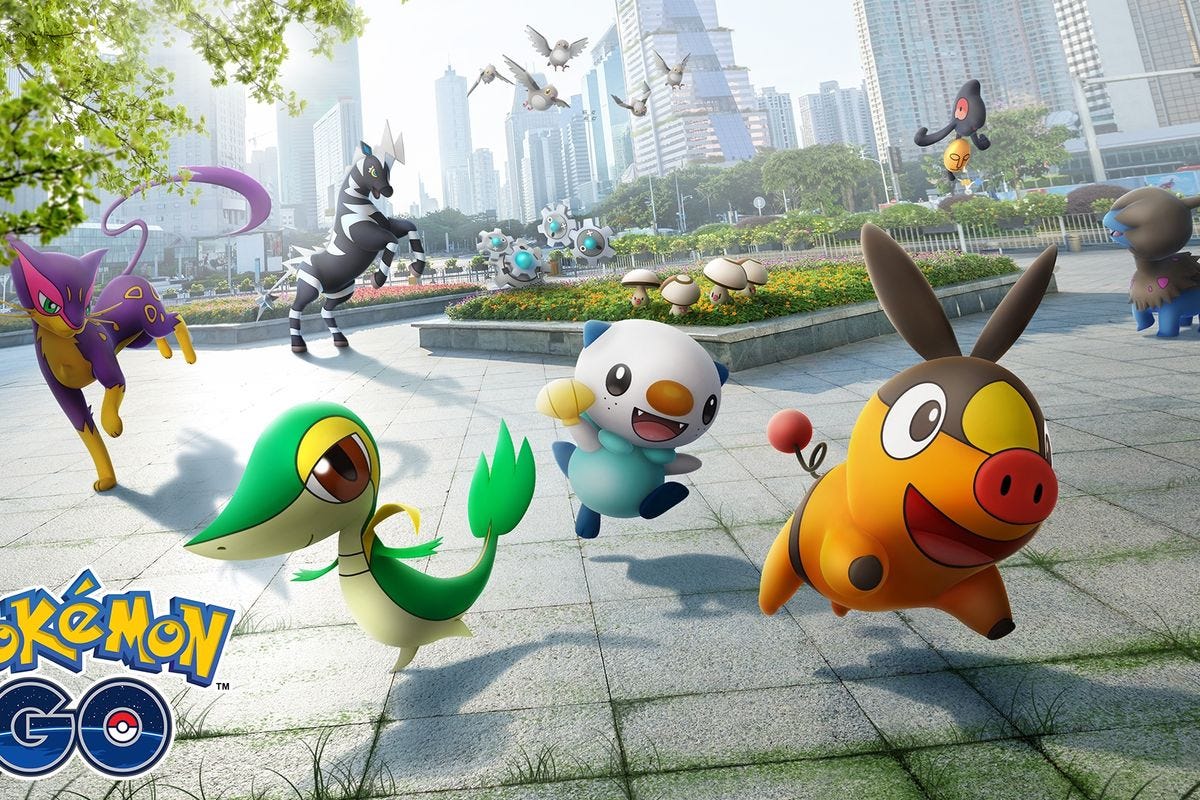 $1.1B: Global esports revenues will grow to $1.1 billion in 2020, a year-on-year growth of +15.7%, up from $950.6 million in 2019, according to NewZoo.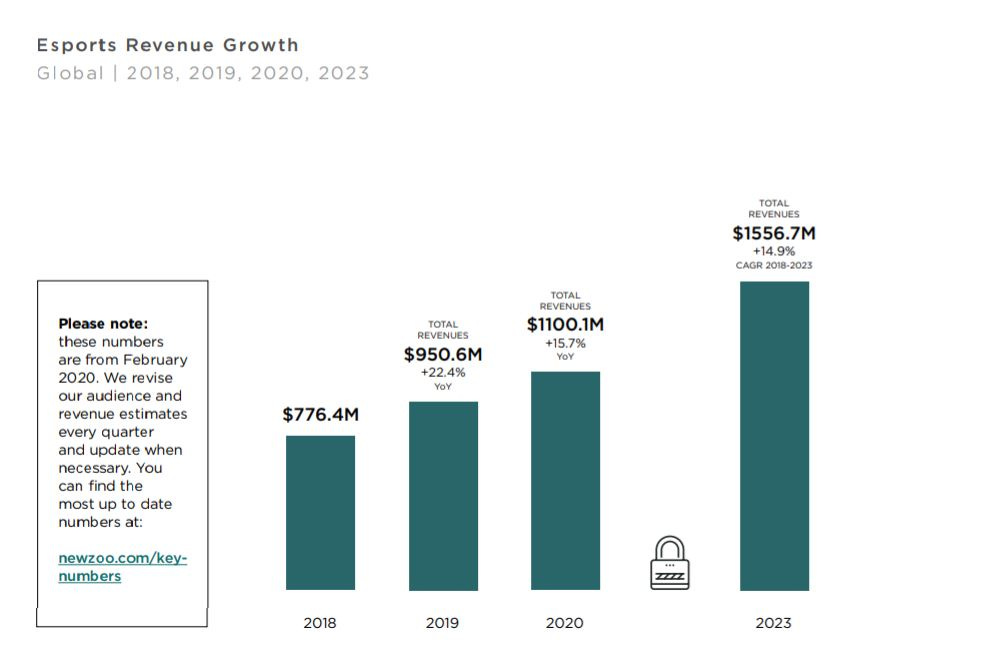 $1B: More than $1 billion in planned spending for TV ads could be canceled by major advertisers, including Domino's Pizza, General Mills, General Motors, and PepsiCo, according to the Wall Street Journal.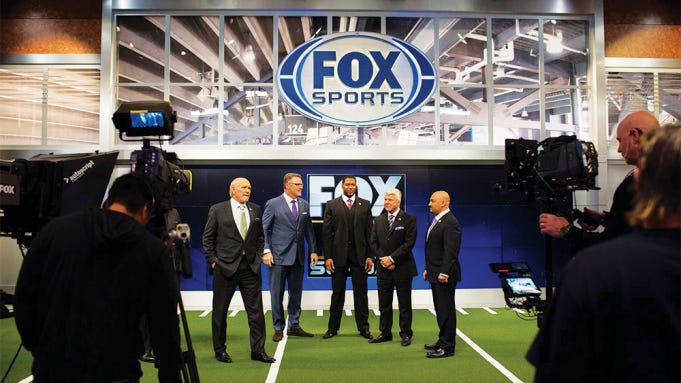 $800M: The price for delaying the Tokyo 2020 Olympics is becoming more clear. International Olympic Committee President Thomas Bach said he expects the organization to bear costs of up to $800M.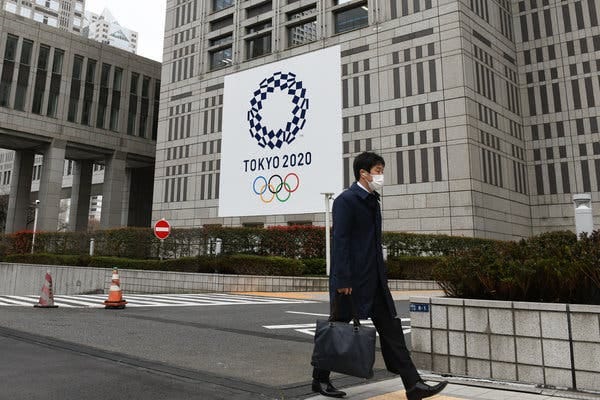 $500M: The NFL and team executives are looking to raise the team debt limit to $500M from its current $350M per team, according to ESPN. The two parties agreed to the proposal on a call earlier this week and owners will vote on May 19.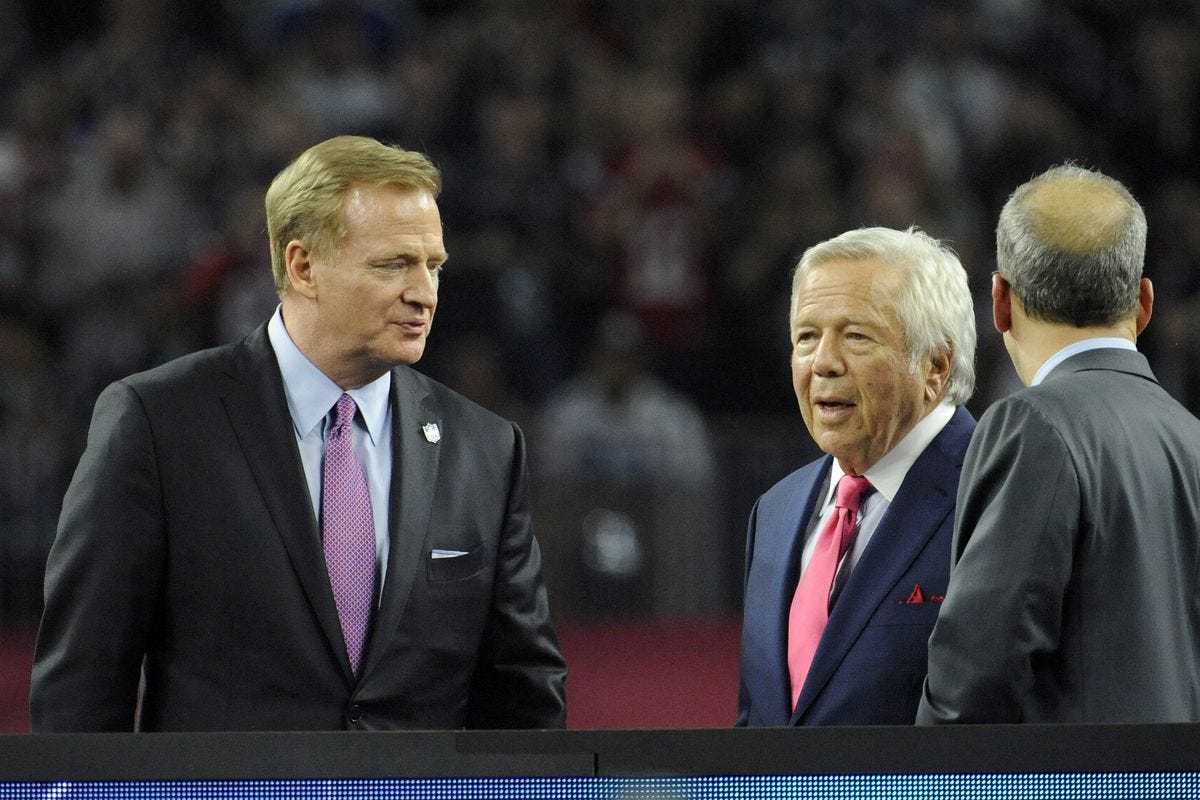 495M: Globally, the total esports audience will grow to 495.0M people in 2020, a yearon-year growth of +11.7%. Esports Enthusiasts will make up 222.9M of this number, growing +10.8% year on year, according to NewZoo. By 2023, the esport global audience is set to grow to 646M.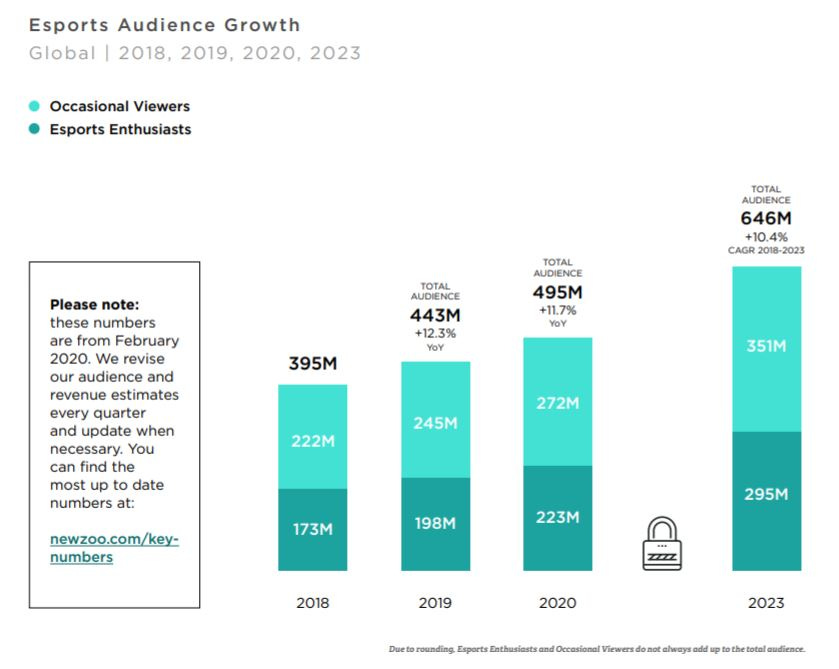 75%: In 2020, $822.4 million in revenues—or three-quarters of the total market—will come from media rights and sponsorship. This will increase to $1.2 billion by 2023, making up 76% of total esports revenues, according to NewZoo.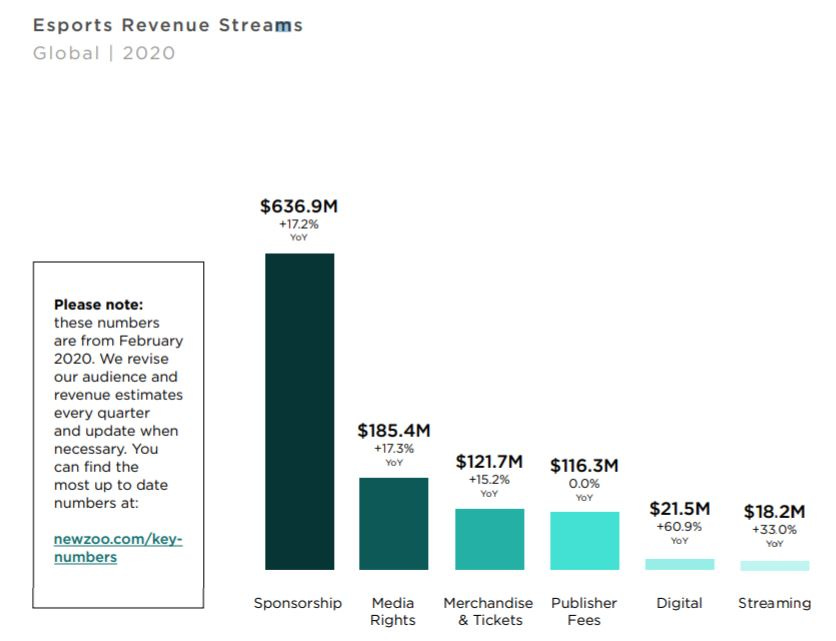 -600K: The lack of sports is driving cord cutting. No surprise there. Satellite TV suffered the most, with more than a million dropping their service. Cable lost 600,000.
"Sports are the glue that hold the whole thing together," MoffettNathanson Analyst Craig Moffett told the WSJ. "Without sports, the system is unraveling."
Notable Numbers:
Comcast: -409,000
Charter: -70,000
Dish (including Sling TV): -413,000
DirecTV and AT&T Uverse: -897,000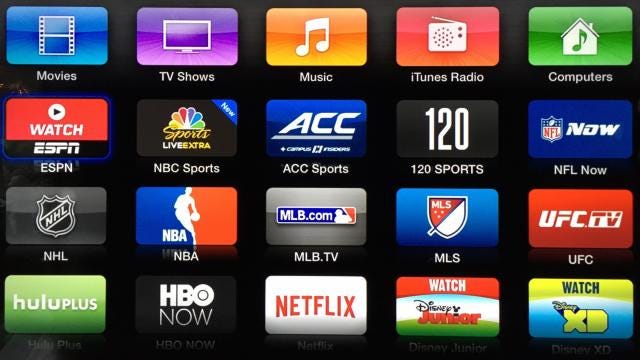 50%: Twitch — the biggest live-streaming platform — saw the most growth in terms of sheer hours, with its hours watched jumping 50 percent between March and April and a full 101 percent year over year. It's now up to 1.645 billion hours watched per month.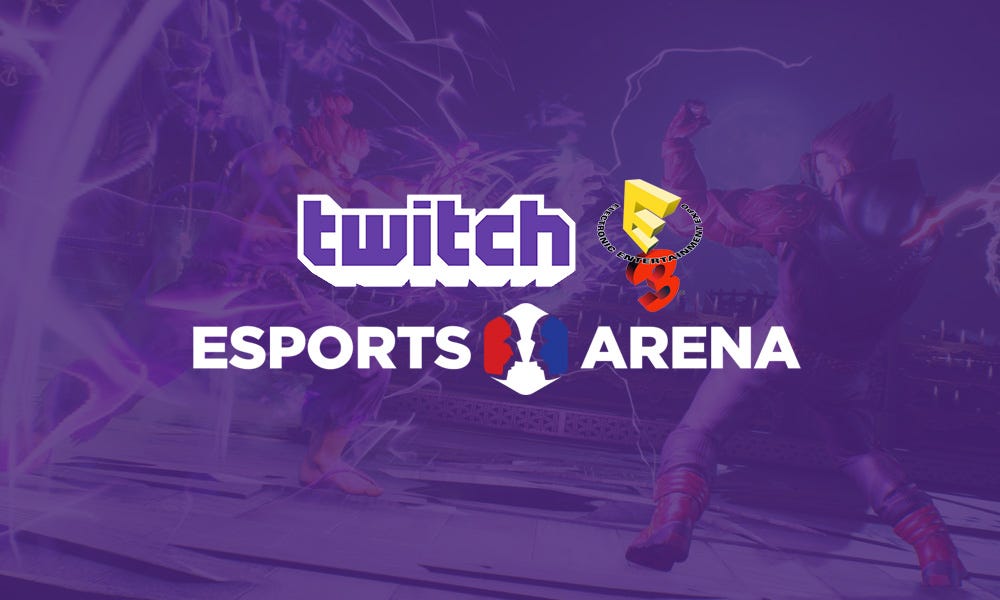 50%: In a historic first, Major League Baseball owners voted to share 50% of revenue with the MLB Players Association for any games played this season, according to USA Today. The proposal is meant to help diminish the effects of a projected 40% revenue loss caused by holding games without fans this year.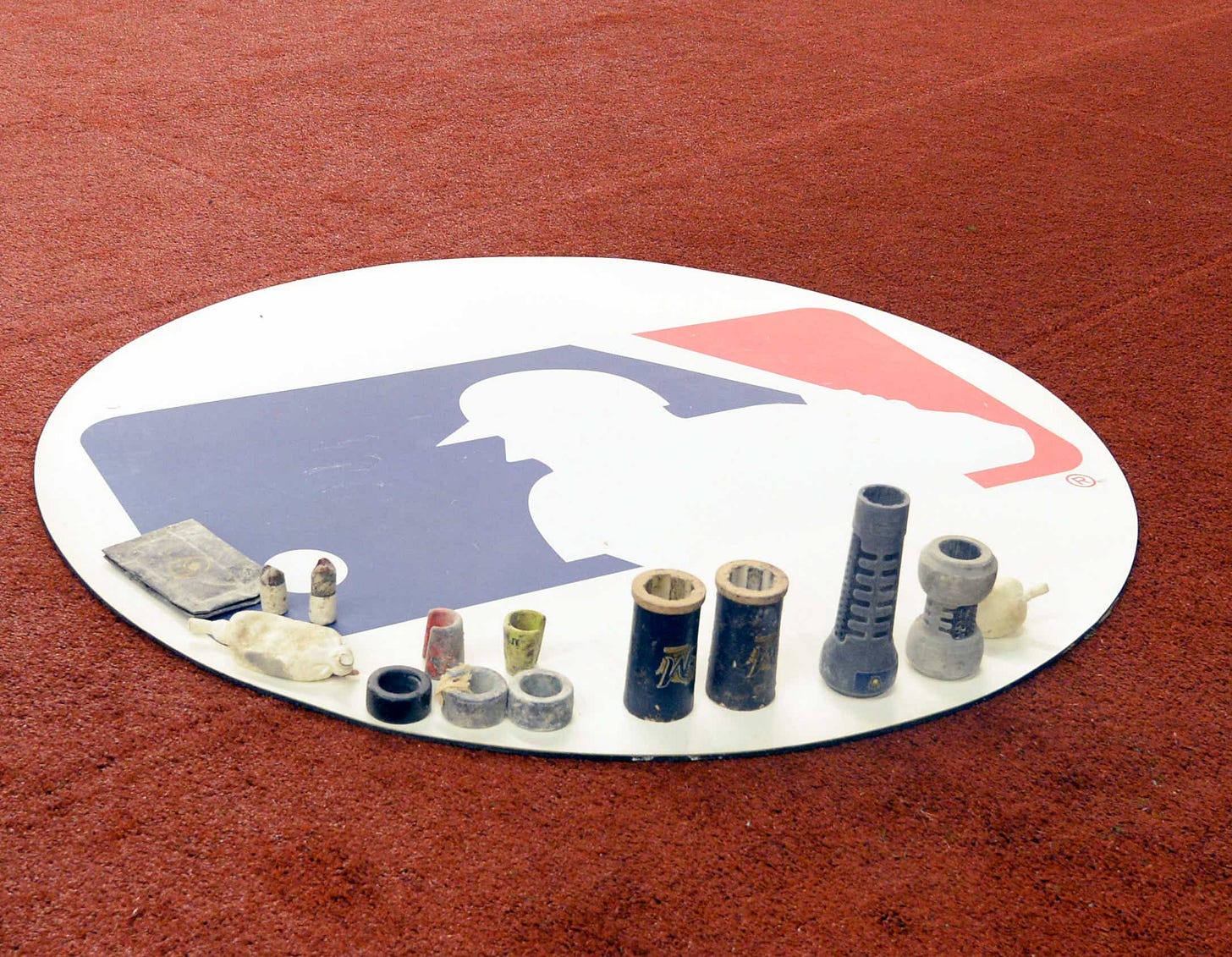 45%: According to StreamElements and Arsenal.gg, the live-streaming sector grew a full 45 percent between March and April; year over year, the industry is up by 99%. Which is truly impressive — those gains are directly attributable to the novel coronavirus.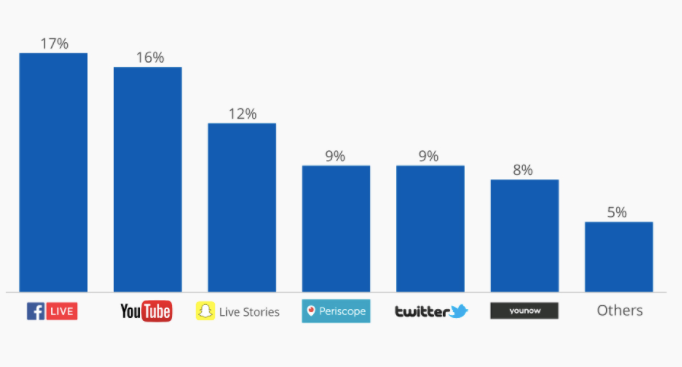 31%: Tencent reported its Q1 2020 financial results, with total revenues for the period up 26% to $15.2B from $12.1B in the same period of 2019. As game playing time and in-game consumption activity increased due to COVID-19 policies, the company recorded a year-over-year increase in quarterly online games revenues of 31% to $5.26B.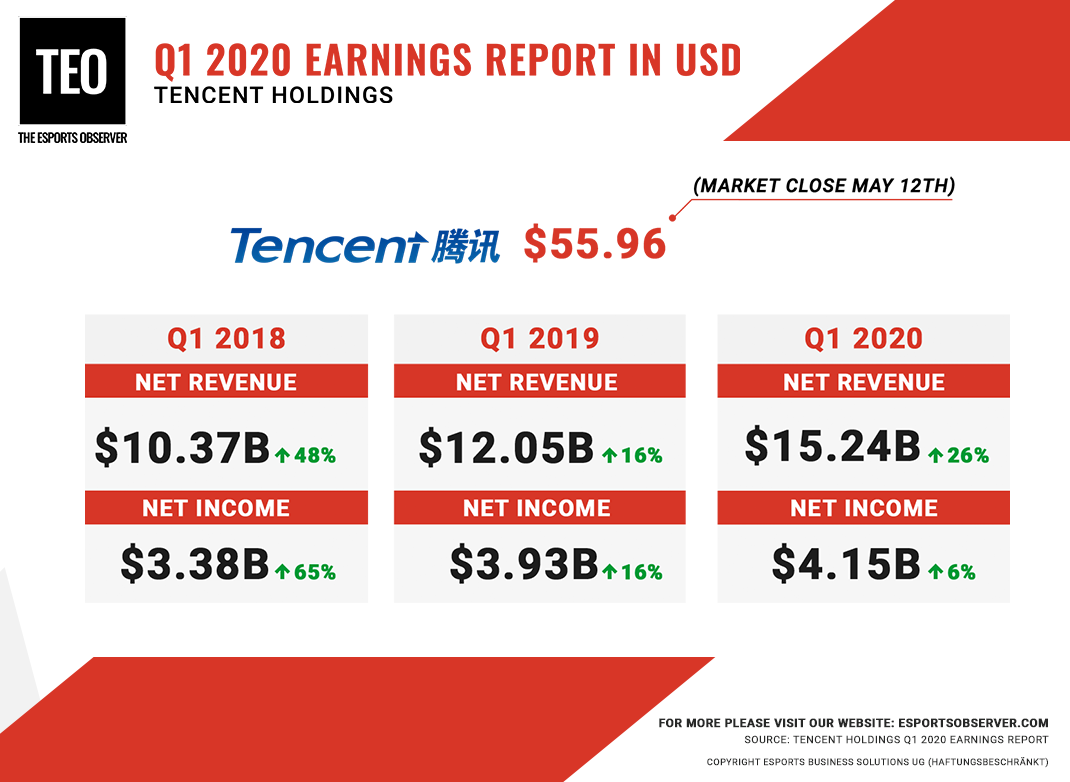 Picture: Tencent, 1Q20 Earnings
$4.94: The global average revenue per Esports Enthusiast will be $4.94 this year, up +2.8% from $4.80 in 2019, according to NewZoo.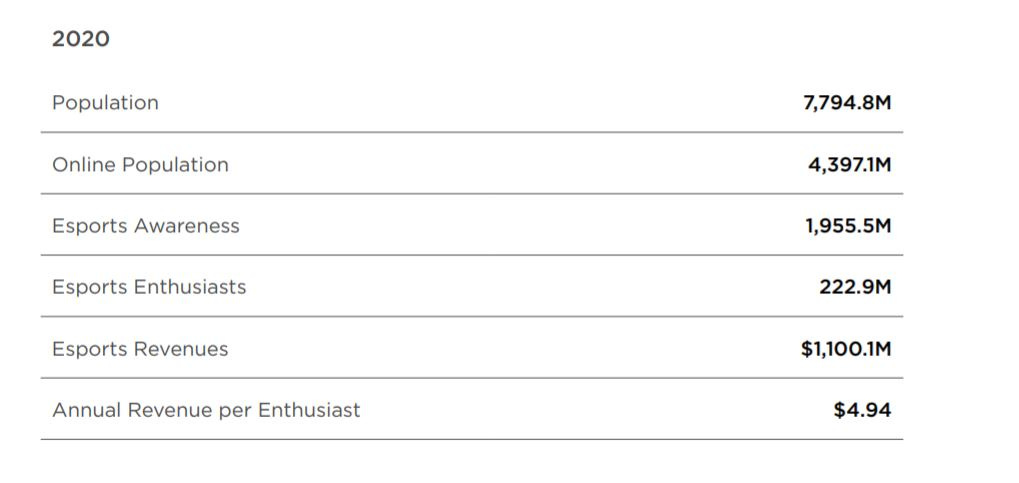 -39%: Tom Brady's move from New England to Tampa Bay has had a substantial impact on 2020 ticket sales in both regions. According to the ticket search engine TicketIQ, tickets for the Patriots' 2020 season are averaging $433 on the secondary market, a 39 percent drop from their 2019 ticket prices. That's the steepest price drop of any NFL team by a pretty significant margin, per TicketIQ.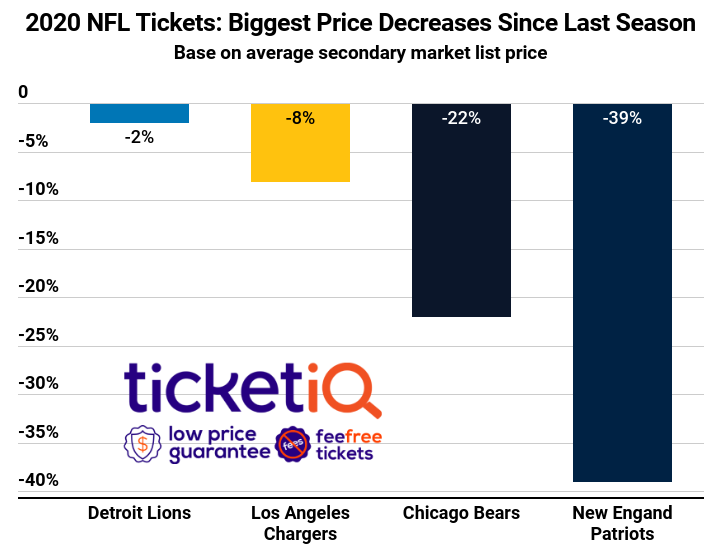 -23%: Under Armour has been hit hard by the coronavirus pandemic and reported a 23% decline in sales in the first quarter. To help counter the weak start to the year, the shoe and apparel maker plans to cut approximately $325 million in 2020 operating costs. Last month, Under Armour temporarily laid off 6,700 employees.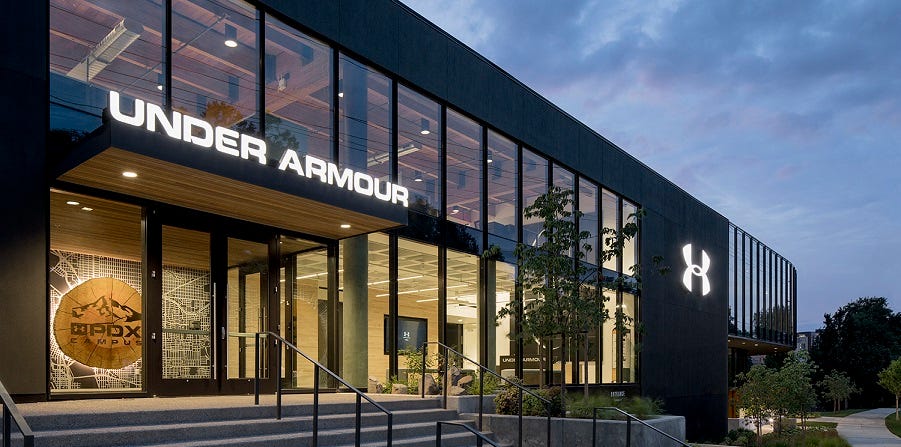 -18%: Madison Square Garden Sports Corp. also reported its quarterly numbers, including an 18% decrease in third-quarter revenues.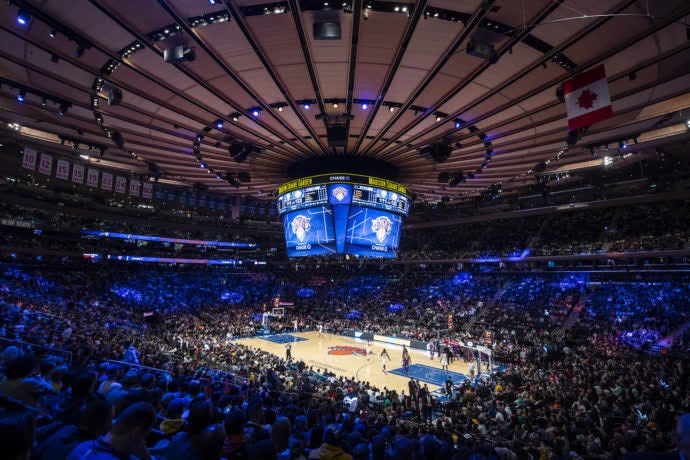 ---
📸 The Upside: Snapshots & video of The Week.
Tony Hawk's game is back! Tony Hawk's  Pro Skater 1 and 2 are coming back, complete with a full-blown graphic overhaul, online multiplayer — and, yes, the song "Superman" by Goldfinger.
COVID-19 shelter in place: No significant difference in how often we get out of bed each night, according to Fullpower Technologies. Sleep is one-third of our lives and a great indicator of our overall wellness and stress levels as well as some chronic health conditions. Fullpower technologies, which looked at 500K+ nights of sleep, also saw in the data that as we age, males tend to have more disrupted sleep than females. However, younger females tend to have more disrupted sleep than males.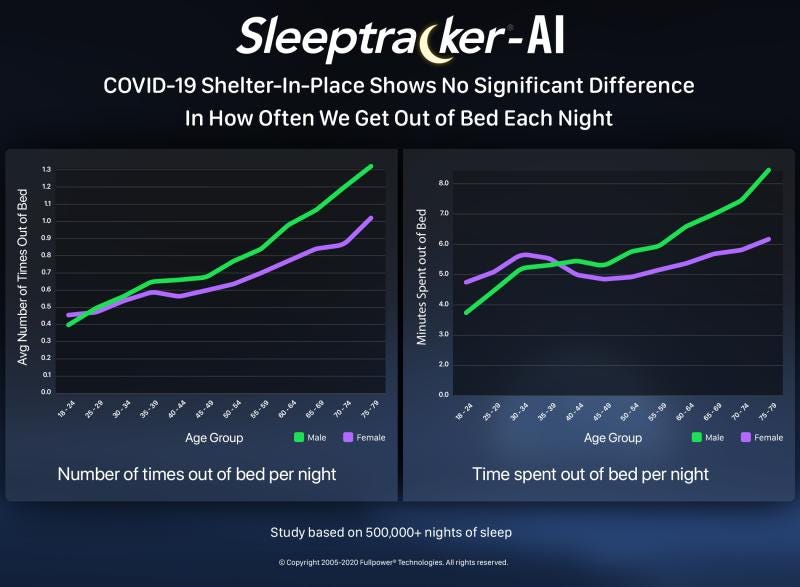 Picture: Fullpower Technologies
Temp screening is the new norm in soccer: Leon Bailey and other Bayer Leverkusen (Bundesliga) players have been subjected to temperature scans before they can train.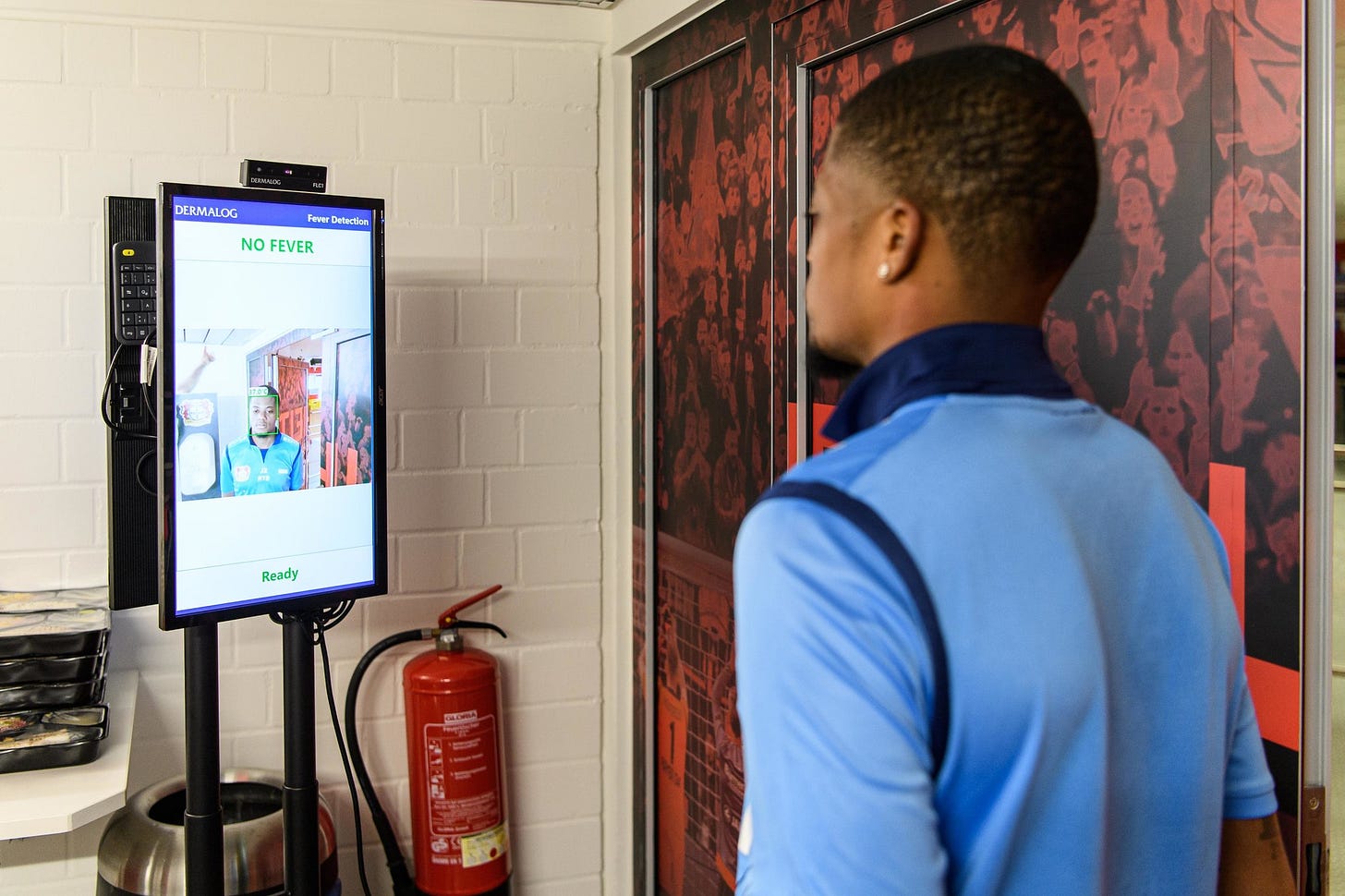 Picture: Bayer Leverkusen (Bundesliga)