Discover more from The Upside Newsletter
Data, insights, and stories from the world of sports, business, and technology.
Over 6,000 subscribers
🏈 ⚽ Major Sports Leagues (NFL, NBA, Laliga, EPL..) To Lose $14B in Revenue Due to COVID-19?
Series A, NBA & MLS To Resume. Peloton Stock Up +66%. Tiger Woods and Phil Mickelson Raise $20M for Charity
Dear Friends and Members,
Last week more leagues announced their plan to resume competition: Those include the Series A (June 20), Premier League (June 17). MLS officials also proposed that the MLS season could resume in Orlando, Florida behind closed doors at the Disney sports complex and other stadiums in the city. According to multiple reports, the MLS is planning to return to action as early as 22 June. The NBA is also planning a Thursday vote of the league's board of governors with owners expected to approve commissioner Adam Silver's recommendation on a format to restart the season in Orlando, Florida, sources tell ESPN. The NBA has been examining several plans for a return to play, but numerous members of the board of governors tell ESPN that there's growing support for a plan to bring 22 teams to Disney's ESPN Wide World of Sports Complex in July.
The NHL will also return this season by jumping right into the playoffs with the top-12 teams in each conference heading to two hub cities for round-robin play before beginning a playoff tournament. Each team will be allowed 50 personnel in the hub cities and will enact a comprehensive COVID-19 testing protocol. Deputy commissioner Bill Daly said NHL players will be tested for the coronavirus daily if games start happening. Formal training camps will begin no earlier than July 1. The XFL is now seeing interest from more than 20 buyers to rescue the league out of bankruptcy. Combat sports (MMA) are also coming back to Las Vegas as the Nevada State Athletic Commission approved UFC fights at its Apex facility on May 30 and June 6. The commission also voted to allow two Top Rank boxing matches on June 9 and 11 at the MGM Grand. In addition, Amazon is reportedly looking to buy more sports TV rights, the internet giant also wants localized sports content.
Over the weekend several soccer players also dedicated their goals to U.S. protests: As shown in the picture below (left side) Borussia Monchengladbach forward Marcus Thuram took a knee after scoring his first goal on Sunday in honour of ongoing protests in the United States following the death of George Floyd. Borussia Dortmund soccer star Jadon Sancho (right picture below) also revealed a "Justice for George Floyd" shirt after scoring for his club.

On another note, some experts are starting to estimate the economic impact of COVID-19 on the sports leagues. In fact, according to the chart below, based on data from KPMG, ESPN, The Guardian, Nikkei Asian Review, the major sports leagues could lose a combined ~$14B in revenue due to COVID-19. More precisely, the North American sports leagues (NBA, NHL, MLS, MLB) could lose $5.5B in revenue. Of note we believe this number is likely too low as some experts are already estimating that the NFL could lose $5.5B due to COVID-19. The North American leagues are followed by the Premier League ($1.35B), Laliga ($1B). This is followed by the UK leagues (Cricket, rugby leagues) which could lose an estimated combined loss of $850M. The Italian soccer league, also known as Series A, is expected to lose $703M, while the French Ligue 1 is projected to lose $430M due to COVID-19. US College sports is also expected to lose $4B due to the COVID-19 crisis. The Tokyo summer olympics are also expected to lose $6B in revenue. Granted we have to take these estimates with a grain of salt. But in our view, this is one of the key reasons why sports leagues (Bundesliga, Premiere league, Series A, MLS..) have resumed or are about to resume their season so they can play games and receive TV rights to offset those losses. While this is alarming for many sports observers, we believe that the sports industry will come back stronger than ever. We are already seeing many leagues and clubs adapting to this new environment, and resuming their respective competition. In the sports tech startup world, and based on our sources, we are seeing big spikes in areas like SVOD, VR, AR, esports/gaming, video conferencing (Zoom), and connected fitness (Peloton, Tonal..).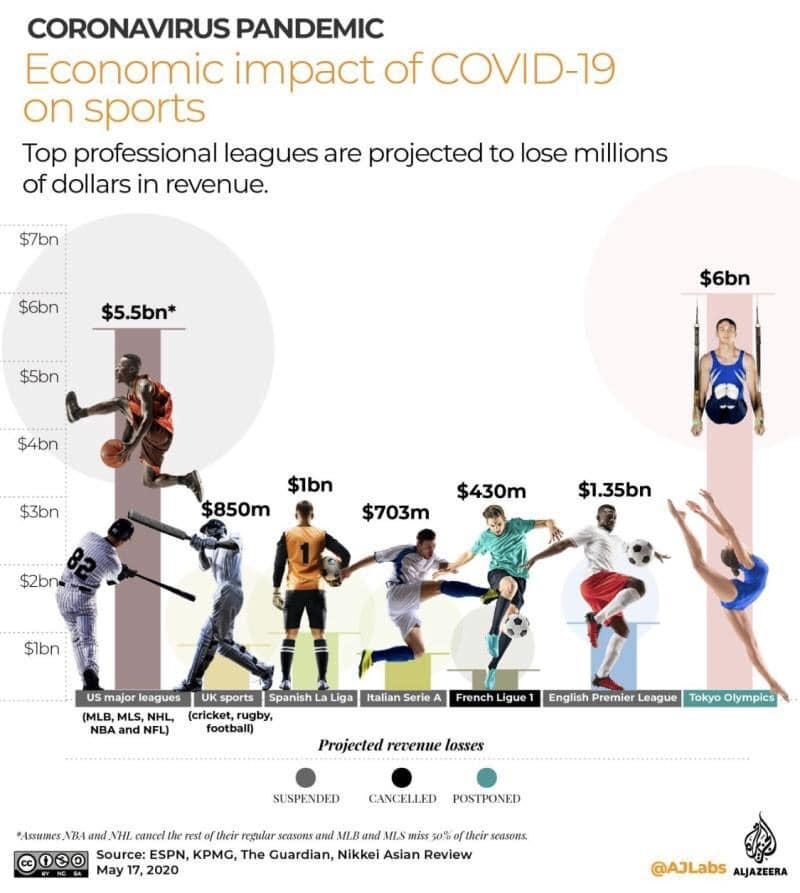 In the world of AR/VR and digital, HP announced a new pair of VR headsets while Magic Leap CEO stepped down. Google also unveiled a new AR feature to teach user social distancing. In the fitness and wearable space, Samsung Galaxy watch 2 leaked and the Samsung Watch received clearance for ECG. In the world of esport, the McLaren (F1) teamed up with Veloce Esports to expand its global esports program.
As we noted previously, "within the next 2 weeks" we will unveil a new major Upside initiative that will better bring our sports tech community of thousands of sports tech execs (Pro teams, leagues, sports startups, VCs/investors, brands, etc.) together, so stay tuned!
On Wednesday we will publish our recent interview with Josh Margulies, Director of Integrated Brand Marketing for the Jacksonville Jaguars a top NFL team. We touched on his role at the Jags, the great job his team is doing in terms of fans engagement. He gave us his advice for teams looking to offset loss in ticket sales due to COVID-19, and he talked about the Jags' goals for the upcoming NFL season. 
To get access to our paid analysis make sure to become a paid member by clicking on the link below:
If you have any questions about The Upside, need help with business development or fund raising, want to join our community of thousands of sports and tech execs (pro teams, leagues, athletes, investors..), or want to have access to our premium content, please check out Sports Tech Advisors and contact us at info@sportstechadvisors.co
📰 Top Stories We're Reading This Week 
👓  Google Turns To Augmented Reality To Help With Social Distancing
👓  HP Reverb G2 virtual reality headset arrives this fall for $600
👓  Magic Leap CEO Rony Abovitz is stepping down
⌚Samsung Galaxy Watch 2 could get imminent release date
⌚ Samsung smartwatches get clearance for ECG – but you will still have to wait
🎮  McLaren Racing Partners With Veloce Esports to Expand Global Esports Program
💸 Latest Investment Trends
📊 Tech Stats of the Week
📸 Snapshots of the Week
Let's jump right into the insights and upside for all of these top stories
---
🎮 AR/VR/Video/Digital Sports News
👓  Google Turns To Augmented Reality To Help With Social Distancing | Via: Ubergizmo
Last month, Snapchat launched a new lens that used augmented reality to help users get a better idea of how far apart people should stand away from other people with regards to social distancing. The idea is that by standing a certain distance away from others, it reduces the chance of the coronavirus spreading. If you're not a Snapchat user but want to have the feature, you might be in luck because Google has since announced something similar of their own. Dubbed Sodar, this uses WebXR to offer up a similar feature, but the best part is that it does not require users to download any app. It can actually be launched in your phone's browser.
However, we should note that this won't work with all phones. For starters, it doesn't work on iOS devices. Secondly, even with Android phones, it won't work with all of them. There is no compatibility list, but we have come across comments that are suggesting that it doesn't work for everyone. Android users might need to have a device that is ARCore compatible, so if your device is, then maybe it could work. In any case, if you want to check it out, just head on over to Google's Sodar website on your mobile device and take it for a spin.
⬆️ The Upside:  We believe this is a good move by Google. This is part of a global trend among OEMs and tech companies to offer technologies to promote social distancing. Google, along with other OEMs, already launched a device tracking system on handheld devices to help track users who might have been in contact with COVID-19 patients. So this AR based feature to promote social distancing is part of the same strategy.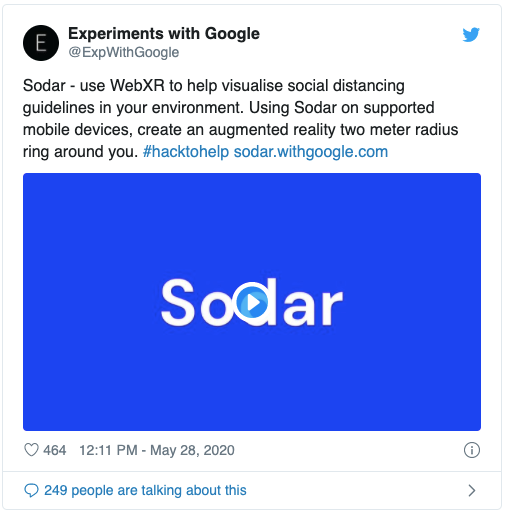 👓  HP Reverb G2 virtual reality headset arrives this fall for $600 | Via: VentureBeat
HP is unveiling the HP Reverb G2 virtual reality headset with high-resolution specs the company hopes will attract new enterprise users and consumers. The company is launching the second-generation VR headset in a partnership with both Microsoft and game company Valve. The headset will debut in the fall for $600.
The resolution of the headset is 2,160-by-2,160 per eye, which should help with the visual realism of VR, said John Ludwig, lead product manager for VR at HP, in a press briefing. He said the Reverb G2, which uses lenses designed by Valve, will have 2.5-times the resolution of the Oculus Rift headset, delivering sharper images that enhance the feeling of being transported to another reality.
⬆️ The Upside:  We believe this new VR headset from HP has great specs. However we don't believe that this will help HP take share away from the likes of Sony or Facebook/Oculus who are leading the VR market today. According to Trend Force and Statista, Sony's estimated market share was 36.7% in 2019. Conversely, Facebook's was 28.3% in 2019 as popular new Oculus products like the Oculus Go, Oculus Rift S, and Oculus Quest entered the market. Plus with Apple expected to enter the VR headset market in 2021, it will only get more challenging for HP in this market moving forward.
👓  Magic Leap CEO Rony Abovitz is stepping down | Via: VentureBeat
Magic Leap CEO Rony Abovitz confirmed he has raised a new round of funding, and he also said that he will step down as the augmented reality company's top executive.
In a statement, Abovitz confirmed rumors that the company had raised a last-minute round of funding, but he didn't say where it came from and he didn't say the amount raised. The company is pivoting to focus its spatial computing platform on the enterprise market. A week ago, The Information reported that Magic Leap had raised $350 million as a lifeline, just after the company announced it was cutting 1,000 jobs and exiting the consumer business for its Magic Leap One AR headset, which overlays animated images on the real world.
⬆️ The Upside:  We believe this should not come as a surprise to see Rony stepping down. The truth and the matter is that Magic Leap has raised a significant amount of money ($2.6B+) but has not been able to gain significant traction in terms of volume. It is estimated that magic Leap only sold 6,000 units to date. Now the company is moving in the right direction, is focusing on the enterprise market (focus on healthcare) but the company will face fierce competition from Microsoft Hololens, Vuzix, Google and others there.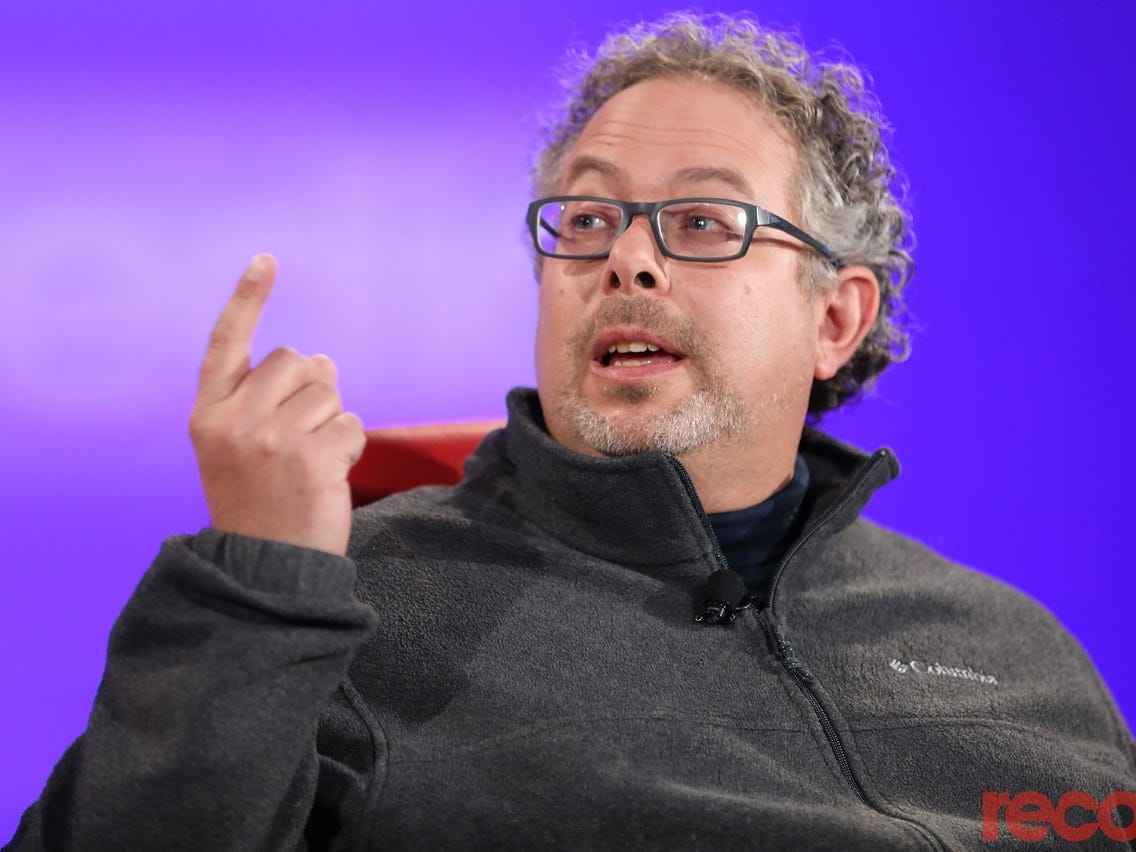 Picture: Magic Leap CEO
---
🚑 Wearables, Health, Nutrition News
⌚ Bundesliga soccer team Eintracht Frankfurt used Kinexon's wristband to keep social distancing between staff members | Via: Sporttechie
Bundesliga soccer team Eintracht Frankfurt has equipped its game day personnel with Kinexon's SafeZone wristband to ensure that essential employees are keeping proper social distance while working games inside venues. 
The radio-based sensor-embedded wearable debuted May 16 during Eintracht Frankfurt's home match against Borussia Mönchengladbach, which was the first day of resumed matches for Germany's top soccer league since the coronavirus shutdown. The match was played without fans at Commerzbank-Arena in Frankfurt. Kinexon's player performance tracking system has been installed at Commerzbank-Arena since 2018. Kinexon's SafeZone wristband flashed visible signs when stadium employees wearing the device came closer than six feet from each other. The device also sent an audible warning when the social distancing breach lasted longer than the safe duration pre-set by Eintracht Frankfurt. SafeZone was launched earlier this month by Kinexon, which is based in Germany. The company's player tracking devices are used by teams across the NBA, NFL, and European soccer.
"We wanted to create trust for all parties involved by fulfilling the necessary distance requirements and finally document the implementation and compliance. Ideally, the technological solutions today serve as a confidence-building impulse for sports, industry or event organizers, even beyond football," Sebastian Zelichowski, executive officer at Eintracht Frankfurt, said in a press release.
⬆️ The Upside: We believe that Kinexon is the typical example of a sports tech startup that has pivoted to address the COVID-19 crisis. It makes sense for the company to leverage UWB, its underlying technology and a great locationing technology, to reinforce social distancing between staff members to prevent COVID-19 spread. We expect others teams and leagues to adopt this type of technology. Of note, many OEMs (Google, Samsung, Apple..) have now deployed tracking technologies on their devices to track the spread of COVID-19 which will also help as part of social distancing.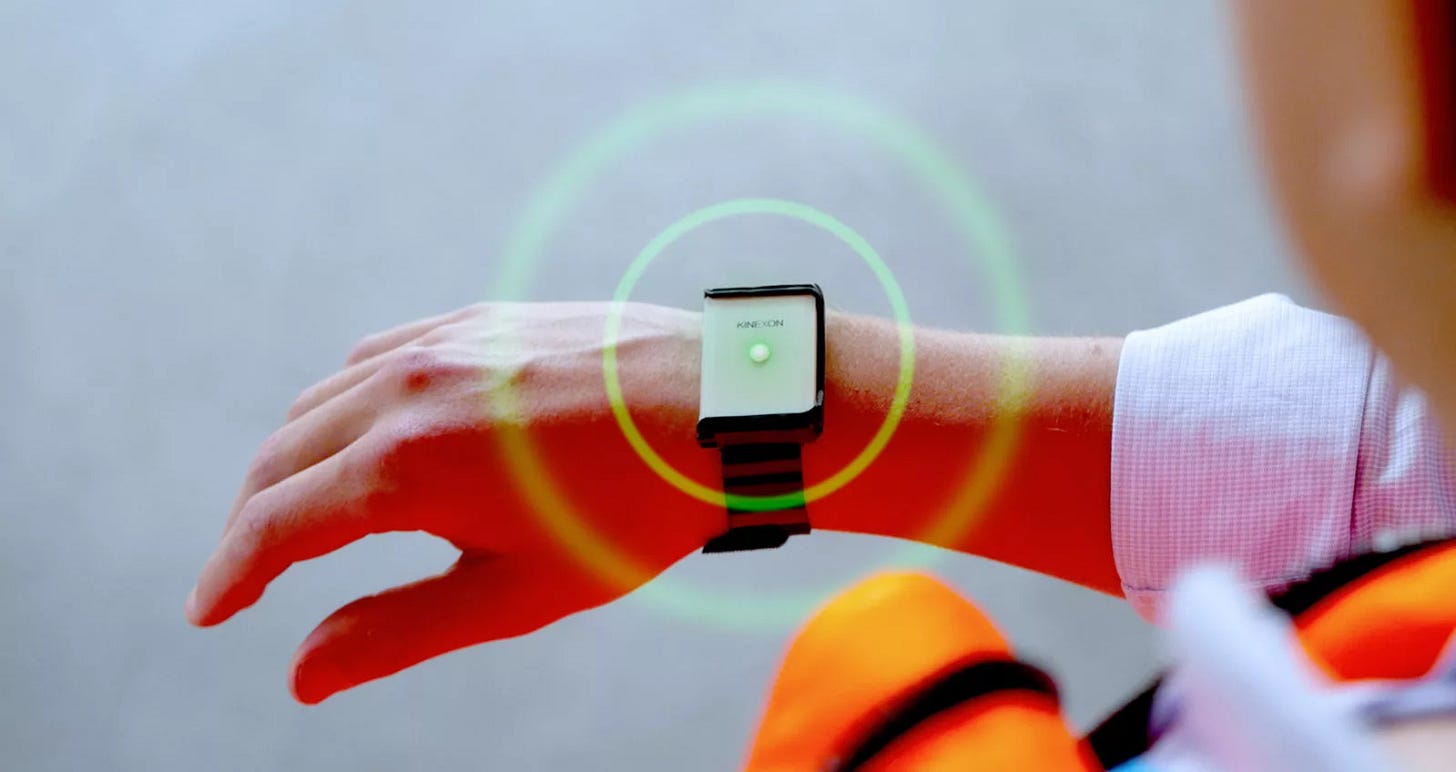 Picture: Kinexon
⌚Samsung Galaxy Watch 2 could get imminent release date | Via: Wareable
The Samsung Galaxy Watch 2 could be released any time, as it's been spotted again at Chinese regulators. Two watches codenamed the SM-R840/845 and SM-R850/855 have received the Compulsory Certification of China from regulators – according to Sammobile which means a launch might not be far off. All this tallies with reports from April 2020, which saw the same codenames, which likely point to two different sized smartwatches. For those who follow this kind of thing, those monikors clearly refer to Samsung's range of smartwatches, and have been named in Galaxy Watch leaks in the past – although we don't know whether this will be a Galaxy Watch 2 or Galaxy Watch Active 3. Two codenames points to two sizes, so we're likely looking at the similar 40mm and 44mm to the existing Samsung Galaxy Watch Active 2 or the 42mm/46mm versions from the original Galaxy Watch. We've also seen R845 and R855 models mentioned, which should be the LTE equivalents. As we reported in May 2020, it looks set that Samsung will offer a premium titanium version of the Galaxy Watch 2. We know from previous certifications that we're likely to see the device in black, silver, and gold.
And it seems rumors we previously reported about storage being upped to 8GB will happen – great news for those enjoying Spotify offline syncing, which has been supported for a few generations of devices now. Finally, battery will increase in size, from 247mAh on the Active 2 to 330mAh – which seems unlikely to majorly change longevity from the current 36(ish) hours – but could power new, current smartwatch features. And from the way the smartwatch wellness industry is moving, that will likely be further elements of 24/7 tracking
⬆️ The Upside: We believe that this is a good move by Samsung, However as we pointed out before, Samsung needs to push the boundaries and innovate. Adding new biosensing capabilities to measure hydration, electrolyte, and other metrics would be a great start. Of note, Samsung has been rumored to soon add Blood Pressure monitoring capabilities to its smartwatch. That's the type of new feature which will help Samsung better compete against Apple.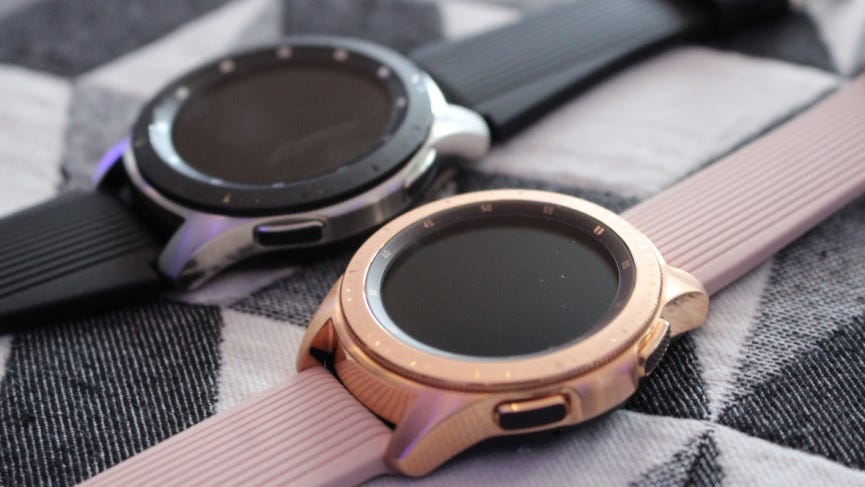 Picture: Samsung
⌚ Samsung smartwatches get clearance for ECG – but you will still have to wait | Via: Wareable
Samsung has finally been given clearance for its ECG sensor, taking it a step further to getting serious health credentials – but only in South Korea for now. The Samsung Galaxy Watch Active 2 has had an ECG sensor inside since its launch in September 2019, but it's not been used. But now it's received clearance in South Korea to allow Galaxy Watch Active 2 users to take ECG readings from the wrist.
The technology works much like the ECG monitor on the Apple Watch Series 5, with a touch-sensitive button doubling as a sensor. You need to place your finger on the sensor for 30 seconds, after which the Active 2 will measure your heart rate and rhythm, and classify it as Sinus Rhythm (normal) or AFib – which is an irregular heart rate. Samsung says that abnormal heart rhythm affects around 33 million people worldwide, and increases the risk of blood clots, heart failure and stroke. It comes after South Korea's Ministry of Food and Drug Safety cleared Samsung devices to use the blood pressure sensor – so if you live in Samsung's home nation, you'll have a pretty advanced set of heart monitoring features to take advantage of. Like the blood pressure feature, it will likely launch in Q3 2020 – and will be found on newer Samsung devices too. We're expecting either a Samsung Galaxy Watch Active 3 or Galaxy Watch 2 to land in Q3, via the Samsung Health Monitor app. But for most, the burning question is if/when it will see life outside of South Korea.
That will depends on each country giving these features medical clearance. In Europe we've seen ECG on Apple Watch and Withings devices. But in the US, it's been tougher for non-US companies to get the technology cleared. So it's impossible to say when features like ECG and blood pressure will land on Samsung devices. Watch this space.
⬆️ The Upside: This is great news by Samsung. ECG has become a key new feature on smartwatches and many players (Apple, Withings, etc..) are offering such capabilities today. It will help drive the adoption of smartwatches in the healthcare space. ECG is a great indicator of AFib, also known as Atrial fibrillation, which is a quivering or irregular heartbeat (arrhythmia) that can lead to blood clots, stroke, heart failure and other heart-related complications. It is estimated that between 2.7M and 6.1M people in the United States have AFib.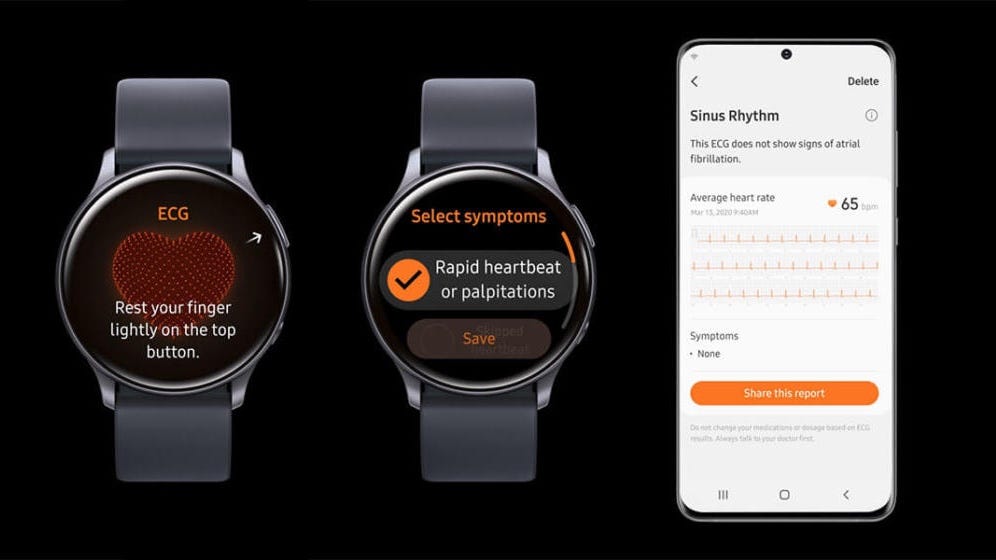 Picture: Samsung
---
🎮 Esports & Crypto-Currency News
🎮  McLaren Racing Partners With Veloce Esports to Expand Global Esports Program | Via: Esport Observer
Today, McLaren Racing announced a new partnership with esports provider Veloce Esports to deliver a multifaceted program surrounding sim racing esports. Veloce will manage and develop McLaren's esports team while working together in creating and training an academy of sim racers–with the ultimate goal of establishing a "staircase of talent." 
The partnership will also see Veloce help position McLaren's esports team internationally, the company said in its announcement.
⬆️ The Upside: We think this is a great move by Mclaren (F1) as part of its esports strategy. Of note, Veloce is an esports organisation based in London, which has quickly become one of the leading Esports teams in the UK, competing in tournaments across widely acclaimed gaming franchises such as F1 Esports, Gran Turismo, Rocket League, Project Cars and more. Founded in early 2018 we have grown to a stable of 25 professional gamers and content creators across the gaming and esports space. As we noted previously, there is a growing interest for esport among elite sports. The esport market is set to reach $1.1B in revenue globally this year.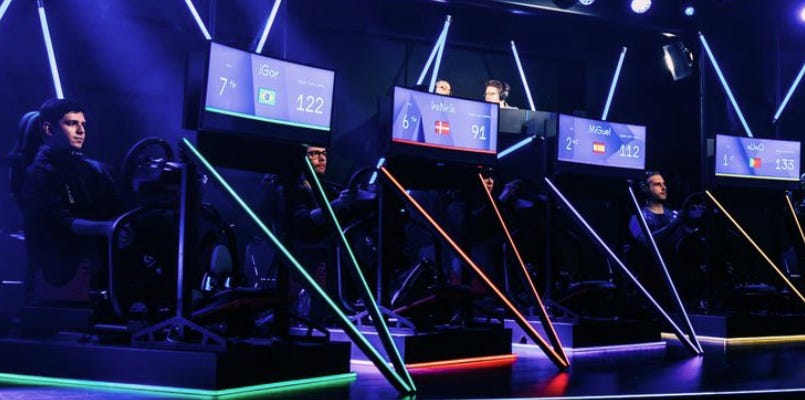 Picture: McLaren (F1)
---
💸 Sports Tech & Health Investment (Fund raising, M&As) Trends — June 2020
MasterClass, a startup that sells celebrity-taught classes to people, has raised $100M in a Series E round.

Siren raises $11.8M for its limb-saving smart socks. Link
---
📊 Key Tech Sports Stats of The Week
$4B: A lost college football season would cost the 65 Power Five schools at least $4 billion.As many as 20 FBS athletic departments have announced pay cuts and furloughs to staff as schools have endured heavy losses without spring sports and March Madness. Approximately 50% of FBS athletic departments are self-sustaining, meaning expenses don't exceed revenue and require student fees or university support to fill gaps. Without football revenue, only two schools – Georgia and Texas A&M – would meet that definition.
Implications of No Football Season
At least $1.2 in lostB ticket sales

An average loss of $62M for each Power Five School

Football revenue accounts for nearly 50% of Power Five athletic budgets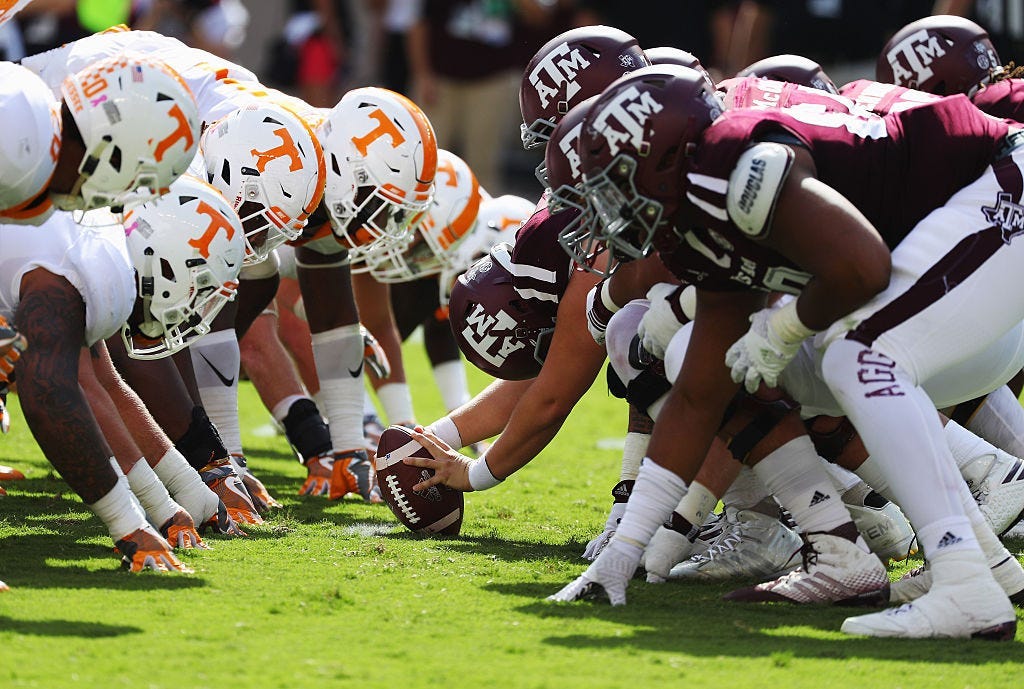 $3B: TikTok's parent ByteDance Ltd. generated more than $3 billion of net profit on over $17 billion in revenue last year, figures that show the world's most valuable startup is still growing at a brisk rate, according to people familiar with the matter.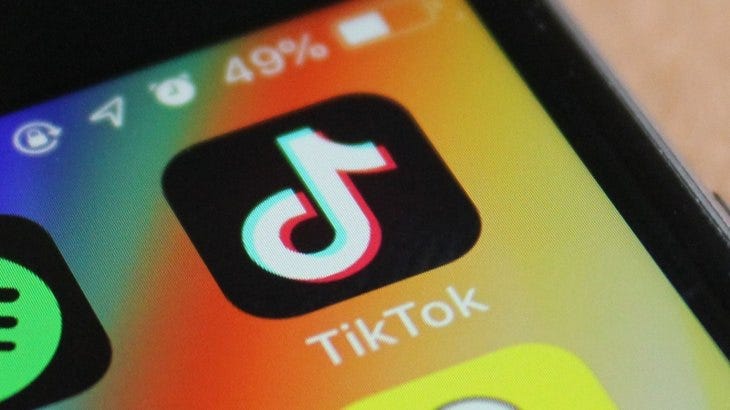 $528M: Manchester United's net debt has increased by 42.2% to $528M according to the club's latest quarterly results, as the Premier League side highlights the financial impacts of COVID-19. In total Man United's net debt has risen by $156M compared to last year's financial quarter results.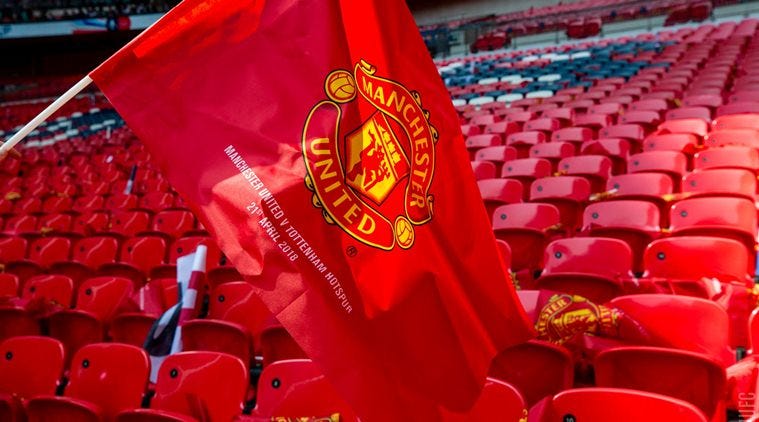 204M: Last weekend, golf was on display for the second weekend in a row, this time in a rematch between legends Tiger Woods and Phil Mickelson. The highest watched Golf event also drove over 204 million social impressions on Sunday, the conversation around the event was well and alive. With 5.8 million average viewers across TNT, TBS, truTV and HLN, the program became the most-watched golf event ever on cable TV.
Other Notable Numbers:
38M video views on Bleacher Report digital and social platforms

5M social engagements and 172M impressions for content leading up to and during the event

No. 1 trending topic on Twitter

More than $20M raised for charity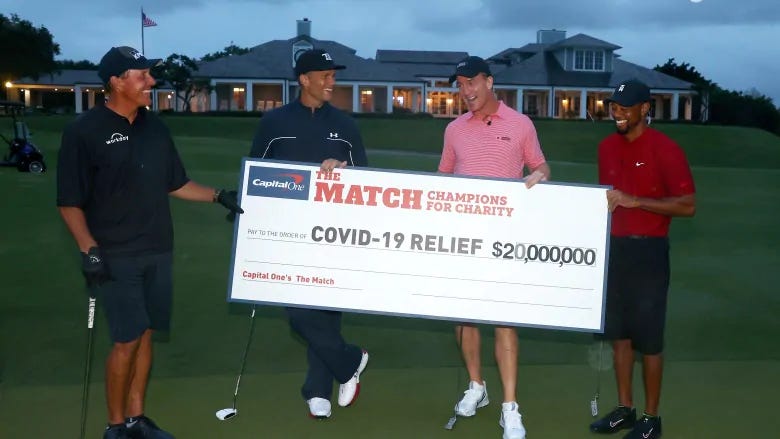 $106M: Roger Federer was the highest paid athlete in 2019, according to Forbes. He was ahead of Ronaldo ($105M) and Messi ($104M). You can see 2019 Forbes full ranking here.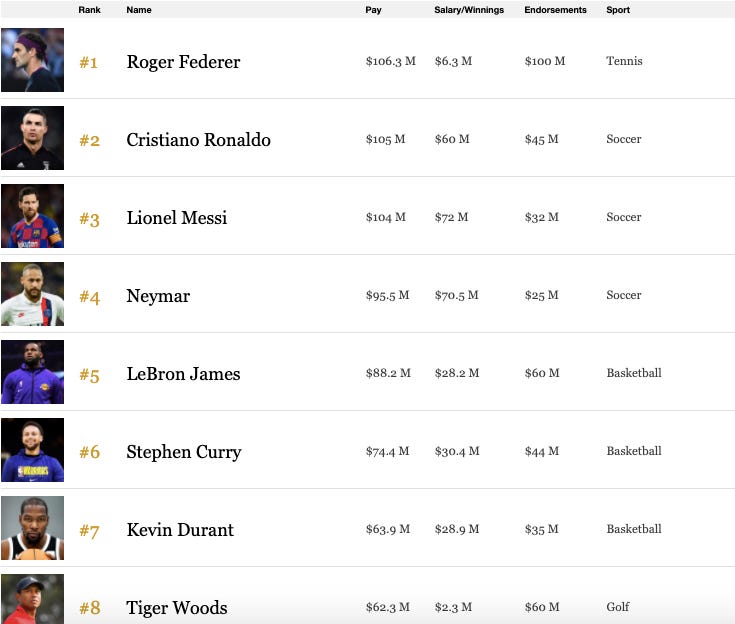 $105M: Ronaldo was the highest paid soccer player in 2019, according to Forbes. Messi ($104M) came second, followed by Neymar Jr ($95.5M), Sala ($35M) and Mbappe ($34M).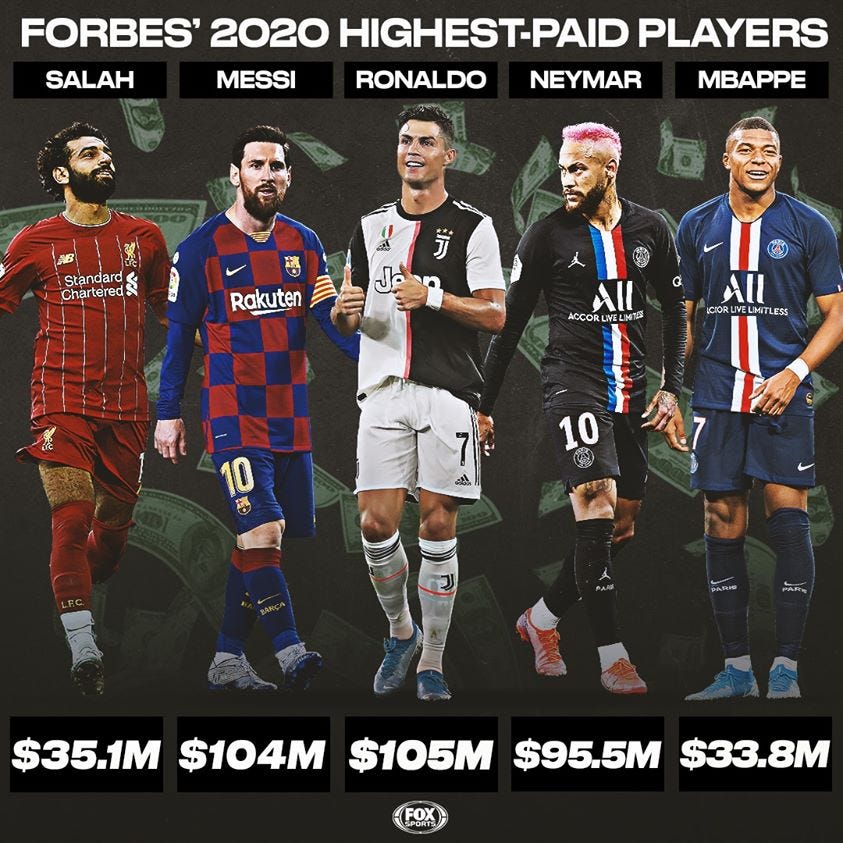 80M: Approximately 80M U.S. cable customers pay $20 a month for sports, not including premium offerings like the MLB and MLS channels, and they are unlikely to see refunds. The Premier League announced last week that its clubs will have to refund millions to broadcast partners, which pay the teams upfront for rights, unlike in the U.S.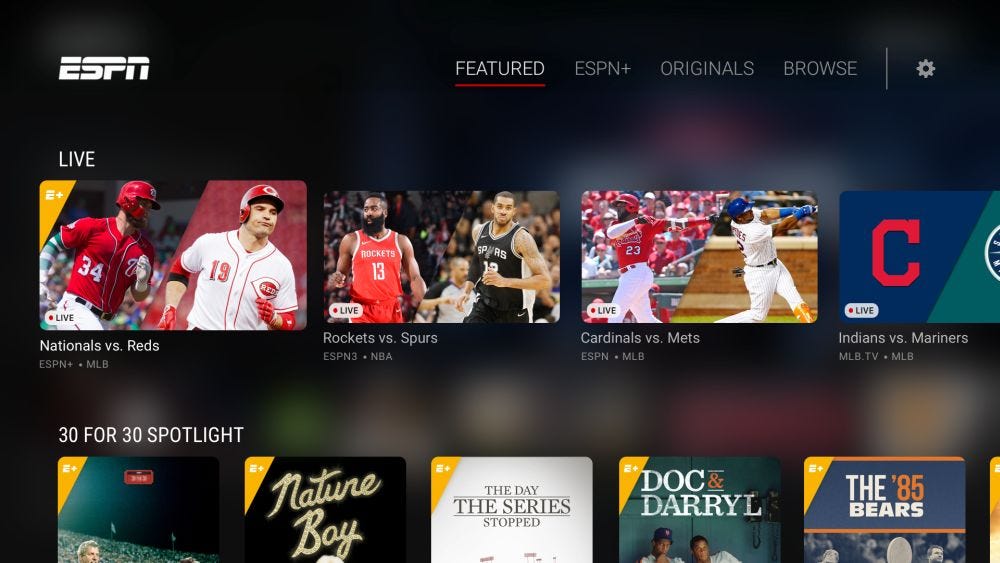 $37.4M: 22-year-old Naomi Osaka has surpassed on-court rival Serena Williams as the highest-paid female athlete in the world. The two-time Grand Slam winner earned $37.4M in prize money and endorsements the past 12 months – a record for single-year earnings, beating Maria Sharapova's $29.7M in 2015.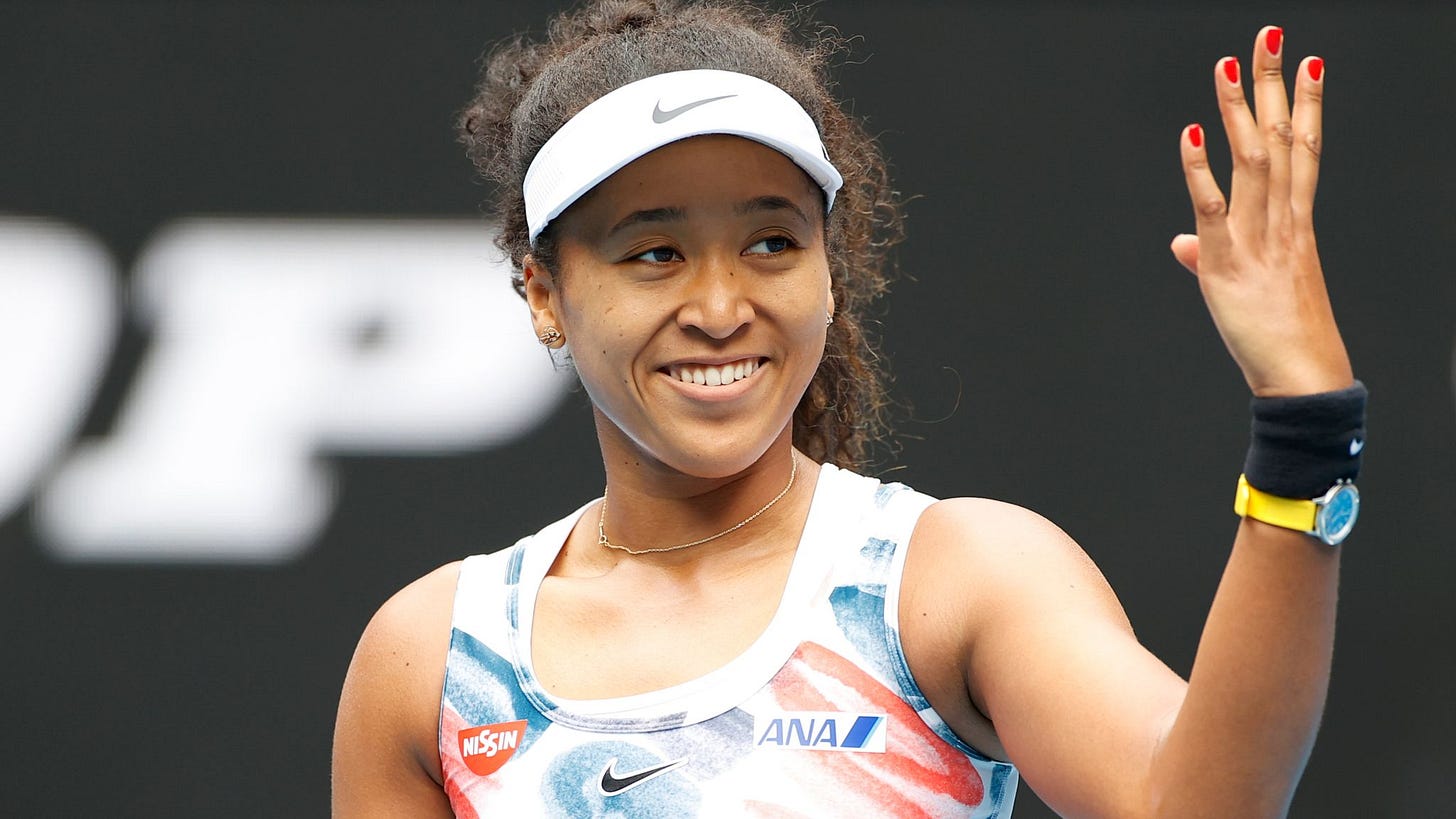 $20M: Mike Tyson has reportedly received a $20M contract offer from bare Knuckle fighting championship to compete in a rematch.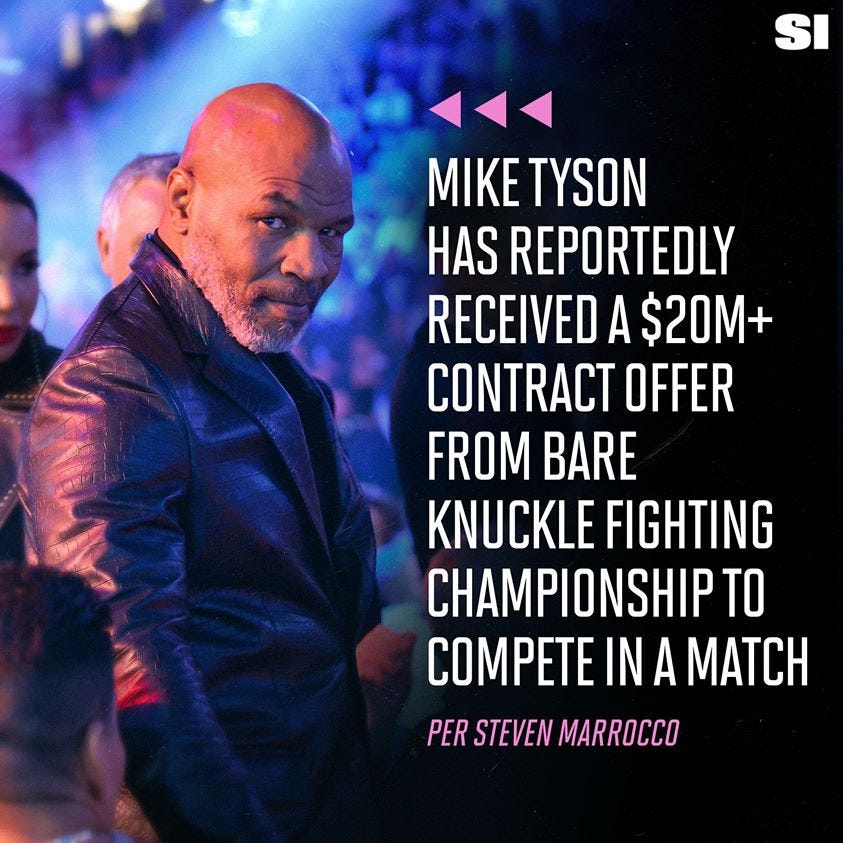 75%: More than 75% of the sports teams in the NFL, NBA, MLB, NHL, and MLS have TikTok accounts and are already putting up serious numbers.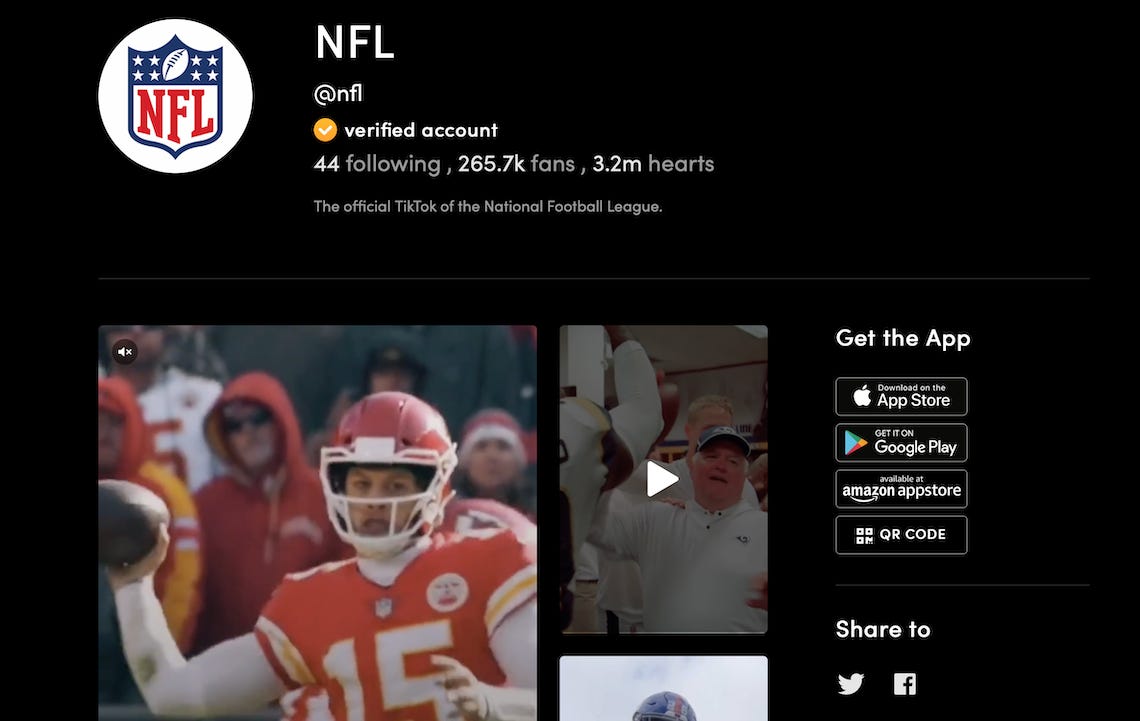 66%: While the future of group fitness remains cloudy, Peloton continues its push for industry dominance. The company's sales jumped 66% in the third-quarter, and it now has more than 2.6M members.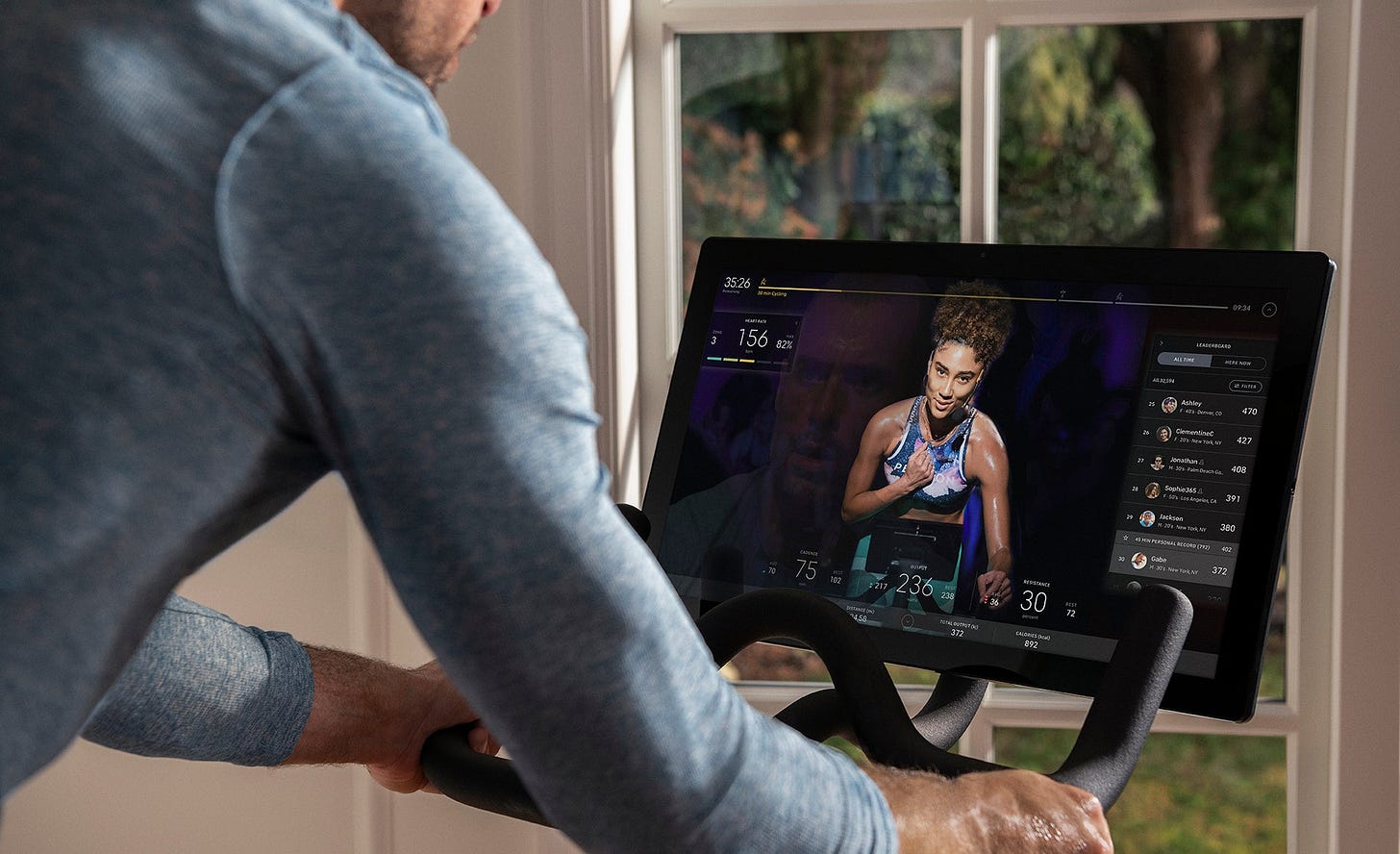 21%: According to a poll from ESPN, 21% of fans believe that the Chiefs have the best chance to win the Super Bowl LV.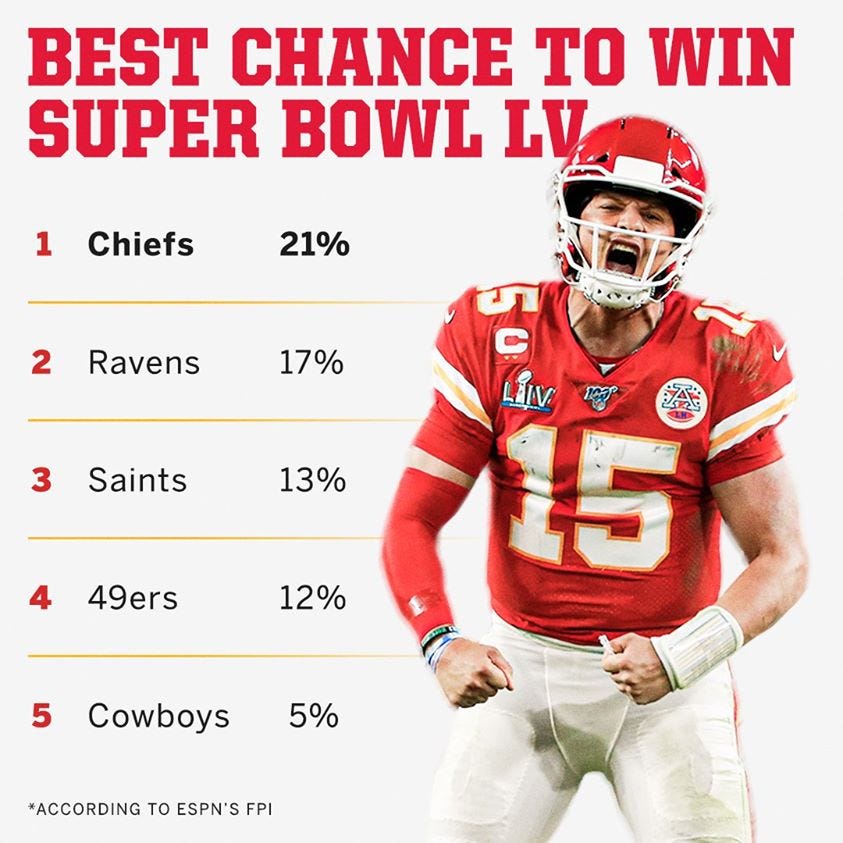 ---
📸 The Upside: Snapshots & video of The Week.
Virtual zoom crowd. Danish Superliga club AGF Aarhus played in front of a virtual Zoom crowd on their return to play last week.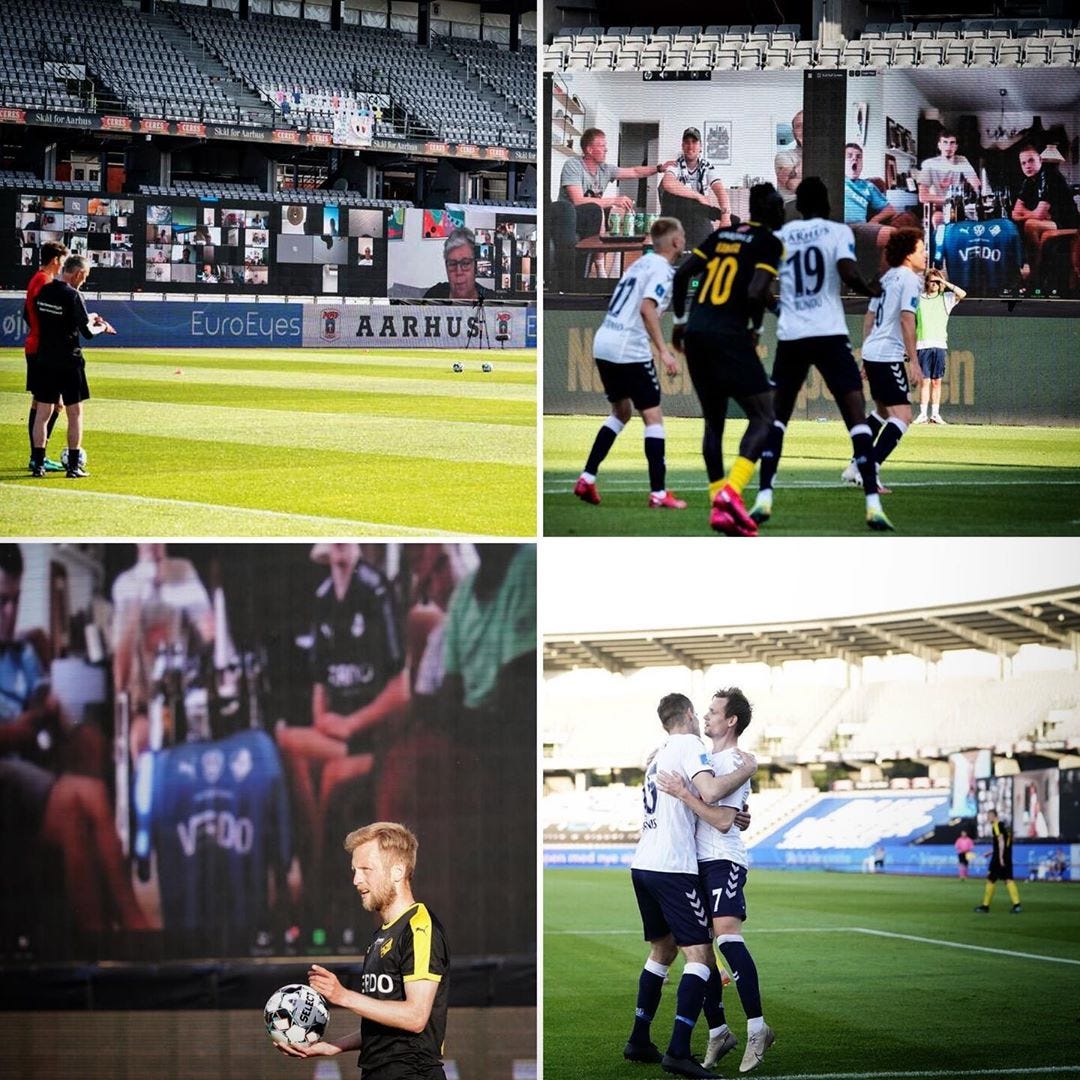 Picture: Danish Superliga club AGFAarhus
Yankee players giving Zoom lessons to kids. Yankees Mike Ford and David Hale are going to give lessons to kids who were supposed to attend Rising Star Baseball Camp this summer. The Bronx Bombers will give three Zoom lessons to the campers, normally based in New Rochelle.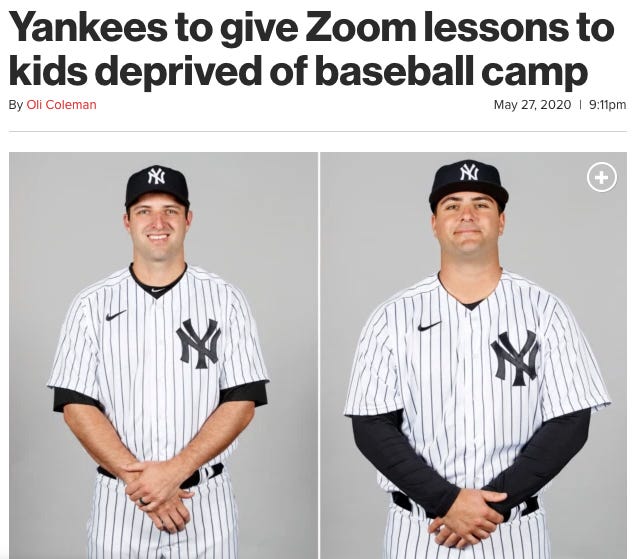 Sleeping trends starting to get back to normal as economy reopens. As the US economy reopens, Fullpower Technologies looked at the anonymized data to find some indicators of behavioral changes. The metric that they used was to look at the sleeping habits before, during, and after shelter-in-place. During shelter-in-place most stayed put. When reopening happened patterns started to trend towards normalized. What is remarkable is the impact of Memorial day weekend.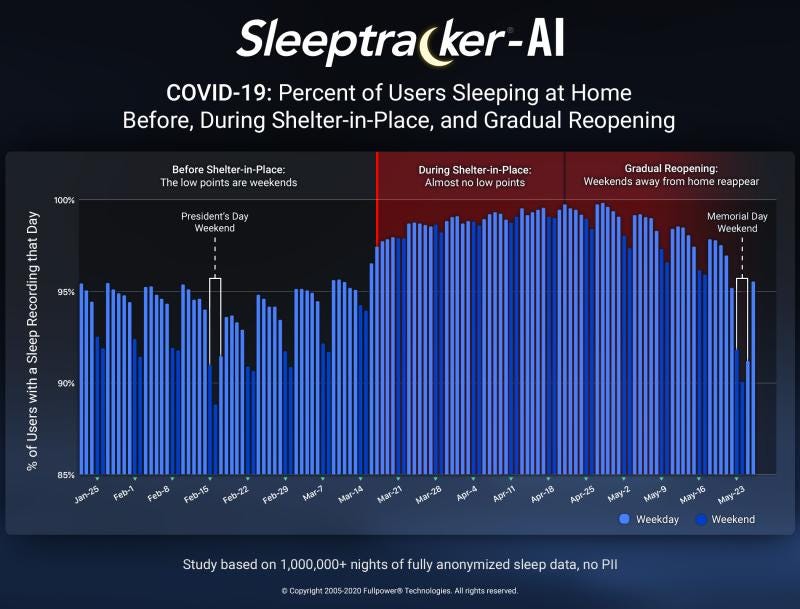 Space Shuttle evolution. We have come a long way when it comes to space shuttle's navigation systems. Last week, SpaceX's Crew Dragon was using a full screen navigation system. This is a drastic change from the navigation systems used by Apollo 4 (1967) and Space Shuttle (2002).