Discover more from The Upside Newsletter
Data, insights, and stories from the world of sports, business, and technology.
Over 6,000 subscribers
⌚🧠 🚴‍♂️ New Apple 6 to track mental health? South Korean Baseball League Resumes. Peloton Sales Surge 66%
Fortnite now has 350M users. Gold's Gym files for bankruptcy.
Dear Friends and Members,
Last week the South Korean baseball league restarted. In addition, a growing number of teams across various sports and leagues (Laliga, Series A, MLS..) reopened their training facilities for players and their coaching staff. The NBA took tiny steps toward a return to normalcy last Friday, as a small number of practice facilities reopened for workouts and at least one team received permission from the league to test players and staff for the coronavirus. These are major milestone in our opinion. The Bundesliga, one of the biggest soccer leagues in the world, is now set to resume its competition in mid May 2020. NASCAR is also about to resume its competition.  The French Open tennis tournament at Roland Garros could also be held without fans later this year, the president of the French Tennis Federation said yesterday. It could even start one week later. A return to professional tennis is expected to begin on July 13 2020. These are all very positive signs.
Now, to that point, there will likely be a new normal for a short period of time in the world of elite sports. in fact, here is a photo below on the right of an undetermined Georgia Tech home game during the 1918 college football season. That's when the sport was hit by the Spanish flu and the end of World War I. On the left below here is another photo of an Orlando City FC (MLS) player taken at their training camp this week in Orlando City FC. Does it sound familiar? Seeing players and fans wearing masks or being tested for temp screening purposes before each game is likely to be the new norm in the coming months, but this is in the best interest of players and teams in our opinion.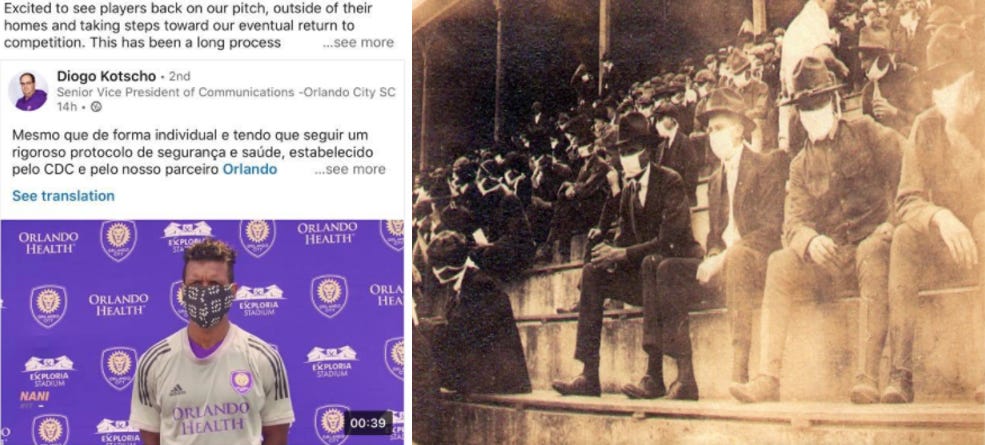 In Europe, as the Premier League's 'project restart' continues to develop it has been revealed that some of England's top-division games may be streamed on YouTube, according to The Times. In the US, the NFL sent a memo to teams detailing guidelines for the potential to reopen facilities as soon as May 15th. The MLB is also reportedly hoping to propose a plan to start the season in early July and play close to 80 games. On another note, the XFL, which recently filed for bankruptcy, is also rumored to currently be looking for a buyer.
In the world of sports tech, Mixed Reality startup Magic Leap is allegedly looking to raise $100M from a major healthcare company. In the fitness and wearable space, the upcoming Apple Watch 6 is rumored to be tracking mental health, and Fitbit launched an Afib study. Alpina also introduced a new hybrid smartwatch. On the business side of things, Gold's Gym filed for bankruptcy last week and 24-Hour Fitness considered the move in April, according to CNBC. In the world of esport, ESPN signed a deal with the NBA 2K League, and Epic's Fortnite has now more than 350 million registered players.
Last Wednesday we published our latest Upside survey on "the impact of COVID-19 on the sports teams' 2020 sports tech budget".
As noted previously respondents represented 31 different sports, from pro teams & organizations, including the MLS, NBA, NFL, NHL, MLB, Division 1 NCAA teams, European soccer teams and leagues (English Premier League), South American soccer leagues (Brazilian First soccer division..).
As shown in the graph below, 48% of the athletic trainers we surveyed indicated that they plan to invest in sleep trackers in the future. GPS systems remained a top priority moving forward with 44% of the athletic trainers planning to invest in GPS systems while 44% of them planned to invest in neurotech & mental health devices. This does not come as a surprise as being on quarantine likely affected some players mentally and trainers want to make sure that they can address any mental issues moving forward. 32% of them also planned to invest in HR monitors and video analysis systems. 32% of the athletic trainers also planned to invest in temperature sensing & screening solutions. This makes sense as many sports leagues plan to do temperature screening of players before each games when the competition resumes.
Hydration/electrolyte monitoring solutions also gathered a lot of interest with 24% of the respondents indicating their plan to buy hydration/electrolyte monitoring solutions. Lastly, 16% of athletic trainers also indicated their plan to invest in connected fitness (Peloton, Tonal..) in the future.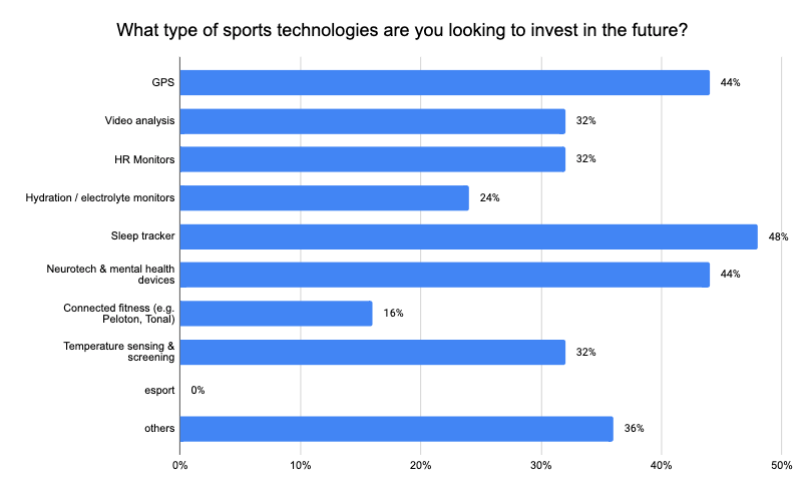 Source: Upside 2020 Top Coaches Sports Tech Budget Survey Results, April 2020.
Of note we plan to do frequent surveys like this moving forward with major sports teams and leagues (NBA, NFL, MLS, NHL, EPL, Series A, Laliga, Ligue 1, F1, Nascar…) in our network on timely topics affecting the world of sports and tech so stay tuned. We have some new surveys coming for you!
To get access to our paid analysis make sure to become a paid member by clicking on the link below:
As a reminder, in the coming weeks we plan to introduce a new major initiative that will better bring our sports tech community of thousands of sports tech execs (Pro teams, leagues, sports startups, VCs/investors, brands, etc.) together, so stay tuned!
If you have any questions about The Upside, need help with business development or fund raising, want to join our community of thousands of sports and tech execs (pro teams, leagues, athletes, investors..), or want to have access to our premium content, please check out Sports Tech Advisors and contact us at info@sportstechadvisors.co
📰 Top Stories We're Reading This Week 
👓  Magic Leap is turning to a major health care company to save its future, potentially raising as much as $100M
⌚Alpina X Alive smartwatch supercharges the Swiss-made hybrid
⌚ New Apple Watch Series 6 rumors reveal mental health and sleep tracking features
💤  Fitbit launches massive Afib study and confirms ECG is on the way
🎮  NBA 2K League bags ESPN broadcasts partnership
💸 Latest Investment Trends
📊 Tech Stats of the Week
📸 Snapshots of the Week
Let's jump right into the insights and upside for all of these top stories
---
🎮 AR/VR/Video/Digital Sports News
👓  Magic Leap is turning to a major health care company to save its future, potentially raising as much as $100M | Via: Business Insider
Magic Leap is looking to raise money from a major health company in order to protect its future, having just laid off around half of its workforce. As first reported by The Information on Tuesday, Magic Leap CEO Rony Abovitz told staff in a memo that the company had signed a term sheet with "a major health care company" to drive its strategy forward. Sources told Business Insider that talk of a deal with a health care company had been swirling around internally for some time, and that Magic Leap was hoping to secure $100 million from the deal. However, the name of the company itself is not yet known. According to The Information's report, one name being passed around internally is Zimmer Biomet, which is based in Warsaw, Indiana and develops treatments for bone and joint injuries.
The mystery company will reportedly use the headsets for surgical procedures and training if the deal is locked. But according to the emails seen by The Information, Abovitz told staff that the deal could still fall apart. The potential of an acquisition by a medical company would represent the culmination of a striking change of fortune for one of the most hyped startups in years. At one point valued at $6 billion by investors including Google and Warner Brothers, Magic Leap mesmerized tech industry insiders and celebrities alike, with private demos of augmented reality technology that offered an almost hallucinogenic experience. Rumors of a medical company stepping in to "save" the company were swirling around for several weeks before the company layoffs, one source told Business Insider. Some employees believed the company would try to purchase Magic Leap outright, but the $100 million amount being tossed around suggested an investment was in the cards.
But suspicions about an outright buy were stoked when Bloomberg reported that Magic Leap, which has raised over $2.5 billion over the years from investors including Google, was exploring a sale, citing that the company thought it could fetch $10 billion.
⬆️ The Upside:  We believe this move by Magic Leap would make sense. Magic Leap needs to find strategic partners to focus on specific verticals like healthcare. However, a $100M strategic investment from a healthcare partner would be a major step back from a startup once valued at $10B, and that just laid off 1000 employees. In our view, Magic Leap's major issue is that it overpromised what it could do and tried to build a very complex solution (entire stack) from the get go. Ultimately, as we noted before, we believe that the AR glasses market remains strong and we will see a mass market for AR consumer glasses thanks to the likes of Microsoft Hololens, Apple and Samsung.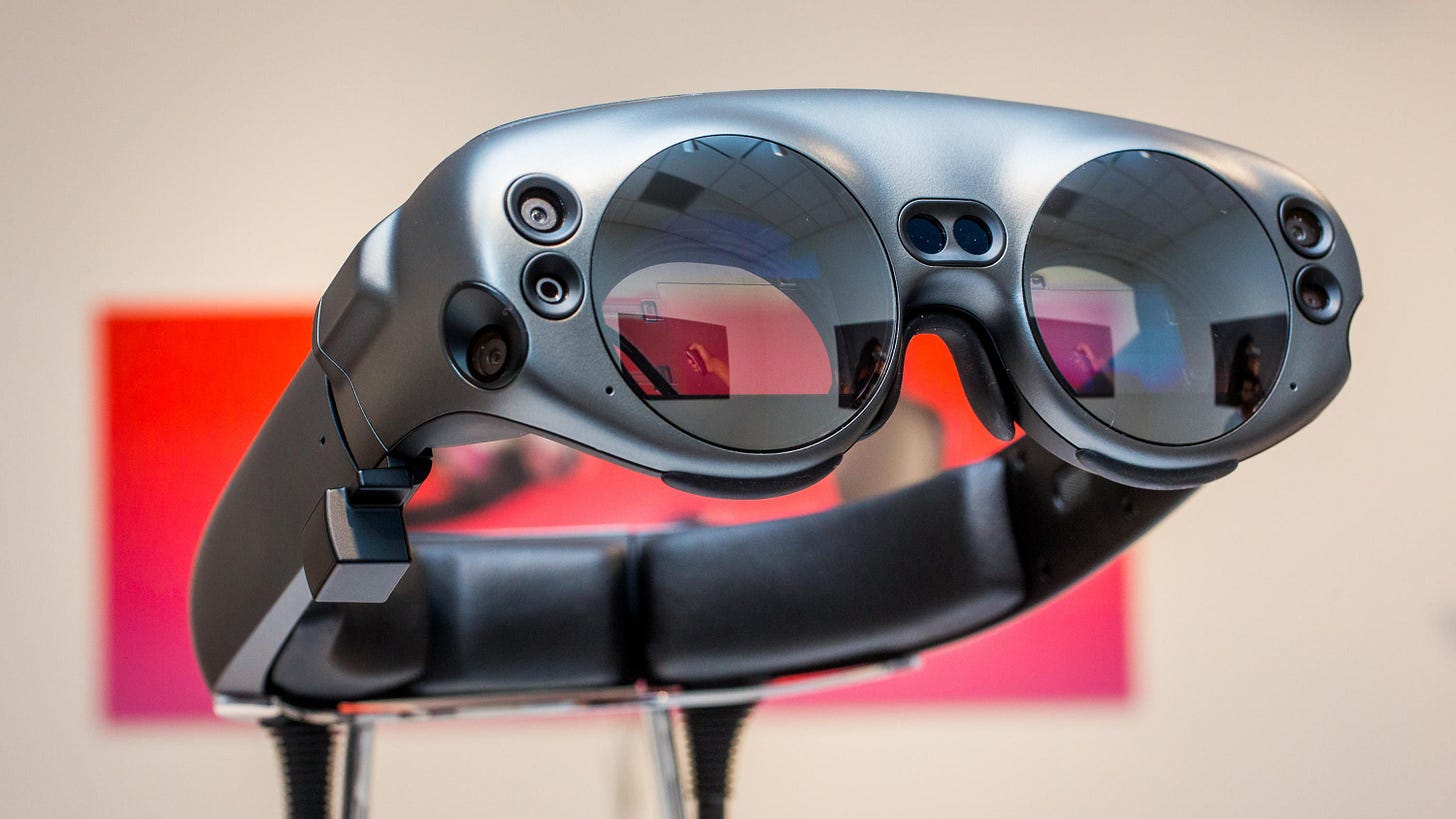 Picture: Magic Leap One
---
🚑 Wearables, Health, Nutrition News
⌚Alpina X Alive smartwatch supercharges the Swiss-made hybrid | Via: Wareable
Swiss watch brand Alpina has released an update to its Alpina X hybrid smartwatch, and it's fair to say it's not messing around with the specs or design. Following on from the AlpinaX, the 45mm Alpina X Alive packs in GPS, a heart rate monitor and an AMOLED touchscreen onto the face of its analogue watch. It joins a growing list of upcoming smartwatches slated for 2020. Alpina is using a Philips heart rate sensor, which hasn't been used on too many consumer devices, but was a key part of Philips' FDA listed Health Watch back in 2016. The screen shows the time and date, timers, battery percentage, heart rate, step count, alarms, notifications and hydration reminders The spec sheet lists a 'hydrometer', without further explanation of what that means technically or in terms of implementation. The companion app has been overhauled and includes sleep tracking, breathing reminders, and fitness coaching too. In addition to the tracking of sleep cycles, there's also a smart alarm feature that uses a pre-set window to try and wake you in a light sleep phase rather than deep sleep.
The Alpina X Alive has sport profiles for tracking, running, swimming, yoga, walk, Nordic walking, treadmill and cycling. And it will report reporting VO2 Max – showing that Alpina is really focusing on the performance sport audience. Alpina is talking up its online configurator too, which enables you to customise the colour of things like the dials, hands and straps. However, all these extra features mean that the Alpina X Alive requires charging like a normal smartwatch – albeit with an impressive seven day battery life in smartwatch mode. You can bag the Alpina X Alive in two colorways – a brushed navy blue Glassfiber case or polished stainless steel. Alpina AlpinerX Alive costs the equivalent of $1,030, while the polished stainless steel version is about $1,340. The company's site is presented like a crowdfunding project (the original Alpina smartwatch launched on Kickstarter) – and it's offering early birds 50% off. That means a Glassfiber case for 500CHF and stainless steel for 648CHF. They ship in August 2020 and September 2020 respectively. The US and UK isn't included yet, but will be in due course.
⬆️ The Upside: We believe that although we like the look and feel of the AlpinerX Alive watch, we think that this watch is too expensive ($1K+), and does not offer superior biosensing capabilities beyond HR, GPS, sleep tracking. It is more of a watch for weekend warriors who have high disposable income. Ultimately what Alpina needs to do is to focus on offering advanced biosensing (e.g. hydration, electrolyte, stress assessment) in order to further difference its watch offering.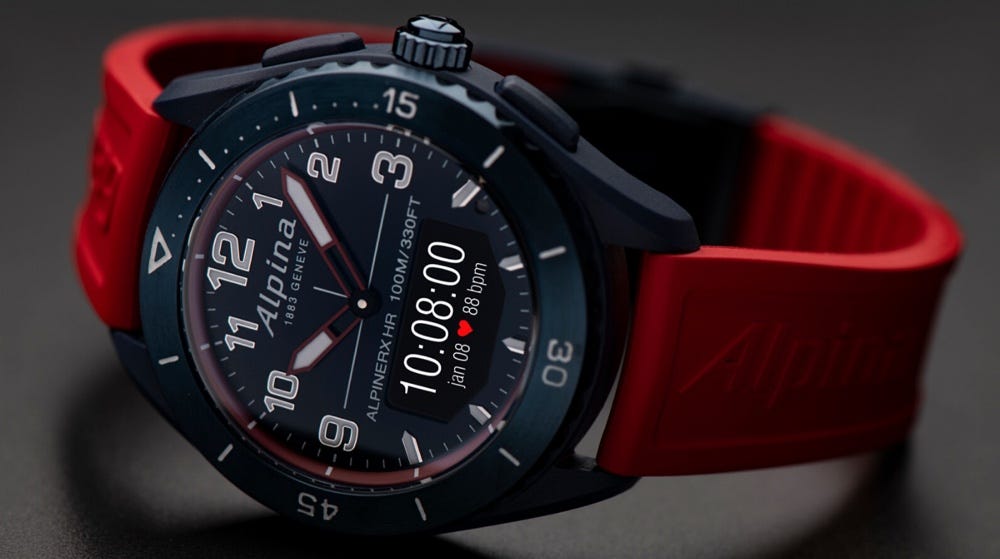 Picture: Alpina
⌚ New Apple Watch Series 6 rumors reveal mental health and sleep tracking features | Via: Wareable
The Apple Watch Series 6 rumor mill has officially gone into overdrive, and we seem to be getting a clearer picture of what's coming both on the Series 6 and watchOS 7. After we reported on a bunch of Series 6 rumors from EverythingApplePro back in April 2020, a new set of leaks seems to confirm much the same thing. The Apple Watch Series 6 appears to be serving up sleep tracking at long last – and improve battery life to handle the extra time on the wrist. We should also see more sensors, and it looks like Apple is determined to expand its potential to help more people with. Here are the latest Apple Watch rumors in full.
The latest leaks are from Nikias Molina, who claims inside information that Apple is working on "Sleep tracking, longer battery life, pulse oximeter, S6 Chip and 'Mental Health Abnormalities Detection'". That tallies with the leak from April, which asserted that sleep tracking would finally get its time – and that Apple was looking at detecting panic attacks, although that feature might not land until the Series 7. And while Molina isn't a tipster with a track record, Apple expert John Prosser endorsed the information in his own tweet. What makes this interesting is how it corroborates previous rumors. Back in April we got a video from EverythingApplePro, which predicted a range of features are incoming, both hardware and software. All of which fed into making the Series 6 an even better sports and wellness device – building on the new features debuted on the Series 5. The most eye-catching rumour is the addition of stress and panic attack alerts arriving on Apple Watch, which would join abnormal heart rate, afib and fall detection as a suite of preventative features.
⬆️ The Upside: This would be a good move by Apple to monitor mental health as mental health affects about 6-7% of full-time (16M) U.S. workers experienced major depression (MDD) within the past year. The total economic burden of MDD is now estimated to be $210.5B per year. Globally, more than 264M people of all ages suffer from depression so Apple would address a major issue there.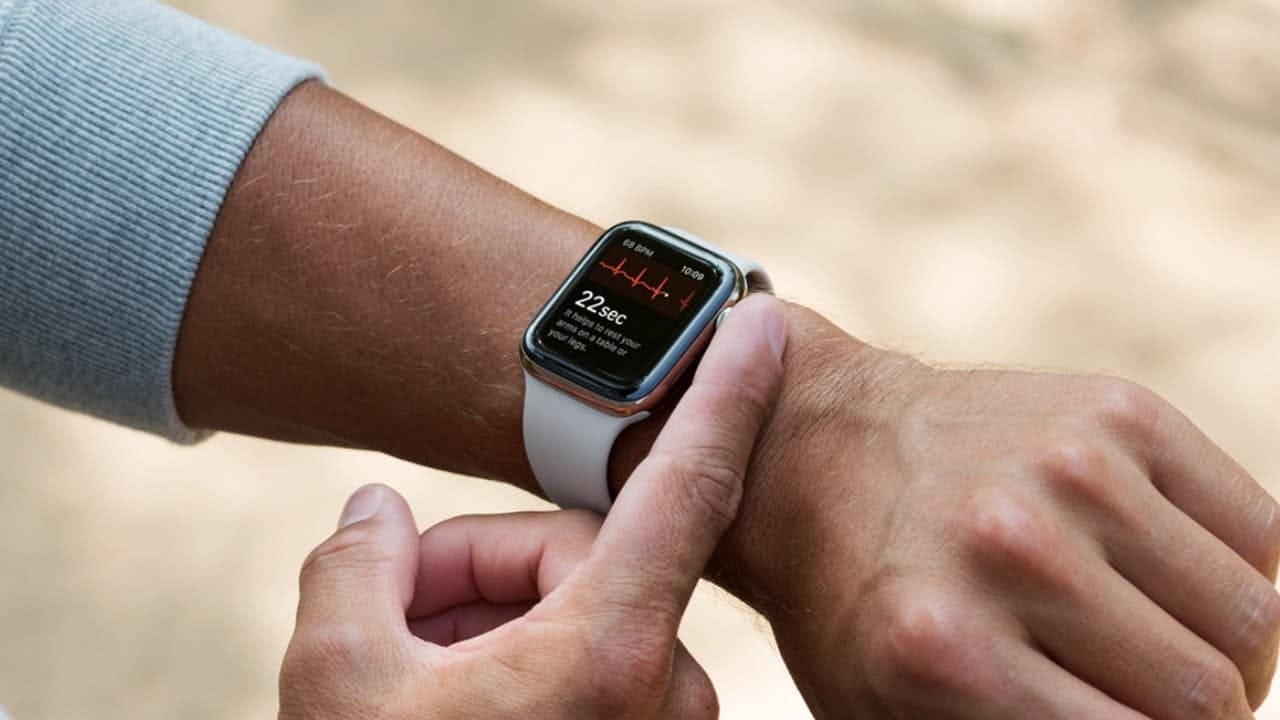 Picture: Apple
💤  Fitbit launches massive Afib study and confirms ECG is on the way | Via: Wareable
Fitbit has completed clinical trials of its own ECG feature and is looking to get FDA approval – as it launches a large scale study into Afib and irregular heart rate detection. The mass Fitbit Heart Study is part of what the company calls its "broader commitment to heart health," and the company is hoping to attract hundreds of thousands of users to opt into tracking and detecting heart rhythms on Fitbit devices. Fitbit confirmed that it "has made significant progress in the development of a new electrocardiogram (ECG) feature for spot detection of AFib."
"The Fitbit ECG feature is designed to support those who want to screen themselves for possible AFib and record an ECG trace they can review with their doctor. "The company has completed a pivotal clinical trial of its new ECG feature and plans to seek review by the U.S. Food and Drug Administration (FDA) and global regulatory authorities," it confirmed.
Ahead of the launch of the ECG feature the company is enrolling volunteers into a huge Fitbit Heart Study. Once opted-in the photoplethysmography (PPG) technology on the back of Fitbit devices will measure the rate of blood flow from the user's wrist as usual for the 24/7 heart rate monitoring. However, those enrolled in the Fitbit Heart Study will have their data analysed by a new algorithm that will look for irregularities.
If an irregularity is found, those participants will receive a notification and will then be connected with a doctor for a virtual appointment at no cost – and could receive an electrocardiogram (ECG) patch in the mail to confirm their result. The study is being headed up by Steven Lubitz, M.D., M.P.H, a cardiologist at Massachusetts General Hospital and Associate Professor of Medicine at Harvard Medical School.
"My hope is that advancing research on innovative and accessible technology, like Fitbit devices, will lead to more tools that help improve health outcomes and reduce the impact of AFib on a large scale," he said.
⬆️ The Upside: We believe this is a great move by Fitbit as other vendors like Apple already offer such capability. In fact, the Apple Watch will occasionally look at Apple Watch users heartbeat to check for an irregular rhythm that may be AFib. It is estimated that between 2.7M and 6.1M  people in the United States have AFib. As the U.S. population ages, this number is expected to increase. That number is estimated to rise to 12.1M in 2030 . Worldwide, the estimated number of individuals with AFib in 2010 was 33.5M, according to a 2013 study.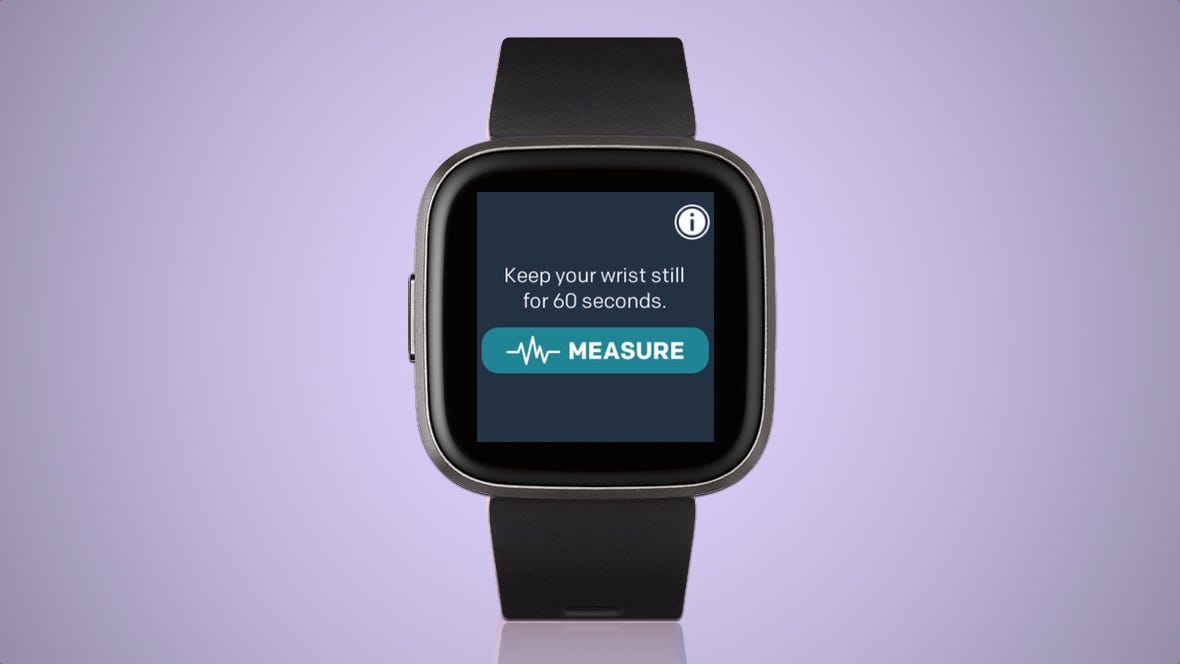 Source: Fitbit
---
🎮 Esports & Crypto-Currency News
🎮  NBA 2K League bags ESPN broadcasts partnership | Via: Insider Sport
ESPN has revealed that the NBA 2K League will be aired on the ESPN2 network and the broadcasters other platforms throughout its 2020 season, further strengthening the game's potential audience reach.  As per the agreement, Tuesday nights will be filled with NBA 2K content on ESPN2 with Wednesday, Thursday and Friday games being streamed live on the ESPN app and ESPN.com. The monumental deal highlights the importance of esports during the live-sport hiatus caused by COVID-19. In order to fill content many broadcasters have turned to esports with leagues such as NBA 2K gaining substantial traction as a result of it. This has led to ESPN2 broadcasting NBA 2K matches for the first time in the US.
ESPN will also broadcast matches on ESPN2 or one of ESPN's digital platforms in the Caribbean, Latin America, Oceania, and Sub-Saharan Africa, further extending NBA 2K's exposure. It is important to note that along with NBA 2K's deal with ESPN, all games will continue to be broadcast on Twitch and YouTube. Moreover, it was announced that 2K matches will air live on Canada's Sportsnet One and Sportsnet NOW platforms on Tuesday nights.
⬆️ The Upside: We think this is a great move by the NBA 2K League and ESPN. There is a growing interest for esport. The NBA 2K league can leverage the growing popularity of ESPN that is available in 86M television households in the US. For ESPN it will be able to tap into the growing popularity of esport and the NBA 2K League. Of note, we recently interviewed Matt Arden the head of media and content for the NBA 2K League to discuss the NBA 2K League's latest initiatives. You can check out the podcast interview here.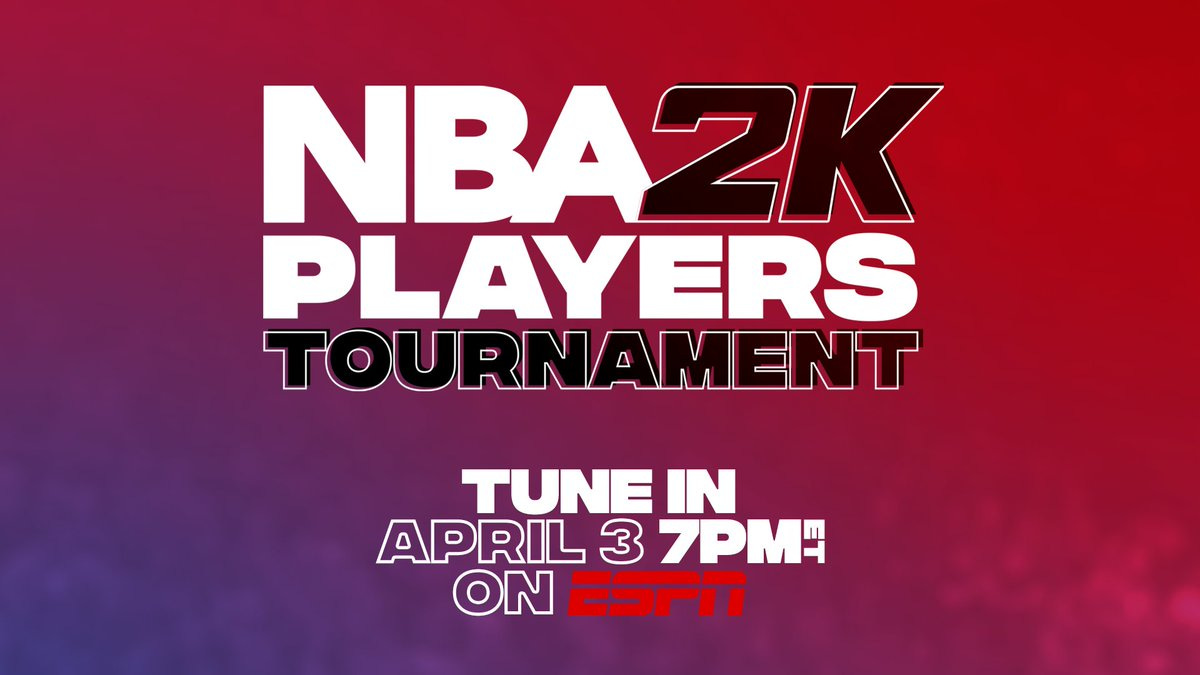 ---
💸 Sports Tech & Health Investment (Fund raising, M&As) Trends — May 2020
Esports and Gaming Agency META raises $1.1M to Support its Growth. Read on here.

Indian Sports community platform Rooter raises $1.7M in Pre-Series A funding round from Adidas family backed fund leAD Sports and others. Read on here.
---
📊 Key Tech Sports Stats of The Week
3.2B: Epic, the publisher of Fortnite, reported that Fortnite players logged 3.2B hours of Fortnite.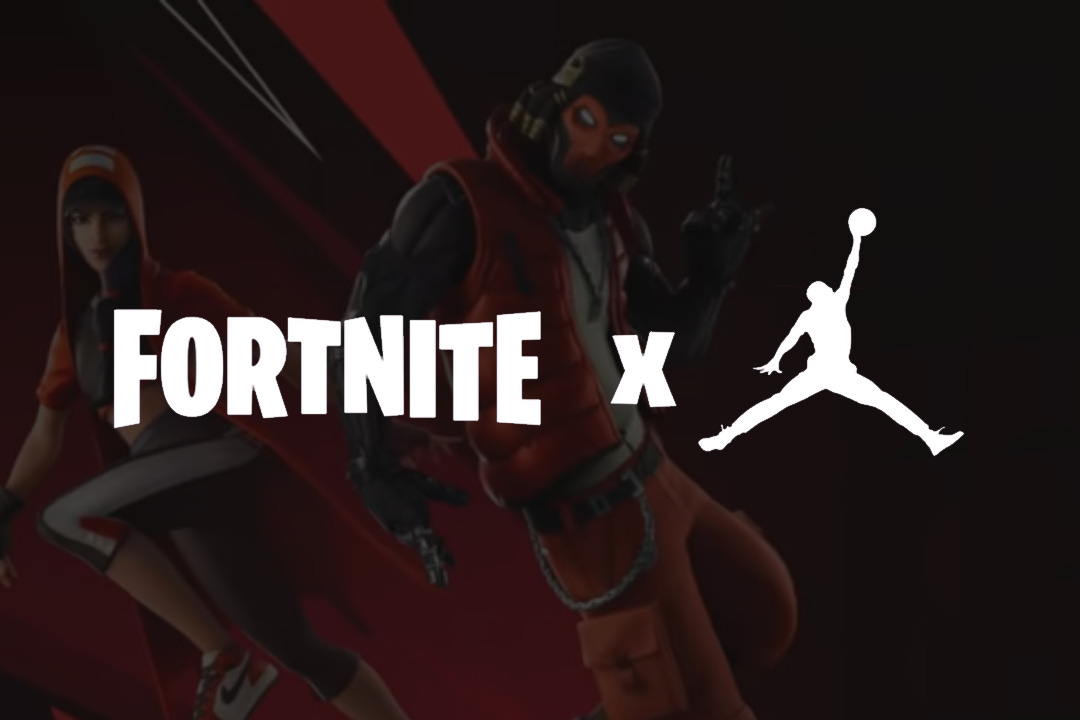 $1.4B: COVID-19 cost Disney $1.4 billion according to Disney's latest earnings.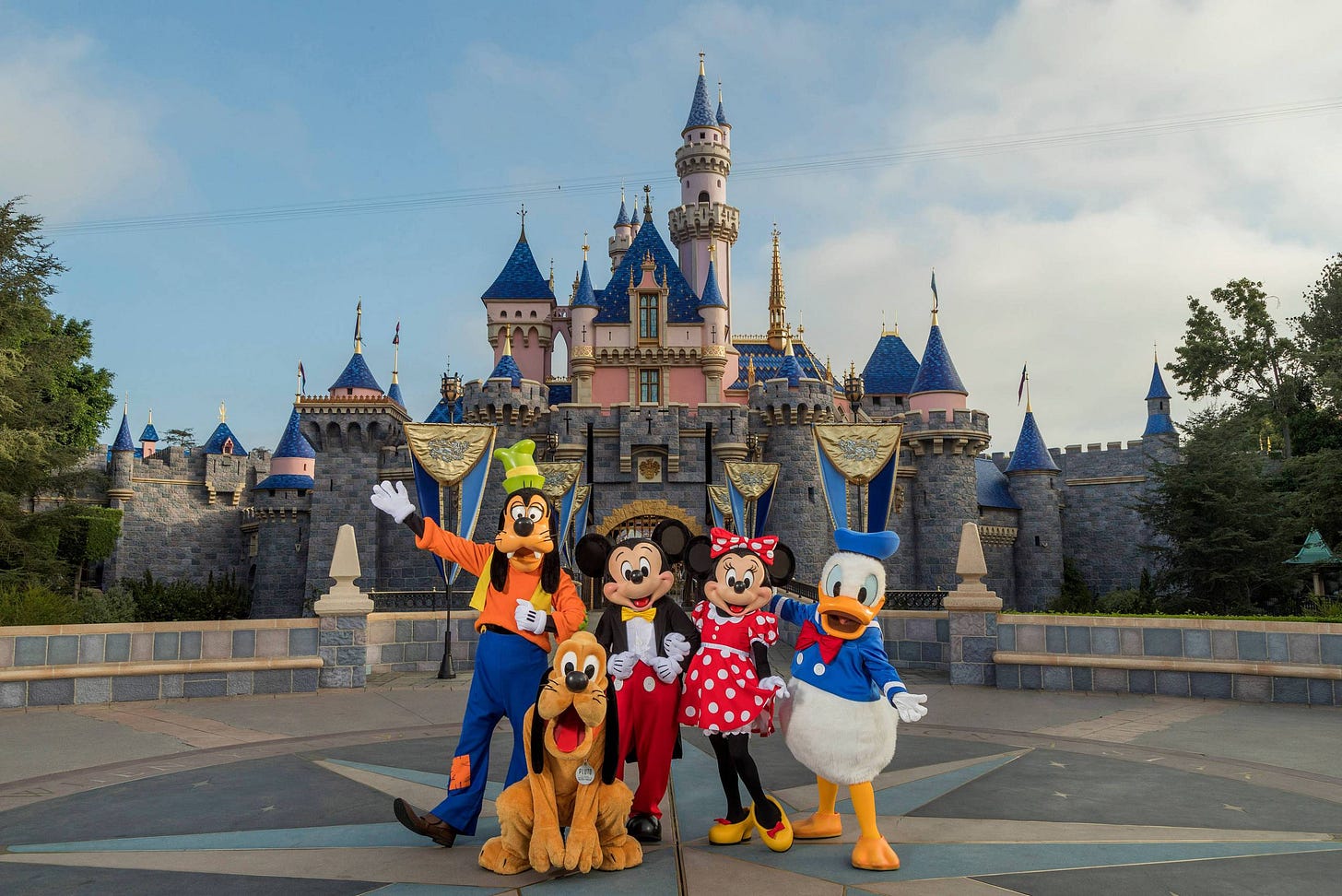 350M: Epic's Fortnite has more than 350 million registered players, the game developer announced on Wednesday. That makes the free-to-play battle royale game one of the most popular titles ever made.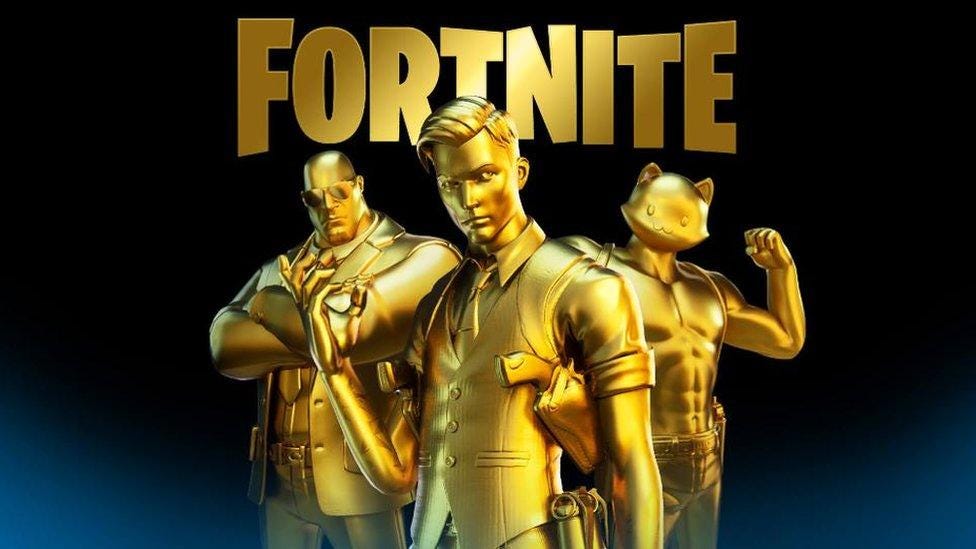 $170M: Uber is leading a $170M investment round in Lime, the electric scooter and bike rental company announced Thursday. Bain Capital Ventures, Alphabet, and separately its VC arm GV are also participating in the round.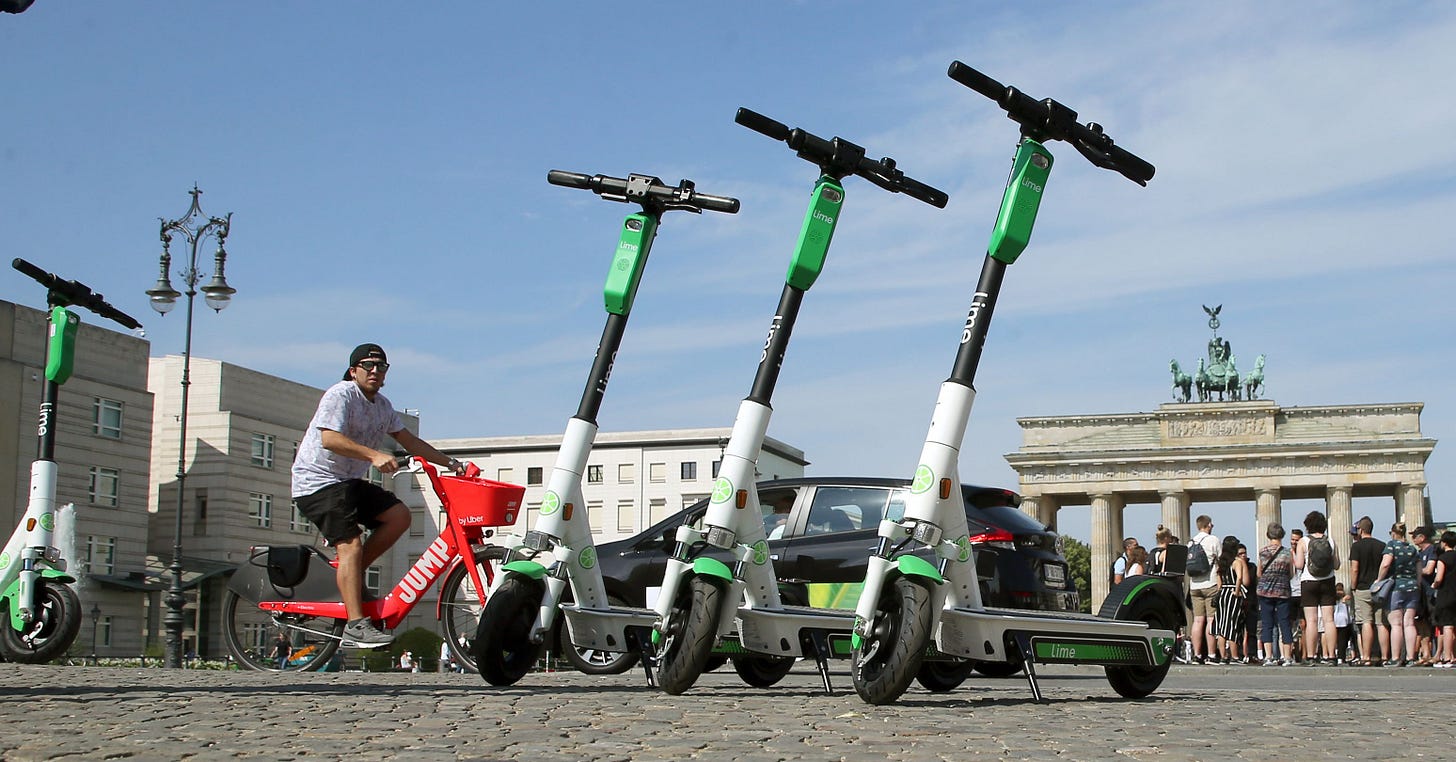 $100M: Endeavor is allegedly looking to sell its minority stake in video game developer Epic Games, according to The Information. The sale could net Endeavor upwards of $100M, which would be a much needed boost for the company.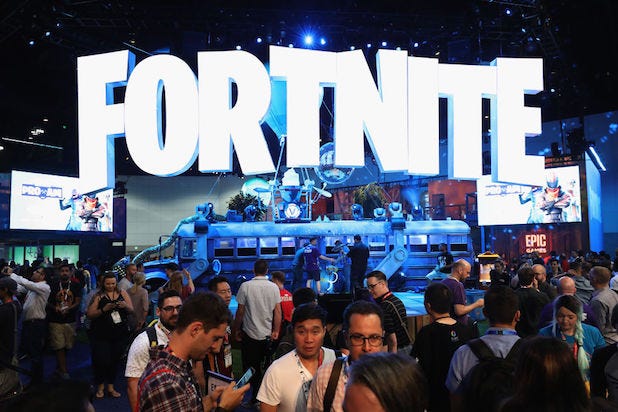 $46M: The XFL filed for Chapter 11 bankruptcy protection in April after the coronavirus halted its first season. Now, it's seeking bidders to take over. The XFL's annual revenue is estimated at about $46M. The XFL's average attendance was 20K, and the XFL was watched by 1.9 million viewers on average.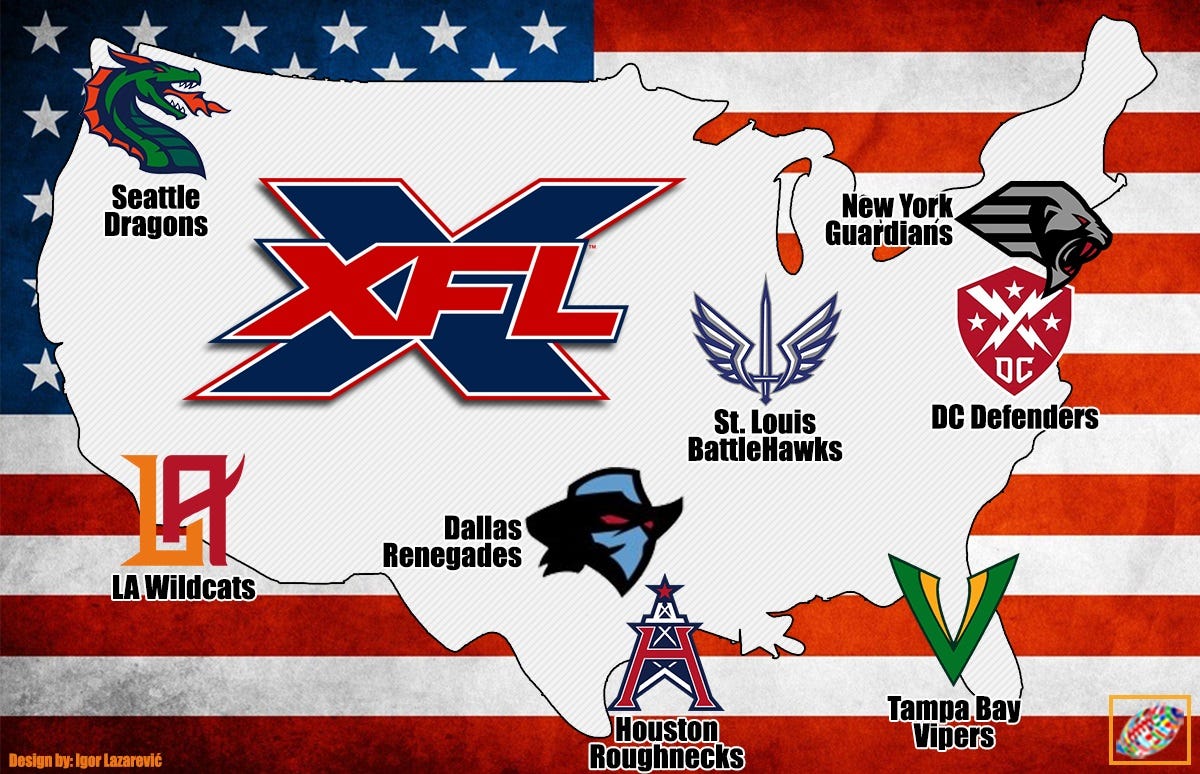 $23M: The FFT (French Tennis Federation) created a $23M fund to support local french tennis clubs due to the COVID-19 crisis.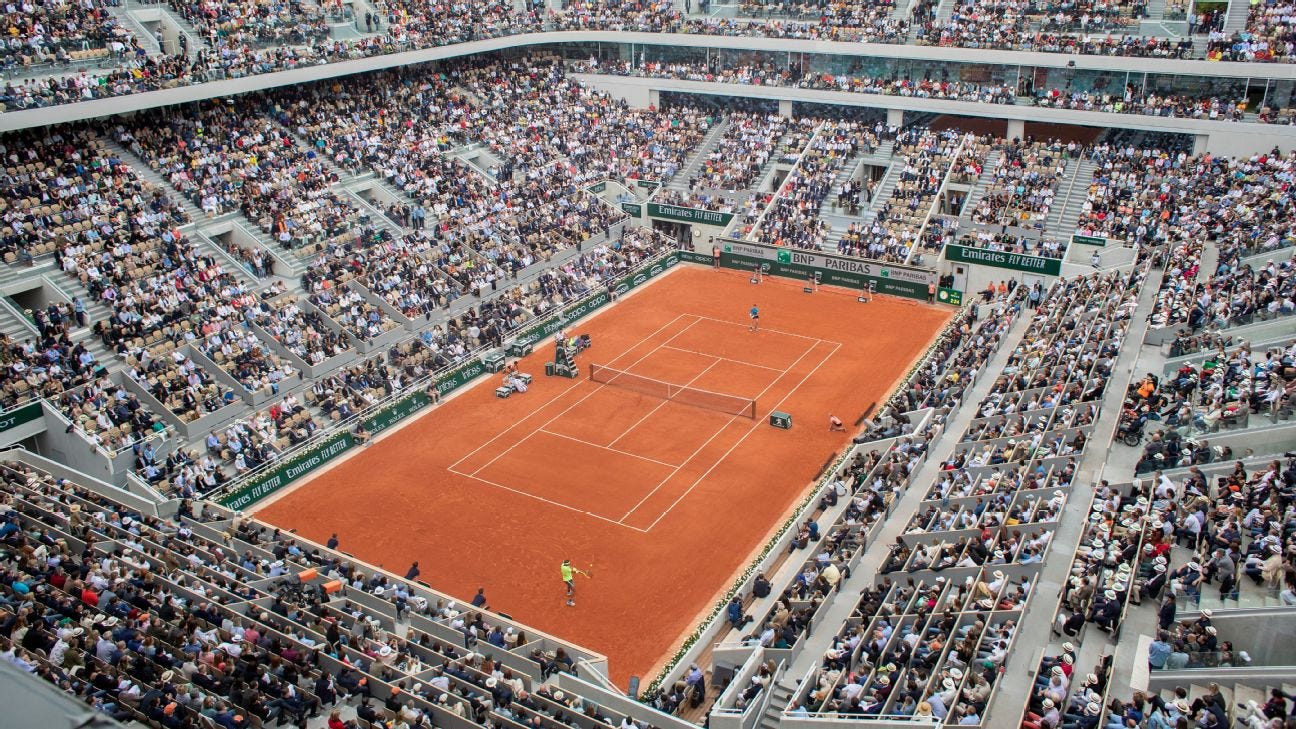 $20M: The Rugby Football League (RFL) has secured an emergency loan of $20M from the government in order to financially stabilise rugby league's ecosystem after the COVID-19 crisis.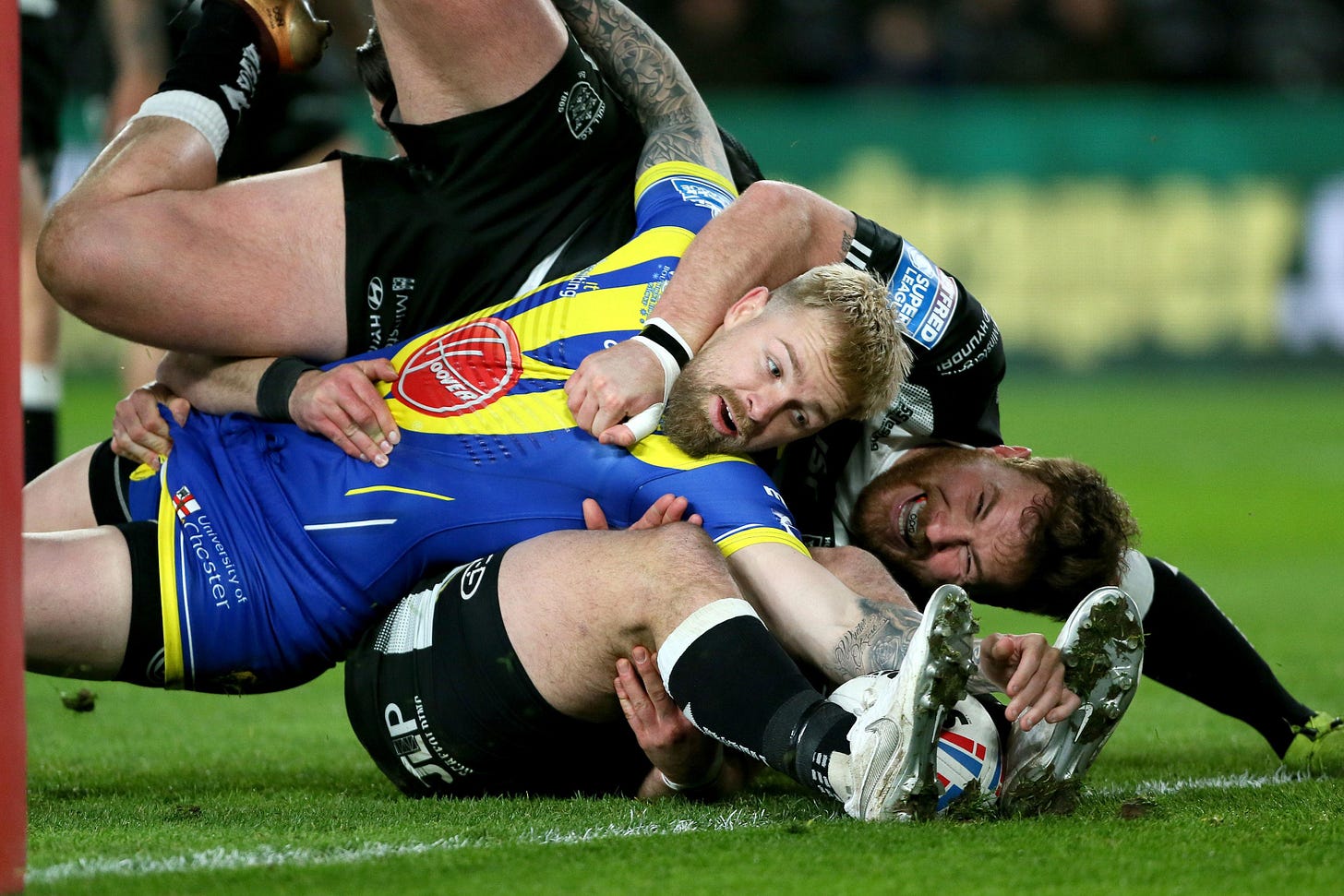 7.9M: As of March 28, ESPN+ had 7.9 million subscribers, up from 6.6M at the end of December. The NFL Draft and 'The Last Dance' helped ESPN's April viewership grow 11% year-over-year.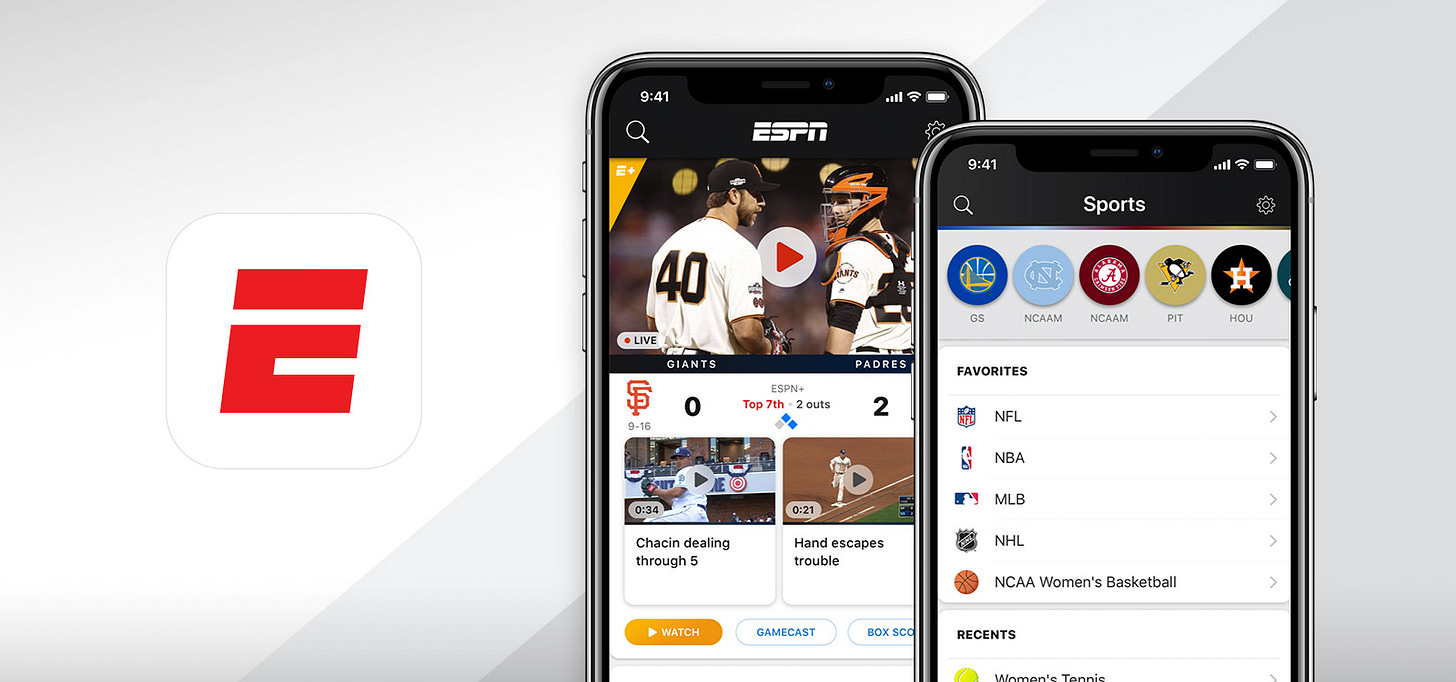 $7M: More than a year ago, Papa John's paid Shaquille O'Neal $4.1M and gave him 90,000 shares of stock to endorse the brand, become a board member, and own nine stores as a franchisee. The pizza company recently reported a same-store sales jump of almost 27%, making Shaq's stock holding alone worth $7M, according to Darren Rovell.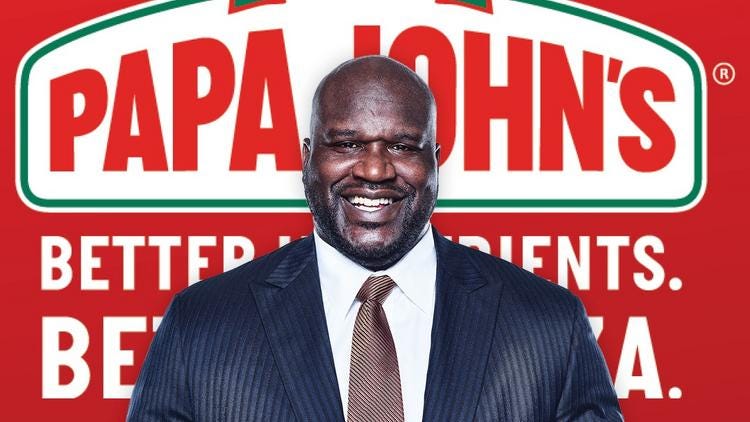 $6M: Professional Tennis' major governing bodies have joined forces to create a $6M  aimed at supporting athletes who are financially affected by the COVID-19 crisis.  The initiative is in collaboration with the ATP, WTA, ITF along with the four Grand Slam tournaments in order to unite the tennis world and provide some of its athletes with funding.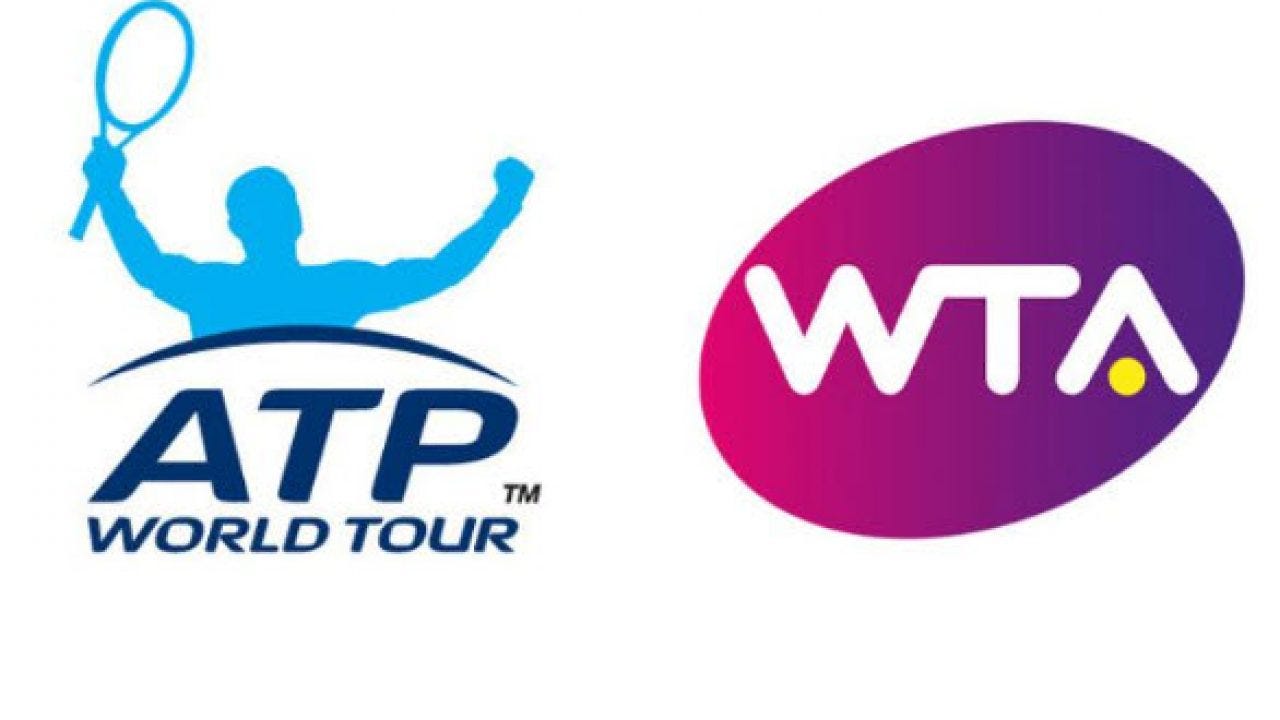 888K: Peloton reported 888K connected users at the end of 1Q20. During the same quarter, it also reported $420.2M in fitness product sales (+61% YoY), $98.2M subscription revenue (+92%). Since mid-March, Peloton's stock has jumped 86%. In April, a record 23,000 people joined a single live class.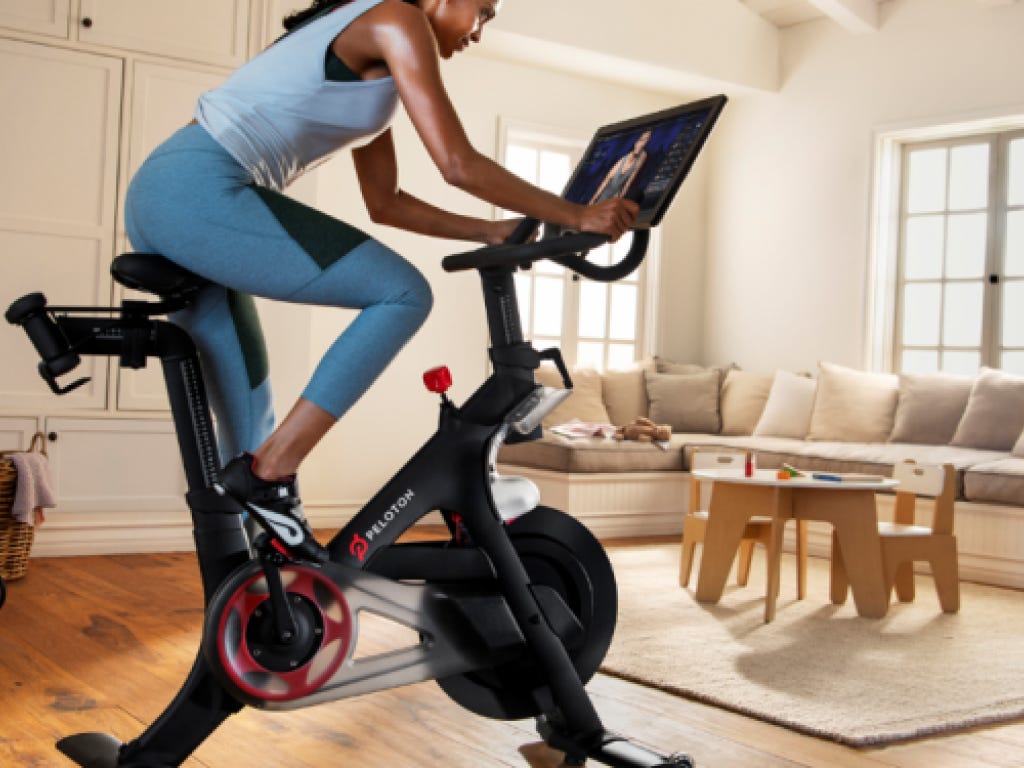 14 mns: So how has all these extra time at home affected sleep? Polar data showed that Americans sleep 14 minutes more on average per night, and woke 34 minutes later. According to Withings those in the UK slept 15 minutes longer and woke 9 minutes later. France increased sleep time by 20 minutes more each night.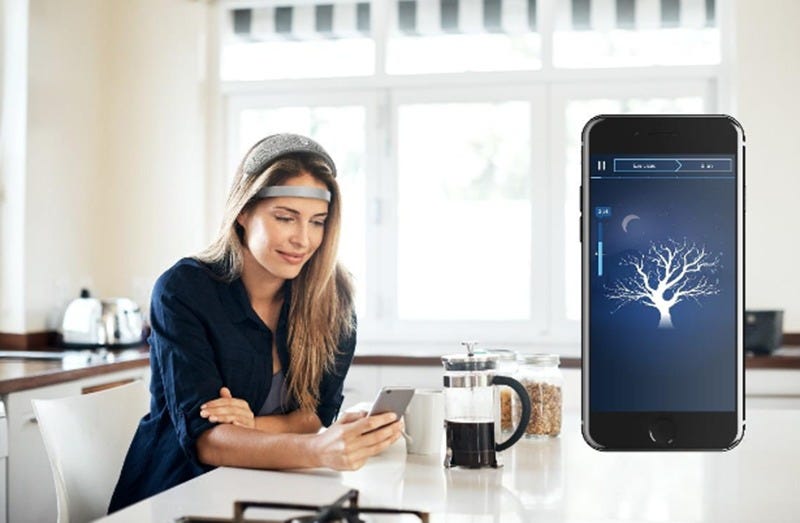 86%: Since mid-March, Peloton's stock has jumped 86%. In April, a record 23,000 people joined a single live class. Even after a rough IPO last year and a panned holiday ad campaign, the company's revenue rose 66% in the first three months of 2020.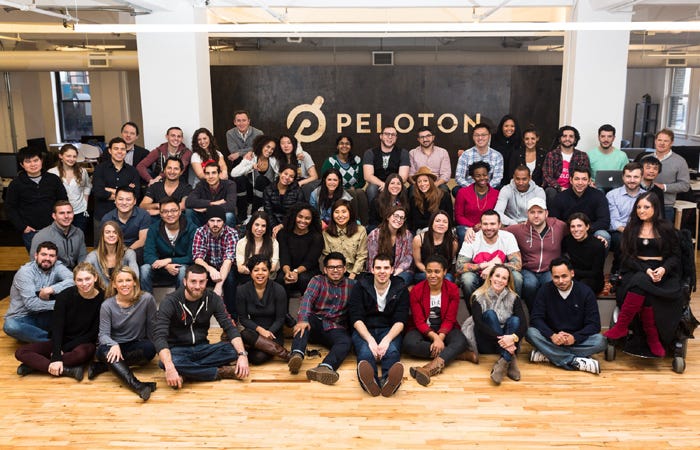 +17.95: In the US workouts have increased dramatically year-on-year, according to Polar. Outdoor workouts have surged 17.95% in March 2020 compared to the same period in 2019. And indoor workouts have dropped 21.55%.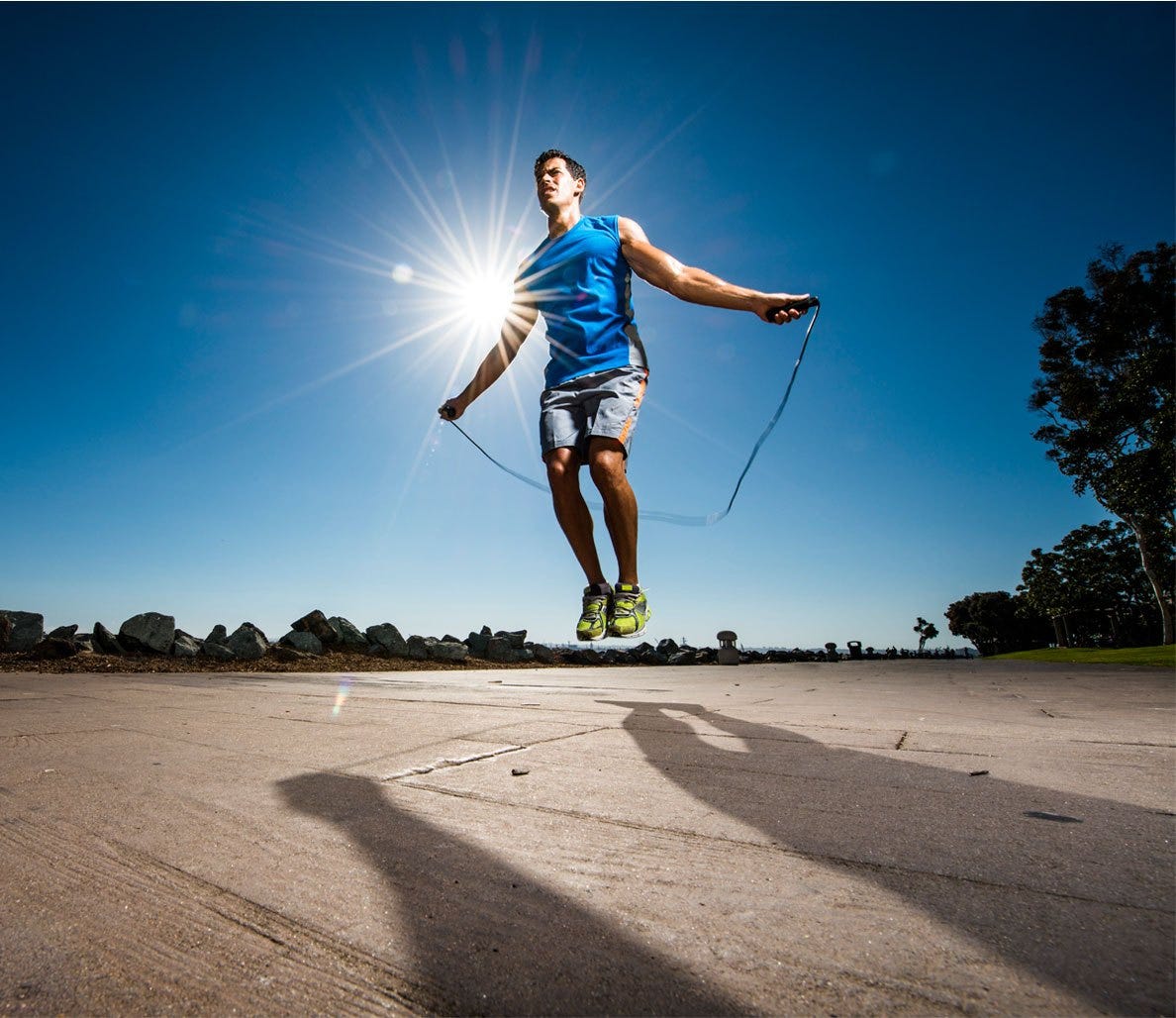 -25%: Airbnb said it is slashing 1,900 jobs (25% of its workforce), or a quarter of its workforce, and cutting investments in noncore operations, as the home-sharing giant predicted the coronavirus pandemic would change its business even after more people start traveling again.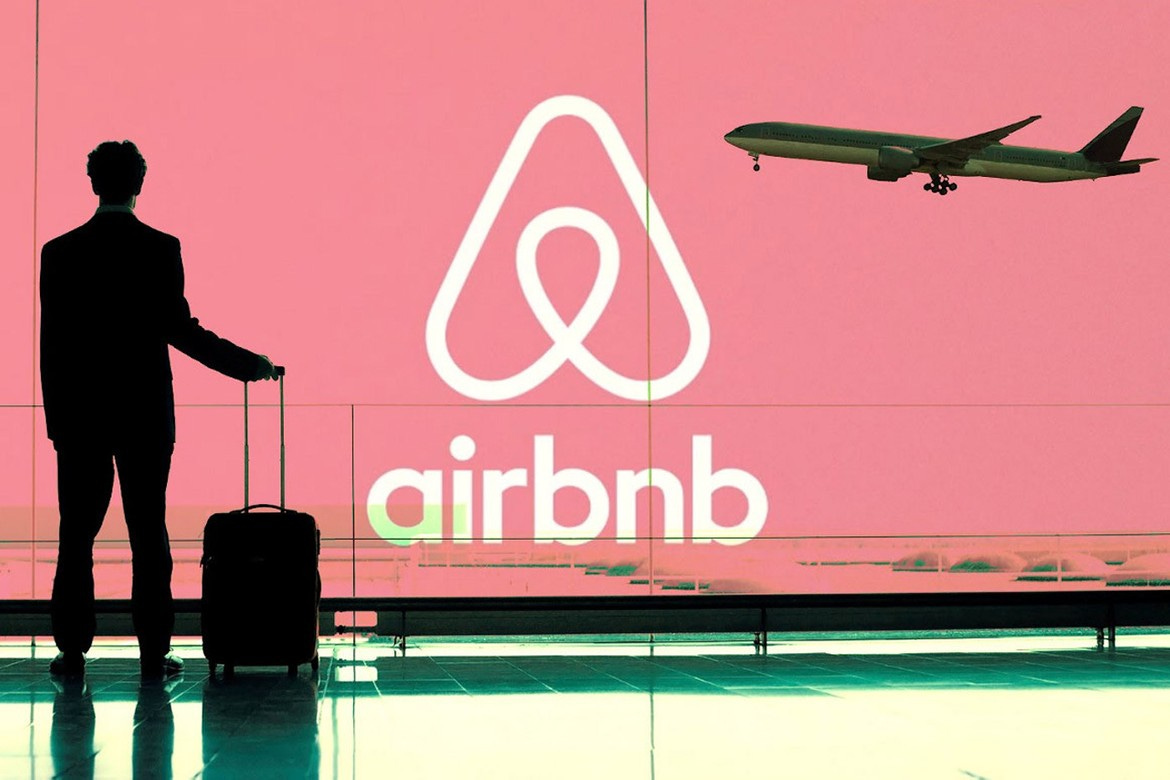 -14%: Uber will lay off 3,700 employees, the company announced in a filing with the Securities and Exchange Commission. The cuts to its customer support and recruiting teams represent about 14% of its 26,900 employees, based on Uber's most recent headcount.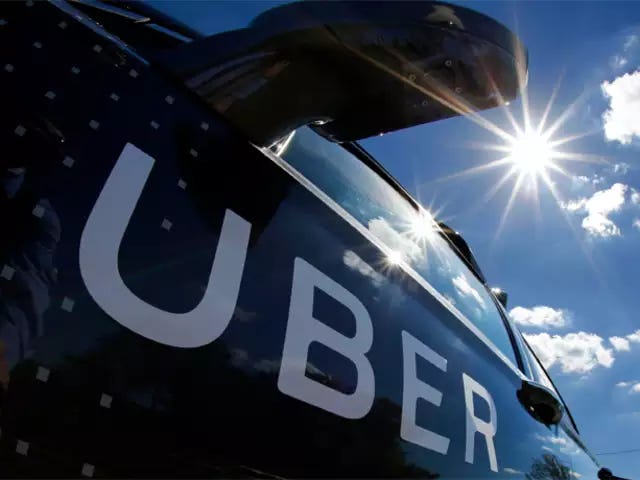 11.9%: Video game publisher EA experienced 12% year-over-year revenue growth while doubling its operating income in 1Q20. EA's full 2020 fiscal year finished with $5.5 billion in revenue, up 11.9% from the previous year. Digital sales, game sales and downloadable content grew 9% and now make up 78% of the total for the company.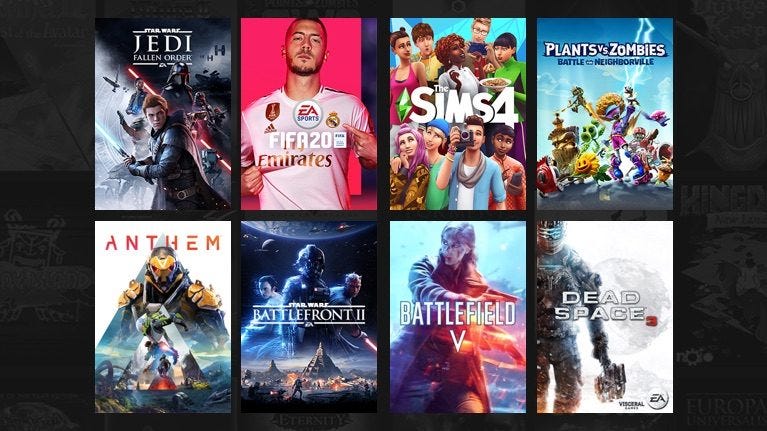 1%: Across all social media, engagement by sports teams is skyrocketing despite decreased content output. TikTok now captures 1% of professional sports teams' social followers, according to a new streaming and social report by Conviva.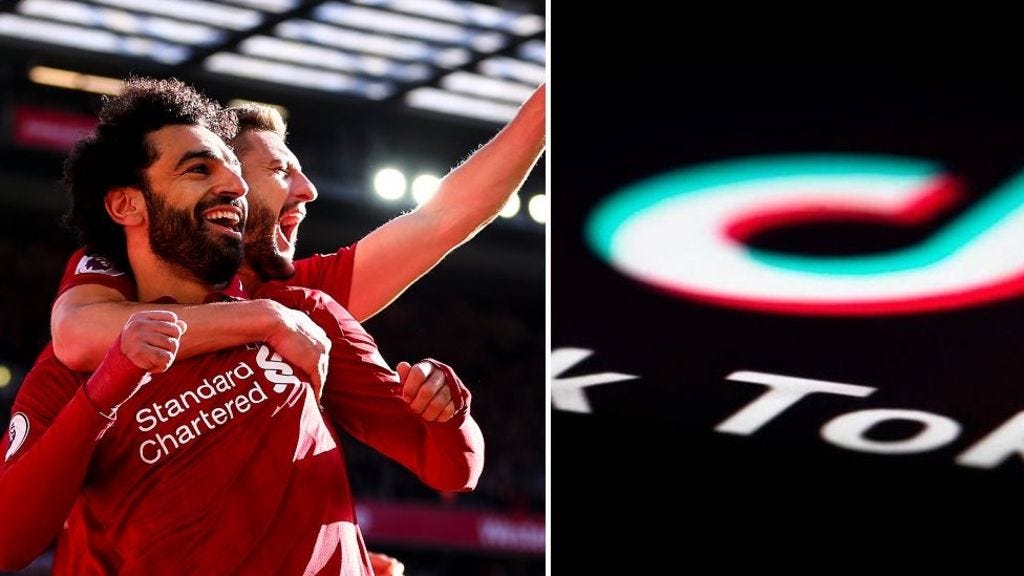 ---
📸 The Upside: Snapshots & video of The Week.
The German soccer league resumes: The Bundesliga decided last week to resume its competition in mid May 2020. Chancellor Angela Merkel and the heads of the German Federal States made the decision.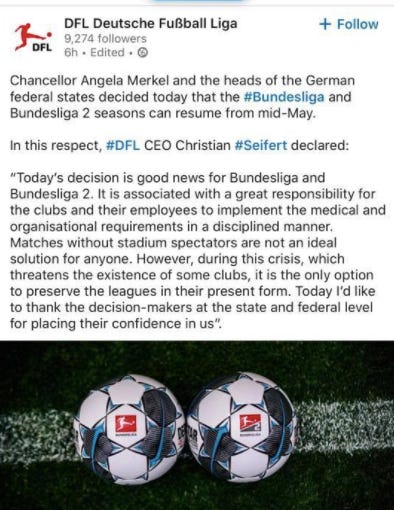 Athletes getting together to honor real heroes. Athletes (Naomi Osaka, Drew Brees, Saints/NFL..) put together a video to honor nurses and medical staff members that are on the front line every day during the COVID-19 pandemic.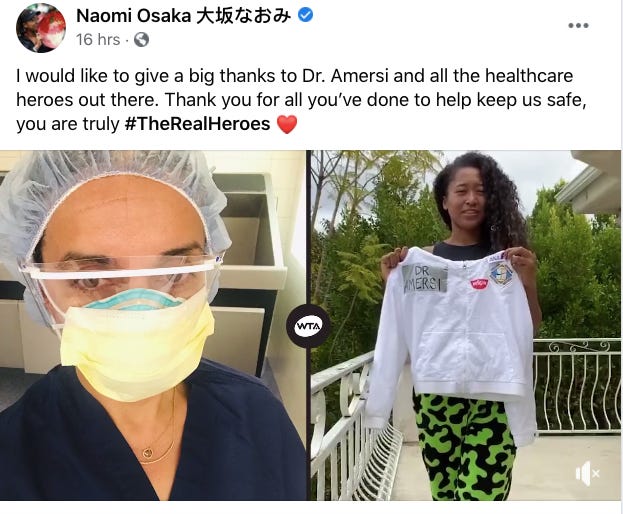 FuboTV ready to broadcast live sports again. Last week SVOD provider FuboTV sent out an email notification to its users to let them know that sports leagues (NASCAR, Bundesliga, Laliga..) are about to resume, teams are coming back to their facilities.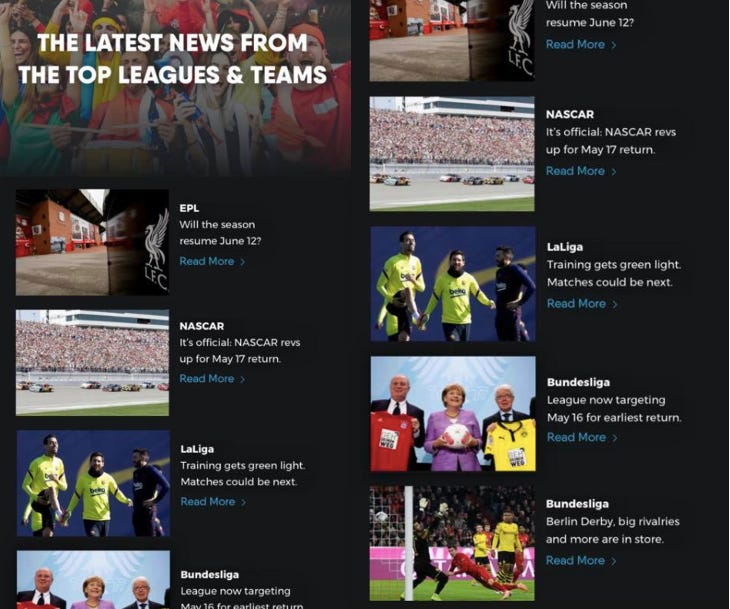 Picture: FuboTV
Monchengladbach FC soccer (Bundesliga)'s fans can have their own cutouts: Given the COVID-19 crisis, and with german soccer fans unlikely to be able to attend live soccer games when the Bundesliga resume in Mid May 2020, Monchengladbach FC allowed its fans to have their own cutouts to fill their favorite's team stadium. The club has already received 12000 orders. We expect other clubs to follow suit!