Discover more from The Upside Newsletter
Data, insights, and stories from the world of sports, business, and technology.
Over 6,000 subscribers
⚽ 🏆 Bayern Munich Wins 6th Champions League Title. NASCAR Launches OTT Channel. NFL Names First Black Team President
Dear Colleague,
We hope you had a great week last week. Last week, the NBA and NHL entered the playoffs while the MLS, NHL, and MLB continued their respective regular seasons.In the NFL, Jason Wright became the first Black team president in NFL history last Monday when the Washington Football Team announced his hiring. At 38 years old, Wright is also now the youngest president in the league. This is an historic moment in the world that we are living in. We expect other NFL teams to follow suit.
In Europe, Sevilla FC won the UEFA Europa League by beating Inter Milan FC 3-2. They won the trophy for a record-extending sixth time. Bayern Munich won its sixth UEFA Champions League Final with an edgy 1-0 win over Paris Saint-Germain in Lisbon, Portugal on Sunday. It was Bayern Munich's 30th straight win all competitions this season. In the world of pro tennis, the US open tennis in NY is set to start on August 31th. This will be the first major tournament since the start of the worldwide COVID-19 pandemic in March.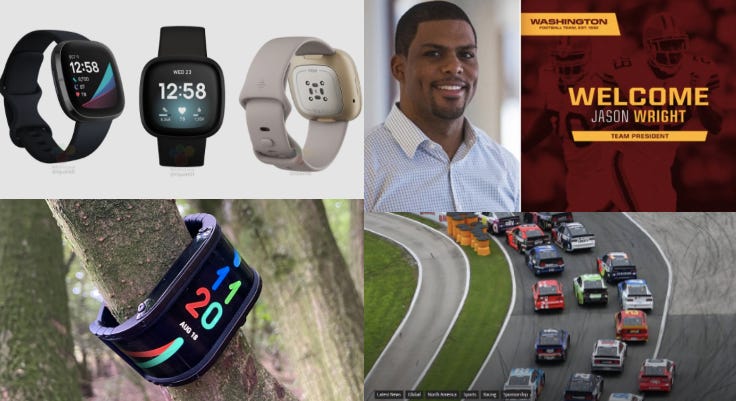 In the world of AR/VR and digital, NASCAR strengthened fan engagement with the Motorsport.tv OTT channel launch. A new report indicates that 59% of UK sport fans have stated they would watch sport exclusively on online streaming platforms for the rest of the year, highlighting the growing importance of online services for traditional sports. In the wearable and connected fitness world, some new reports on the Fitbit Sense and Versa 3 emerged with some leaks on the new health features. Nubia Watch, the 4G smartwatch, is making a comeback. In the world of esport, Formula One announced a $750K Prize Pool for its 2020 F1 Esports Series.
---
Last week we kicked off our Upside guest writers series. Our first article entitled "Whole-body cryotherapy multi exposures speed up performance supercompensation during the taper in functionally overreached endurance athletes", was from Christophe Hausswirth, PhD, Professor, world's expert in hydration, nutrition & Cryotherapy. If you have not read it click on the link below to read the full article.
As a reminder, in the coming weeks we will publish a series of articles and analyses from various experts (e.g. GPS research, sports performance/cryotherapy, biofeedback, 5G/WiFi 6 strategies in stadium, etc..). Here is our schedule of guest writers and articles for the coming weeks:
August 24: Article title:"5G, Wi-Fi 6 and the roar of the Crowd". Author: Pete DeNagy, Founder IoT America / Managing Principal, Acommence Advisors. Pete DeNagy is the former GM of Samsung Enterprise.

September 3: Article title:""GPS-related research in Team Sport – Are we done or is there new windows of opportunity ?". Author: Mathieu Lacome, Head of R&D, PhD, PSG (Ligue 1).

September 10: Article title:"Creatine Supplementation and its Effects on Performance". Author: Daniel Hayes, Performance Coach, LA Dodgers (MilB).
Note: If you want to connect with Len, Mathieu, Christophe, Daniel, don't forget to create your free Upside profile and join our online community by clicking on the button below.
---
Later this week on Wednesday we will publish our monthly Upside podcast interview with Dr. Ron Dick, associate professor of sports marketing at Duquesne University in the school of business. As a reminder Ron also worked for 20 years in sports, including 15 years in the NBA with the Sixers and the Nets, and then four years in the NCAA.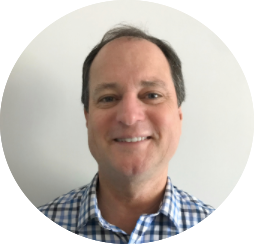 We discussed the major events that occurred during the month of August (MLB, NBA, NHL, MLS cup, College sports, diversity in sports).
---
As a reminder, we are now launching our new Upside Global platform to bring together our sports, tech & health community of 2,500 executives under a single web platform. Members include executives from the NBA, NFL, NHL, MLS, MLB, Laliga, English Premiere League, Ligue 1, Bundesliga, Series A, Brazilian soccer league, Olympic teams, Pro tennis, as well as representatives of startups, brands, VCs, and athletes.
If you are a head athletic trainer, CTO, CMO of a major sports team or league looking to connect with the most innovative startups or connect with your peers to network, or if you are a startup CEO looking to connect with top teams or investors, you can join our Upside community of executives from the NBA, NFL, NHL, MLS, MLB, Laliga, English Premiere League, Olympic teams, top VCs, startups (AR, VR, wearables, sleep tech..) and more!
Your opportunity for growth starts now, create your free executive profile today to join our online community and click on "become a member today" as a first step. It is free to join! It only take one minute to create your profile.
If you face any problems during the registration process, please click on the live support button on our website.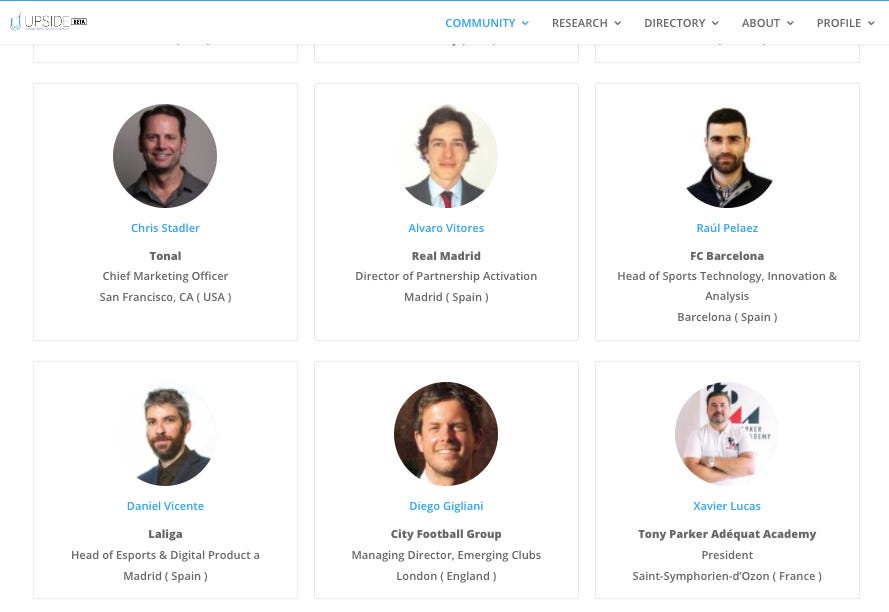 ---
📰 Top Stories We're Reading This Week
📺 NASCAR strengthens fan engagement with Motorsport.tv channel launch
👓 Robert Scoble: Facebook Identities On VR Are The Biggest Strategy Tax Of All Time (Guest Post)
⌚ Fitbit Sense and Versa 3 leaks point to amazing new health features
⌚ Nubia Watch is the embodiment of a smartwatch vision that nobody asked for.
🎮 CSM: Why more football clubs are transitioning into esports
💸 Latest Investment Trends
📊 Tech Stats of the Week
📸 Snapshots of the Week
Let's jump right into the insights and upside for all of these top stories
---
🎮 AR/VR/Video/Digital Sports News
📺 NASCAR strengthens fan engagement with Motorsport.tv channel launch | Via : Insider Sport
NASCAR has boosted its fan engagement opportunities by launching a dedicated channel on Motorsport.tv, Motorsport Network's digital OTT platform devoted to racing and automotive content. Through the association's partnership with Motorsport Network, NASCAR will have the opportunity to create a variety of content, including behind the scenes footage, to an international motorsport audience. Additionally, the partnership will expand the reach of NASCAR's shoulder content while increasing international exposure for its national series and partner brands.

Wyatt Hicks, managing director of NASCAR Digital Media, stated: "NASCAR is a truly worldwide brand, and now, courtesy of Motorsports Network, NASCAR fans located internationally will have access to more content than ever before from their favorite sport.  (..) "Motorsports Network, through its global distribution platform, is the perfect partner to help us serve our fans around the globe and deliver them the type of content that they crave."
⬆️ The Upside: This OTT partnership between NASCAR and Motorsport.tv is a good move. This is part of NASCAR's strategy to increase fan engagement during the COVID-19 pandemic and beyond. Of note, NASCAR's virtual racing series set a new record in March, pulling in 1.3 million total viewers across Fox and FS1 to become the highest-rated televised esports event ever. This month also saw Mercedes partner with Motorsport Network to boost its Formula 1 and Formula E content. The global OTT streaming market is expected grow from $104.11 billion in 2019 to $161.37 billion in 2020 at a compound annual growth rate (CAGR) of 55.0%. ... The market is then expected to stabilize and reach $169.4 billion in 2023 at CAGR of 14.0% from 2021.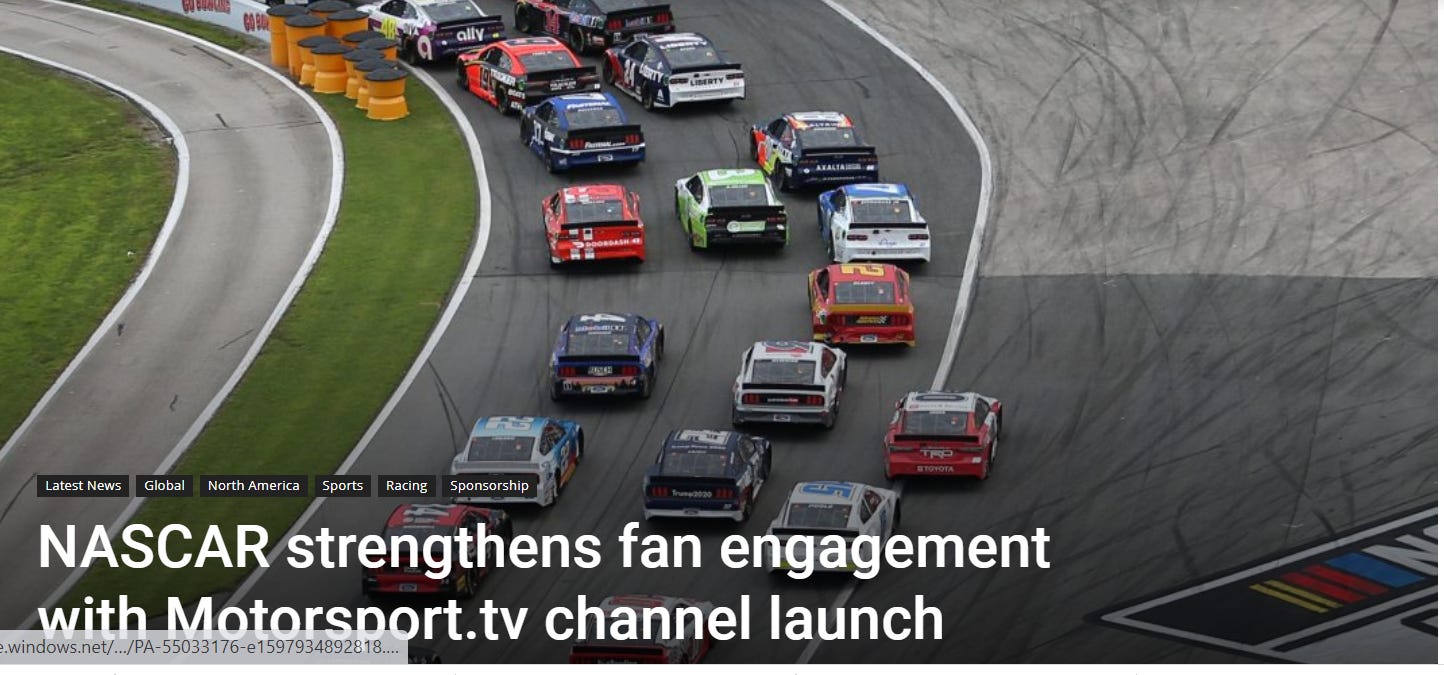 👓 Robert Scoble: Facebook Identities On VR Are The Biggest Strategy Tax Of All Time (Guest Post) | Via : New World Notes
Robert Scoble has co-authored four books on technology, the latest of which, "The Infinite Retina" lays out why Spatial Computing will reshape seven industries. He grew up in Silicon Valley and has had a front-row seat on the technology industry since he toured Apple Computer back in 1977. Here he takes some time away from his Summer vacation to give us some insights into why Facebook is forcing its users to use their real identities on its VR headsets sold under the Oculus brand name.
I've been watching the past few days as the VR industry has been outraged by a Facebook decision to force all its users on its VR headsets to sign up for a Facebook user account. When I worked at Microsoft we called this kind of decision to serve a business purpose, and not immediately improve customers' lives, "a strategy tax." This probably is the biggest strategy tax of all time. I get the outrage, but the industry will get over it quickly. Here's why. In my experience consumers won't pay hundreds of dollars more for competing devices that do less. In a few weeks I hear Facebook will announce a new device (and maybe more) that will be lower in price than the current Oculus Quest (which is a standalone device that costs $400). There are really no good competitors for a standalone device. The ones that exist cost more and do less (and that gap will get more stark over time due to the billions in R&D Facebook is spending). What the industry also isn't getting is that this isn't really about devices that are out today or coming tomorrow, but are about products that are being developed for 2022-2025 launches. Namely XR glasses that do some combination of augmented and virtual reality.
There are two fronts for why Facebook needs to tie users to real Facebook identities:
1. A pricing war with Apple.
2. A war over social functionality that soon will come.
All of these are about XR glasses. Let's dig into each.
⬆️ The Upside: We believe that we are 2-3 years away before we see affordable hybrid AR/VR glasses become mainstream. The price point for consumer AR/VR glasses need to be in the $200-$500 price point in order to get traction. Now we believe that when Apple enters the AR glasses market in the next 24 months this will be a game changer. Many competing OEMs (Samsung, LG, Lenovo, Facebook..) will quickly follow suit with similar products. Then we will see a price war especially from the Chinese OEMs while OEMs like Apple will continue to offer AR glasses at a premium.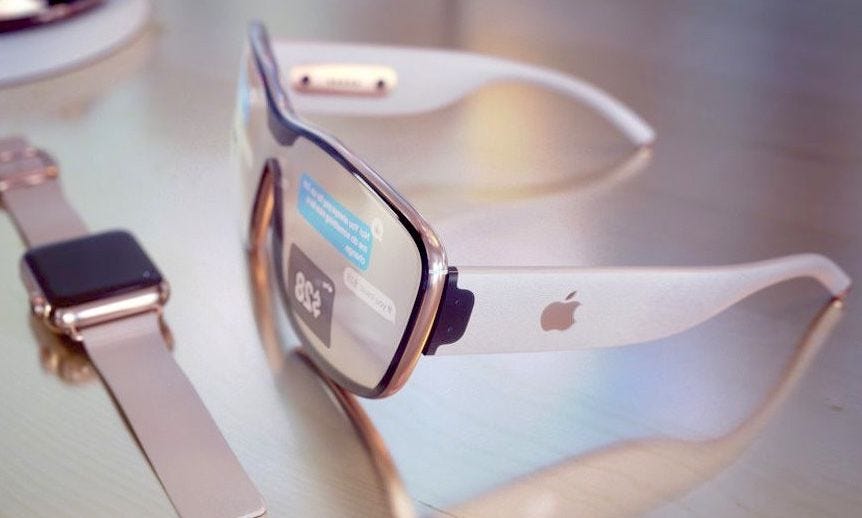 ---
🚑 Wearables, Health, Nutrition News
⌚ Fitbit Sense and Versa 3 leaks point to amazing new health features | Via : Wareable
There's been rumblings of Fitbit preparing new smartwatches, and a new leak gives us a hint of some top new features. Images of a possible Fitbit Versa 3, all-new Fitbit Sense and Inspire 2 have popped up on WinFuture, and there are plenty of details to be gleaned. We're going to caveat everything by saying that we're assuming these leaks to be genuine because of the quality of the images, and that Fitbit devices always leak before IFA every year. But of course, this could all be nonsense.
Most exciting is the Fitbit Sense, a brand-new line for Fitbit. It looks like the Versa 3, but with a more premium looking design. Some conveniently placed icons on the rear of the device give us clues to a high-end, wellness-orientated feature set. We can't be sure what they mean, but the first looks like it could be electrocardiogram (ECG), the second temperature, with GPS and 50m water resistance looking like dead certs at the end. This would be a great feature set for a Fitbit device. Adding ECG would catch up with the Apple Watch Series 5 and Samsung Galaxy Watch 3, and tracking body temperature would be hugely compelling considering the global pandemic. Body temperature has been a key focus of wearables being trialled for early warning devices for COVID-19, and can also be used for fertility tracking, which is already part of the Fitbit feature set.
⬆️ The Upside: We believe this would be a good move by Fitbit. From a feature standpoint it makes sense for the Fitbit Sense to be packed with ECG sensor. Fitbit is playing catch up here as ECG has become the new norm. Many competitors like Apple, Withings, Samsung already offer ECG sensing as part of their smartwatch offering. Now regarding the temperature sensing feature, it is worth pointing out that we are only talking about measuring "skin temperature" not "body temperature". What Fitbit needs to do get an edge over its competition is to instead measure "body temperature" measurement and add new biosensing capabilities like hydration, electrolyte, and BP measurement.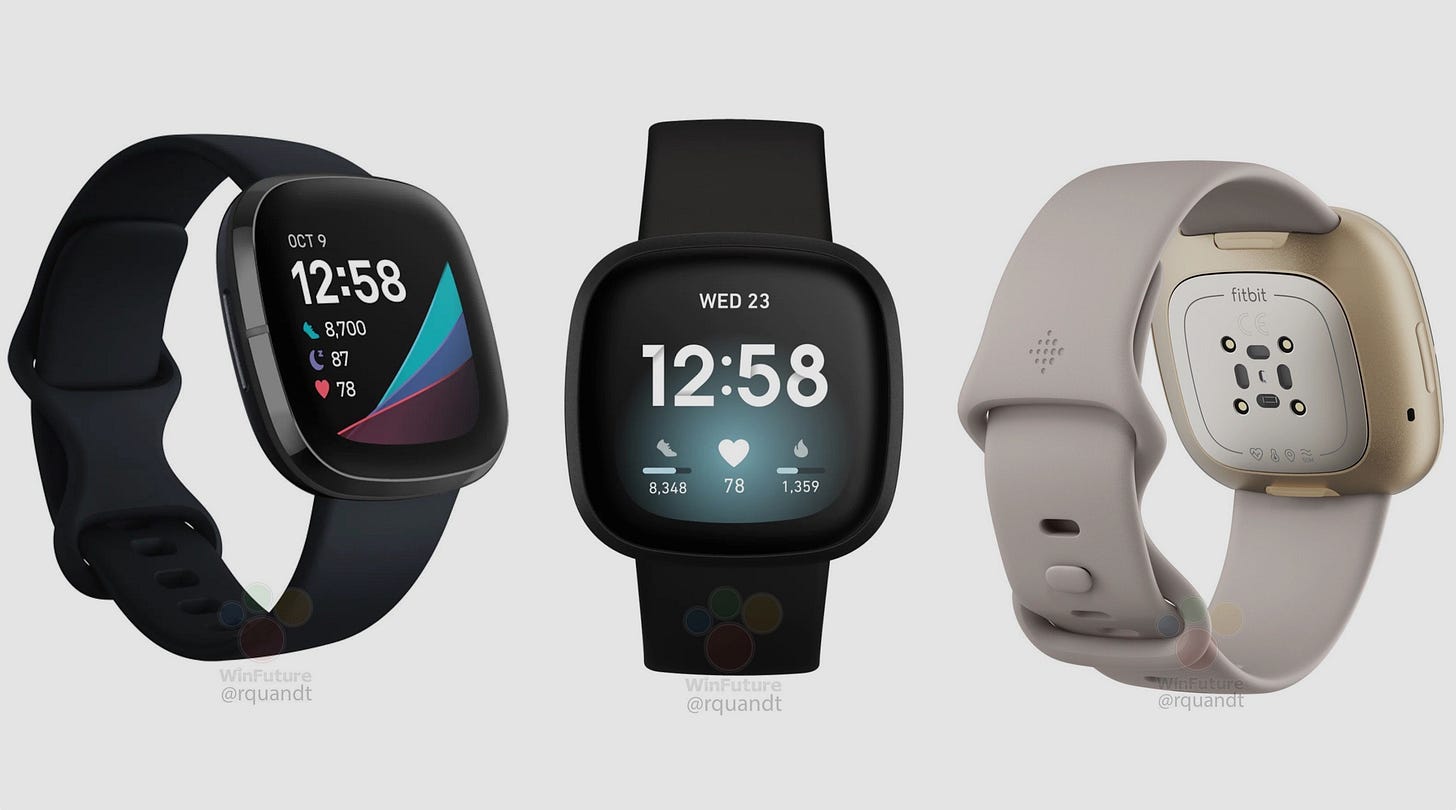 Picture : Smartwatchs Fitbit Sense and Versa 3
⌚ Nubia Watch is the embodiment of a smartwatch vision that nobody asked for. | Via : Wareable
A few years ago, in the days before Apple Watch, Samsung Galaxy Watch and WearOS, the default futuristic vision of a smartwatch was one of a giant, cuff-like, device with a screen wrapping around your wrist. The early renders and design concepts we'd see were more like smartphones people could wear rather than the genuinely stylish watches we see adorned with cutting-edge tech nowadays. But that hasn't stopped ZTE from unleashing its second attempt at a smartwatch that nobody has asked for. And the Nubia Watch has just gone live on Kickstarter, a follow up to last year's Nubia Alpha prototype. I've had the Nubia Watch wrapped around my wrist for the past few days - here's what you need to know. It's massive. It's chunky. It, in no way, resembles a regular watch. But that's not really the point is it? It's all about that staggeringly large (for a smartwatch, at least) 4.01-inch, 960 x 192 (244ppi), flexible AMOLED display. Unlike the Alpha, which curved the whole screen, it's kind of split into three sections.
It's hard to knock the Nubia Watch. Perhaps it deserves some ridicule and I don't actually believe there's a genuine market for it - especially in the western world. But it kind of sets out to do and be exactly what it intended to be - a novelty, 'futuristic', smartwatch with a USP that no other smartwatch is offering; i.e. that mahoosive flexible AMOLED display. It's buggy as heck, the app still feels in the early stages of beta testing and the software feels familiar to 2013's Samsung Galaxy Gear. But it's also a real head turner. People are going to ask you, "What the hell is that?" if you wear it out and about. It's up to you if that's a good or a bad thing. The Nubia Watch is on sale in China for 1799 yuan, which is around $260. On Kickstarter the super early bird price is $179 for the first 200 sold.
⬆️ The Upside: We believe the Nubia Watch is more of an experiment than anything else. It is too bulky, too heavy, and we believe there is a real market for it. Not to mention that the 4G and LED flexible screen are likely greatly impacting the battery life. We don't expect ZTE to take share away from the likes of Apple or Samsung in the smartwatch market.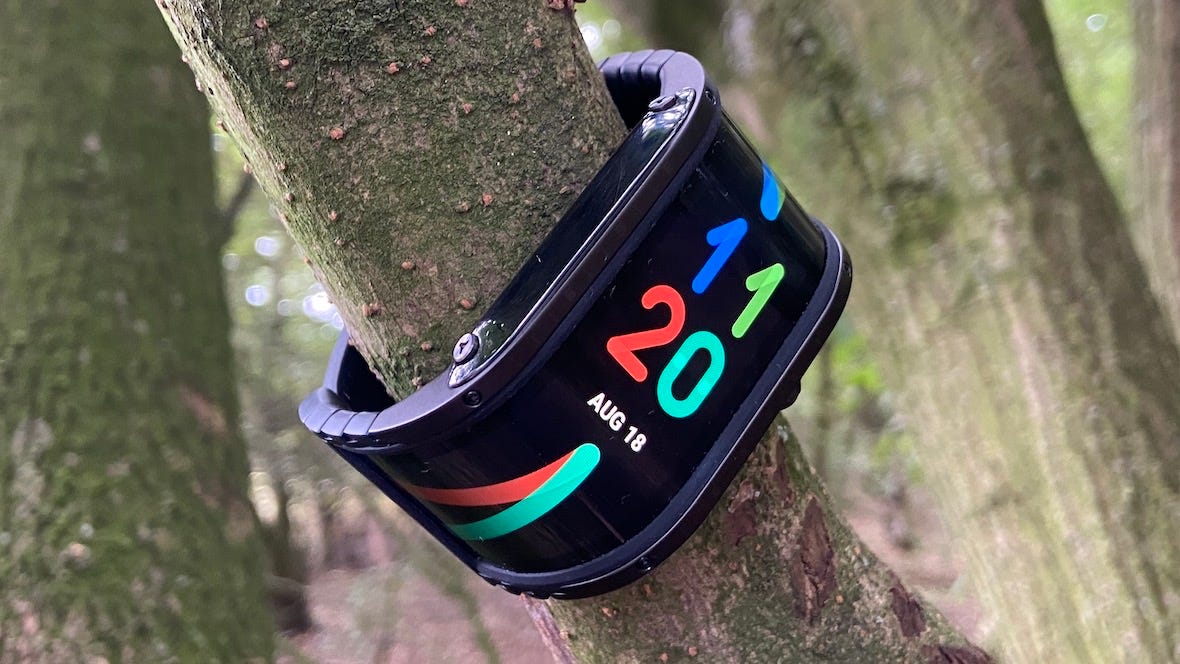 ---
🎮 Esports & Crypto-Currency News
🎮 CSM: Why more football clubs are transitioning into esports | Via: Insider Sport
Football is one of the biggest sports in the world, with Premier League clubs generating an estimated £1.55 billion in commercial revenue for the 2019/20 season, according to Deloitte.  However, 2020 has seen more football clubs transition into the virtual world by investing in the esports sector, whether that be through marketing campaigns or creating a competitive gaming brand. Speaking at ESI Digital Summer, James Gallagher-Powell of CSM Sport & Entertainment, a global integrated marketing and brand experience agency, explained why the world of esports is so enticing to football clubs.

"Why do football clubs and esports even make sense at all? So the reasons are fourfold. Firstly to attract a younger audience," Gallagher-Powell stated. "In terms of this younger audience, I'm sure that many of you have seen the stats before, probably from a brand sponsor perspective. So why do brands think about sponsoring an esports property over traditional sports property? (…) "The average age for a Premier League fan is 42 and rising, and no doubt is higher than 42 within developed fan markets like in the UK. This ageing fan base begs two questions to football clubs: How do the clubs ensure their longevity and remain relevant to the next generation of sports fans? And how do they ensure that their club remains attractive to potential sponsors? (..) Esports can provide the perfect channel for this. It's a way that clubs can attract a younger audience to their core operations, i.e football, and it can help clubs to safeguard their future popularity and therefore their future profitability."

As Gallagher-Powell discussed, esports has a much younger demographic, compared to other traditional sports. According to the presentation, the average audience for esports is 26, which is nearly double that of the NFL (50).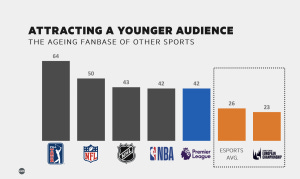 Gallagher-Powell added: "Esports can also act as a bit of a hedge against future decline in footballing revenues. The long term bull view on esports is they will have parallels with the growth in franchise value that we've seen in traditional sports over the last 20 years, we're expecting significant growth on all revenue streams across sponsorship, broadcast, and merchandise.

"It's an extension of the existing football brand with a younger fanbase than they might typically have with just football and play future-proof themselves within that as well (..) "The flip-side somewhat so that is the PSG case. Which is certainly more costly, but what PSG have done in eSports quite broadly today is generally at least one of the few examples I use when showing football clubs the full potential of what they could gain and what they could benefit from for being involved in in esports, as we see here, there in Dota, they're in FIFA, for sure, but they're in Brawl Stars, they're in League of Legends."
⬆️ The Upside: As we pointed out before, esport is a great new medium for soccer teams to attract new demographics especially a new audience. Some soccer teams have done a better job than others implementing their esport strategy . Getting a good ROI remains the #1 question among soccer teams. In our view we are still in the early days of esports as part of major soccer clubs. To learn more you can check out our analysis on esport: Hype VS reality.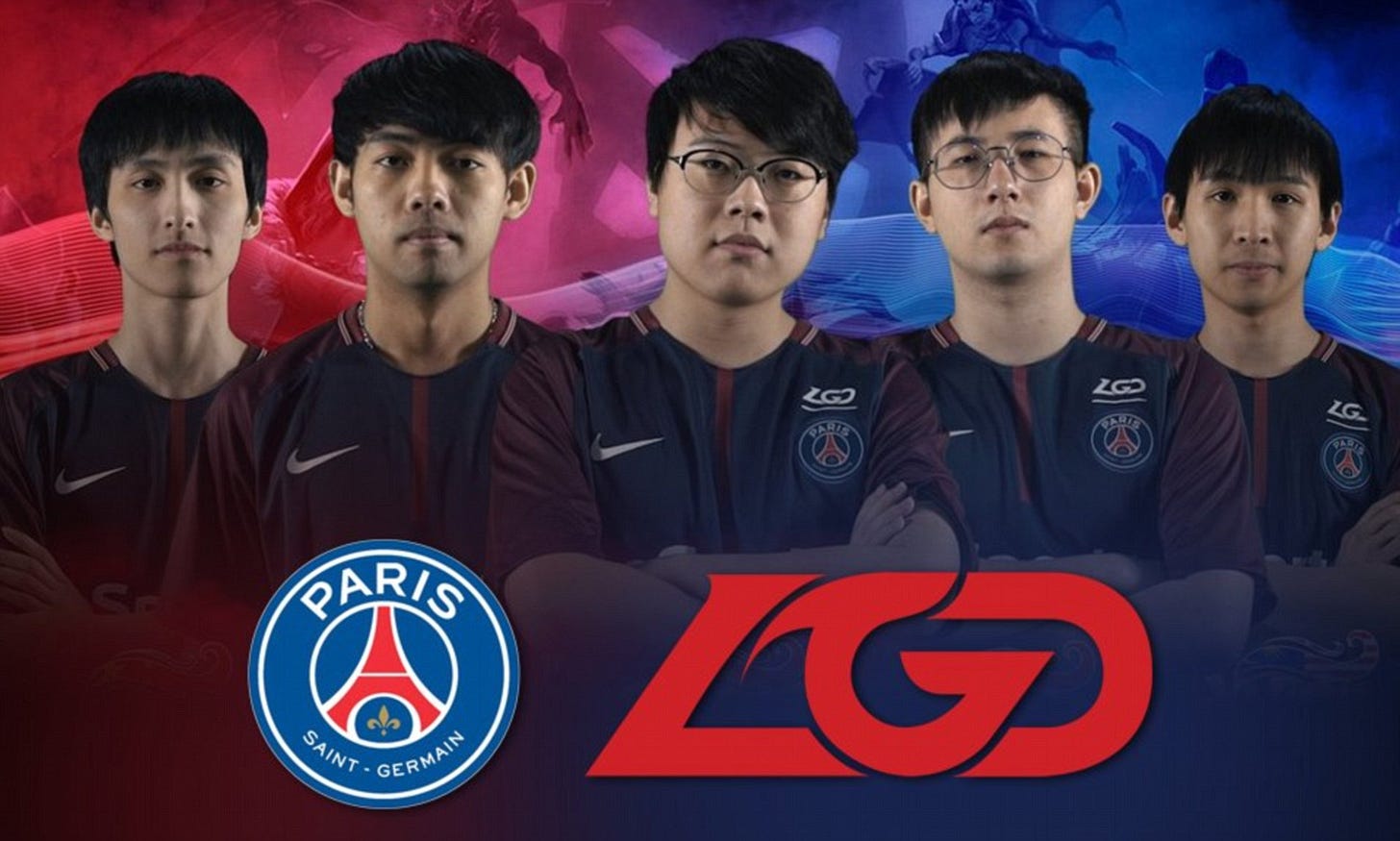 Picture : PSG, esport
---
💸 Sports Tech & Health Investment (Fund raising, M&As) Trends — August 2020
Sports streaming company DAZN is reportedly looking to raise $1 billion. Read on here.

Odyssey Interactive has raised $6M for a Canadian game studio founded by former Riot Games developers. Read on here.

Mental health coaching startup Ginger raises $50M. Read on here.
---
📊 Key Tech Sports Stats of The Week
$4.6B: As the NFL season approaches, billions of TV ad revenue are at stake. Last year, the league generated $3.3 billion in regular season ad revenue and $1.3 billion in the postseason. The NBA, NHL and MLB combined for $2 billion in national TV ad revenue last year. There's also another $1.7 billion in TV ad revenue tied to college football, which has already lost two Power 5 conference seasons.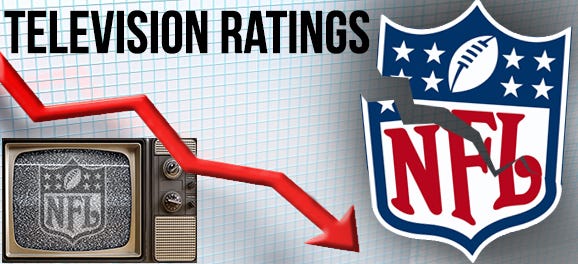 $2.8B: Jim Pallotta is selling his minority share of the Boston Celtics, according to three people familiar with the matter. Pallotta is selling his 8% stake in the Boston Celtics team to Steve Pagliuca. Pagliuca, a managing director at Bain Capital, is buying the stake at a $2.8 billion valuation, said one of the people, who was granted anonymity because the sale hasn't been approved by the NBA.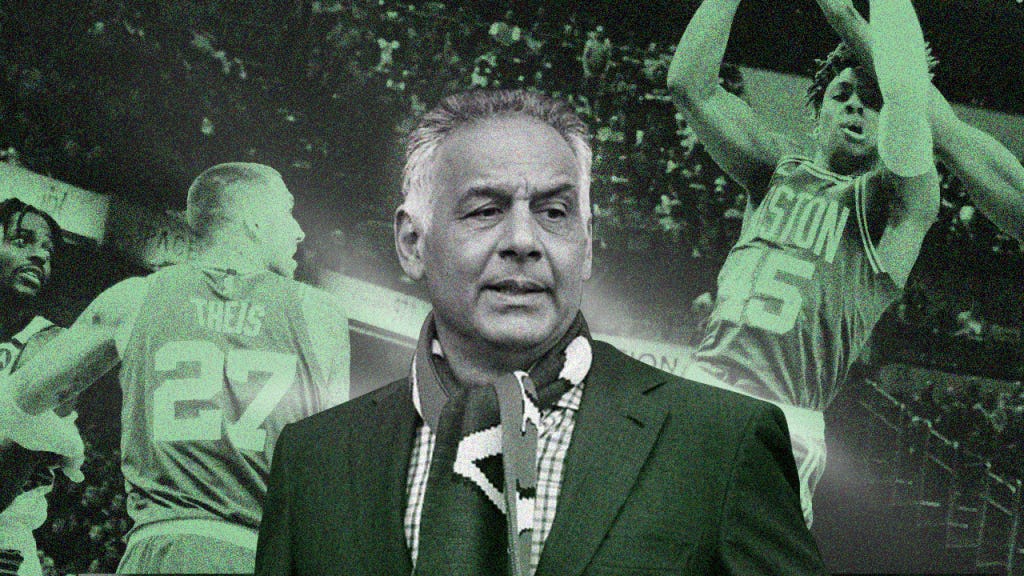 $680M: A recent Washington University in St. Louis study found NHL, NBA and MLB game-day employees would lose at least $680 million from canceled games in 2020. NFL workers could lose another $100 million. To date, 12 NFL teams have announced they will start the season without fans in attendance.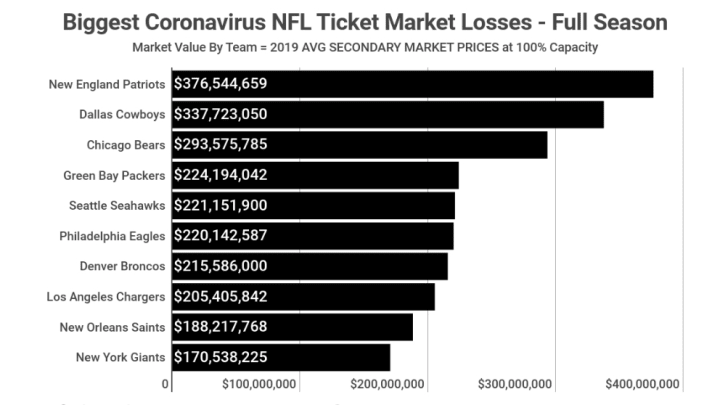 $280M: Adidas, Nike and Under Armour stand to be some of the companies hit the hardest by college sports postponements, as each brand has millions tied up in school contracts.
Before the Pac-12's season was shelved, Under Armour was attempting to get out of its deals with schools like UCLA and Cal. Among the brand's reasons for trying to terminate the deals: the schools failing to fulfill contract obligations and, in the case of Cal, sales of out-of-date apparel by a third-party.
Largest College Apparel Deals in Big Ten and Pac-12:
— $280 million: Under Armour's 15-year deal with UCLA
— $137.8 million: Nike's 15-year deal with Michigan
— $119 million: Adidas' 10-year deal with Washington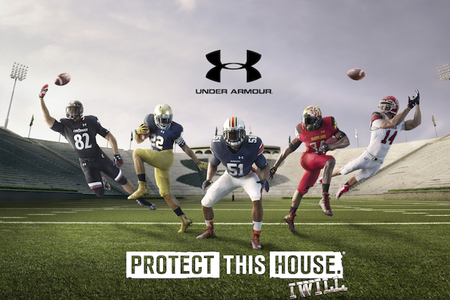 $95M: International rights remain the weak point of the French soccer league. BeIN is paying just $95 million per year through the 2024 season. But it is widely believed a material increase is on the horizon. As media rights consultant Dan Cohen explained, "[The] next comparison up—Serie A—is getting $330 million annually for their international rights, so there is a big disparity there and plenty of room for growth."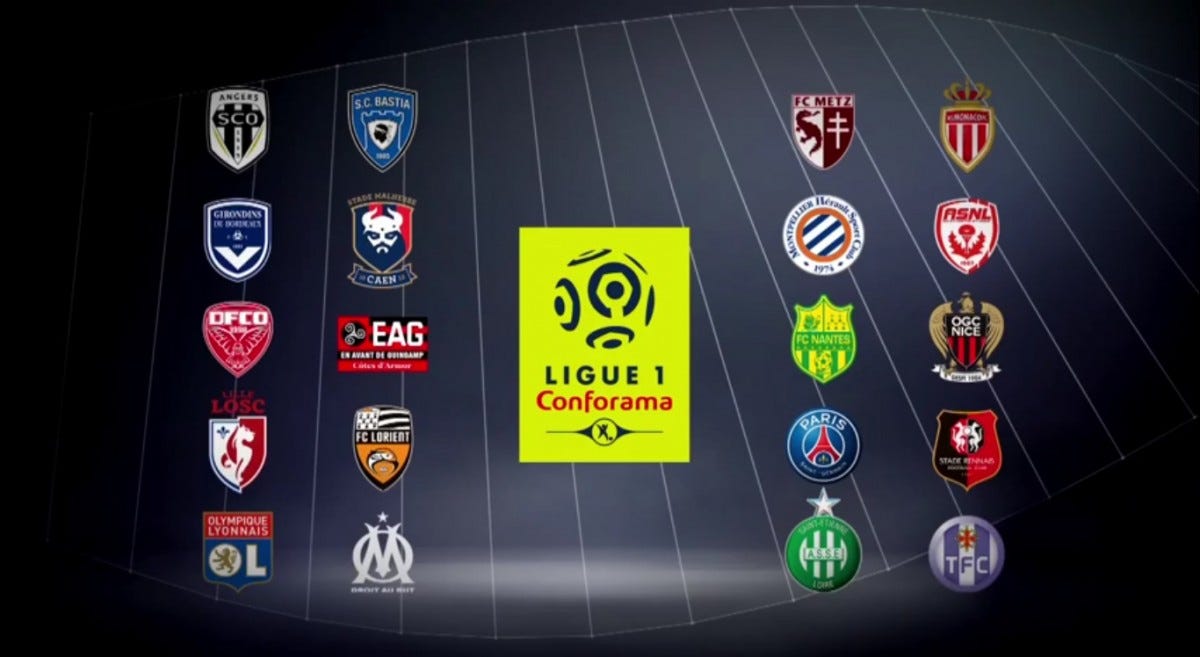 $34M: Tennis remains the most lucrative sport for women as nine of the top 10 highest-paid female athletes of 2020 make their living playing the sport.  Naomi Osaka leads the list, making $34 million through 15 endorsement partners, including Procter & Gamble, All Nippon Airways and Nissin. Roger Federer was the only tennis player of either gender to earn more money than Osaka through endorsements. 
Top 5 Highest Paid Female Athletes: 
Naomi Osaka: $37.4 million

Serena Williams: $36 million

Ashleigh Barty: $13.1 million

Simona Halep: $10.9 million

Bianca Andreescu: $8.9 million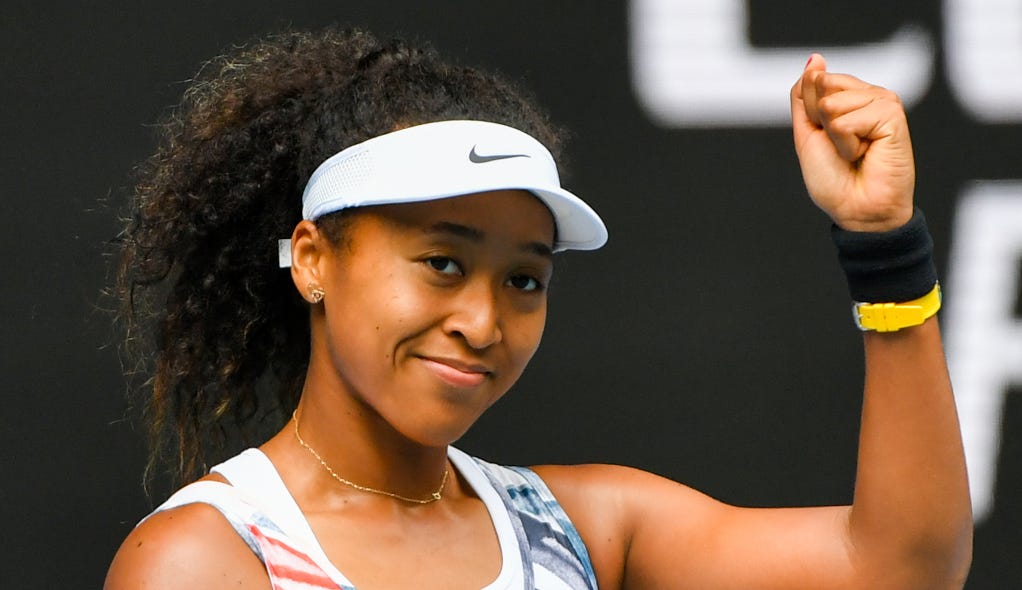 $615K: A pair of Michael Jordan's game-worn Nike Air Jordan 1 shoes were auctioned off for a record $615,000 last week. Jordan wore the shoes in a 1985 exhibition game in Italy, and a piece of the backboard — shattered by a Jordan dunk — is still embedded in the shoe.
87K: Stadium concessionaires are among the hardest hit by leagues resuming without fans. Last June, there were about 182,000 people directly employed by the spectator sports industry.  This year, that number was 87,000.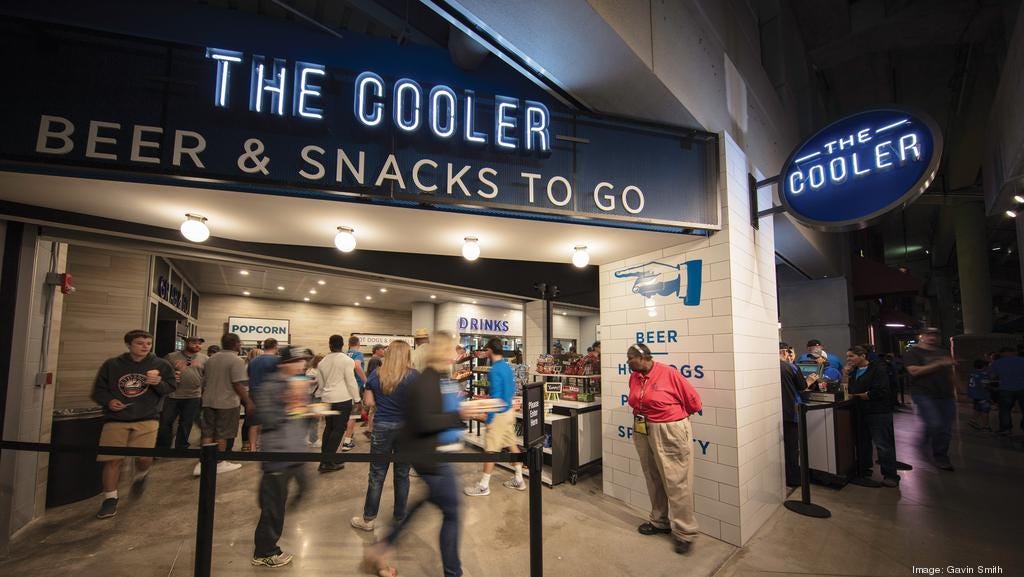 8,022: The MLS' safety protocol seemed to prevent team-to-team transmission and since July 14, MLS has administered 8,022 tests with zero confirmed positive results.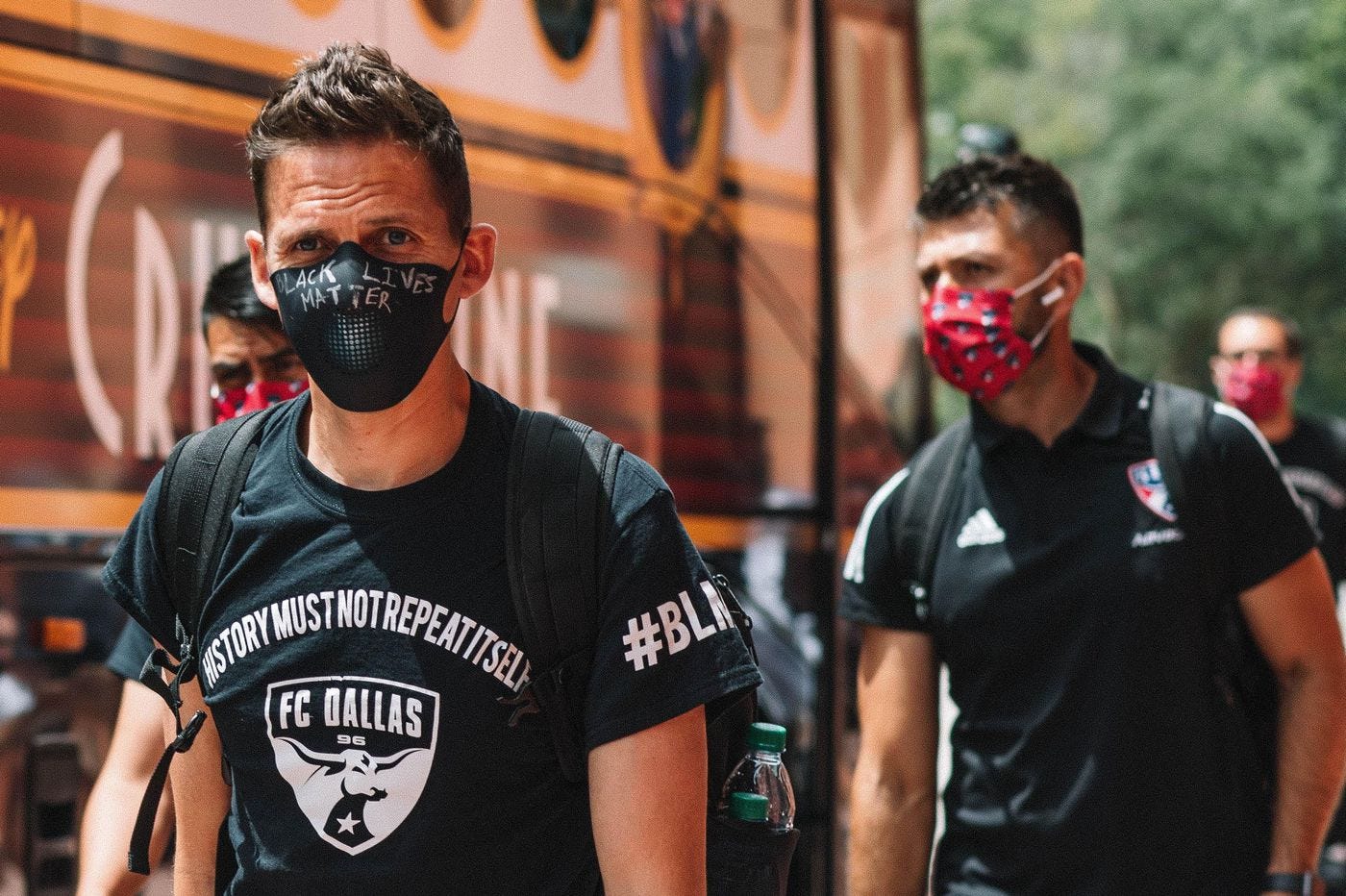 59%: According to a report by live video production company Grabyo, 59 per cent of UK sport fans have stated they would watch sport exclusively on online streaming platforms for the rest of the year, highlighting the growing importance of online services for traditional sports.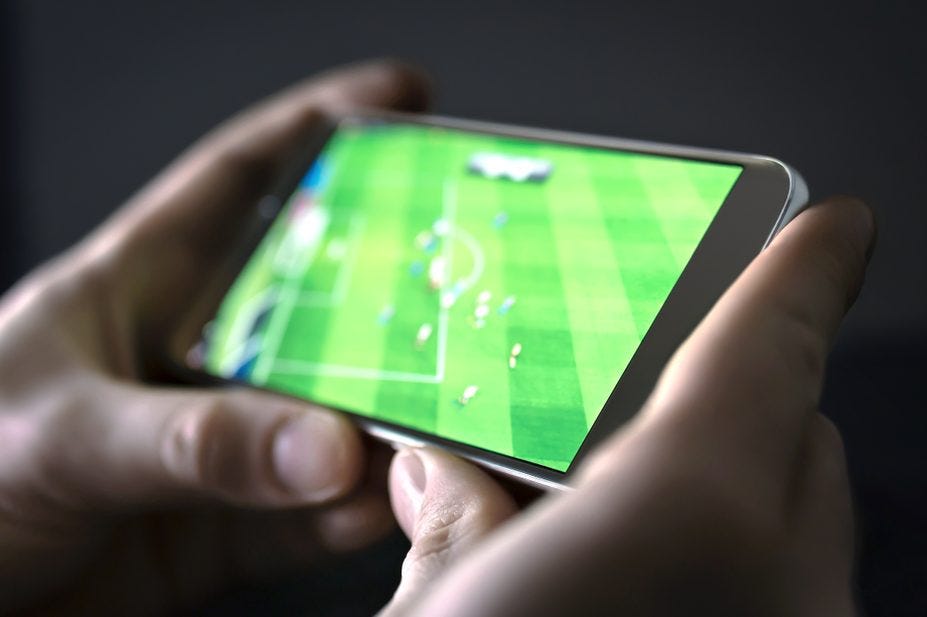 30: Bayern Munich's win over over PSG this weekend, was the 30th straight win all competitions this season.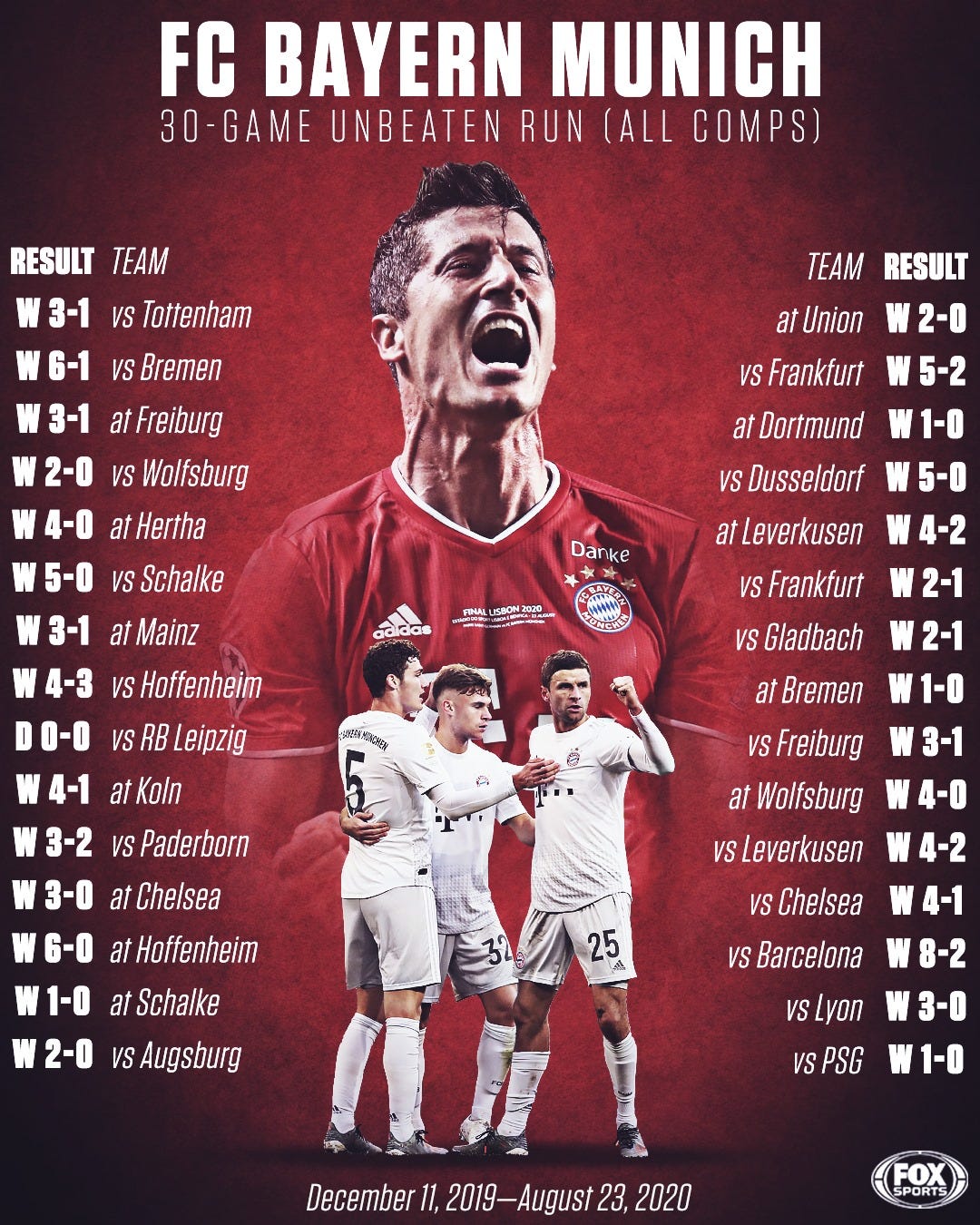 10.6: Top ten fastest players in world revealed with Kylian Mbappe clocking staggering 10.6 metres per Second.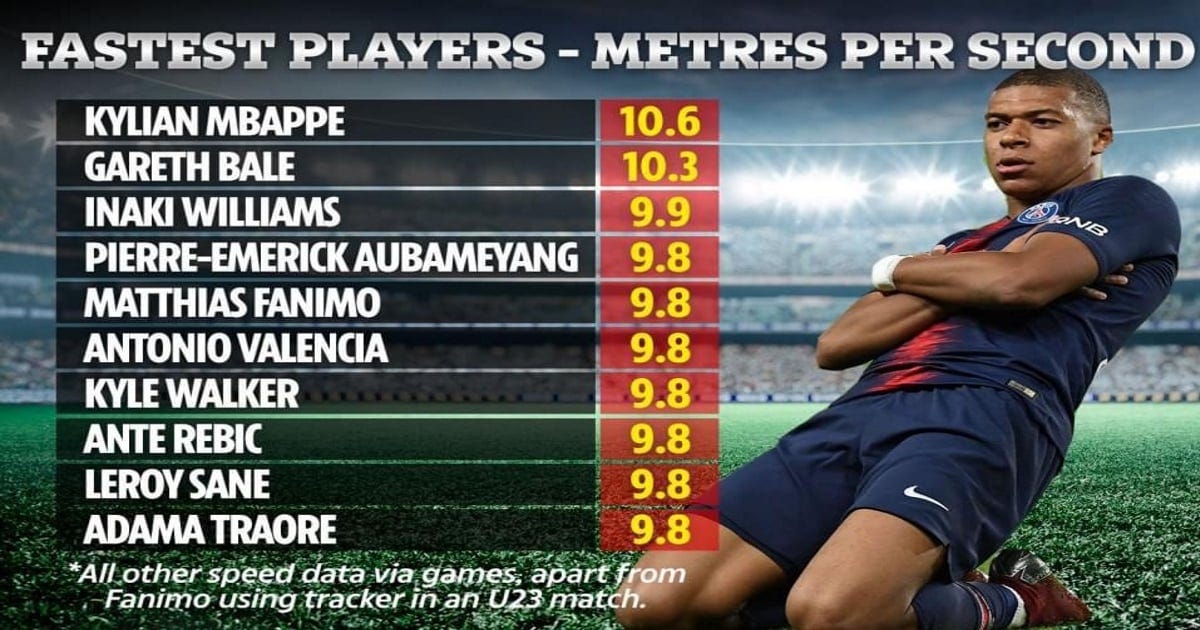 6: Bayern Munich won its sixth UEFA Champions League Final with an edgy 1-0 win over Paris Saint-Germain in Lisbon, Portugal on Sunday.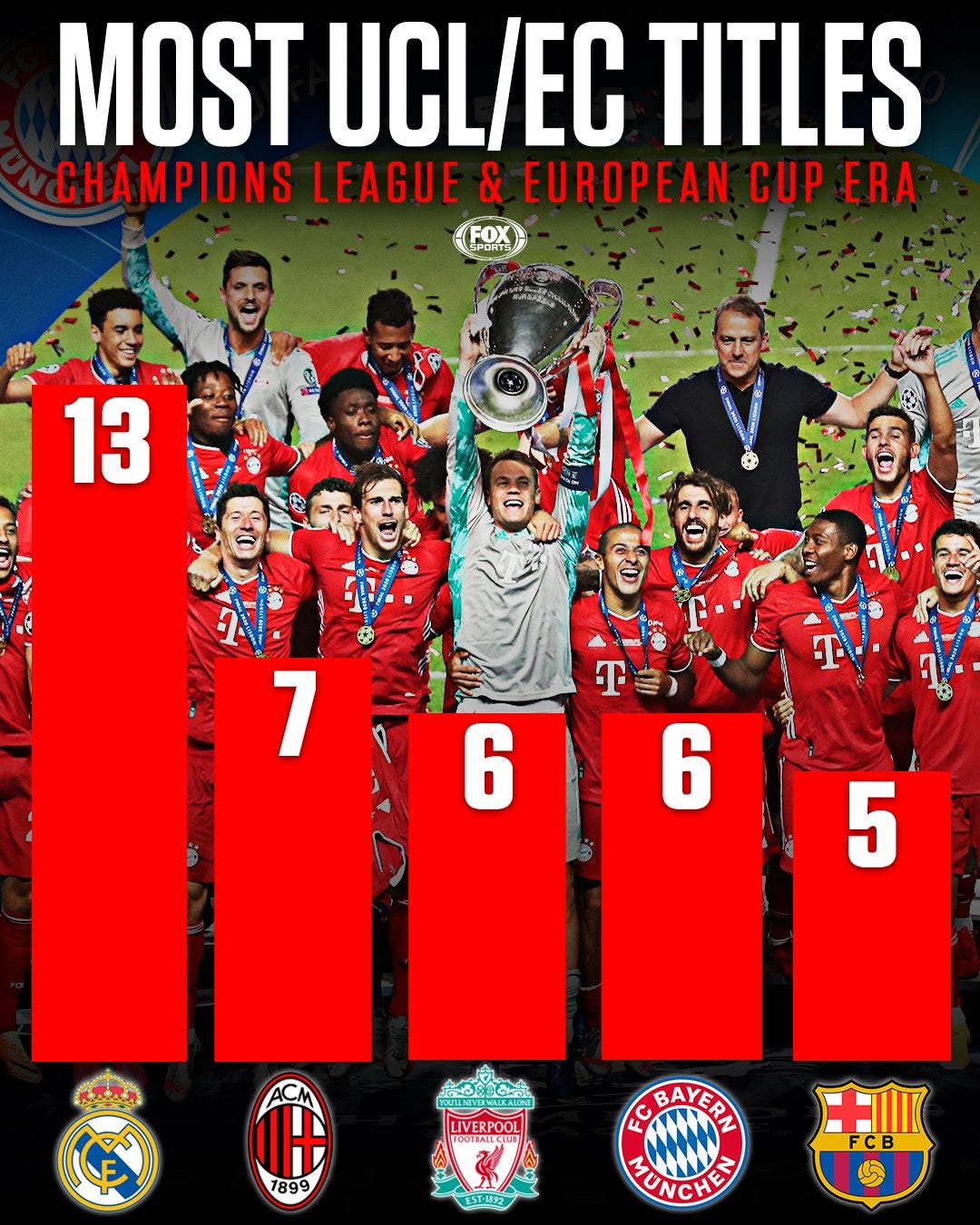 ---
📸 The Upside: Snapshots & video of The Week.
2020 US Open Tennis in the bubble: We are just a few days away from the official start of the 2020 US open tennis in NY. Jason Jung, a pro tennis player, gives us a glimpse of what it's like to live in the bubble of tournament.
From the MLS to Champions League winner. Alphonso Davies is an inspiring story. He went from playing in the MLS a few years ago to winning the Champions League with Bayern Munich.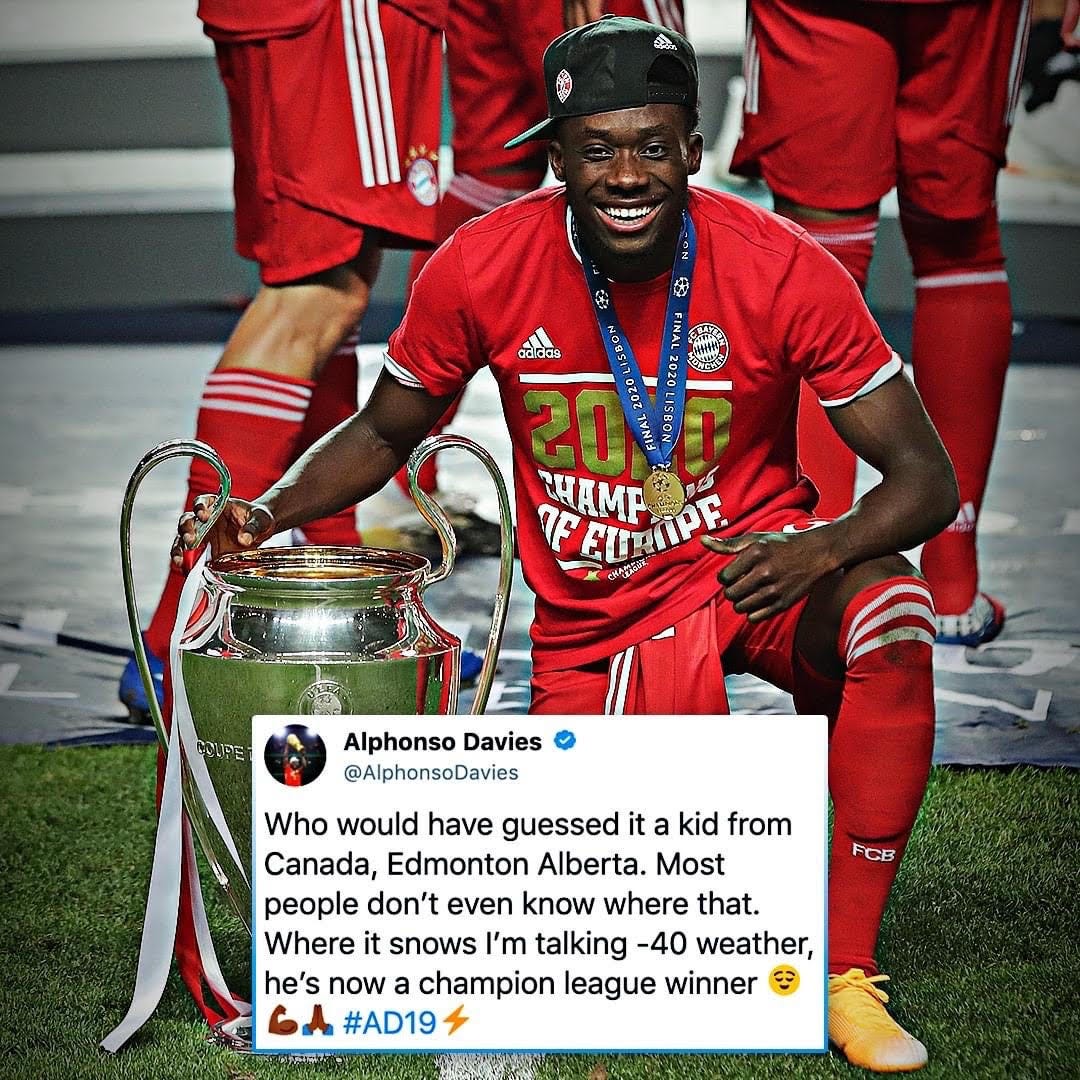 Start-Up Nation is now a cyclist team too. Israel Start-Up Nation (UCI team code: ISN) is a UCI World Tour team founded in 2014 by Ron Baron and Ran Margaliot and based in Israel. Prior to 2020 the team was known as Israel Cycling Academy.