Discover more from The Upside Newsletter
Data, insights, and stories from the world of sports, business, and technology.
Over 6,000 subscribers
🐎 From Favorite to Longshot
How the Kentucky Derby Finish Led to Elation, Confusion, Anger & Despair
Dear Friends and Members,
Last week we published our Wearable Sports analysis and provided an overview of the key wearable sports segments (Smartwatches, smart shoes, t-shirts, insoles, GPS..), the key players, and current and future trends.
Looking for access to our analysis, insights, data, podcast interviews, and more? Become a premium member to unlock access now!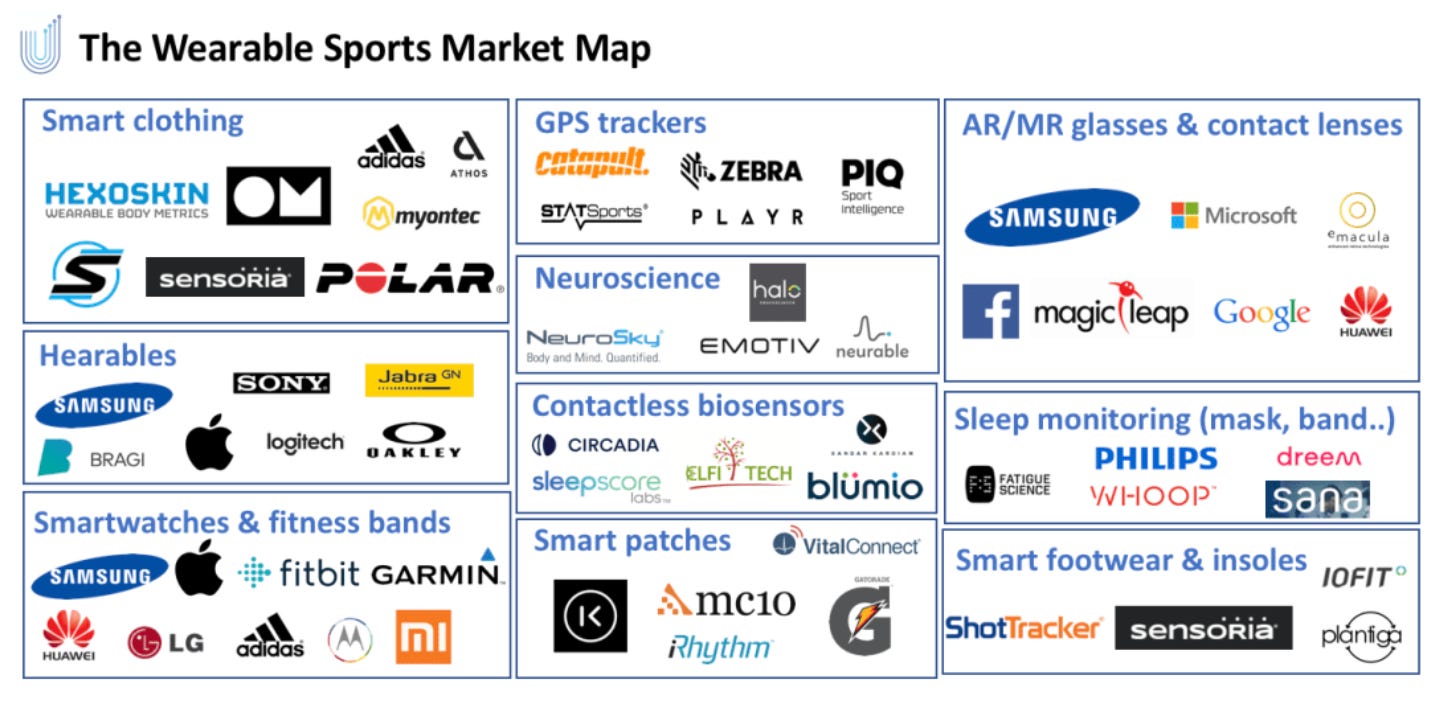 Photo: The Upside, Sports Tech Advisors, 2019.
Coming up this Wednesday, we'll publish our podcast interview with Olivier Oullier, the President of Emotiv, a leading neuroscience startup.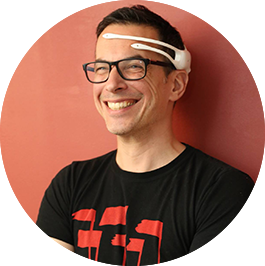 To listen to this full interview be sure to sign up for our premium subscription by clicking the "subscribe now" button above. This Friday premium members will also be able to get access to our full analysis of the neuroscience sports market, the best practices, key players, current and future market trends, and case studies/use cases that are shaping the world of neuroscience sports.
📰 Top Stories We're Reading This Week 
🐎 Confusion, Pandemonium at Churchill Downs
🎮 HoloLens 2 is now available for $99 per month
👓 Facebook's Oculus Quest VR and Rift S shipping May 21
🏋🏻 Facebook wants to bring your entire body into VR
👓 HTC's new Valve Index VR a high quality VR headset, shipping June 28
🔮 Weekly Sports Tech Prediction: DNA Testing
📈 Weekly Sports Startup Case Study & ROI: VR for Injury Recovery, Training
⌚️ Apple posts strong Apple Watch YoY sales growth
⌚️ Garmin unveils new smartwatches
🏟 Foot Locker now selling eSports apparel at retail
🏒NHL veteran Mike Modano joins eSports ownership group
❤️ The Wizards tout diversity
🗓 XFL Announces Broadcast Partners
💸 Investment Trends for May
📊 Tech Stats of the Week
📸 Snapshot of the Week
Let's jump right into the insights and upside for all of these top stories
---
🐎 What Happened at Churchill Downs?
Shortly after Maximum Security crossed the finish line at the most famous horse racing venue in all the land, celebration started to turn to confusion.
The more than 150,000 fans in attendance — legions of them in the infield and tens of thousands more in the stands — began to suspect something was wrong when the winning horse failed to complete the ceremonial trot to the winner's circle while donned in the famous 'garland of roses.'
The fastest two minutes in sports had devolved into nearly 20 minutes of elation, confusion, anger, and despair — not only for the trainers and owners of the horses being impacted, but also to the bettors who held tickets that were worth millions.
So, what happened?
The Ruling | Via: Washington Post
Maximum Security led the Kentucky Derby wire-to-wire, but two jockeys appealed the race after claiming that the winning horse had veered from his path, impeding the progress of War of Will, who then affected Long Range Toddy and Bodexpress. After a 22-minute review, the stewards agreed and disqualified Maximum Security, elevating second-place Country House into the winner's circle.
Let's See That (again and again and again) on Instant Replay | Via: Blood Horse
Rarely, has the Kentucky Derby seen such a lengthy review process and a significant change in the winning order based on an objection — the claim of a foul raised by a rider (jockey), patrol judge or another official. The other form of review process is called an inquiry, and is raised solely by an official.
Stewards, back of track officials, are charged with keeping the integrity of the sport and have the ability to levy fines, issue penalties, suspend licenses, bar individuals from the track, and temporarily remove horses from racing. In the case of the Kentucky Derby, they also were tasked with reviewing and making a call on the objection that impacted the 145th running of the Run to the Roses.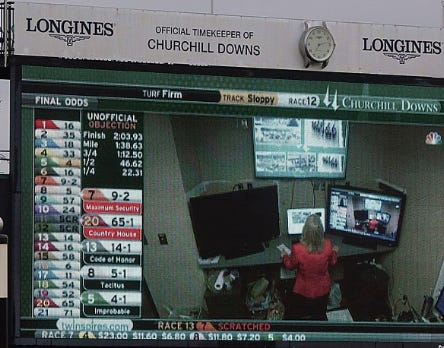 Photo: Chad B. Harmon
The Ruling | Via: Blood Horse:
The stewards properly determined a foul occurred and disqualified Maximum Security. When he moved out several lanes, it hampered the chances of War of Will and others, just as they ruled—a foul that can happen any day in any size field. Fortunately, a dangerous situation wasn't disastrous. Beyond fairness of competition, interference rules also exist to ensure the safety of competitors, equine and human.
Perhaps this ruling became much more of a trying event was in relation to the recent news that has negatively impacted the sport.
In the last three months, 23 horses have been euthanized at Santa Anita in Southern California. The foul that was being ruled on at Churchill did not result in any injuries, but these are the types of fouls that can lead to serious injury for both horse and rider, and are seldom understood by the common fan. Although, to be fair, the circumstances of horse deaths in Santa Anita and many of the necropsies are investigating the causes.
Betting Impact | Via: SportingNews
The ruling at Churchill had an incredibly huge impact to the betting world.
Maximum Security closed as the betting favorite with 9-2 odds, so he would have paid about $11 to win on a $2 bet, and a $1 exacta bet of Maximum Security and Country House reportedly would have paid roughly $250. After the disqualification, the $1 exacta of Country House (132.40 to win) and 14-1 Code of Honor (15.20 to place) paid $1,504.80.
From Favorite to Longshot | Via: Action Network
With the ruling, the first-ever in the 145-year vaunted history of the Kentucky Derby, there was a significant change in money between bettors and racebooks.
Those who bet on Maximum Security stood to make nearly $42 million dollars — just on win/place/show bets. That number would be even higher if you factor in exotic bets like exactas, trifectas, superfectas, and any pick-four or the likes.
Country House, the eventual winner after the objection ruling became the second-biggest longshot in Derby history at 65-1 odds. One winner in Las Vegas pocketed an astounding $133,000 on a $2,500 wager. At MGM Sportsbook, another lucky winner pocketed $100,000 on a $2 superfecta bet that had Country House as the winner.
The Exacta Payout: $3,009.60
Trifecta: $5,737.65
Superfecta: $51,400.10
What's Next | Via: ESPN
With no shot at the Triple Crown, the owner of Maximum Security this morning announced he would pull his horse from contention at the Preakness, held in two weeks.
He is also going to be filing an appeal, a process that needs to be started within two days following the race.
"We were stunned, shocked, and in total disbelief," Gary West said in an exclusive interview on "Today." "The appeal has to be filed within 48 hours so we'll be filing that today."
---
🎮
AR/VR/Video Sports News
🎮 HoloLens 2 is now available for $99 per month | Via: Wearable
Last week, Microsoft announced the HoloLens 2 Development Edition, which will allow anyone to get their hands on their HoloLens 2.
With the original HoloLens, Microsoft offered two versions: One for business and another for developers. When HoloLens 2 rolled around, however, it seemed only the enterprise edition would be available, meaning you'd have to prove a business use to acquire one. In fact, Microsoft said it had no plans for a developer version—but here we are. This time around, the Development Edition costs the same as the Enterprise model. That's a cool $3,500 - or $99 per month if you register to Microsoft's Mixed Reality Developer Program. That monthly payment plan will be more palatable for many.
⬆️ The Upside: A direct response to Magic Leap, which already offers the Magic Leap One for $96 per month, Microsoft hopes to get the HoloLens 2 in the hands of more developers so they can build more HoloLens apps, which will help improve its content offering. Ultimately it could help make the HoloLens 2 more appealing to end users.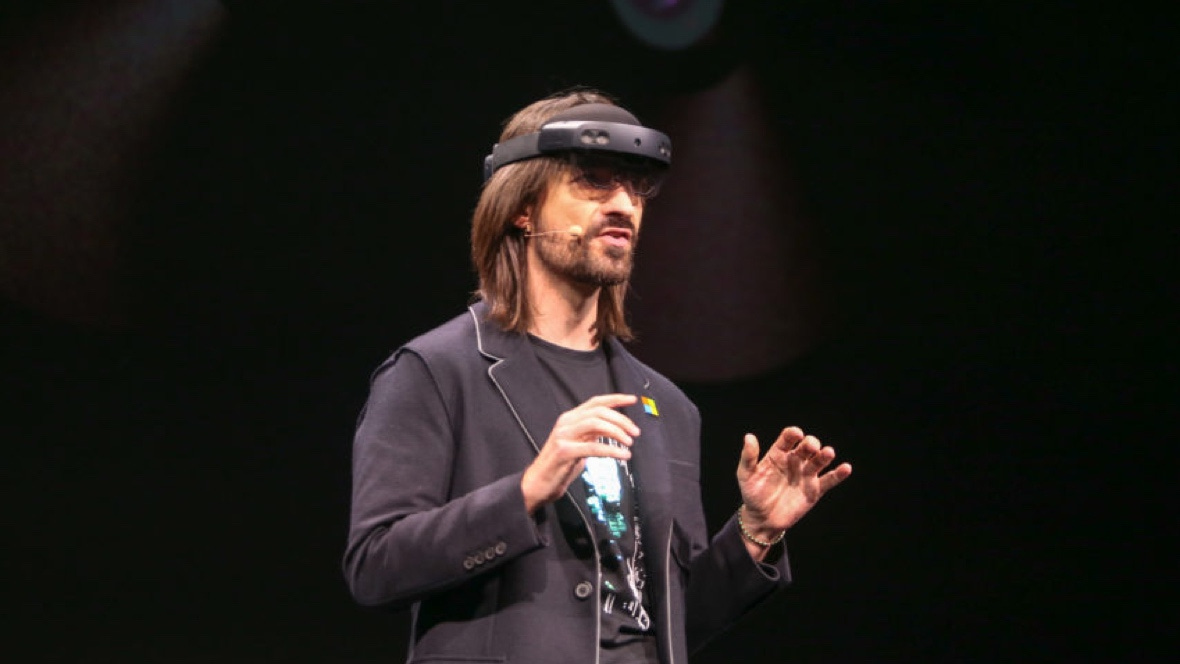 Picture: Microsoft Hololens 2
👓 Facebook's Oculus Quest VR and Rift S shipping May 21 | Via: Wearable
Last week at F8, Facebook announced that the Oculus Rift S and the Quest were available for pre-order and would ship on May 21.
The new headsets are priced at $399. Quest is the option if you don't want to mess with wires, or don't have the PC to run the S. Like the Rift S, it also includes Oculus' redesigned Touch controllers and offers local multiplayer support.
⬆️ The Upside: This was highly expected. Now that the shipping date is known, we expect Oculus sales to ramp up in the coming quarters due to these expected launches. Timing is everything, and we believe that it will be a race between the various VR headset vendors to be first to market in the next 3 months to try to sell as many units as possible to end users. The vendors will essentially compete on pricing, new features—and if you're sensing a theme here—content.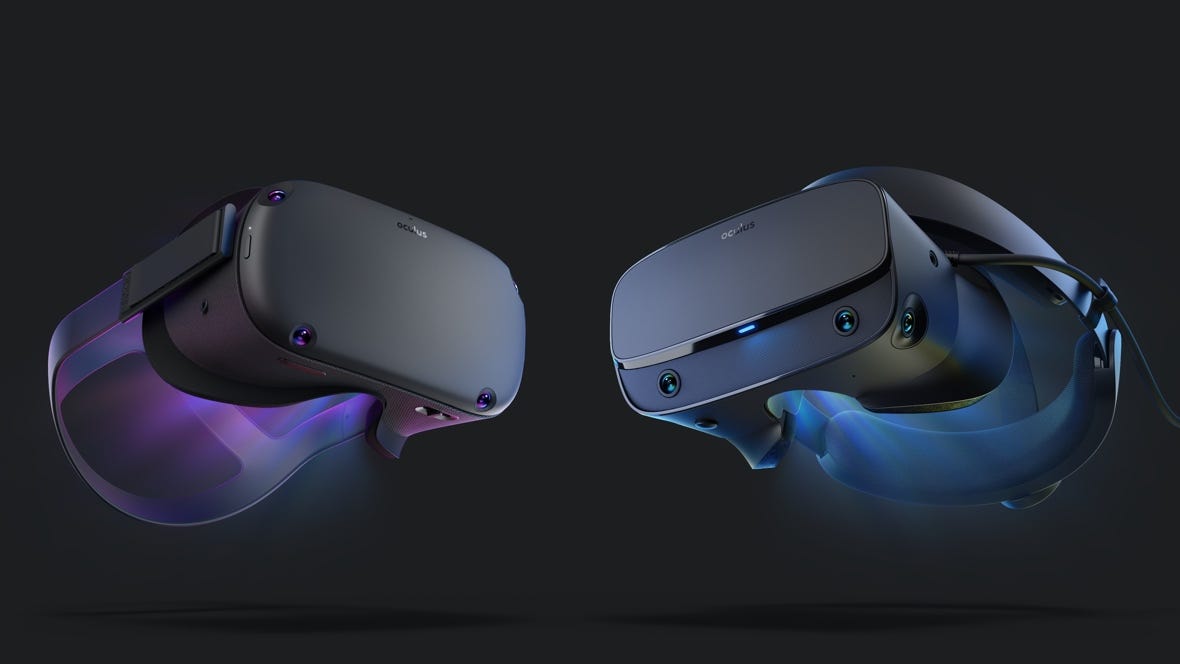 Photo: Facebook.
👓 Facebook wants to bring your entire body into VR | Via: CNN
Facebook is working on full-body virtual reality avatars that look and move just like real people, in hopes of making the technology feel even more engaging and immersive.
The company is animating anatomically correct models of the human skeleton and overlaying muscle and skin, it announced at its annual F8 developer conference last Wednesday. It's tracking how humans move in real time and replicating their movements in VR. The company is also reconstructing and simulating the actual clothing a person is wearing, using physics-based software to figure out how clothing should move virtually when they do things such as dance or stretch.
⬆️ The Upside: We believe this is a great move by Facebook as full body VR avatars will help improve the overall VR experience, making it more engaging to end users. In the world of sports, this could unlock a new wave of fully immersive VR sports experiences where VR users will be able to see their entire body while playing a virtual games. It will help make VR training experiences even better down the road. And, there are untold opportunities for consumers for retail opportunities as the system better understands how movement can relate to clothing and accessories.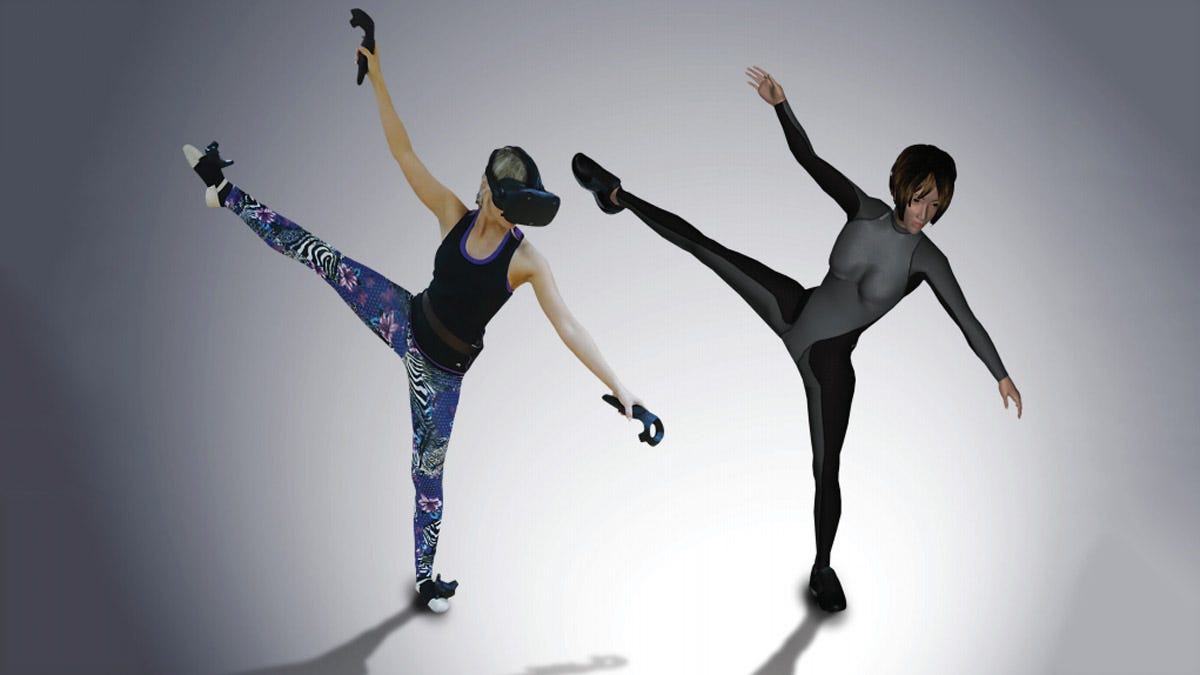 👓 HTC's new Valve Index VR a high quality VR headset, shipping June 28 | Via: Wearable
After several weeks of teasers, Valve has unwrapped its VR headset. It's called the Valve Index and it ships in June at a cool $1,000.
The headset consists of a $500 headset, $279 controllers and $149 base stations, all of which can be bought separately. The headset has a pair of 1,440 x 1,600 LCD displays with an impressive 120 hertz refresh rate, which can be boosted to 144Hz in an experimental mode. But 120Hz is impressive enough considering high-end headsets have mostly topped out at 90Hz (PS VR has a 120Hz option, but just for cinema mode).
⬆️ The Upside: While the specs of this VR headsets are impressive, we believe that $1000 is just too expensive especially now that the Oculus Quest is available for $399. HTC likely won't sell that many units. We expect more VR headsets to be available in $199-$399 price range in the next 24 months which will help bring VR headsets to the masses.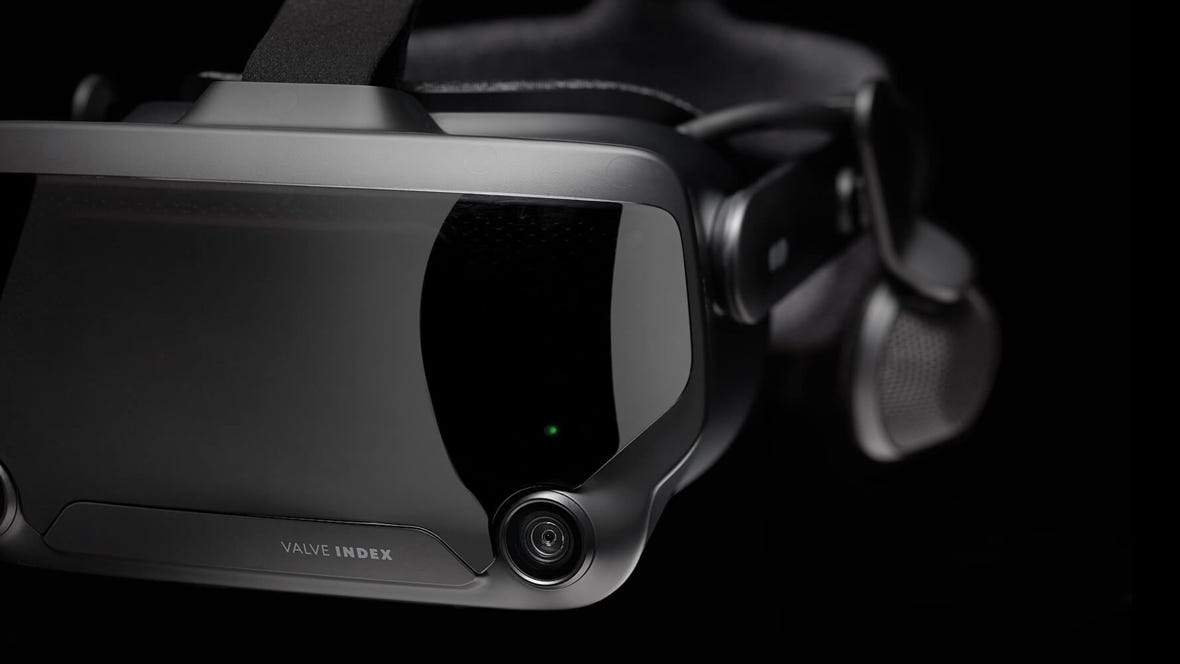 Photo: HTC
---
🔮 Our weekly Sports Tech Prediction
Each week we'll make one sports tech prediction based on conversations we've had with top sources and our vision of the market.
This week we touch on the growing popularity of DNA testing in sports.
We believe that in 2020 we'll see more pro and International teams adopt DNA testing products as a way to provide custom nutrition plans to athletes which will help improve performance in the long run. Companies like Athletic Genetix, DNAFit, Nutrigenomix, and Orig3N, to name a few, are key players in this emerging space.
Based on our sources, some major International sports teams are already using DNA testing products and the results have been very promising so far. It's helped some of these teams better provide custom nutrition plans to players and ultimately improve the individual performance of players.
Picture: Athletic Genetix

Picture: Athletic Genetix's DNA testing product
---
📈
Our weekly Sports Tech Case Study / ROI
Each week we'll highlight a sports tech case study with a technology that helped sports teams get a solid ROI (injury reduction, ticket sales improvement, cost savings, diversity improvement, etc.).
So what's our weekly sports tech case study?
It was in 2017 that Dickinson, who previously worked for EA, the company behind the Fifa video game, established MiHiepa with sports director Andy Etches, formerly digital manager at Manchester City and technical director Gareth Thatcher. By the end of that year, Manchester United academy players had begun performing VR drills at Carrington. The pair offer impressive anecdotal evidence of the prominent names, past and present, who have visited the company's office to try out the headset, worn with black shoes and shin pads with small sensor devices attached.
Moreover, they have a growing roster of clubs either using the equipment or experimenting by trial basis, including Bristol City and Hull City from the Championship. There are bigger clubs, both in the United States and abroad actively employing this technology, although they don't want to reveal publicly their use of a system they see as a secret weapon. A recently-opened satellite office just outside New York is evidence of a deepening footprint in the United States.
One manager who has used VR already in the EFL is Gary Bowyer, the former Blackburn Rovers and Blackpool manager. His players were equally enthusiastic:
"They're in the generation of virtual-reality computer games so there was buy-in automatically," explains Gary Bowyer, the former Blackburn Rovers and Blackpool manager who points to the possibility of using VR to maintain both the sharpness and morale of injured players. "For the players that were out injured it provides the opportunity to still feel they were doing some football without actually risking further injury or worrying about the load. Plus there's the motivation – it's something different. We set a league table up so straight away there's competition and it generates a spirit among your players."
Dickinson says: "If your player is injured, mental sharpness might fall over the eight or ten months of an ACL injury but why can't we keep them mentally sharp just because they can't physically be sharp?"
He and Etches present an intriguing vision of the future, one where substitutes might don headsets and perform warm-up exercises in the tunnel before taking the field.
Or where new players can step into virtual match situations alongside their team-mates to speed up the settling-in process. "A player might sign on a Friday and have to play the Tuesday, but how is he going to get the information?" says Dickinson. "The easiest way is not to sit in a room with a screen but to put him in there on his feet. When a player has just come over they say 'it'll take a couple of months to get up to speed' but you can have a virtual playbook – 'Here's how we line up for corners, here's how we stand up for free-kicks.' If you're a right winger, you can see where the keeper is going to aim."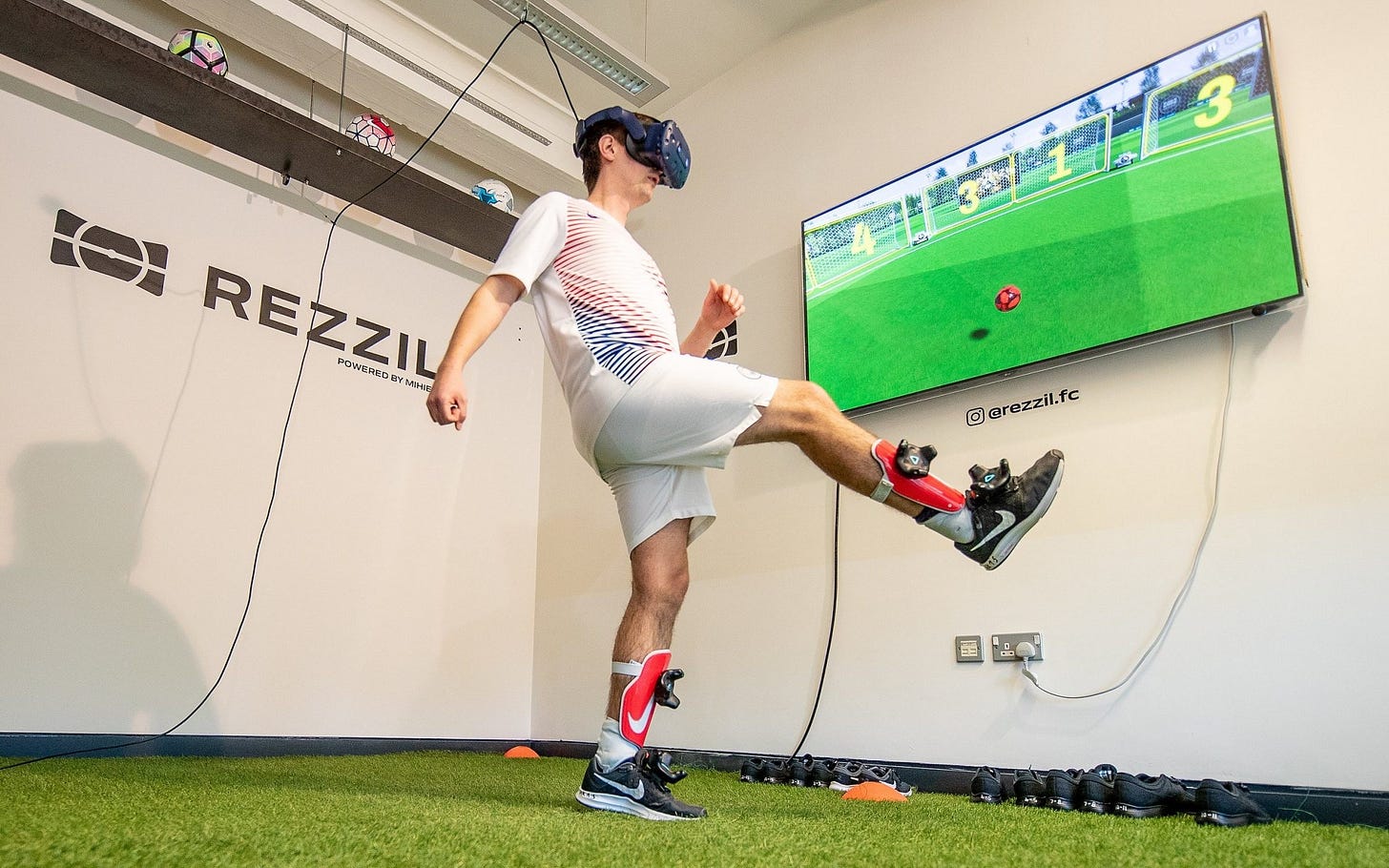 Picture: Rezzil's VR training system
There are also exercises designed to instill resilience, for example, by helping younger players get used to the noise and pressure of a stadium on a match day. One exercise places them in a situation where they must decide what to do with the ball – amid loud shouts of "pass" and "shoot".
"We are trying with the academy level to make you confused and see how you react," says Dickinson. (Indeed they have recently launched a development tool for academy players featuring five drills which simulate pressure situations, called Rezzil.)
⬆️ The Upside: We believe this type of VR training system for soccer can become very useful for injured players who need to stay mentally fresh. We believe these VR training system will incorporate live biometric data and neuroscience / neurofeedback mechanisms to help coaches improve their players' mental toughness, better understand what makes certain players mentally better than others to help the other players up their game and be in the zone during money time.
---
🚑 Wearables & Health News
⌚️Apple posts strong Apple Watch YoY sales growth | Via: Wearable
Apple has announced more storming results for its wearables segment, with a record-breaking quarter for the Apple Watch.
The Apple Watch grew 50% in terms of revenue, which represents the best non-holidays quarter of all time. And perhaps even more tellingly, 75% of sales are to first-time Apple Watch users, showing that uptake isn't slowing.
"The [Apple Watch business] is now about the size of a Fortune 200 company, an amazing statistic when you consider it's only been four years since we delivered the very first Apple Watch," said Tim Cook, Apple CEO.
Impressive stuff, as Apple CFO Luca Maestri explained:
"Wearables, home and accessories revenue set a new March quarter revenue record at 5.1 billion, fueled primarily by the strong performance of our wearables business, which grew close to 50 percent.
"Within this category, Apple Watch is the best-selling and most loved smartwatch in the world, and produced its best results ever for a non-holiday quarter. It's reaching many new customers, with three-quarters of purchases going to customers who have never owned an Apple Watch before."
⬆️ The Upside: This strong results from the Apple Watch business should not come as a surprise as Apple owns the smartwatch market. What's more surprising though is the fact that 75% of Apple watch sales came from new customers. This suggests that the Apple Watch business still has lots of room for growth which is bad news for competitors like Fitbit. That being said we believe that Apple needs to add new functionalities (e.g. Blood pressure, hydration measurement..) to the Apple Watch which will help further drive future sales.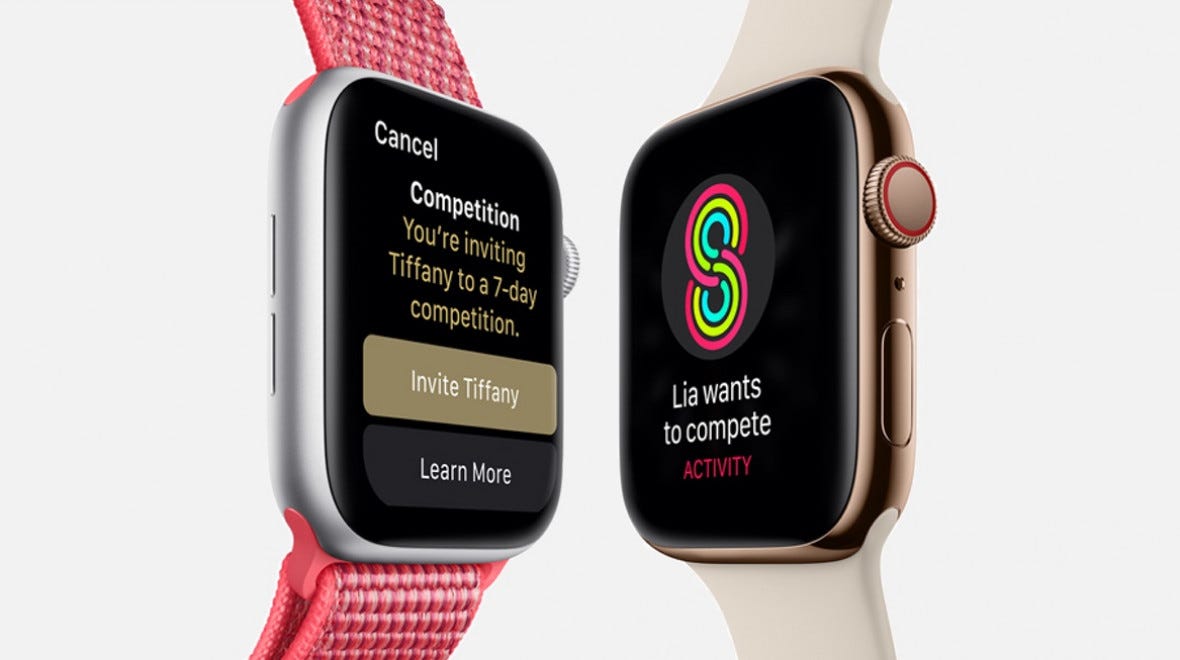 ⌚️Garmin unveils new smartwatches | Via: Wearable
After all the leaks, Garmin has officially unveiled the Forerunner 945, the successor to Wearable fave the Forerunner 935. The high end Garmin is still positioned as a watch for runners and triathletes building on the sports tracking features introduced on the 935 while adding more smartwatch-like extras including payments and music support we've seen already crop up on Fenix 5 Plus series and its Vivoactive watches.
The Forerunner 945 is available to buy now from £519.99, with a triathlon bundle that includes blue and black silicone bands, HRM-Tri and HRM-Swim monitors and should be priced in at £649.99. The 945 also joins the new Forerunner 45, 245 series that Garmin has also added to the wearable ranks.
⬆️ The Upside: This is a nice addition to Garmin's product portfolio. However we believe that $682 for a smartwatch is a hefty price to pay. We don't expect Garmin to generate strong sales from this new SKU. Granted some athletes and weekend warriors might go for it but most end users won't be able to afford it and likely go for an Apple watch or Fitbit watch.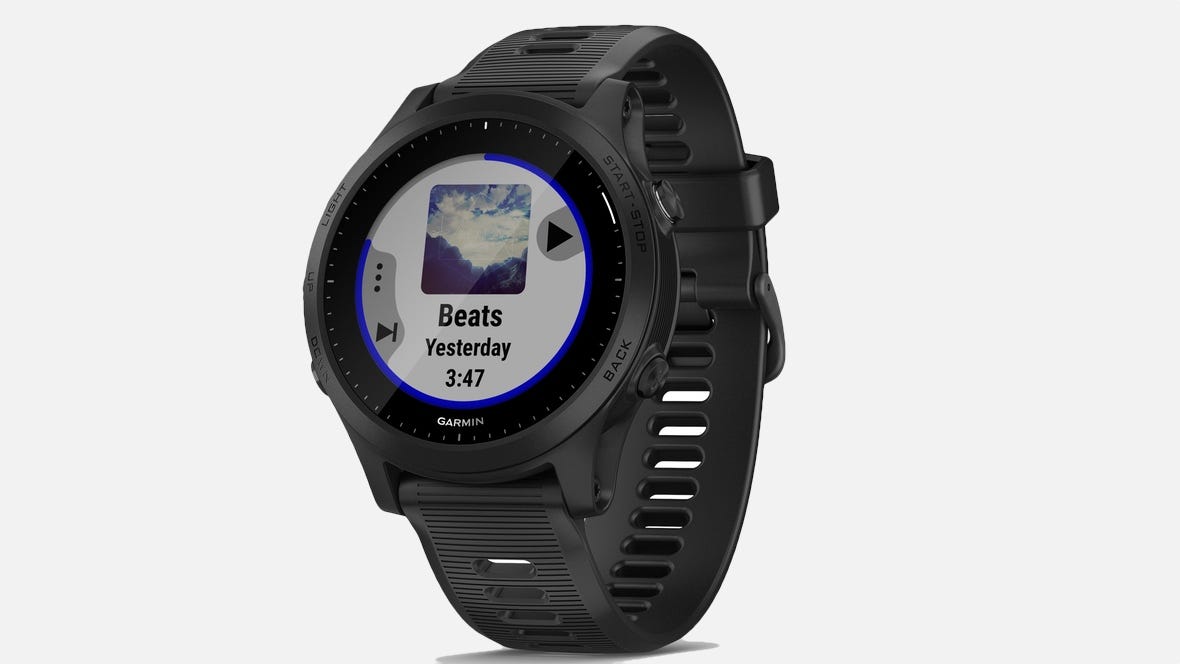 Photo: Garmin
⌚️SyncThink and QuesGen Systems Announce Data Partnership: | Via: Healthcaredive
Last week Neurotechnology company SyncThink announced a data sharing partnership with clinical research organization QuesGen Systems. The deal means SyncThink student-athlete brain health data can be made available to universities conducting traumatic brain injury studies via QuesGen's data platform. SyncThink's eye-tracking technology is used by collegiate programs such as the Pac-12 Conference, the University of Texas, and Georgia Tech to monitor athletes after head injury.
⬆️ The Upside: This is a great move by SyncThink as it will help expand the reach of its VR concussion test system. They will be able to leverage QuestGen's solid footprint in college sports. This is important as many players of Football college teams have been affected by concussion issues.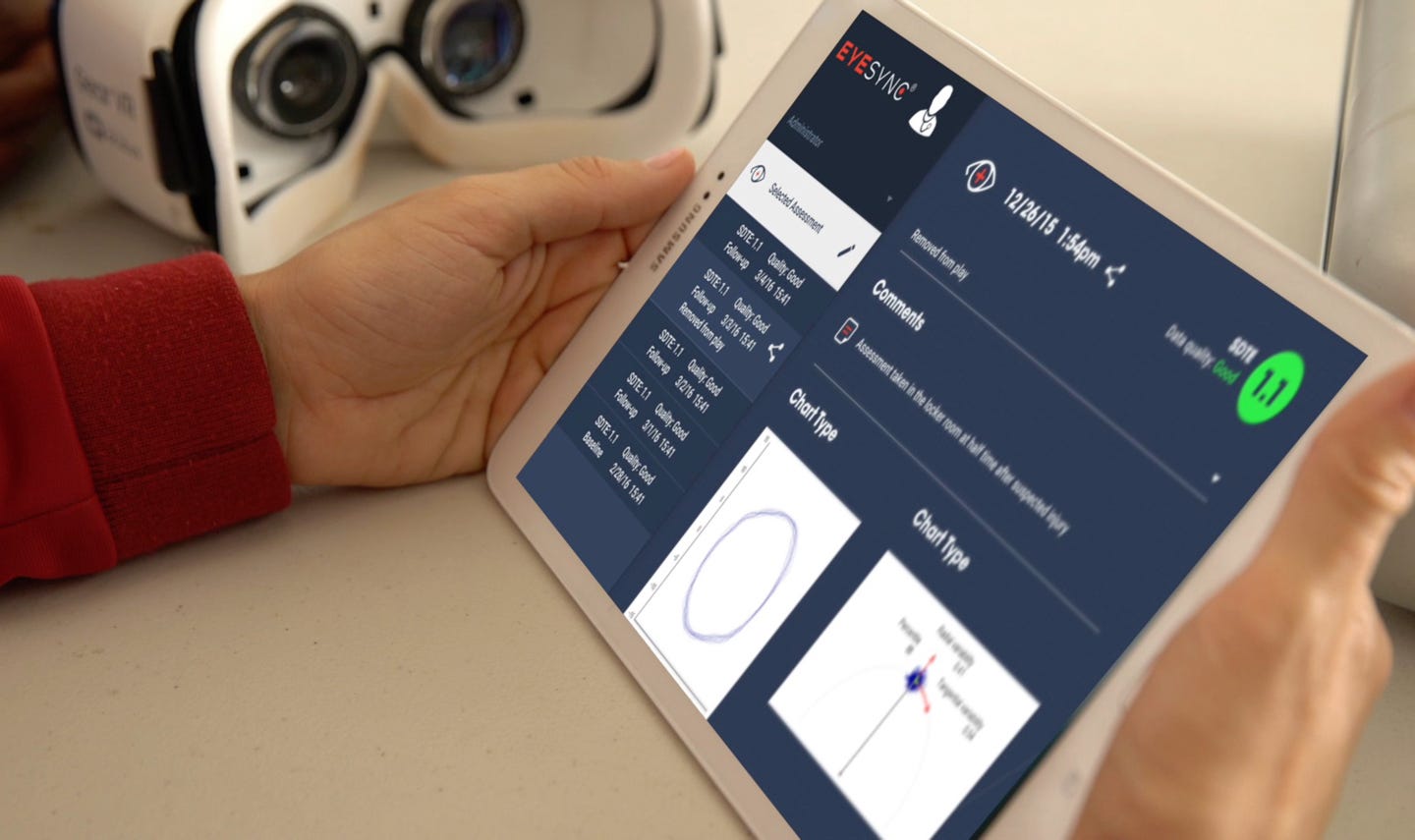 Picture: Cardiogram
---
🎮 eSports & Crypto-Currency News
🏟 Foot Locker now selling eSports apparel at retail | Via: eSports Observer
Sports apparel retailer Foot Locker, Inc. today announced a collaboration with Champion Athleticwear that will see new apparel from five esports teams sold through its stores. Champion has produced a new line of apparel featuring jerseys, sweatshirts, and t-shirts from OpTic Gaming , Dignitas , Counter Logic Gaming , Spacestation Gaming, and Renegades . Of those teams, OpTic Gaming, Dignitas, and Renegades had previously-announced apparel deals with Champion.
Foot Locker will launch the line tomorrow, May 2, in select retail stores and online across multiple brands, including Foot Locker, Champs Sports, Eastbay, and Footaction. The company currently operates about 3,220 retail locations across 27 countries. The jerseys were first made available via the NTWRK shopping app yesterday.
⬆️ The Upside: It makes sense for Foot Locker to team up with Champion to enter the eSports market and sell eSports associated items. We expect other retailers (Target, Walmart..) to follow suit in order to try to monetize the growing appetite for esports across the world.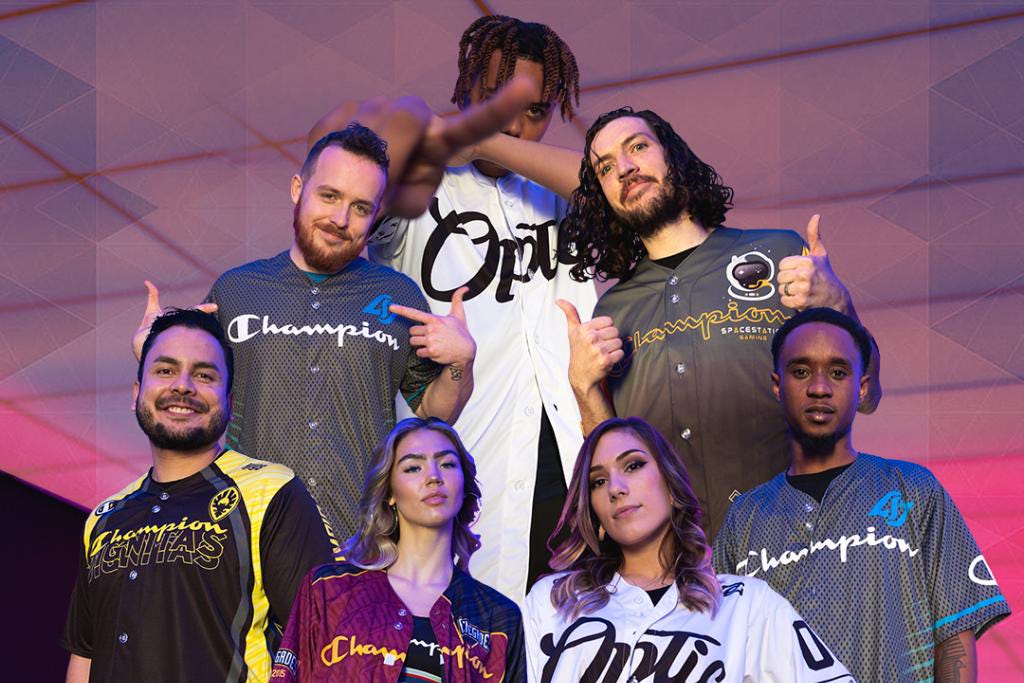 Photo: Foot Locker
🏒NHL veteran Mike Modano joins eSports ownership group | Via: Polygon
Tiidal Gaming Group, the parent company of esports team Lazarus Gaming, has announced the addition of retired National Hockey League star Mike Modano to its ownership group.
Modano will also serve as a brand ambassador for Lazarus Gaming. He played in the NHL from 1989 to 2011 and was the first ever American-born player to be selected first in the NHL Entry Draft. Modano won the Stanley Cup championship with the Dallas Stars in 1999, and was elected to the NHL Hall of Fame in 2014. He also played for Team USA at the 2002 and 2006 Winter Olympic Games.
"I am excited to join the fantastic team at Tiidal Gaming," said Modano in a release. "The explosive growth in esports, and the broader impact of gaming on entertainment is remarkable. When considering the engagement levels, shifting attention of younger demographics and the global nature of the space, it is impressive and cannot be ignored."
⬆️ The Upside: It makes sense for Modano to join the board of this eSports ownership group. It is a win win situation for both parties. The Lazarus Gaming group will be able to leverage Modano's strong network in elite sports and solid presence among NHL fans. For Modano, it could generate a nice ROI down the road in case of a successful exit. Modano is following the footsteps of many pro athletes (Michael Jordan, Shaq, Rick Fox..) who have jumped onto the eSports bandwagon.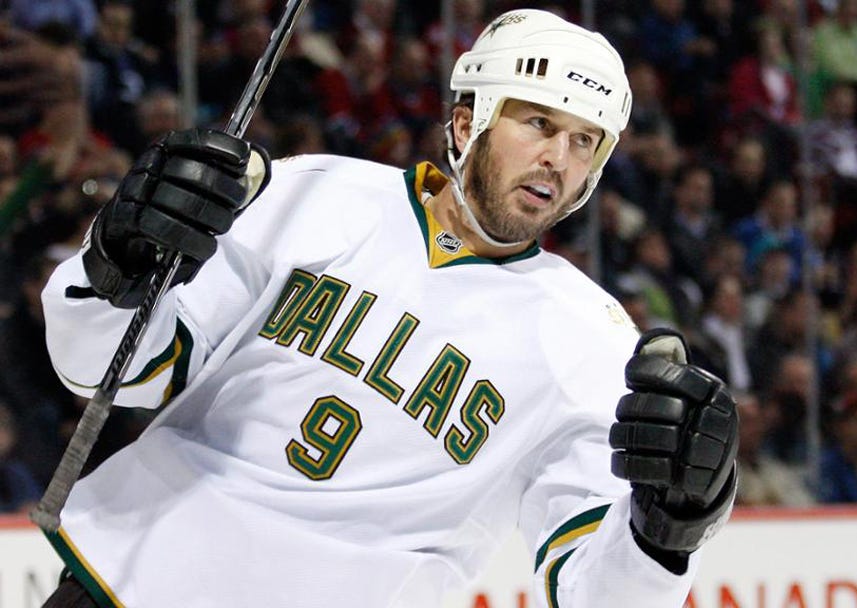 Picture: NHL
---
🙌🏻 Social Impact Sports Tech News
❤️ The Wizards tout diversity | Via:  Footwear News
The Washington Wizards are searching for their next president of basketball operations and general manager, and majority owner Ted Leonsis has touted diversity as a major selling point with this job opening.
"I think people believe in our ownership group," Leonsis said April 3 of Monumental Sports & Entertainment, the company that runs the team. "We have the most diverse, one of the most powerful ownership groups, and we're very, very focused on trying to make everything that we touch world class."
If diversity holds significance for the owners of Monumental Sports & Entertainment, a collection that includes Laurene Powell Jobs and Sheila Johnson (the only African American woman to hold ownership stakes in three professional sports teams), then the Wizards could consider bucking a trend for their top front-office executive.
⬆️ The Upside: We think this would be a great move by The Washington Wizards. As we mentioned before, even though the NBA was composed of 74.4% African American players in 2015, yet there are only three African American general managers currently running the 30 NBA teams. The NBA office is also working to bring more diversity to the league so if the Wizards do decide to hire an African American exec as its new GM this would be a step in the right direction.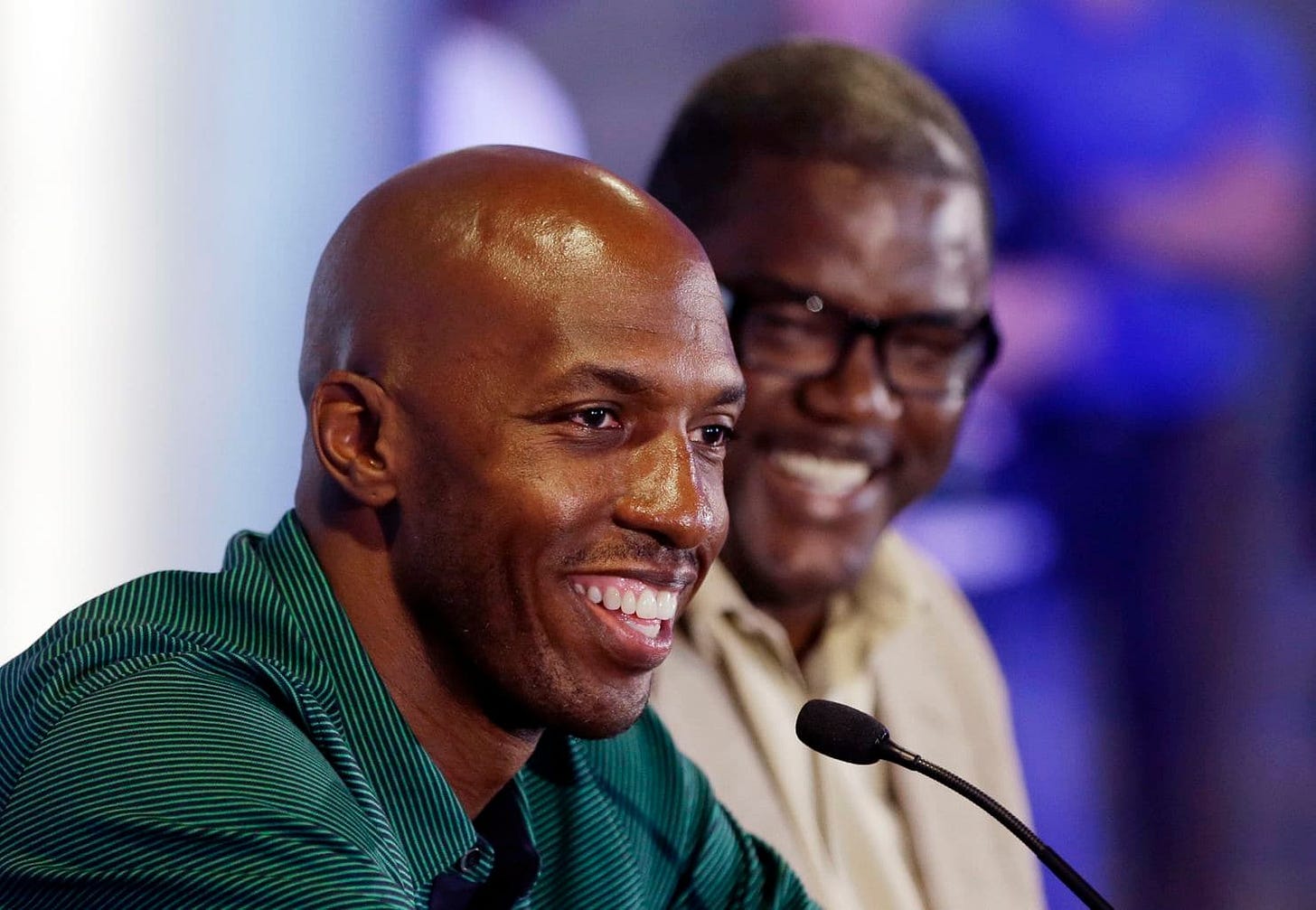 Picture: Chauncey Billups could bring a championship pedigree to the Wizards' front office. (Carlos Osorio/Associated Press, File)
---
📺 Sport Broadcast News
🗓 XFL Announces Broadcast Partners | Via: Sports Illustrated
On the heels of one American sports league shutting down, another announces where their upcoming slate of games will be played beginning in February of 2020.
Today, the XFL, backed by Vince McMahon, announced games will broadcast across ABC (as well as Disney-owned ESPN) and Fox.
"We are thrilled to partner with ESPN and FOX Sports, two innovative media companies with extensive experience in world-class football production that will undoubtedly help us reimagine football," said Vince McMahon, XFL Founder & Chairman. "The XFL broadcast schedule provides us with incredible reach and makes it easy for fans to watch our games consistently every weekend."
There will be no rights fees paid by the networks, but both ESPN and Fox will hold the streaming rights to games and will handle cross-promotion plus the selling of advertisements.
In the inaugural season of the American Alliance of Football, fans were often left searching for where games would be broadcast, and when they were, they were played in second or third-rate cities and little-known sporting venues.
With the XFL, McMahon understands that the broadcasting schedule, the venues, and the team cities is of utmost importance not just to the fans, but also to the emerging betting market.
Opening Kickoff for the XFL's inaugural season will be at Hard Rock Stadium in Miami, Florida — just six days after the Super Bowl on February 8, 2020. Cities that have already been announced to host XFL teams include: Dallas, Houston, Los Angeles, New York, St. Louis, Seattle, Tampa Bay and Washington D.C.
This is not just a boon to fans and bettors, but it's also a big win for the networks of Disney and ESPN who have new avenues to plug in year-round content involving football. You need look no further than the images from the NFL Draft last week where more than 600,000 fans filled the streets of Broadway in downtown Nashville over the course of the four-day event.
---
💸 Sports Investment Trends — April, 2019
Professional Fighters League has taken on $30M in new funding from the likes of Beats Electronics billionaire co-founder Jimmy Iovine, Ted Leonsis, Elysian Park Ventures and more. Read on here

ESports franchise Immortal gaming raised $30M. Read on here

Fnatic raised $19M. Read on here
---
📊 Key Tech Sports Stats of The Week
$49.96B: The Sochi olympics in 2014 still remains the most expensive Olympics to date, with a total budget of $49.96B. At $7.6B and $6.9B, the 2024 Olympics in Paris and the 2028 version in LA won't even break the Top 8.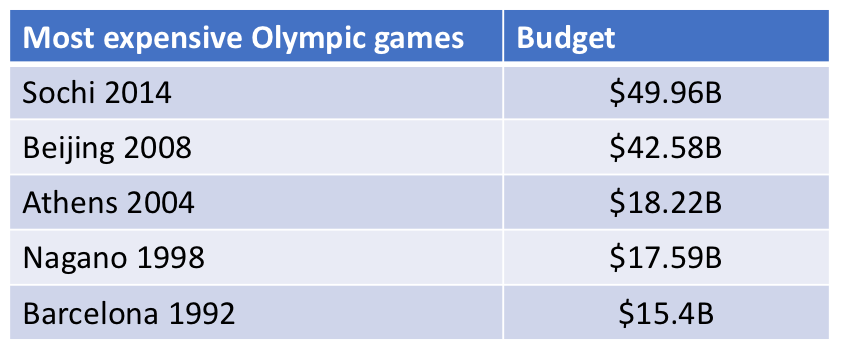 Source: Sports Tech Advisors, 2019.
$6.9B: The LA 2028 Olympics are expected to cost $6.9B. According to the updated budget, this is what roughly $6.9B will be earmarked for. According to the detailed budget breakdown below, $626.5M is dedicated to tech.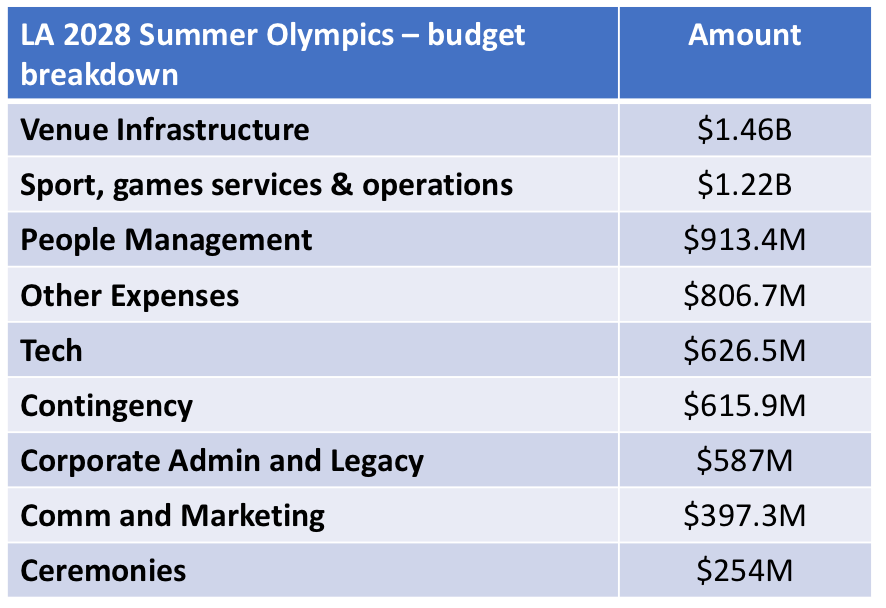 Source: Sports Tech Advisors, 2019
$1.5B: The largest VR arcade in China is going to cost $1.5B to build.
$1B: Facebook is seeking investments worth $1 billion for its rumored cryptocurrencystablecoin, the Wall Street Journal(WSJ).
1B: adidas had 1B impressions in 24hrs following the deal with Beyoncé.
$273M: According to data provided by the GWCCA to Tucker, the Falcons had sold $273 million worth of seat licenses as of Sept. 1, 2017.
24.2M: According to the National Golf Foundation, an estimated 24.2 million people (ages 6+) played golf on a course in 2018, up from 23.8M a year earlier.
1M: According to Spangler, MLB first launched its channel on YouTube back in 2007. Since then, it has grown to become the third-largest North American official league channel, averaging over 1 million views per day according to SocialBlade.
898k: According to NBC Sports, the 2019 Stanley Cup Playoffs have seen a Total Audience Delivery of 898,000 viewers across all networks through Sunday to rank as the most-watched through this point in seven years.
According to SocialBlade, here are how the leagues stack up on YouTube.
1. NBA- 11.3 million subs / 5.5 billion video views
2. NFL -4.7 million subs / 2.9 billion video views
3. MLB - 1.6 million subs / 1.5 billion video views
4. NHL- 1.2 million subs / 800 million video views
5. MLS- 482,014 subs / 287 million video views
3000: NY Yankees pitcher CC Sabathia has now reached 3000 strikeouts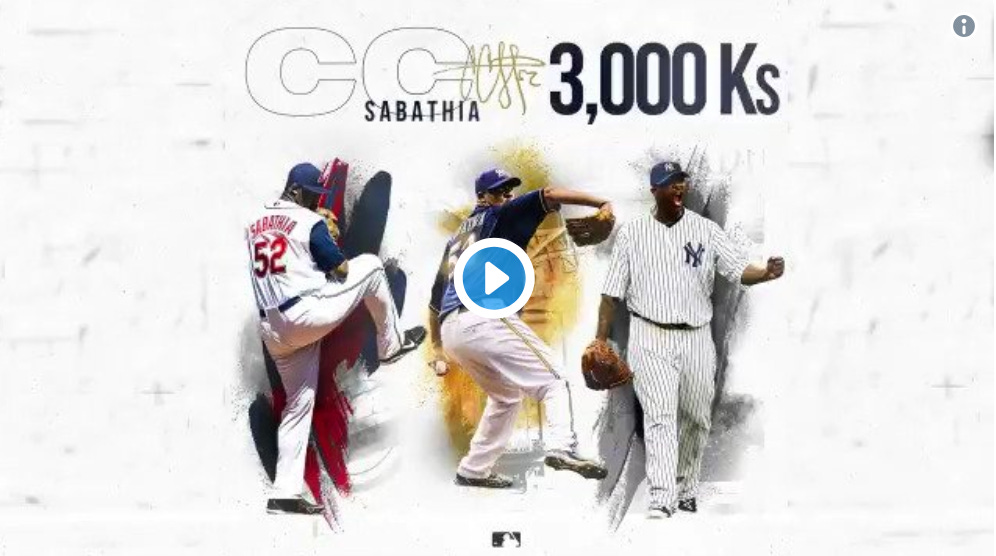 1000: This weekend Draymond Green (Warriors/NBA) became the first Warriors player to ever reach its 1000 career playoff rebound.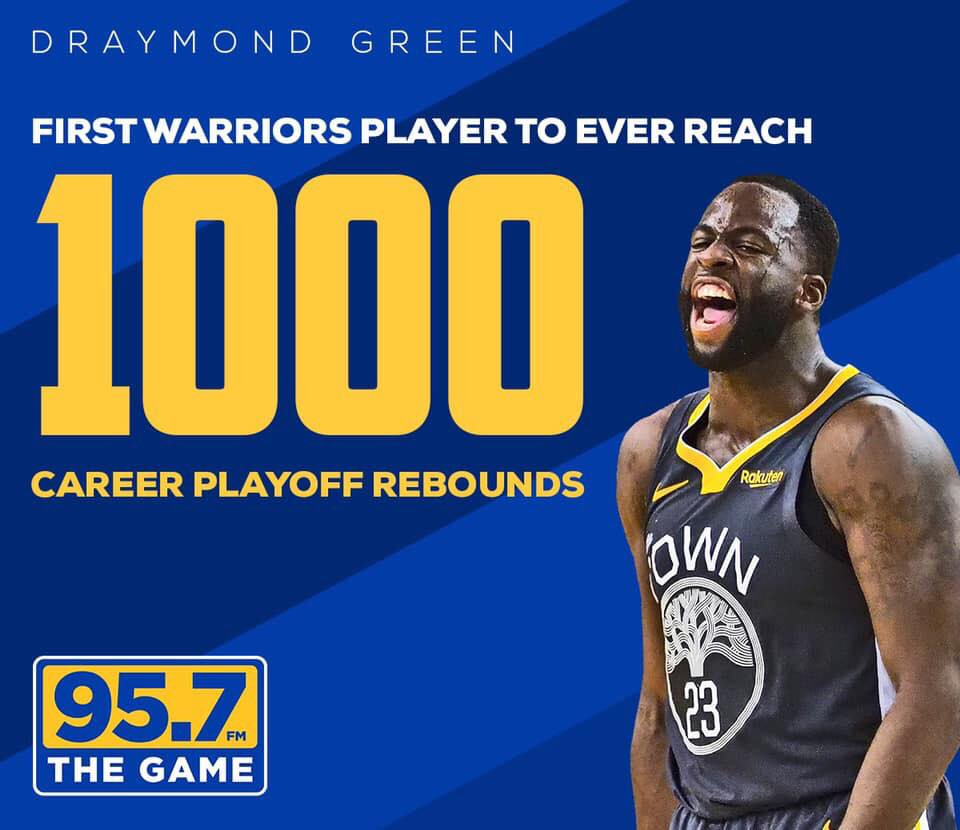 600: Messi scored its 600th goal against Liverpool,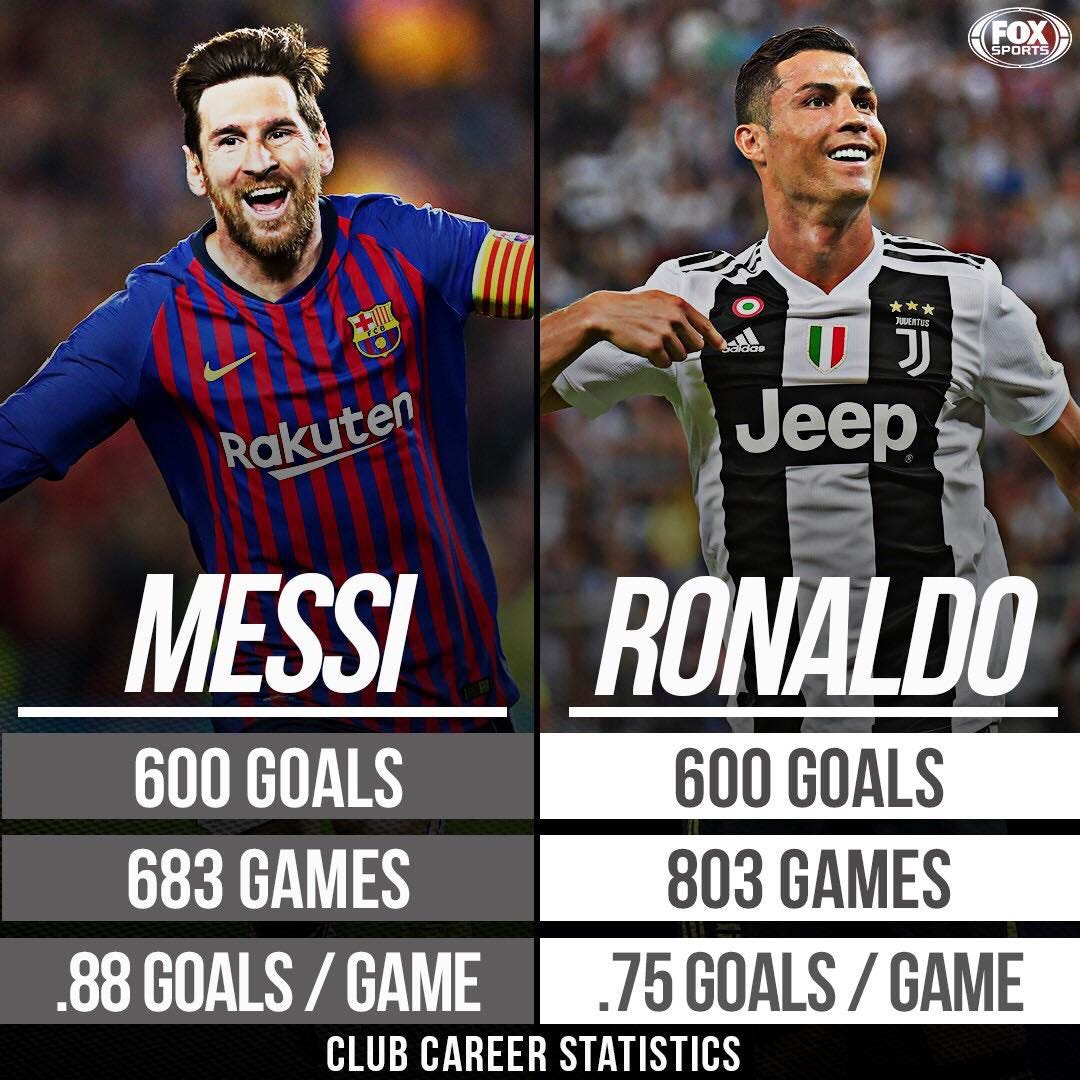 75%: The Apple Watch grew 50% in terms of revenue, which represents the best non-holidays quarter of all time. And perhaps even more tellingly, 75% of sales are to first-time Apple Watch users, showing that uptake isn't slowing.
57.4%: In the second half, Liverpool had more possession than Barca (57.4%), made more passes (284 compared to 217) and had more shots on target (four compared to three). And yet Liverpool lost the game against Barcelona FC.
40%: According to Monllos, Nicole Portwood, the company's VP of marketing, Mountain Dew will spend 40% of its marketing budget trying to reach eSports gamers.
29:  In the last 32 Home Champions League games, FCBarcelona have won 29 times and drawn 3 times while conceding only 15 goals.
---

📸 The Upside: Snapshots of The Week
IBM created a blue turf cricket field on its Silicon Valley Lab campus. (Courtesy of IBM).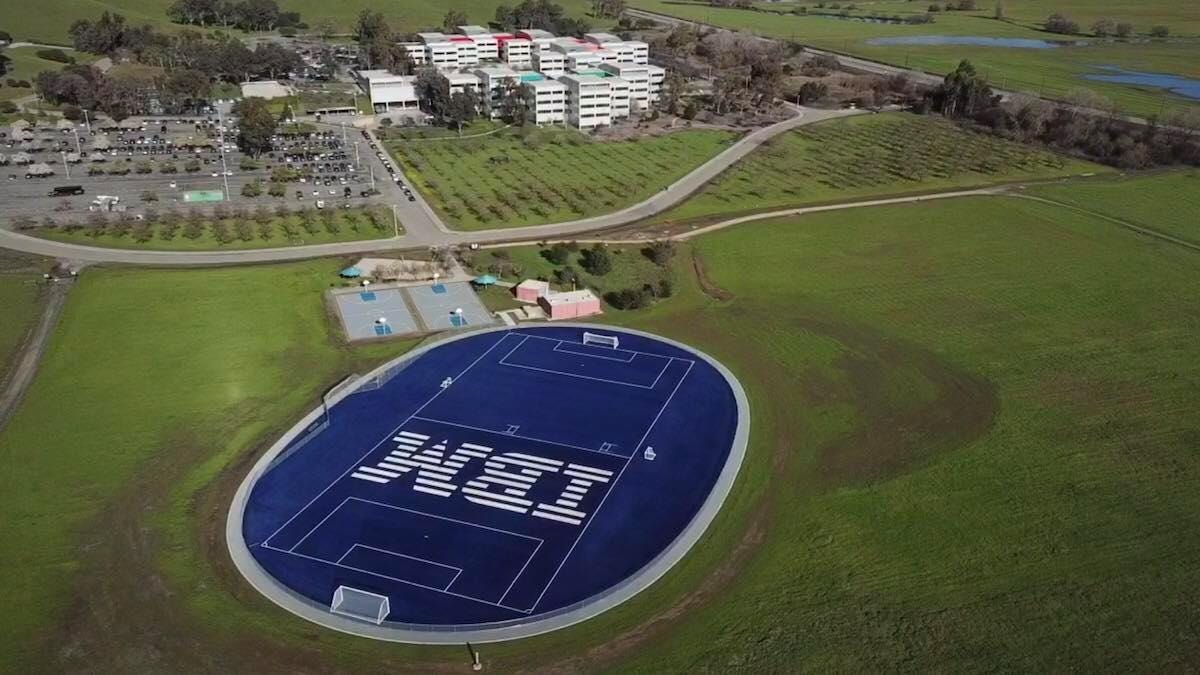 Here is a picture of an AR experience showcased last week at a Japanese baseball stadium: