Discover more from The Upside Newsletter
Data, insights, and stories from the world of sports, business, and technology.
Over 6,000 subscribers
🏌Can Tech Hit A Hole-in-One?
What's the latest tech in golf from AR contact lenses to biometric data
Dear Friends and Members,

Last week we published our AR stats sensors sports market analysis and showcased our deep dive into the various AR stats sensors sports sub-segments and key players, as well as future trends that will impact the sports industry.
Looking for access to our analysis, insights, data, podcast interviews, and more? Become a premium member to unlock access now!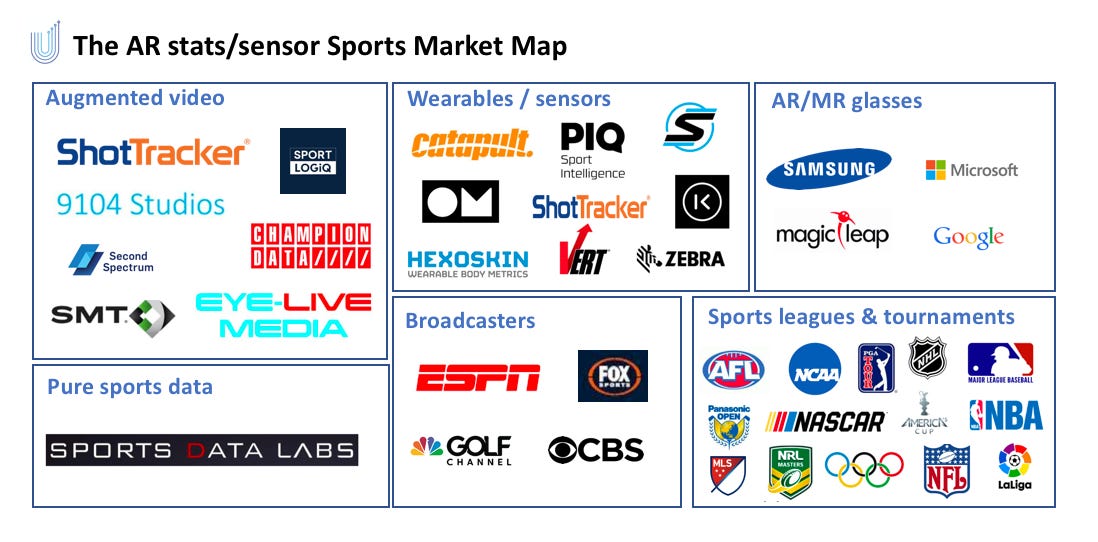 Photo: The Upside, Sports Tech Advisors
On Wednesday, we'll publish our first podcast interview with Steve Willey, CEO of Innovega, a leading AR contact lenses startup based in Seattle.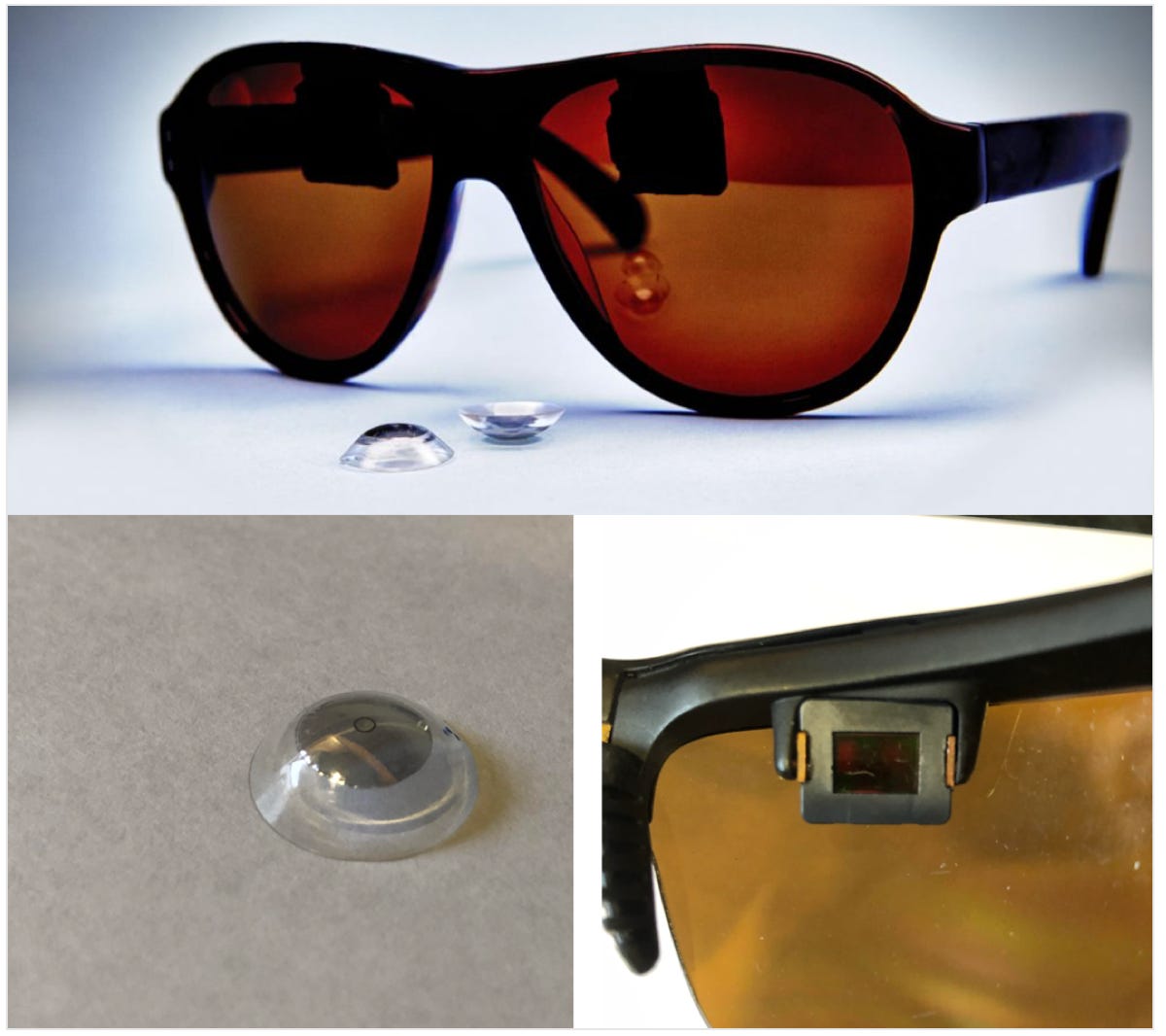 Photo: Innovega's AR contact lenses
Steve shared insights on what it was like to build Innovega, and more importantly, what kind of live sports experiences — AR and VR contact lenses packed with statistical and biometric data — we're likely to see in the coming years. According to Steve, these types of experiences will revolutionize sports training as well as the sports fans experience.
To listen to Steve's full interview published on Wednesday, be sure to sign up for our premium subscription by clicking the "subscribe now" button above. This week being the week of the famed Masters — the first stop of four major championships in professional golf in Augusta Georgia — premium members will also be able to get access to our full analysis of the technologies used in the world of pro golf published later this week, in addition to a deep-dives into the key players, market trends, and use cases that are shaping this new market world.
---
📰 Top Stories We're Reading This Week 
🏀 The Mavericks (NBA) pay AR tribute to all time great Dirk Nowitzki
🍺 The Capitals (NHL) and Bud Light team up on an AR game that allows fans to control a goalie
🚀Oculus launches a new generation of VR Oculus avatars
🔮Weekly Sports Tech Prediction
❤️Amazon is working on some hearables to take on Apple and the Airpods.
❤️Fitbit and Snapchat team up to make fitness more fun via emojis
🏀The Warriors' (NBA) eSports team Signs Three-Year Deal with Chase
🏟The FC Barcelona (Laliga) officially enters eSports
🏀 Charlotte Hornets NBA affiliate team will compete in the 2020 NBA 2K League
🤔 Why are more brands are getting into eSports?
🏈 The Alliance Folds
⚾️ The Dodgers Foundation take community initiatives to the next level through $1M investment
💸Investment Trends for April
📊Tech Stats of the Week
📸Snapshots of the Week
Let's jump right into the insights and upside for all of these top stories.
---
🎮 AR/VR/Video Sports News
The Mavericks (NBA) pay AR tribute to all time great Dirk Nowitzki | Via: Twitter
Last week the Mavericks paid a nice tribute to their All Star NBA player Dirk Nowitzki in an innovative fashion: Through an AR app, which enables fans to see videos of some of the best moments and shots of Dirk Nowitzki as an AR overlay when pointing at the home of the Dallas Mavericks.
🎬Watch the Dallas Mavericks AR app showing the video tribute of Dirk Nowitzki here.
⬆️ The Upside: The Mavericks (NBA) are not the first pro teams to use AR to pay tribute to its all time greats. For example a few years ago the 49ers built an AR app that 49ers fans could use to unlock video tributes of the 49ers dynasty during the times of Joe Montana, Jerry Rice, and more. We believe that AR is a great vehicle for these types of tributes. It is interactive, fun to use and it helps increase fans engagement and bring back great memories.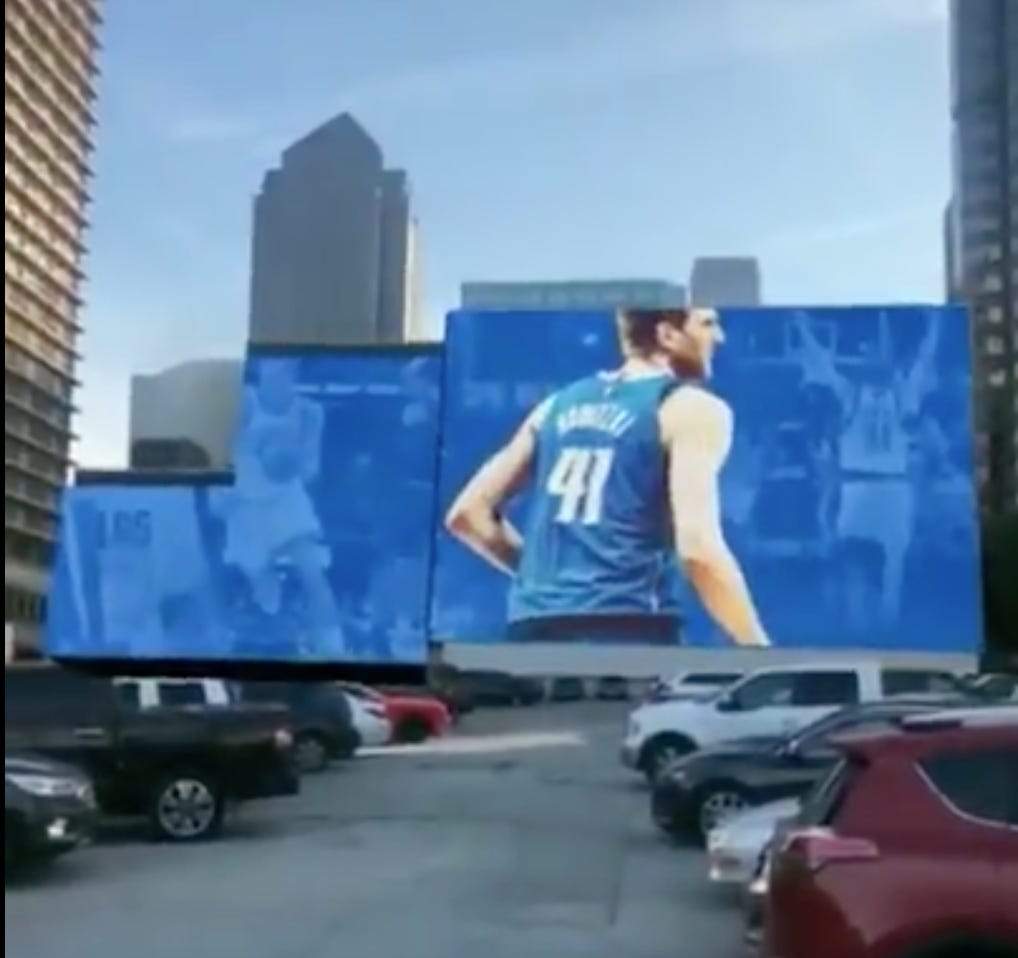 The Capitals (NHL) and Bud Light team up on an AR game that allows fans to control a goalie | Via: Twitter
Last week The Capital (NHL) unveiled a new AR app enabling the fans to engage into a game allowing them to control a goalie. The AR was sponsored by Bud light.
🎬Watch The Capital AR app enabling fans to play a game and control the goalie here.
⬆️ The Upside: We believe that these types of AR game apps are fairly limited and do not bring a solid ROI to the teams in terms of ticket sales, or revenue in general. We see this more as a way to enable teams' sponsors (here Bud light) to interact with fans in a new way, drive fans engagement. Pro teams need to be more creative when it comes to AR app and better monetize those AR app. Building location based AR app with an ecommerce mechanism enabling fans to purchase associated content (food, jerseys, hats…) and benefit from location based coupons is a much better use of their time and money.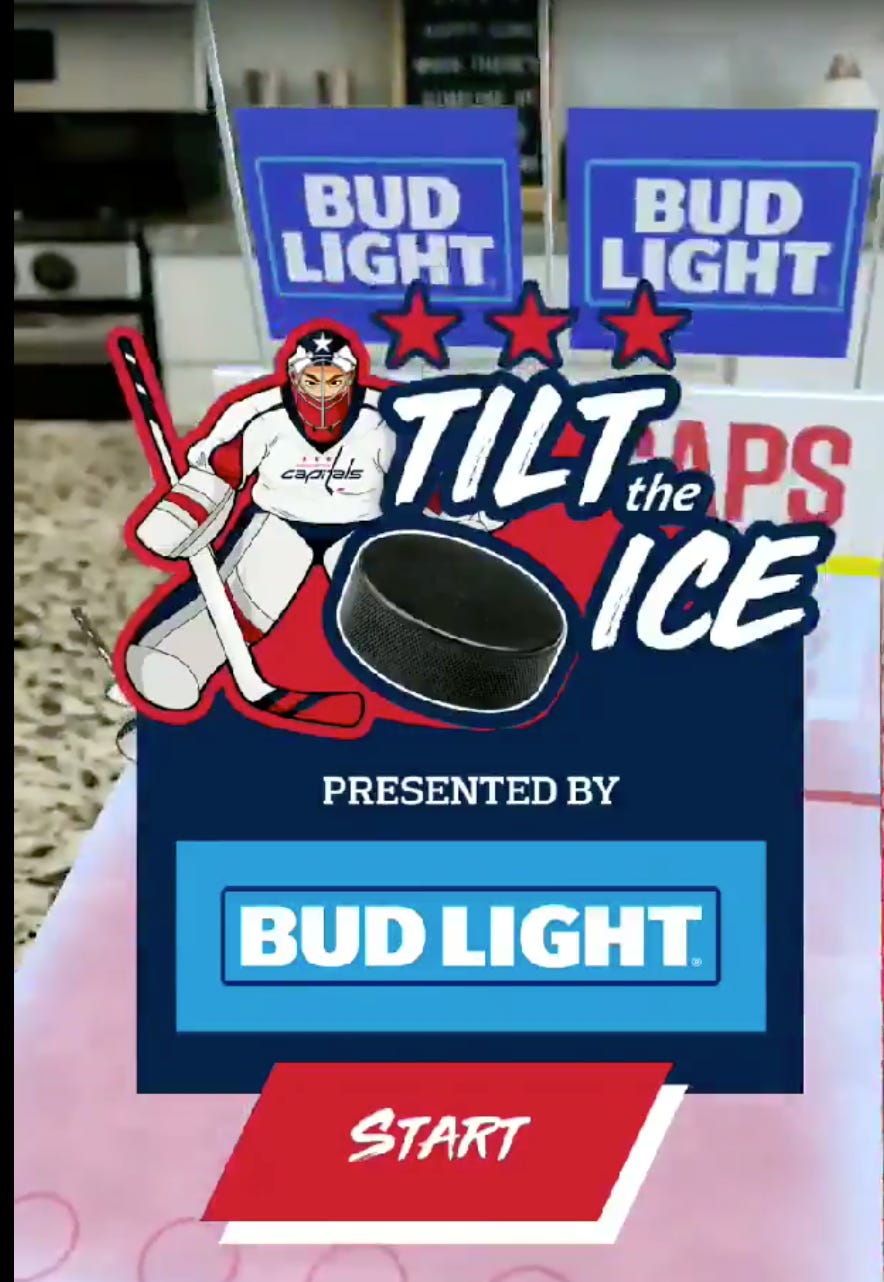 Oculus launches a new generation of VR Oculus avatars | Via: VR Scout
Since launching in December of 2016, Oculus Avatars has brought a much-needed sense of humanity to the Oculus platform, allowing users to interact with one another on a personal level while in VR. With every new update, the platform has expanded its offerings with regular technical updates, and a sizable catalog of faces, lipstick, hairstyles, and accessories, presenting users with plenty of options for customizing their virtual self.
Today, Oculus introduces its latest update to their Oculus Avatars platform, 'Expressive Avatars,' adding a new level of realism to the expressive behavior of avatar models. Thanks to new improvements to eye and mouth movement, avatars now offer more engaging, meaningful interactions that culminate in a more immersive social experience. To achieve this effect, Oculus studied the dynamics of the human eye and mouth in order to identify and replicate minute details.
⬆️ The Upside: We believe that this is a natural evolution for Facebook to launch those types of VR avatars. It will help improve the VR experience, improve the realism of facial expressions of VR users, and VR user engagement.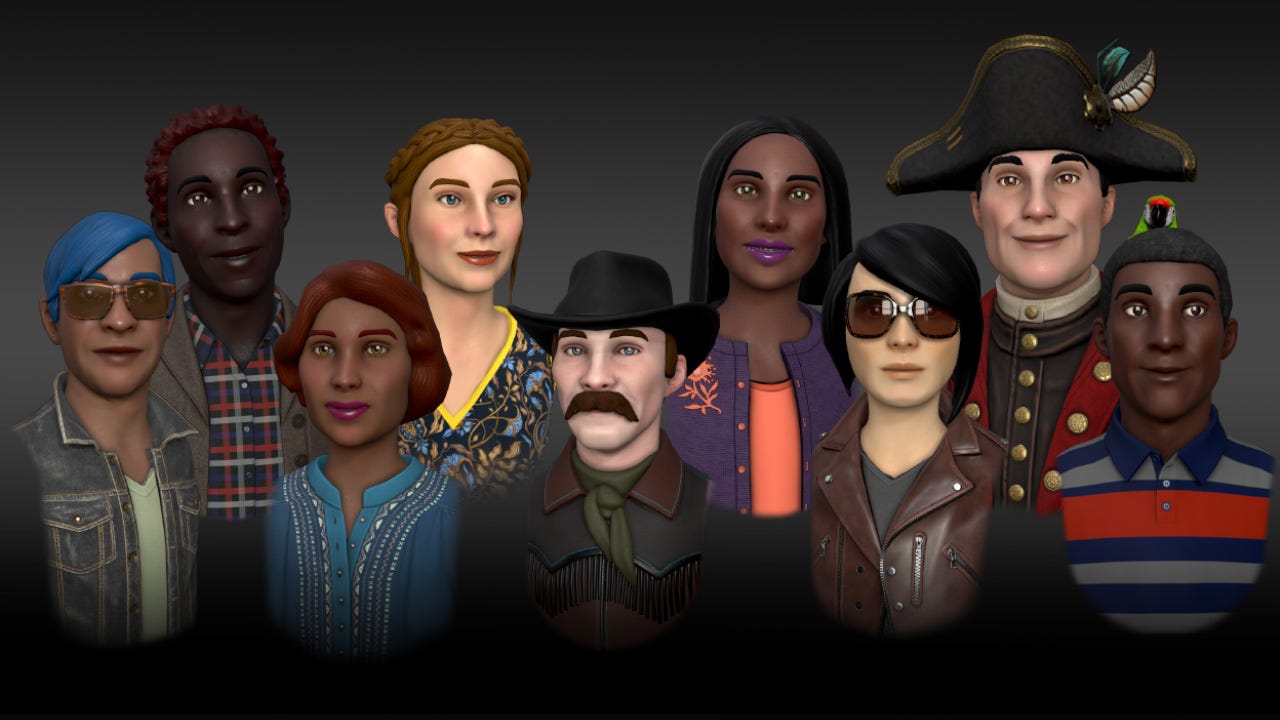 ---
🔮 Our weekly Sports Tech Prediction
Each week we'll make one sports tech prediction based on conversations we've had with top sources and our vision of the market.
So what's our weekly prediction?
We believe that in 2019 one major soccer team will shut down its eSports division due to the lack of traction and solid ROI.
Over the past few years we have seen many pro teams, especially pro European soccer teams launch eSports teams. However we have not seen any pro teams get a solid ROI or confirm that eSports has been a significant driver to help them drive their top line. In fact over the past few years some European soccer teams even shut down their eSports division after a few month. We expect to see a major European soccer team to follow suit in 2019 and exit the eSports market entirely due to a lack of financial return on its overall business.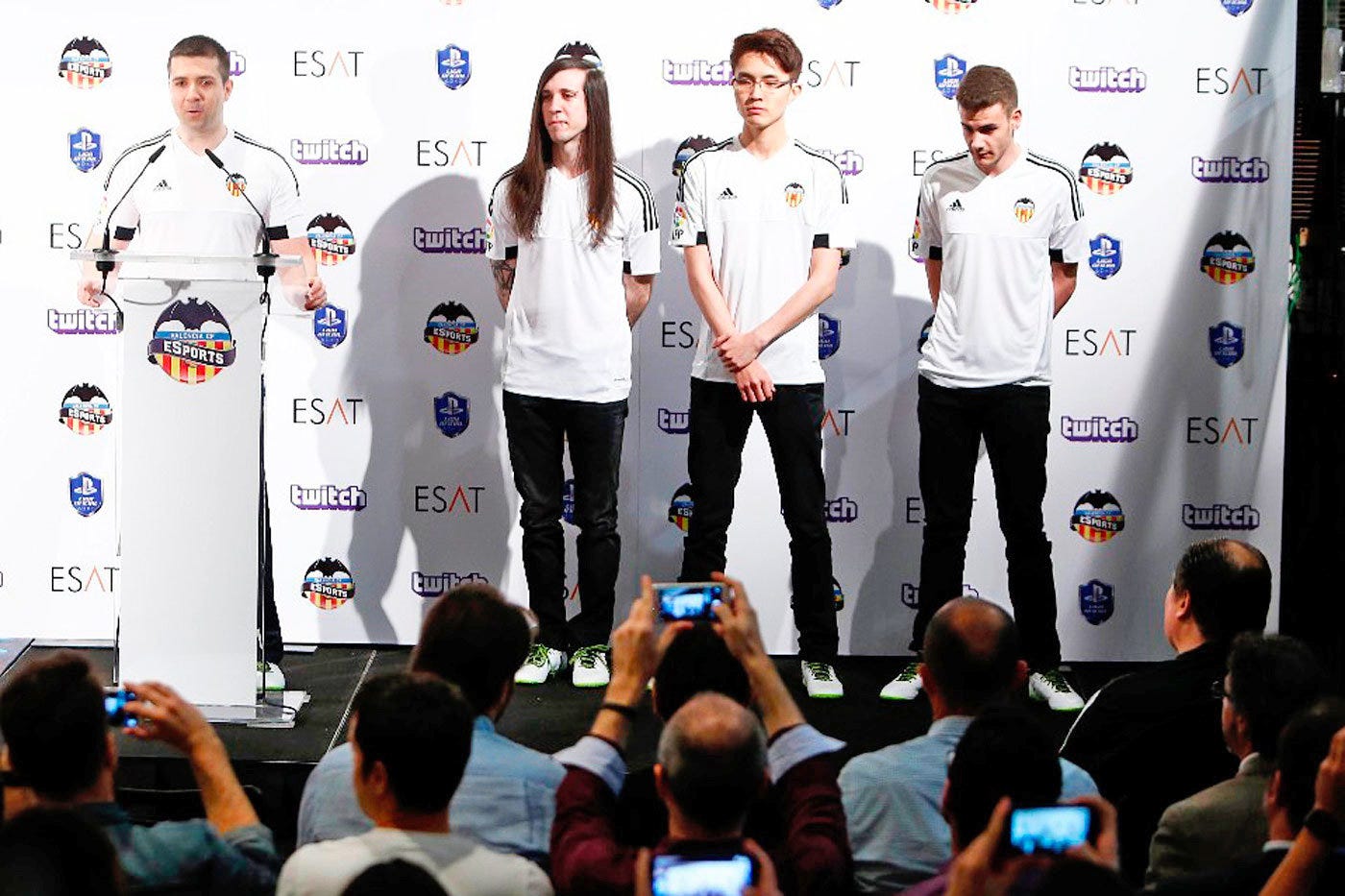 ---
🚑 Wearables & Health News
Amazon is working on some hearables to take on Apple and the Airpods. "Alexa! Will you outsell the Airpods?" Via: Wearable Technologies
Hearables are a booming market. All you have to do is look at the success of Apple AirPods. Plus, there's the likes of Google and Samsung chasing with the Pixel Budsand Galaxy Buds.
Now Amazon wants to get in the game, according to a new report from Bloomberg. The company is working on a truly wireless pair of earbuds that would work similarly to AirPods. Although instead of "Hey Siri" functionality, they would allow you to bring up Amazon's assistant with a quick "Alexa".
⬆️ The Upside: This should not come as a surprise to see Amazon getting into the hearable market for many reasons: (1) This is part of Amazon's big push into the healthcare space (e.g. JV with JPM Chase and Berkshire Hathaway to self insure big corporations). (2) Alexa skills are already HIPAA compliant (3) This is also part of Amazon's continued push into hardware and it will complement its growing hardware ecosystem (Tablet - e-readers - Smart speakers - microwave (4) Amazon will likely offer its hearables at a low price which will enable Amazon to tap share aware from Apple in the hearable space. (5) Amazon will be able to tap into the fast growing hearable market and generate additional revenue. Of note, according to Counterpoint Research's Emerging Technology Opportunities Service, the global market for true wireless hearables is estimated to reach a volume of 129M units by 2020.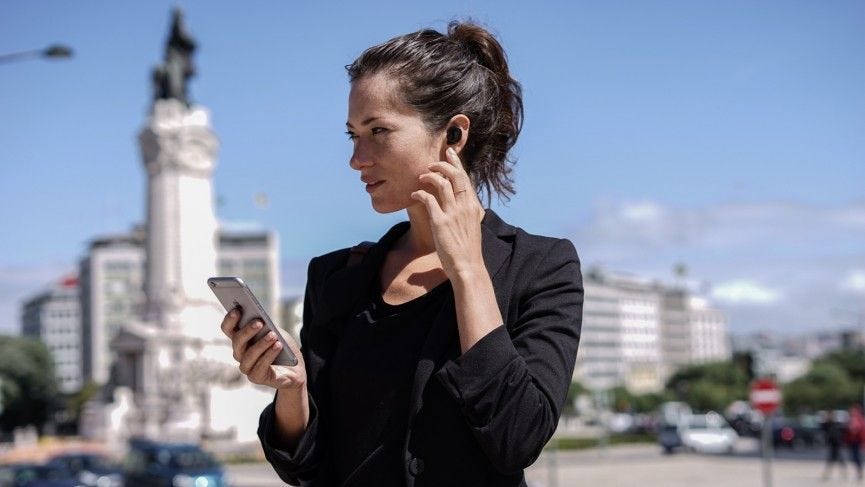 Fitbit and Snapchat team up to make fitness more fun via emojis | Via: Wearable Technologies
Snapchat is still a hugely popular social network, and one of its more popular features is Bitmoji. It's a fun digital avatar you can use to convey your mood, where you are and what you're doing. It's become a cornerstone for parent company Snap, and now it's letting Fitbit in on the fun too.
Fitbit is bringing Snapchat's Bitmoji to your wrist with free new watch faces for the Ionic and Versa. The watch face will dynamically update throughout the day, and your Bitmoji will use new animations to tell you what's going on.
There are a number of things your personal Bitmoji can do. It'll wave when you start your day and go to sleep when it's time for you to sleep. It'll also react to your activities, so if you hit a fitness goal, it'll throw confetti. If you sit in one place for a long time, maybe binge watching TV, it'll relax. It's like a Tamagotchi for your wrist, but one you feed with steps.
⬆️ The Upside: It is a logical move by both Fitbit and Snapchat. It will help Fitbit increase Fitbit users' engagement, tap into Snapchat's community of 188M users to try to help drive its top line. For Snapchat it is probably a way for them to try to offset the decline of its business overall. They both need each other at the moment.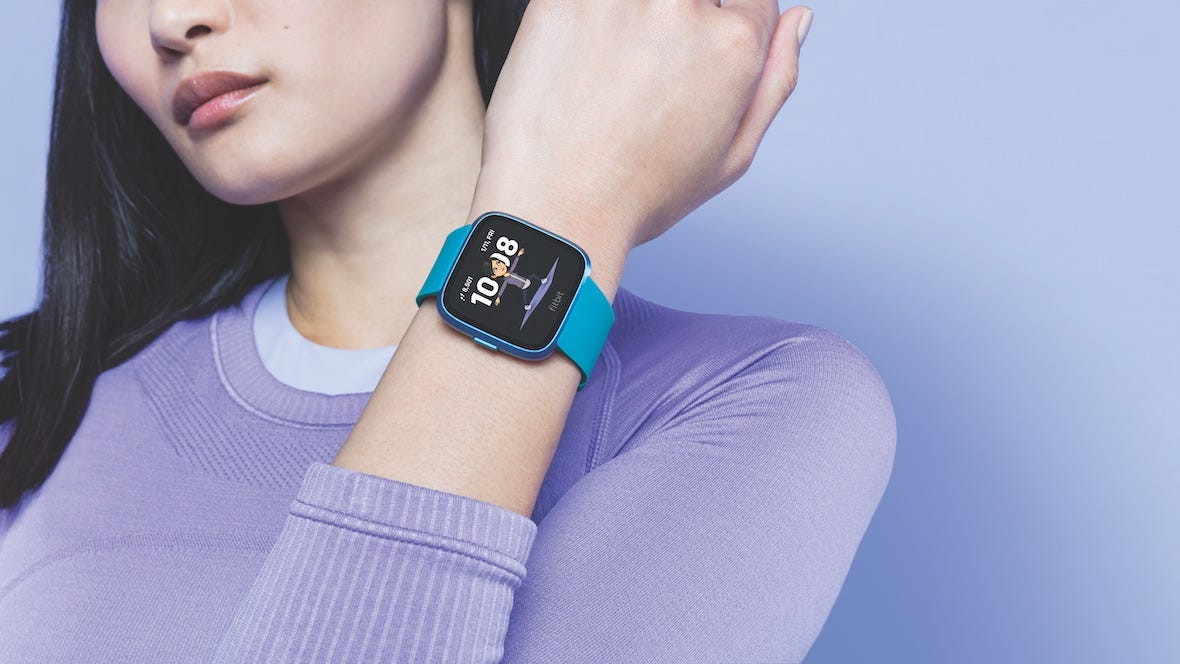 ---
🎮 eSports & Crypto-Currency News
🏟The Warriors' (NBA) eSports team Signs Three-Year Deal with Chase | Via: eSports Observer

Warriors Gaming Squad , the NBA 2K  League team of NBA team the Golden State Warriors, has signed a three-year partnership with banking company Chase. The deal will see Chase branding integrated into the Warriors Gaming Squad's in-game experience for home games, including digital signage and a pair of Chase logos on the virtual court. The companies will also collaborate on video content for this NBA 2KLeague season, such as a "Before the Game" series that follows each player's route to becoming a pro.
Chase cardholders will also be able to participate in a "play where the pros play" event, plus Chase will provide Warriors Gaming Squad players with financial literacy sessions. The companies have an existing relationship, as the Golden State Warriors will begin playing in the newly-constructed Chase Center in San Francisco later this year.
⬆️ The Upside: This type of initiative from the Warriors makes sense. This is part of both their big push into eSports and how to best monetize the eSports opportunity via its sponsor and financial partner JPM Chase. By bringing JPM Chase as a main sponsor for its eSports gaming experience the Warriors are finding a way to monetize eSports. It also fits right into their brand new stadium where they want to showcase the latest and greatest technologies and trends. Only time will tell though if the Warriors will generate a significant ROI but we believe that they are on the right track.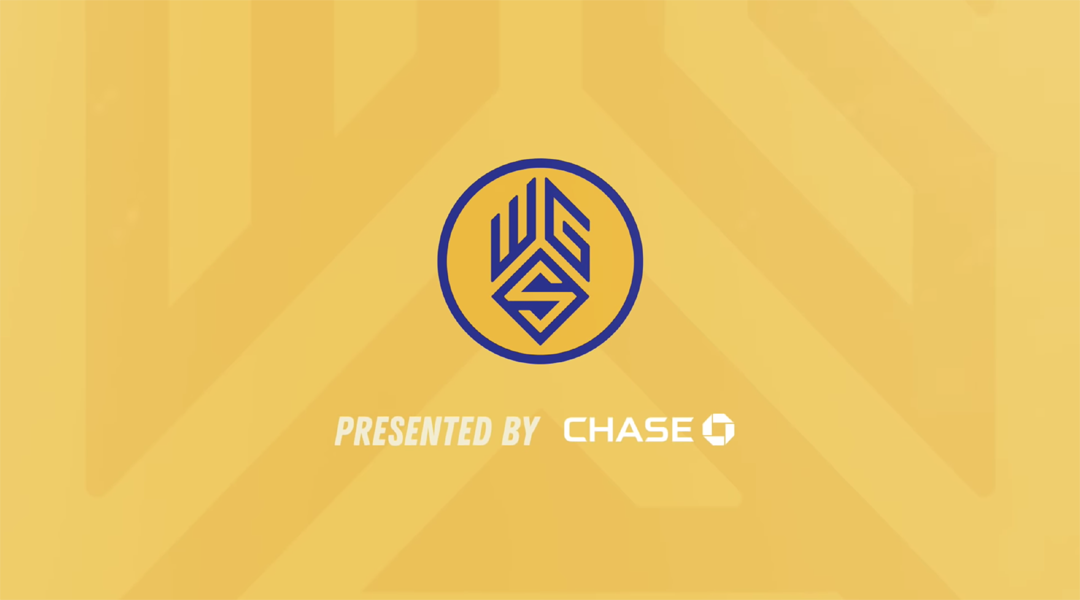 🏟The FC Barcelona (Laliga) officially enters eSports by signing the Rocket League as its eSports team | Via: eSports Observer
Last week Spanish soccer club FC Barcelona has signed a professional Rocket League  that will compete in the European Rocket League Championship Series (RLCS).
FC Barcelona picked up the team formerly known as "Savage!," which earned an RLCS spot at the end of last season after competing in the lower-tier Rival Series. The club first entered esports in March 2018 with the formation of a squad for Konami's  Pro Evolution Soccer League. It remained FC Barcelona's only esports team until now.
⬆️ The Upside: It's been a long time coming for Barcelona FC to enter the eSports market. Two years ago, according to our sources, they were already thinking about jumping on the bandwagon but never did. The biggest concern was, and rightly so, how to get a solid ROI from eSports. Pro teams are like any companies..they have to show a return on investments for everything they do, including eSports. And they have P&Ls and financial obligations to their shareholders. While it is a strong statement for FC Barcelona to enter the space, we believe that generating revenue off of eSports will remain a challenge, even for a club of that caliber. Many pro soccer teams have launched eSports teams but we have yet to see or hear of a pro team that have monetize eSports in a big way. Some European soccer teams have even pulled the plug a few months after launching their eSports team. We hope that it won't be the case for the FC Barcelona.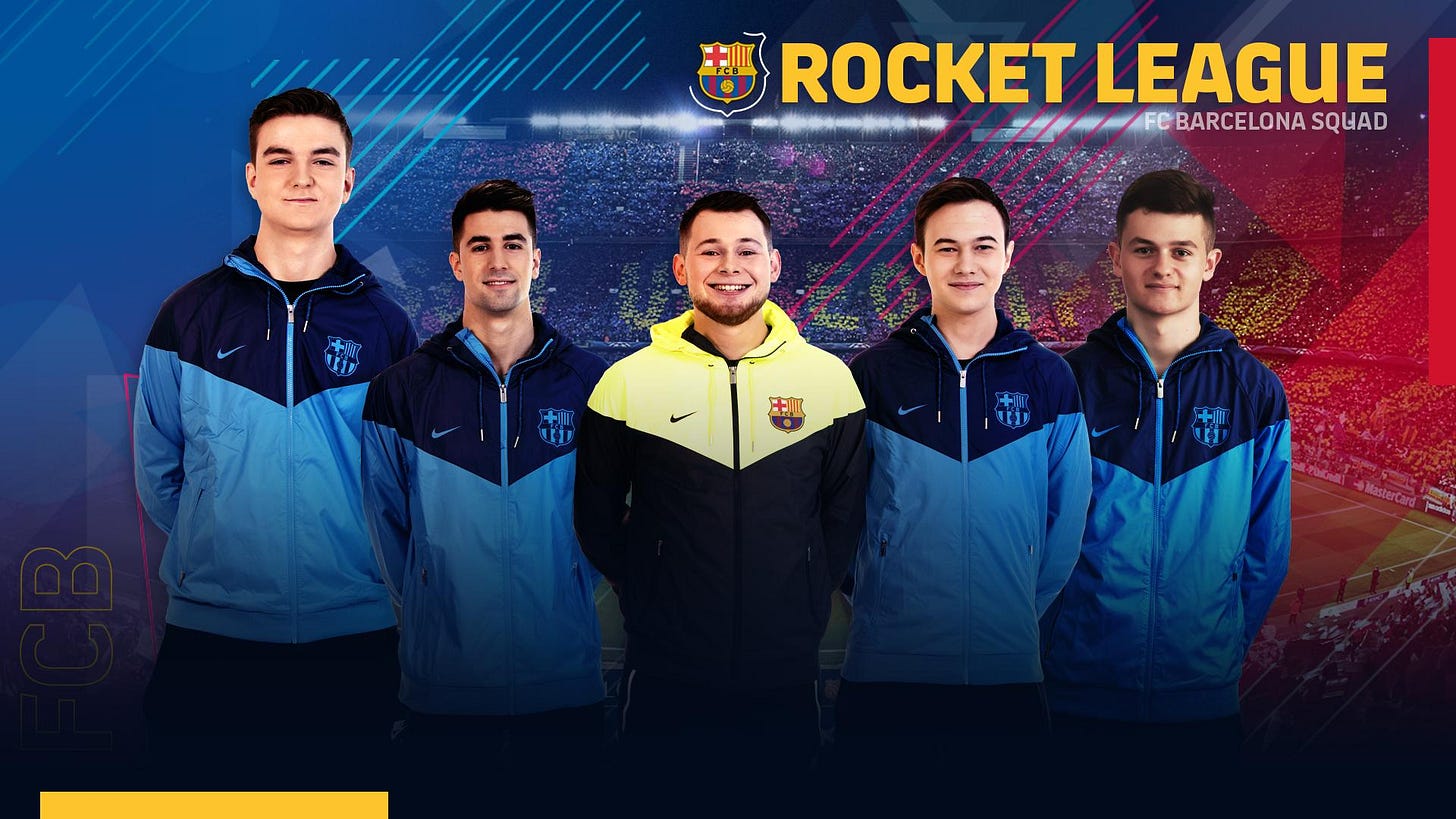 The Charlotte Hornets NBA affiliate team will compete in the 2020 NBA 2K League season | eSports Observer
The Charlotte Hornets announced that its affiliate team will compete in the 2020 NBA 2K League Season. The yet-to-be-named expansion team is the first to confirm for next year's competition.
"With North Carolina's rich basketball history and the Hornets organization's commitment to innovation and fan engagement, we know they will be a great addition to the NBA 2K League family," said NBA 2K League Managing Director Brendan Donohue in a release.
⬆️ The Upside: Like most NBA teams getting into eSports, it is an opportunity for the Hornets to tap into a new audience, generate new sponsors, and potentially drive additional revenue. The Hornets also have some All Star NBA players like Tony Parkers and NBA legend and owner Michael Jordan who still have a large audience, which is likely comprised of a good amount of gamers and eSports fans so there are some obvious synergies there as well.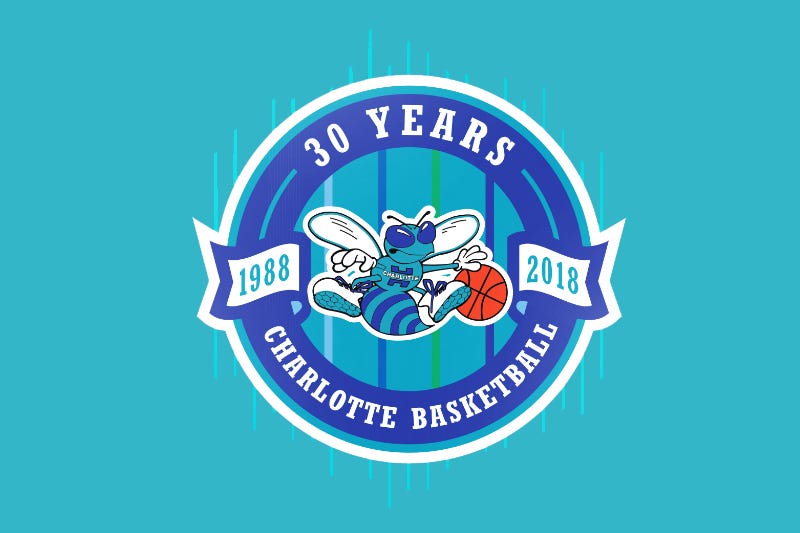 Why more brands are getting into eSports | Via: AdWeek
While a tomato-headed character swings a pickaxe to destroy a freezer in Fortnite's fictitious burger joint Durr Burger, a team of Wendy's social media strategists engages in a live chat with thousands of viewers. The fast-food brand is "waging a war on frozen beef" and has taken the battle to Twitch by streaming games of Fortnite with the sole intention of destroying freezers. These are some of the examples illustrating how some of the world's biggest brands engage with the eSports audience.
⬆️ The Upside: eSports has gotten lots of attention in the past few years. With 450M eSports viewers globally, according to Statista, the eSports industry is now on track to reach $1B this year which is a significant milestone. This is why major brands are jumping onto the eSports bandwagon, sponsoring major eSports events..Why? Because they want to get a piece of the action, and tap into this new audience to generate additional revenue. Sponsored content where brands get embedded into an eSports game is another strategy that brands have used to achieve this goal. It is still too soon to tell what kind of ROI brands have had by sponsoring eSports events or creating branded content, but one thing is certain: They do not want to miss on the eSports opportunity.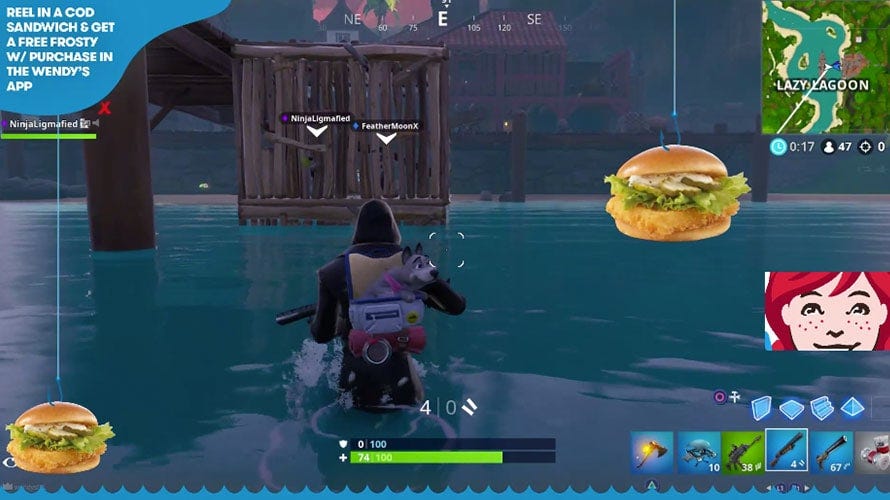 ---
😳 Pro Leagues In Peril?
🏈 The Alliance Folds | Via: Orange County Register
My, how a week changes everything.
Week by week, it seems, the fledgling Alliance of American Football seemed to be struggling to stay afloat. The championship game, was shifted from one venue to another, and rumors of the league requiring an influx of cash and a deal with the NFL Player's Union to stay afloat have seemed to come true.
Last week, the founders shuttered the league for good.
Three weeks before the Alliance of American Football suspended operations against his wishes, confounding league officials and leaving stunned employees and players stranded and reeling, Charlie Ebersol stood on the sideline at SDCCU Stadium in a blue AAF windbreaker, reveling in the roar of the crowd.
It had been Ebersol's vision to start a spring football league, one that might complement the NFL instead of compete with it, and in a matter of a year, he'd built one, complete with eight teams, more than 400 players and a slew of major media partners.
"We started out with a vision that we all believed in," said Jeff Garner, president of the San Diego Fleet. "We were told – just like our partners were told, our players were told, our coaches were told – that we had funding for three years and that we were going to take a long-term approach to this. We knew we were going to lose money up front, but we were going to focus on the football and the fan experience. That's what we were told. But an investor backed out, and we made a deal with the devil."
Was it a sports league or a technology company? | Via: Recode
Professional sports leagues, it turns out, are pretty hard to disrupt.
The Alliance for American Football, a venture capital-backed offseason alternative to the NFL, crashed and burned Tuesday for a familiar reason: It ran out of money.
And like startups often do, the young company reportedly became mired in a management tussle between executives who had different visions of what their project could become.
The league is the latest to join a graveyard of NFL rivals, which seem to never get enough traction with fans or support from investors to take on a dominant incumbent that earns close to $15 billion a year in revenue. While the NFL has had troubled ratings in recent years — and somehow fallen into the cross-hairs of both Donald Trump, who has accused the league of going soft, and activists who see white, wealthy owners blacklisting players like Colin Kaepernick — it is hard to displace a national institution like a sports league.
The league was backed by familiar names in Silicon Valley like Founders Fund, the venture capitalist Keith Rabois (in a personal capacity), and Peter Chernin, the Hollywood media executive. While not a tech company per se, it had some tech panache: Investors saw a big addressable market by scheduling games outside of the regular season, and the league put in-game sports betting and other tech-enabled experiences at the forefront of its revenue model.
"Look, you can't raise money to launch a football league. Anyone who tells you they can is lying, unless you've got a quixotic billionaire who just wanted to spend all of his money," the league's founder, Charlie Ebersol, once told the Philadelphia Inquirer. "We raised money as a technology business," before using all the right buzz words: "The actual business is data, data compression and data delivery manifestation, or artificial intelligence or machine learning."
Vegas will pay out all gamblers | Via: New York Times
FanDuel Group, a unit of Irish bookmaker Paddy Power Betfair PLC, on Wednesday said the Orlando Apollos should have been the AAF champs and that it would pay out all straight futures wagers as winners.
"For the fans that bet on the AAF, the least they should expect is for a competition to conclude as it should," FanDuel said in a statement. "We believe this is the very definition of a bad beat for sports fans everywhere."
The payouts apply to bets in New Jersey since FanDuel did not take any bets on the AAF in West Virginia or Pennsylvania, where it also operates sportsbooks.
---
🙌🏻 Social Impact Sports Tech News
The Dodgers Foundation have taken their community initiatives to the next level through $1M investment in Up2Us Sports | Via: Front Office Sports
Seemingly every MLB team has initiatives in place to foster youth baseball and softball development in their local communities. The Los Angeles Dodgers are taking that a step further, however, by ramping up investment on a coaching level.
The Los Angeles Dodgers Foundation announced a three-year, $1M investment in Up2Us Sports, a nationwide coach-training organization that pushes youth development and mentoring with special trauma training to better prepare coaches to be positive influences in the lives of children, regardless of sport.
The investment is the latest piece of the Dodgers Foundation Reviving Baseball in Inner Cities (RBI) program, which is now in its sixth season. The program provides support to youth baseball and softball teams, ranging from equipment and uniforms to training and health resources.
⬆️ The Upside: We believe this is a great initiative by the LA Dodgers as part of the RBI, a great effort by the MLB which aims at bringing more diversity to the league. More precisely, Reviving Baseball in Inner Cities (RBI) is a youth baseball program operated by the MLB, with a $30M budget. It is designed to provide young people from underserved and diverse communities the opportunity to play baseball and softball. The program was created by John Young in 1989 in Los Angeles, and now serves more than 200 communities. Since its creation, there has been progress in terms of diversity in the MLB but there is still a way to go. In fact, the percentage of black players from the United States and Canada on opening-day active rosters rose to 8.4%, its highest level since at least 2012. This compares to 59% of white MLB players, Vs 28.5% Latino Vs 1.7% Asian. "We're starting to see some progress,'' MLB executive vice president Tony Reagins says, "but is there a lot of work to be done? Absolutely. "Our goal is to get our numbers back to 19% and 20%. That's a lofty goal. But this isn't a one-time effort. We are fully committed to this.''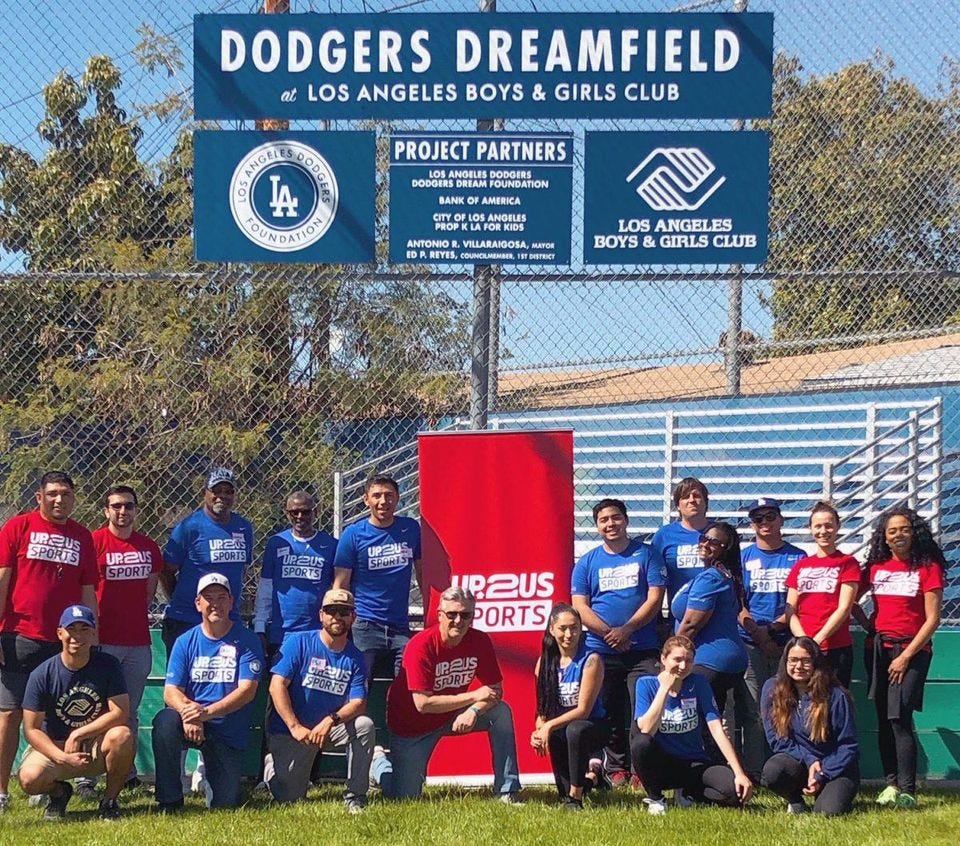 ---
💸 Sports Investment Trends — April, 2019
Peloton competitor Tonal raises another $45M, bringing its total funding to $100M. Read on here.

The Dodgers Foundation have taken their community initiatives to the next level through $1 million investment in Up2Us Sports. (Read)
---
📊 Key Tech Sports Stats of The Week
$36B: MacKenzie Bezos, 48, is now the richest woman in the world. She was awarded about 4% of Amazon, a stake worth roughly $36B based on Amazon's market value last Thursday.

$3.4B: Mobile AR will reach $3.4B in 2019 days, according to SuperData. 
$2.2B: AR/VR training solutions are expected to generate $2.2B in revenue by 2022.
$1B: The eSports industry is now on track to reach $1B this year, according to Statista. Read on here.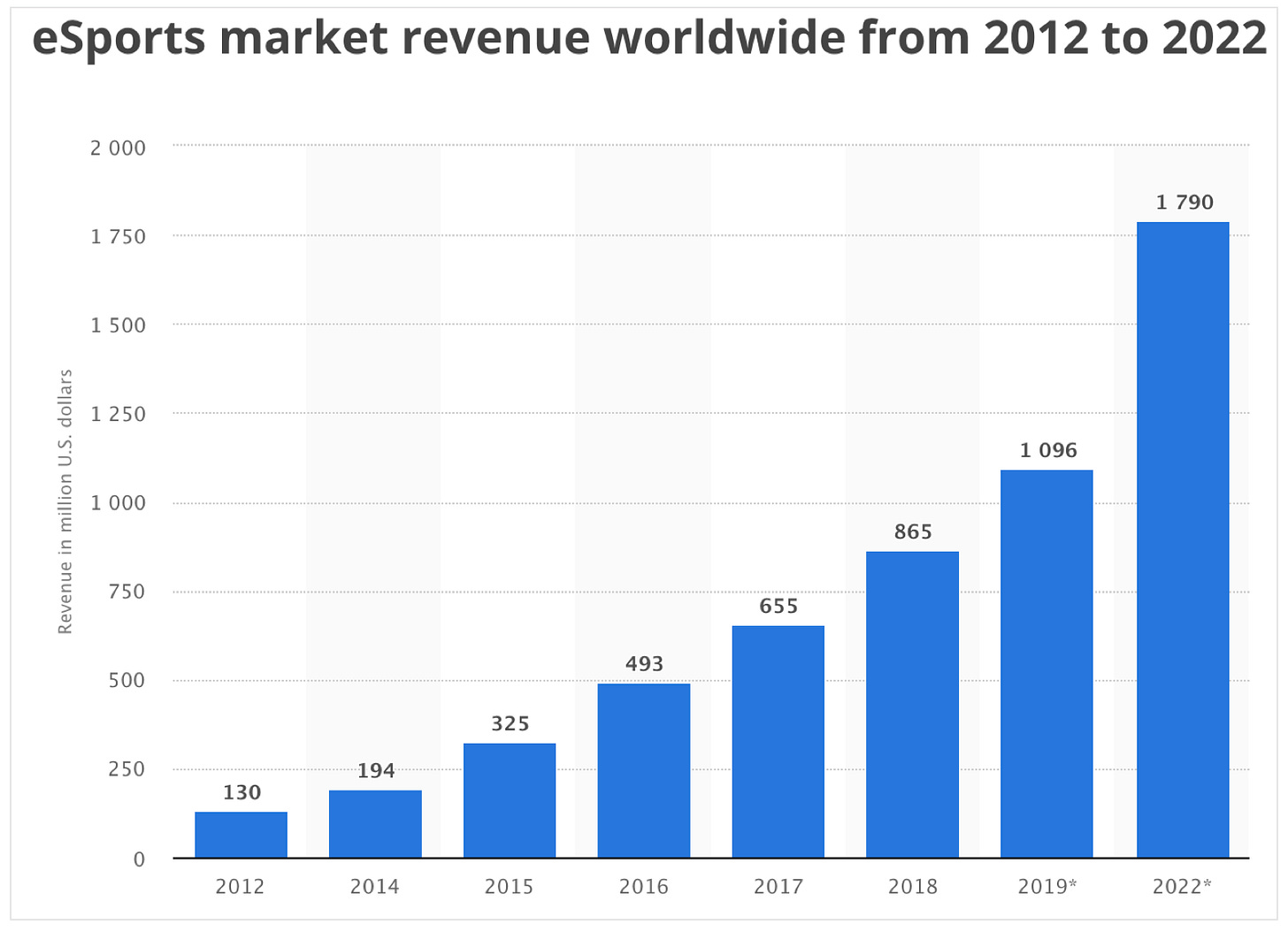 450M: There are currently 450M eSports viewers globally, according to Statista. Read on here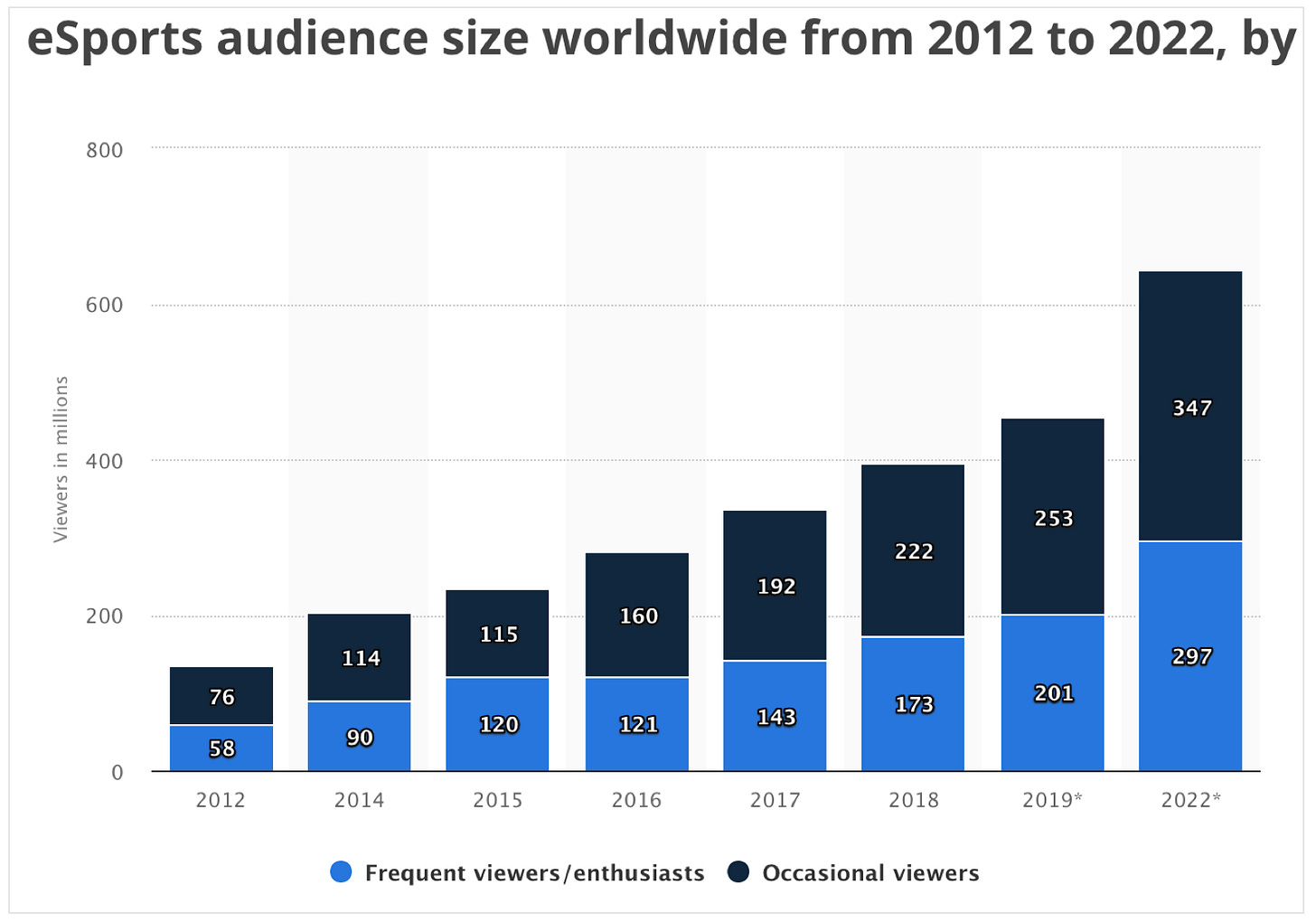 $372M: McMahon has sold more than $372M worth of WWE stock, to fund Alpha Entertainment, the parent company of the XFL.
$334M: VCs invested $334M in blockchain startups in Q1 2019, well below the 2018 levels when $5.5B was raised, but in line with 2017 levels according to PitchBook data.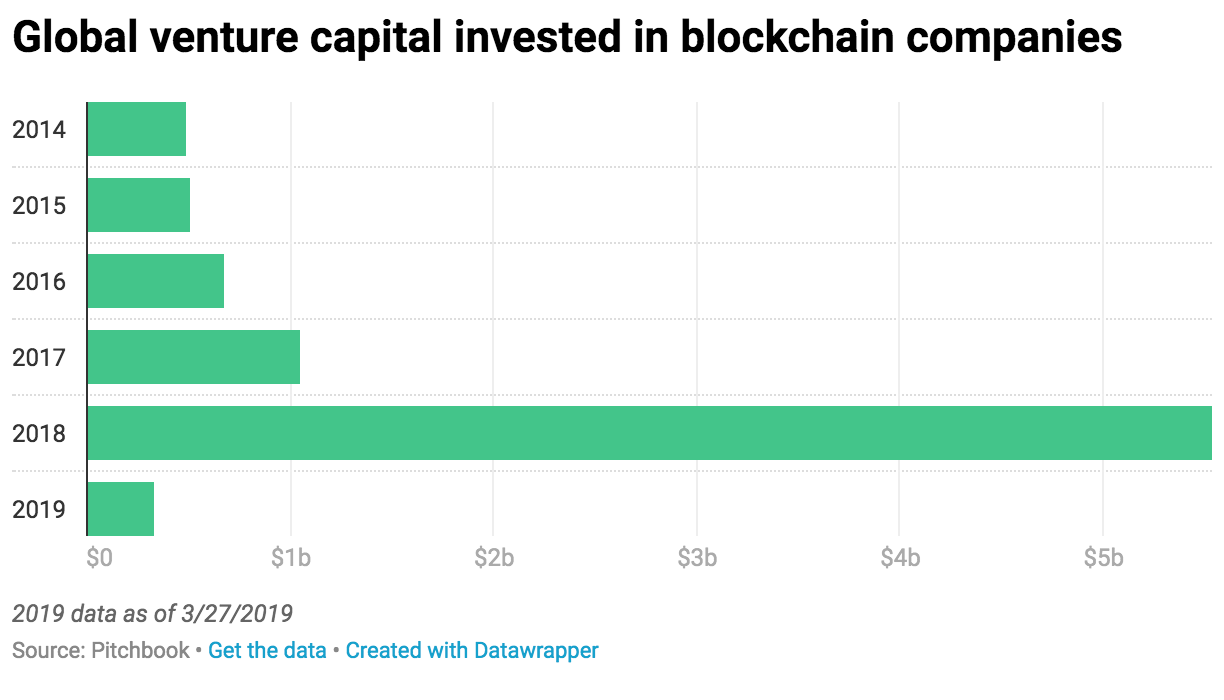 100M: By 2020 there will be 100M AR users who shop at stadiums, retail stores. Read on here.
$57M: Mike Trout will pay nearly $57M in State Taxes per his new contract worth $430M. Read on here.
$37.8M: The amount of money, paid out over the next six years, the Big Ten Conference will make off its success in this year's NCAA tournament, according to Bloomberg.
30.9M: According to NFL research, 30.9M people in China are interested in the league.
28M: Apple Music has now passed Spotify in the US with 28M Paid subs in the U.S. Vs 26M for Spotify (Source: WSJ).
$8-10M: ESPN TV analyst Steven A Smith is expected to earn $8-10M per season as part of his new contract.
$1M: Some US college students allegedly scammed Apple out of nearly $1M in iPhone replacements.
$718,750: The amount of money that Luna Bar donated to the USWNT to make sure that they received the same amount as the USMNT for making the World Cup roster.
500,000: This season, the Pats became the first NFL team to hit 500,000 followers on Weibo.
$10,000: The Detroit City FC bought six, forty-foot containers for its suites. The suites can be leased for $10,000 per season or $800 per match. 
300: According to Mailman, more than 300 teams played in the most recent NFL China Flag Football Tournament. In 2014, that number was just 36.  
95%: IBM AI can predict with 95% accuracy which workers are about to quit their jobs.
76%: 76% of NBA players are African American, but on the other end, 98% of NBA team owners are white.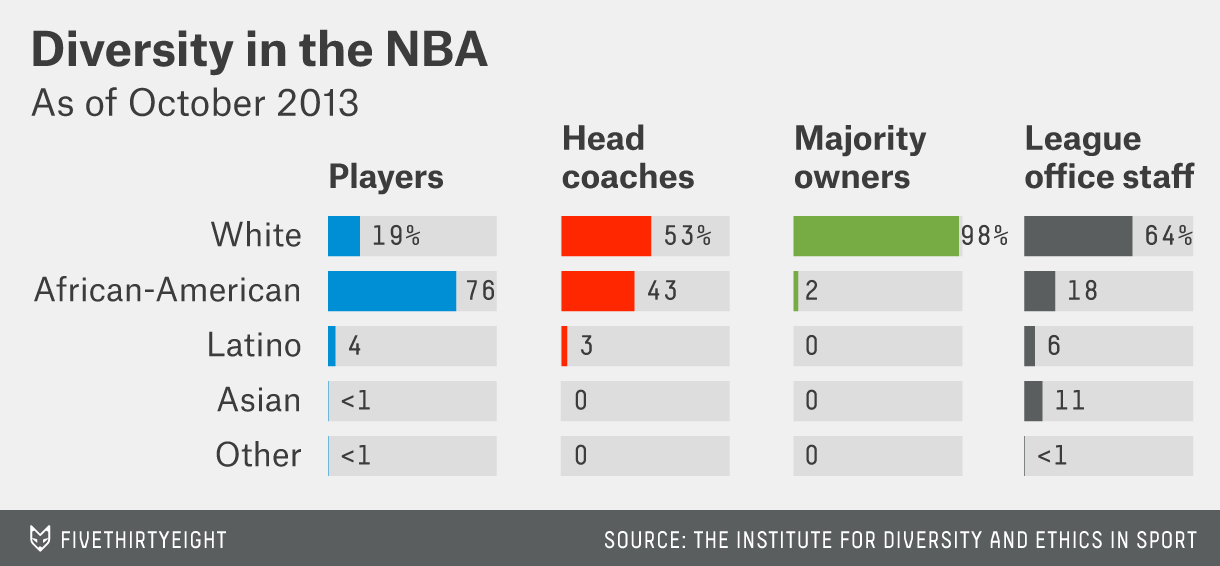 70%: A new survey says that Americans have a negative opinion of Facebook even though 70% of them check Facebook daily. 
65%: According to Conviva, total viewing hours for streaming TV was up 65% and total plays up 45% over the first two rounds of March Madness this year.
30%: In terms of streaming, March Madness reached a new record this year as streaming was up 30% YoY.
8%: 8% of MLB players are African Americans. By comparison 59% of MLB players are white Vs 28.5% are Latino and 1.7% are Asian, according to USA Today Sports Research.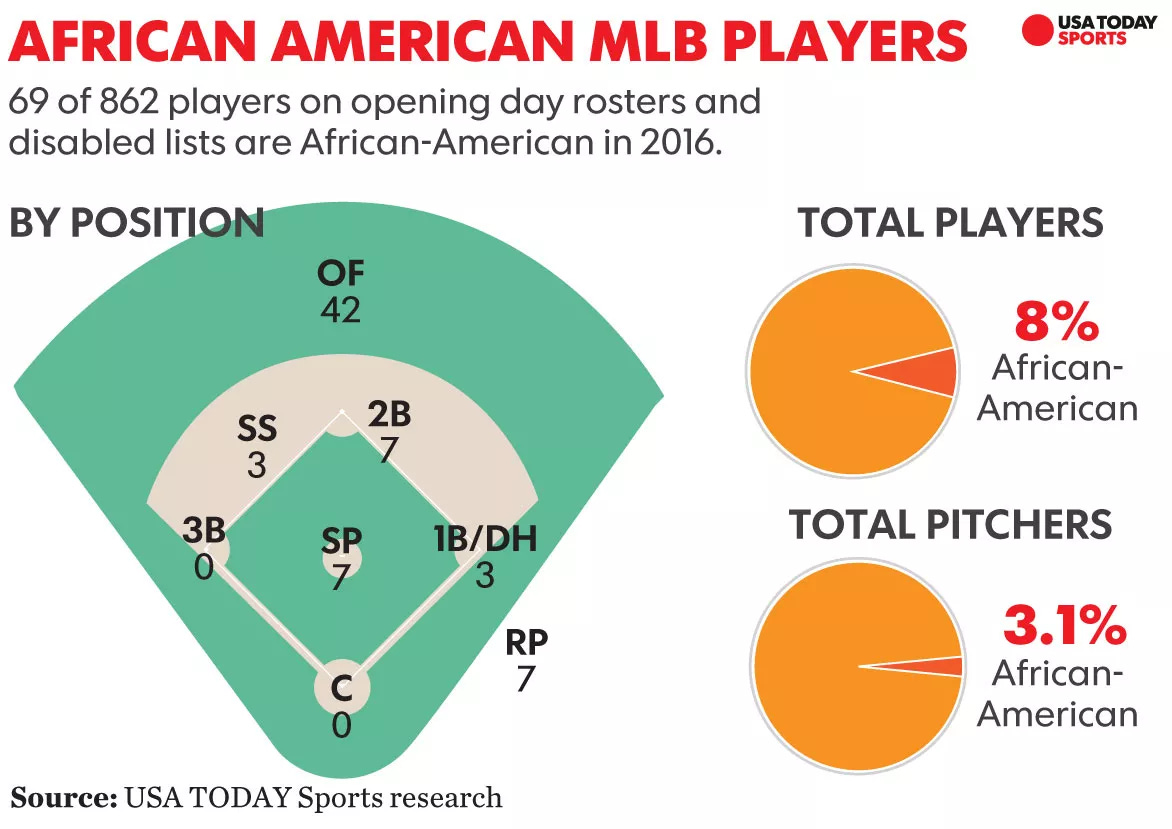 📸 The Upside: Snapshots of The Week
The 2020 Olympics in Tokyo are just 16 months away so we thought this picture was appropriate. We, at the Sports Tech Advisors, are working regularly with some of the best Olympic teams out there to help them adopt the latest and greatest technologies that will help them best prepare their Olympic athletes the day of the competition. It is a tech race out there!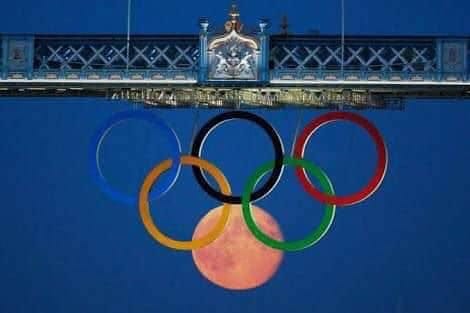 By analyzing the behavior of MLB shoppers on SeatGeek, we were able to map "MLB Fandom" across the country. See below for an interactive map of the most popular team in every U.S. county, and a breakdown of the most interesting stories that it surfaces. Read more here.