Discover more from The Upside Newsletter
Data, insights, and stories from the world of sports, business, and technology.
Over 6,000 subscribers
💦 ⚽ Latest Tech in Sports? Sweat Patch. Apple TV to Offer AR content. Messi to Leave Barca?
Dear Colleague,
Last week was an historic week in the world of pro sports with the NBA, MLS, MLB, WNBA, and NHL all suspending games to express support for the continued protests of racial injustice and police brutality. Several NFL teams also canceled practice and held team-wide social justice discussions. Tennis players (e.g. Naomi Osaka) also announced games in protest of police brutality occurring in the U.S. Since then games resumed, and as part of the agreement to resume play, the NBA agreed to convert arenas into 2020 voting locations. In addition, the NFL season is set to resume on Sept 10, and so far only 5 NFL teams (are planning on having fans attend games in a limited capacity. 
In Europe the biggest news of the week in the world of pro soccer was Lionel Messi decision to leave Barcelona. Not surprisingly the biggest European soccer clubs (Man City, PSG, Inter Milan, Juventus..) are now rumored to be chasing Messi, but Messi has a €700 million buyout clause.
In the world of pro tennis, the US open tennis in NY is starting today. As we noted before, this will be the first major tournament since the start of the worldwide COVID-19 pandemic in March. Unfortunately some players (Benoit Paire) have already tested positive to COVID-19.

In the world of AR/VR and digital, Apple is rumored to add AR content to the Apple TV to boost TV content. Apple also acquired VR startup called Spaces. This month Chelsea FC also launched the Perfect Play application, the club's official football training application. In the wearable and connected fitness world, Fitbit launched the Fitbit Sense and Amazon announced the Amazon Halo. Gatorade is also set to launch its new sweat patch in 2021. In the world of esport, the NBA teamed up with Pocket Aces' Loco to Stream NBA 2K League games in India. NBA star 76ers guard Ben Simmons also invested in esports team Faze Clan. FC Barcelona also has announced a strategic esports partnership with Tencent which covers competitive gaming competitions, education and industry exchange.
---
Last week we published our second article as part of our Upside guest writers series. Our second article entitled "5G, Wi-Fi 6 and the roar of the Crowd"", was from Pete DeNagy, Founder IoT America / Managing Principal, Acommence Advisors. If you have not read it click on the link below to read the full article. Pete DeNagy is the former GM of Samsung Enterprise.
On Thursday as part of our Upside Guest writer series, we will publish our new article entitled "GPS-related research in Team Sport – Are we done or is there new windows of opportunity ?", written by our new guest writer Mathieu Lacome, PhD, who is the head of R&D for PSG, a top European soccer team (Ligue 1).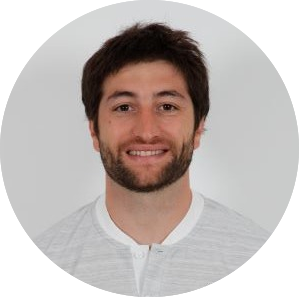 Picture: Mathieu Lacome, PhD, head of R&D for PSG (Ligue 1).
Here is our schedule of guest writers and articles for the coming weeks:
September 10: Article title:"Creatine Supplementation and its Effects on Performance". Author: Daniel Hayes, Performance Coach, LA Dodgers (MilB).
Note: If you want to connect with Len, Mathieu, Christophe, Daniel, don't forget to create your free Upside profile and join our online community by clicking on the button below.
---
As a reminder, we are now launching our new Upside Global platform to bring together our sports, tech & health community of 2,500 executives under a single web platform. Members include executives from the NBA, NFL, NHL, MLS, MLB, Laliga, English Premiere League, Ligue 1, Bundesliga, Series A, Brazilian soccer league, Olympic teams, Pro tennis, as well as representatives of startups, brands, VCs, and athletes.
If you are a head athletic trainer, CTO, CMO of a major sports team or league looking to connect with the most innovative startups or connect with your peers to network, or if you are a startup CEO looking to connect with top teams or investors, you can join our Upside community of executives from the NBA, NFL, NHL, MLS, MLB, Laliga, English Premiere League, Olympic teams, top VCs, startups (AR, VR, wearables, sleep tech..) and more!
Your opportunity for growth starts now, create your free executive profile today to join our online community and click on "become a member today" as a first step. It is free to join! It only take one minute to create your profile.
If you face any problems during the registration process, please click on the live support button on our website.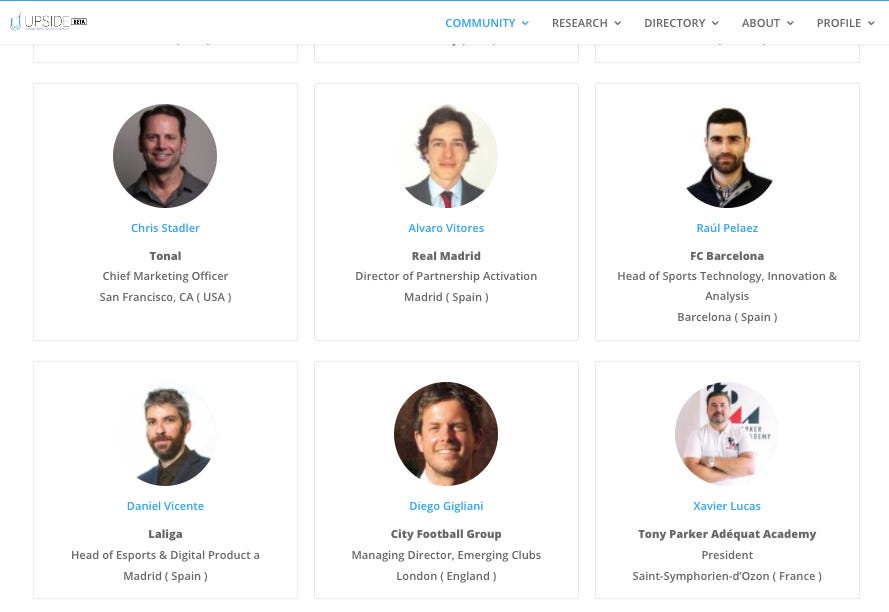 ---
📰 Top Stories We're Reading This Week
📺 Apple plans AR content to boost TV content
📺 Apple acquires VR startup Spaces: Report
⌚ Fitbit Sense launches ECG stress
⌚ Amazon Halo announced
🎮 Pocket Aces' Loco to Stream NBA 2K League Games in India
💸 Latest Investment Trends
📊 Tech Stats of the Week
📸 Snapshots of the Week
Let's jump right into the insights and upside for all of these top stories
---
🎮 AR/VR/Video/Digital Sports News
📺 Apple plans AR content to boost TV content | Via : Bloomberg
Apple Inc. is planning to add augmented reality content to its Apple TV+ streaming video service, seeking new ways to attract and retain subscribers and drive interest in AR technology. In the new feature, elements of a TV show, like characters or objects, would be displayed on a viewer's phone or tablet and integrated into the surrounding environment, according to people familiar with the project. For example, someone watching a moon-walking scene in the Apple show "For All Mankind" might be able to see a virtual lunar rover on their device's display, seemingly perched atop their living room coffee table. The option would serve as bonus content akin to the director commentary or trailer that accompany a movie download and would be accessed from Apple's TV app on the iPhone or iPad. The AR feature is expected to debut next year, ahead of an Apple headset in 2022 that will be built around augmented and virtual reality, said the people, who asked not to be identified because they weren't authorized to discuss the plan publicly.
⬆️ The Upside: We think adding AR content to its Apple TV offering is a great move by Apple. This is part of Apple's overall AR strategy. Apple already has a solid AR foundation with ARKit with an estimated 62.5M ARKit users today. Apple is well positioned to convert its 33.6M Apple TV U.S. subscribers to its AR platform ahead of the release of its AR glasses next year. For Apple it is all about baby steps and once again they are building the right foundations here.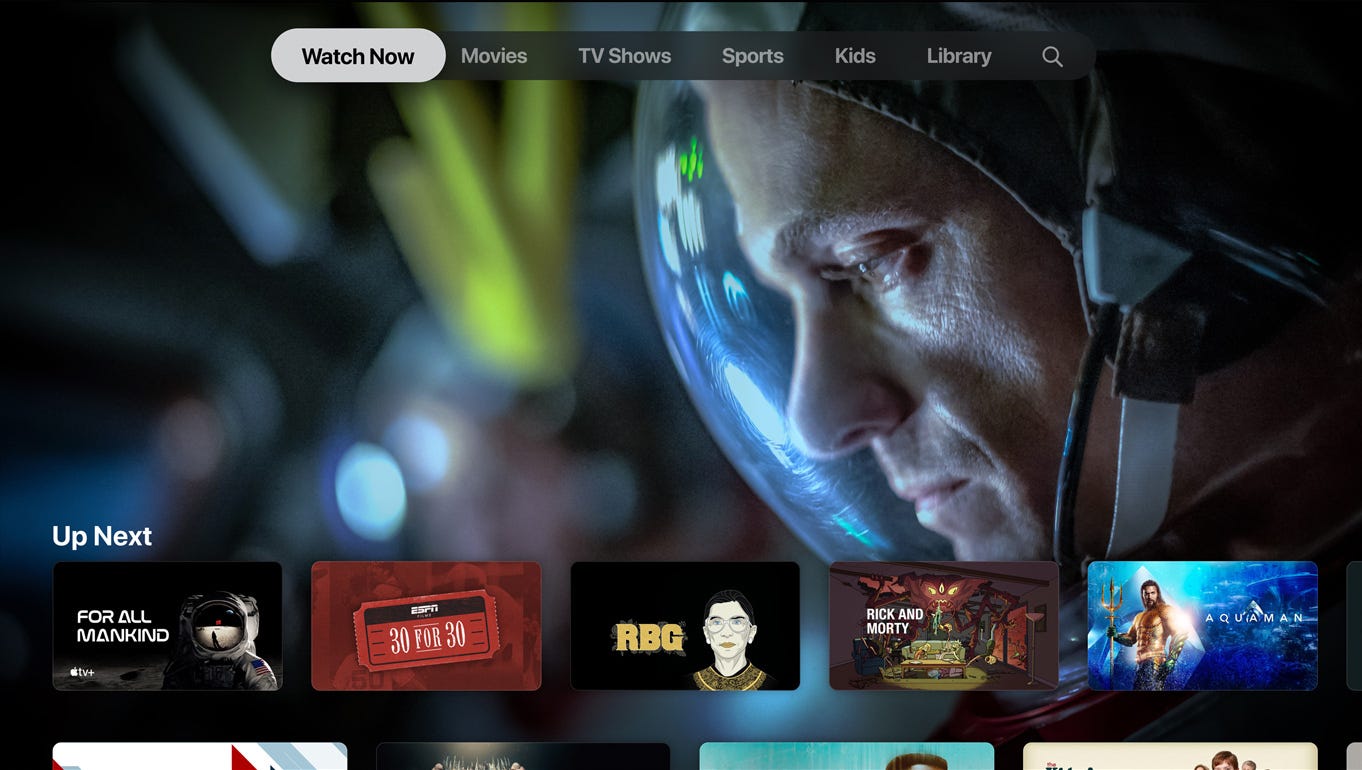 Picture : Apple TV+
📺 Apple acquires VR startup Spaces: Report | Via : htTech
Apple has made giant strides in the Augmented Reality space over the years. The same cannot be said for Virtual Reality, a rare technology category where Apple is non-existent. The company may be looking to change this very soon with its latest acquisition of Spaces, a VR startup. Spaces was carved out of DreamWorks Animation in early 2016. The startup offered a variety of VR-based services for broadcast media and enterprises. The company recently launched videoconferencing-based solutions.
"Spaces provides a unique and ground-breaking service: transportation to new realities. Our cutting edge technology ensures your safe passage into worlds beyond imagining, full of intrigue, excitement, and fun," says the company on its website.
Apple has also confirmed the acquisition but without divulging its plans.
⬆️ The Upside: This latest acquisition should not come as a surprise for several reasons: (1) Apple has bought a new company every two to three weeks over the past few years. (2) Apple has been playing catch up in the VR space so it will enable Apple to fill in the gap with Facebook/Oculus, Sony and others. It acquired another VR startup (NextVR in may 2020) recently. (3) Spaces will bring new engineering talent to the Apple team to help build compelling VR content and hardware. Apple could leverage Spaces to offer virtual avatars. (5) This new VR acquisition will enable Apple to leverage the LiDAR sensors on its hardware to offer more AR content to users. (6) This is another indication that Apple could offer virtual AR/VR hybrid glasses in the future.
---
🚑 Wearables, Health, Nutrition News
⌚Fitbit Sense launches ECG stress | Via : Wareable
Fitbit has unveiled the Fitbit Sense, the company's first true health device with ECG, stress monitoring and a bevy of new medical sensors. The Fitbit Sense represents a change for Fitbit, as it moves from fitness tracking to serious health monitoring – and the company's work on the COVID-19 pandemic has seriously influenced its features. The new biosensor core packs in PPG heart rate monitor using the new PurePulse 2 sensor, electrodermal activity sensor, temperature sensor, and can monitor breathing rates and sleep. Like the Apple Watch Series 5 and Samsung Galaxy Watch 3 it's aimed at alerting users to afib, low/high heart rate and sleep apnea. It also goes up against the Withings ScanWatch, which seems to be in permanent FDA limbo. But the Fitbit Sense goes further than any consumer medical device we've seen, with a focus on stress, and on general wellness – with the ability to warn you when you're coming down with a virus or infection. The sensor is awaiting FDA approval for use in the US. You can place your fingers on the corners of the Fitbit Sense case to take spot ECG readings. The heart rate sensor has been upgraded, and PurePulse 2.0 now uses multi-channel sensing to create multiple heart rate readings, and machine learning to extract the data across channels to create a more complete look at your heart rate. Fitbit says that by using machine learning to analyse multiple channels, it's able to pick up details that are imperceptible to humans analysing the same data. Heart rate and resting HR are all still tracked and presented in the usual way, but there's now a focus on heart rate variability (HRV) for the first time.
The Fitbit Sense will cost £299.99 and will be released in late September. That means Fitbit's most advanced smartwatch is also its most expensive, but dramatically undercuts equivalent Apple and Samsung devices.
⬆️ The Upside: We believe that the Fitbit Sense offer compelling features (ECG, stress assessment, etc..) and should help Fitbit increase its market share. While smartwatches have broken ground in detecting illnesses like afib and sleep apnea, a device that offers insights into stress and general illness is something new. And something everyone can relate to. That being said, it is worth pointing out that Fitbit is playing catch up a bit when it comes to ECG as many competitors (Samsung, Apple, Withings..) already offered watches with ECG sensing capabilities. Measuring stress measurement via EPA is nothing as competitors like Samsung already offers such capability. Lastly it is worth pointing out that the Fitbit Sense only measures skin temperature, not body temperature.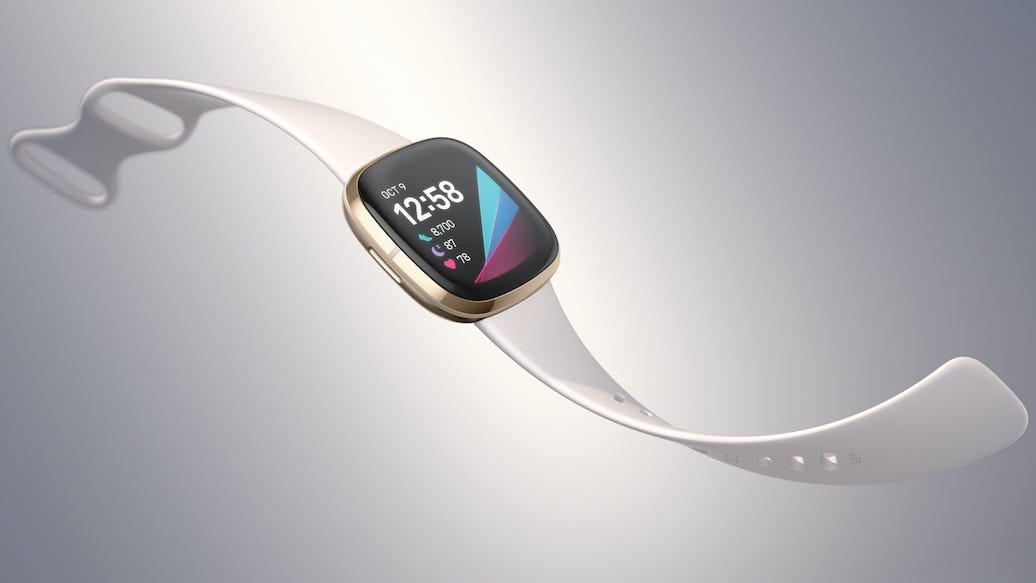 Picture : Fitbit Sense smartwatch
⌚Amazon Halo announced | Via : Wareable
Back in 2019 we revealed that Amazon was working on an emotion-sensing wearable device, and it's now official. Amazon's new fitness tracking band has an optional feature that will listen to your voice and gauge your emotions, and coach your communications with others. It's clear that Amazon has wanted to jump into the vibrant wearable space with something different, and the company that brought you Alexa has no qualms about getting seriously personal. No notifications, no on-watch step goals and no spot ECG readings. It does have a heart rate monitor, and uses this to keep tabs on health, in addition to the tracking of steps, sleep and activity. There's also a temperature sensor, just like the new Fitbit Sense. There's also a sleep score based on deep, REM and sleep cycles, as most devices have now. And then there's the Body feature. You can also use the smartphone app to scan your body for a BMI-style rating, which estimates body fat, and according to Amazon it's a more accurate analysis than scales.
The Amazon Halo is set to go on sale as a limited trial in the US, just as we've seen with the company's smart ring the Amazon Echo Loop. It costs $99.99 ($64.99 if you get the early bird), both of which include 6 months subscription to get the advanced features. After that it's a $3.99 monthly subscription to keep the bulk of features working. If you let that lapse, you'll just get basic, old school fitness tracking. Read on for everything the Amazon Halo can do.
Watch this video here to understand how Amazon Halo works.
⬆️ The Upside: This should come as a surprise to see Amazon being more aggressive in the healthcare space as they plan to disrupt the US healthcare market. The Amazon Halo also nicely complements its existing wearable hardware ecosystem (smart ring, Amazon Echo loop…). The Amazon Halo is also a mix between apps and Fitbit style Challenges. From a biosensing standpoint it is a bit underwhelming as the Halo does not offer ECG, HR..But Amazon is likely to add those types of biosensing capabilities in the future at a higher premium. We expect Amazon to offer new types of wearables in the future, starting with an Amazon branded smartwatch.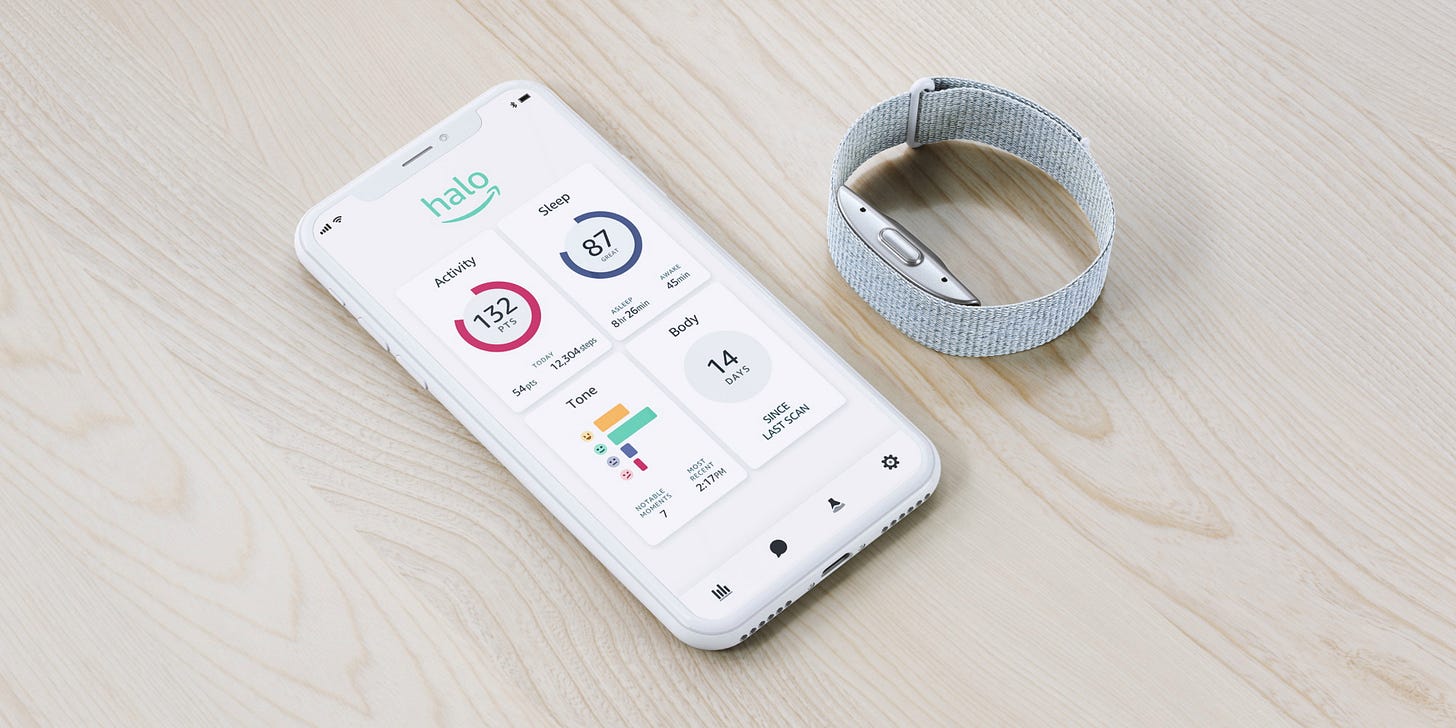 Picture : Amazon Halo wearable
---
🎮 Esports & Crypto-Currency News
🎮 Pocket Aces' Loco to Stream NBA 2K League Games in India | Via : The Esports Observer
Indian live streaming and esports platform Loco and the NBA 2K League announced a multiyear partnership that will see the company stream NBA 2K League games in India. The first broadcast will be a best-of-five series between Warriors Gaming Squad and Wizards District Gaming on Saturday.  The NBA 2K League, a joint venture between the NBA and Take-Two Interactive, is a professional esports league featuring the best NBA 2K players in the world and the first official esports league operated by a U.S. professional sports league. The current season features a $1.4M USD prize pool and recently announced DoorDash as a sponsor. It is the highest tier of competition for the title. The partnership will extend into the 2021 NBA 2K League season where Loco will stream more than 200 games from the tournament series. Loco is one of the names in a growing list of live streaming platforms in India. The platform's parent company, Pocket Aces has a strong background in the digital content space, and in July 2019, the company announced a 1B INR($13.5M USD) investment from Sequoia India, DSP Group, 3one4 Capital, and other prominent investors. In recent months, Loco signed content partnerships with Fnatic and Red Bull to create and broadcast unique esports-related content.   
⬆️ The Upside: This should not come as a surprise to see the NBA 2K League team up with a leading streaming platform in India. This is part of the NBA's overall strategy to grow its brand and its esports league. Of note, the head of the NBA operations in India recently announced its plan to make make Basketball as India's No. 2 sport after cricket. NBA apparel can now be found in over 600 stores in India, live games are broadcast on Sony SIX, and last month, the NBA opened an elite basketball training academy to groom potential future talent.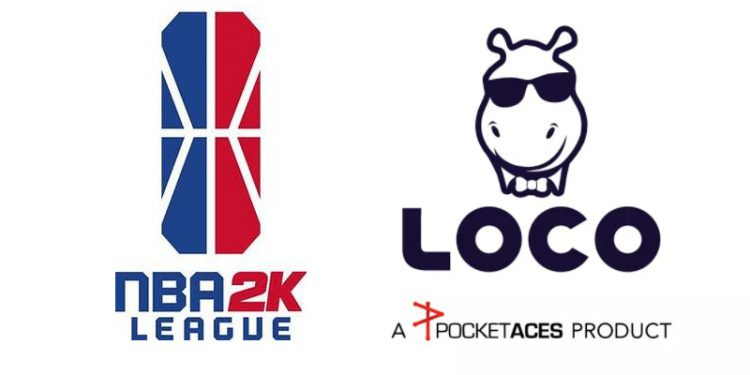 Picture : logos of the NBA 2K League and LOCO
---
💸 Sports Tech & Health Investment (Fund raising, M&As) Trends — September 2020
Super League Gaming to Raise $8.4M in Underwritten Public Offering. Read on here.

NBA star 76ers guard Ben Simmons invests in an esports team Faze Clan. Read on here.
---
📊 Key Tech Sports Stats of The Week
$20B-$30B: Walmart has joined Microsoft's bid for TikTok's operations in the U.S., Canada, Australia and New Zealand. A deal for the social media platform is reportedly nearing completion, rumored to be in the $20 billion to $30 billion range. Negotiations are down to the Microsoft-led bid and Oracle. Walmart had been working with SoftBank on a separate bid, but doesn't have the technology backbone needed for an independent acquisition.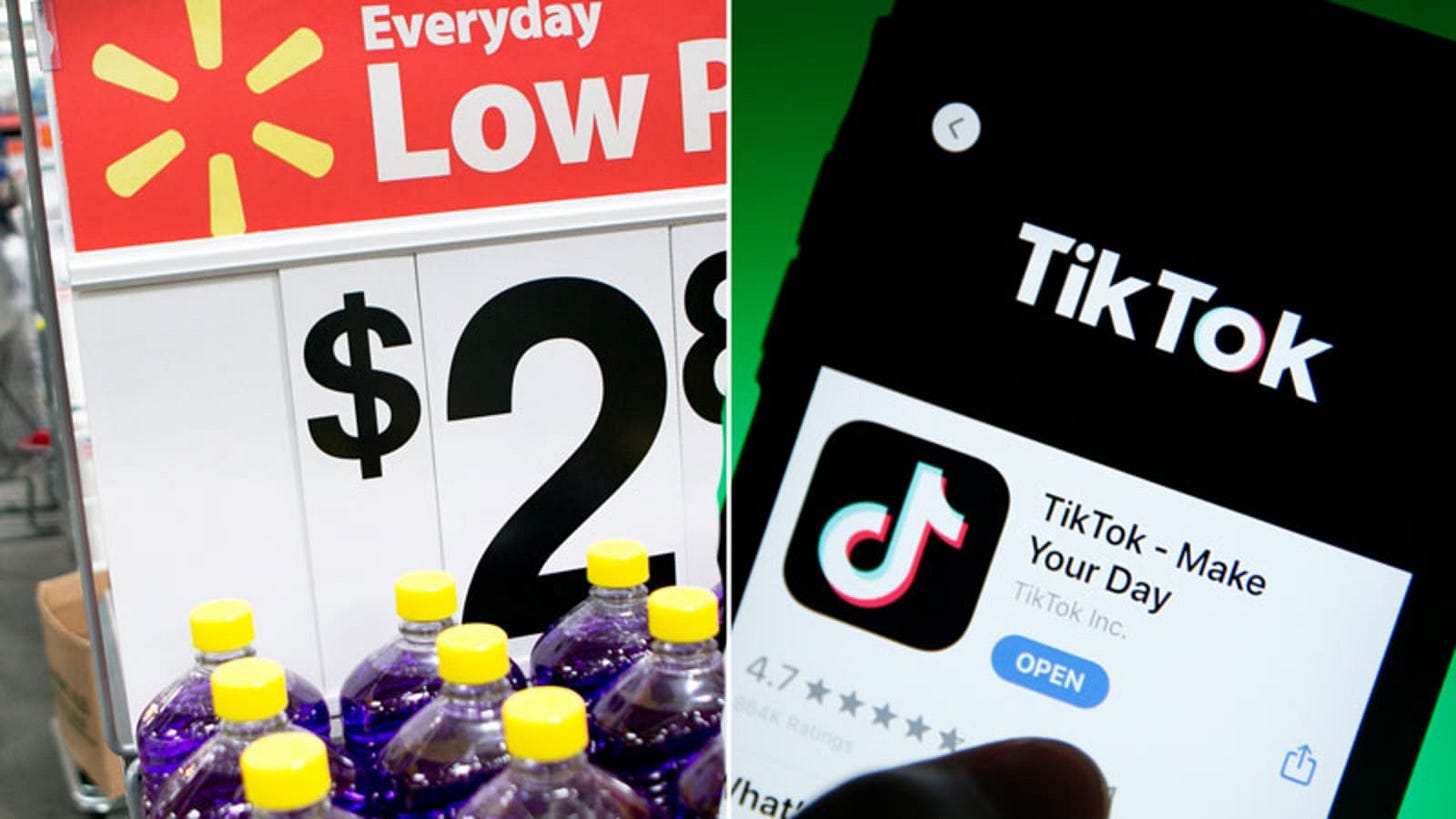 345M: Facebook Gaming hit a new peak of 345 million hours watched in July. That is a 215% jump compared to July 2019. Twitch still led the streaming wars with 1.4 billion hours, a 67% increase over July 2019. Just Chatting led the Twitch categories for the third month in a row.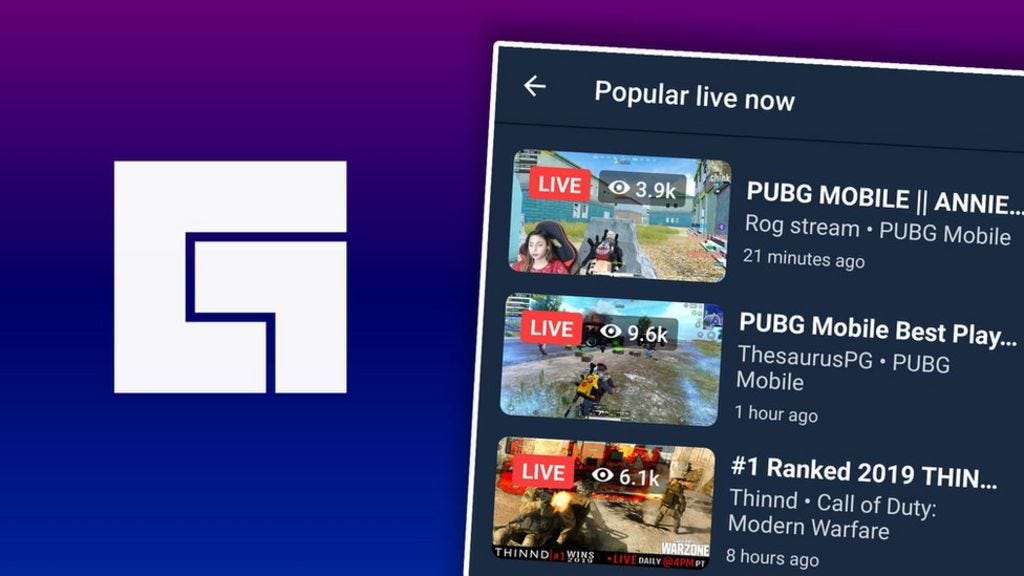 $200M: UCLA is seeking more than $200 million in damages from Under Armour in a breach of contract complaint filed Wednesday. The lawsuit comes as Under Armour has tried to get out of its 15-year apparel deal with the school. Signed in 2016, the deal — worth at least $280 million — is the largest-ever signed by an NCAA school.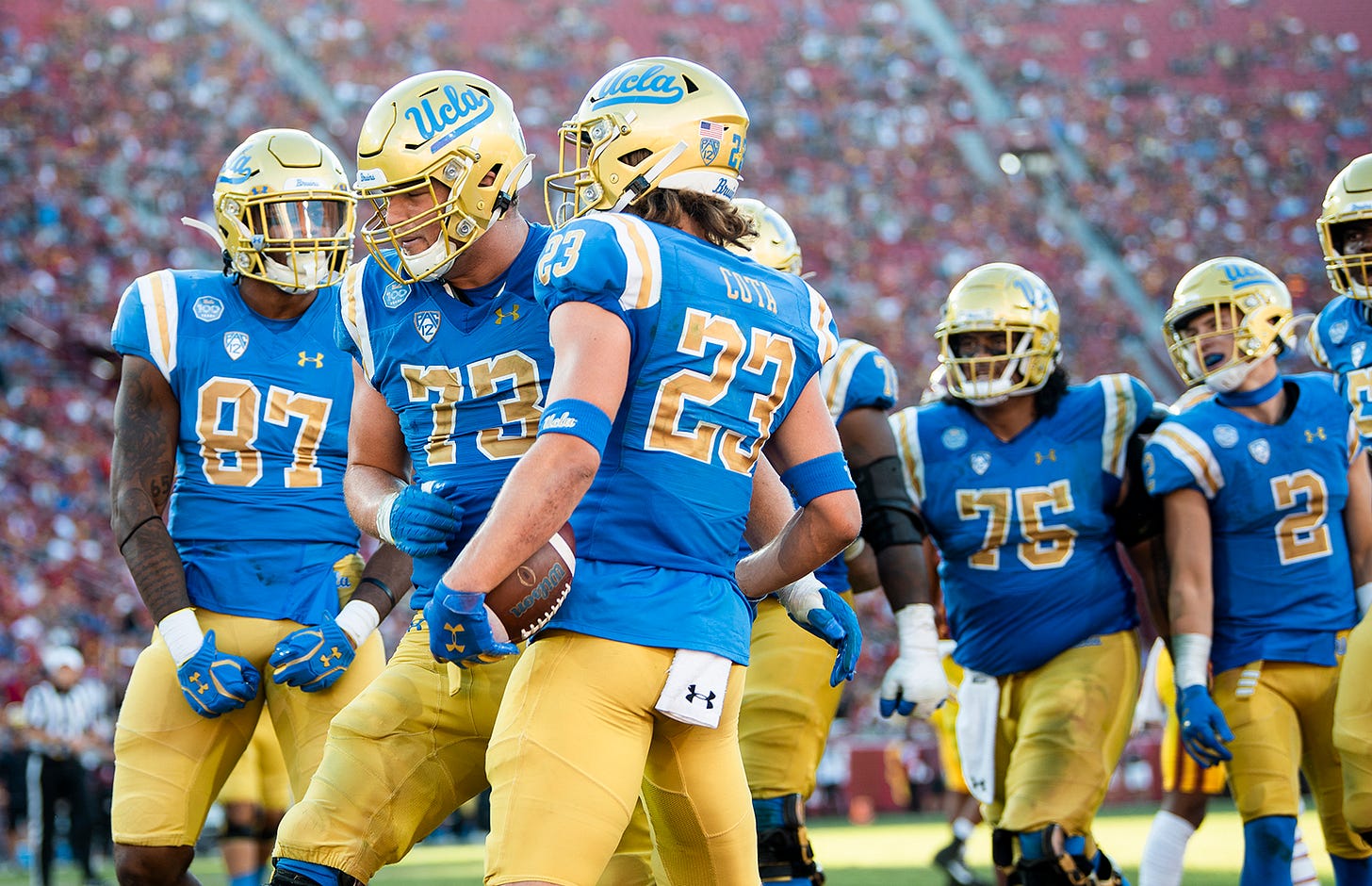 13,000: Hard Rock Stadium has announced that there will be a 13,000 limited capacity for the Miami DolphinsNFL season opener against the Buffalo Bills on September 20.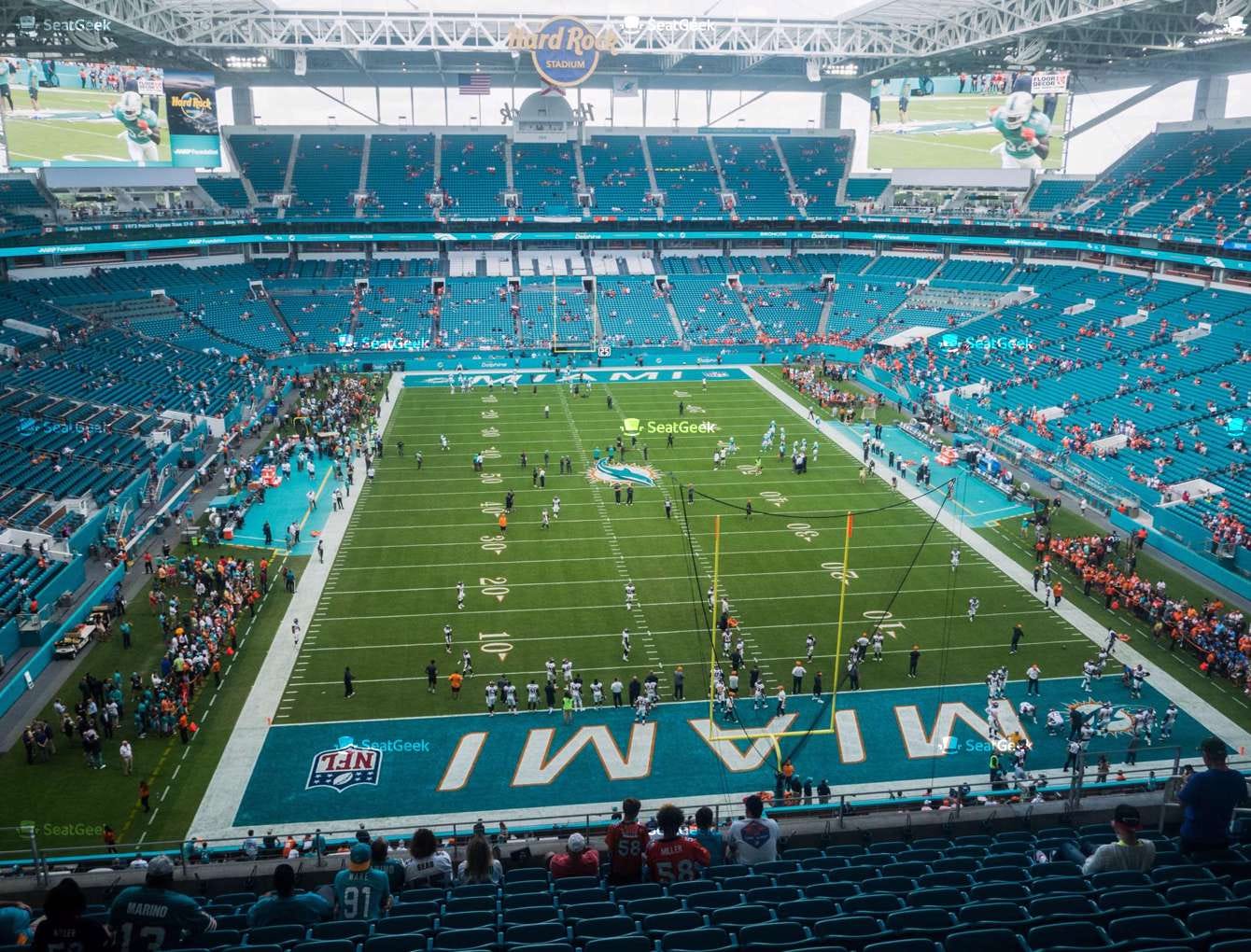 1000: Nike is reportedly ending its relationships with several retailers as the brand focuses on its own digital channels. As Nike's direct-to-consumer platforms grow, it will look to move away from its ties with Zappos, Dillard's, and other retailers making up a collection of approximately 1,000 stores. Approximately 30%, or $5.5 billion, of Nike's revenue in the last reported quarter came from digital sales. It now aims to hit 50%.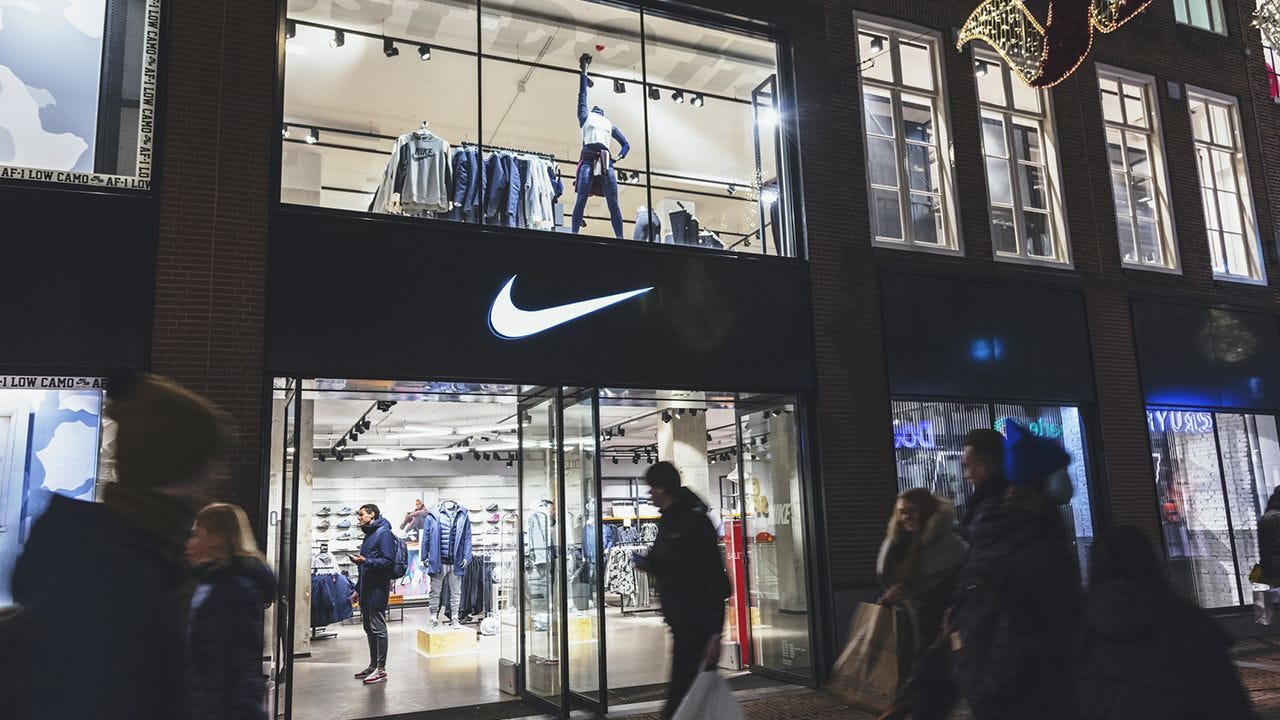 194%: Dick's Sporting Goods had a record second quarter, posting $276.8 million in profit on $2.7 billion in sales. Digital sales soared 194%. Despite store closures for parts of the quarter, online and curbside orders nearly tripled compared to the same quarter in 2019. Digital sales represented 30% of the company's revenue in the quarter, up from 12% in 2019.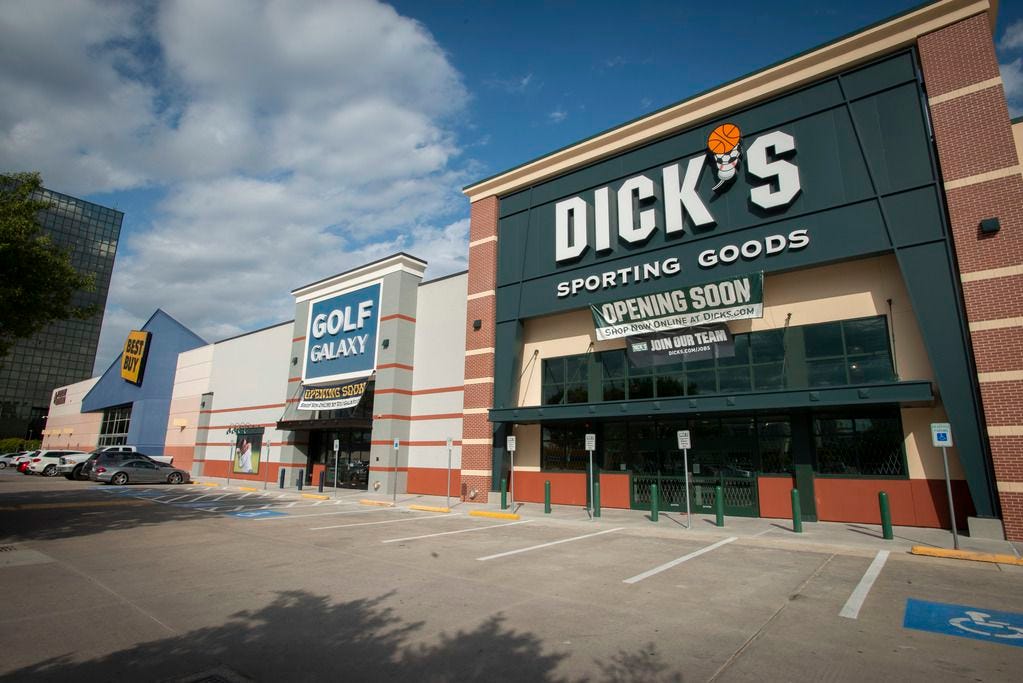 5: Currently, only five NFL teams are planning on having fans attend games in a limited capacity. 
Here is a quick recap:
— Baltimore Ravens said they would not host fans until further notice, after initially hoping for a crowd of 7,500. 
— Buffalo Bills said they wouldn't have fans at their first two home games. 
— Cincinnati Bengals said no fans for their home opener. 
— Both the Los Angeles Chargers and Rams said they will not have fans at SoFi Stadium until further notice.
— Minnesota Vikings said no fans for at least their first two home games. 
— San Francisco 49ers said no fans for at least their home opener.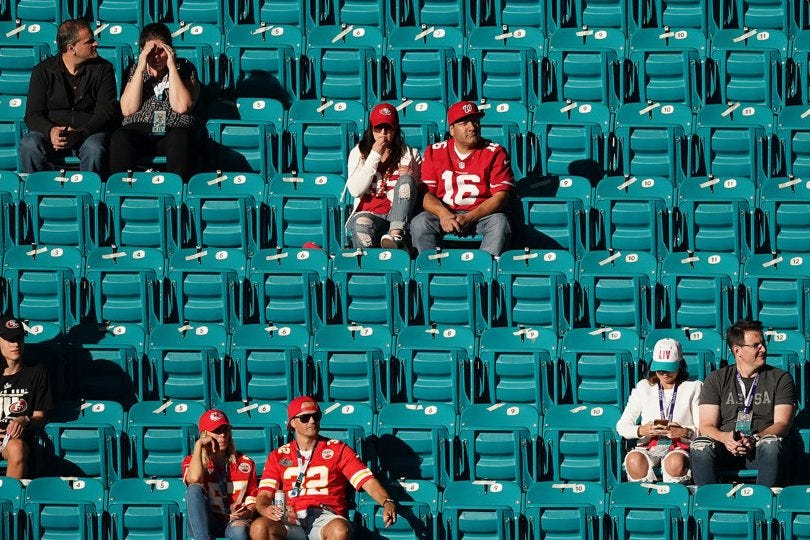 ---
📸 Snapshots of the Week
Sweat patch: Last week Gatorade execs announced on LinkedIn their plan to launch their new sweat patch in 2021.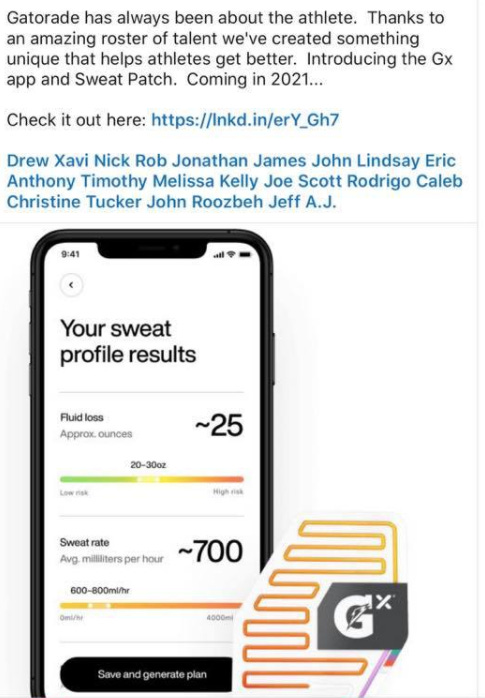 NBA & social justice: As part of the agreement to resume play, the NBA agreed to convert arenas into 2020 voting locations.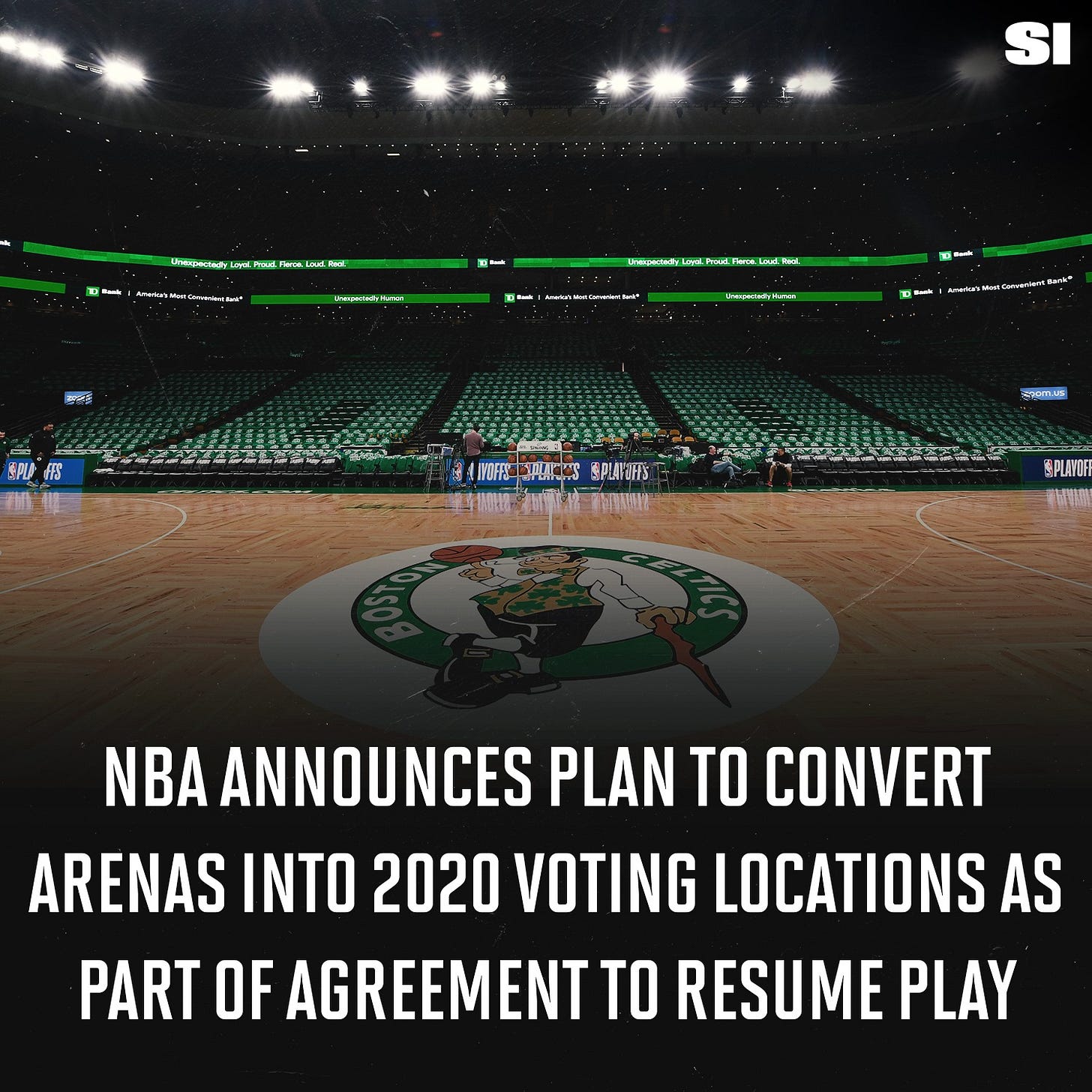 RIP King. This weekend Arsenal FC paid a nice tribute to Chadwick Boseman the actor who suddenly passed away from colon cancer at the age of 43 years old/