Discover more from The Upside Newsletter
Data, insights, and stories from the world of sports, business, and technology.
Over 6,000 subscribers
⚽️ Real Madrid Back on Top as World's Most Valuable Soccer Team
Real Madrid has an estimated valuation north of $4.2B
Dear Friends and Members,
Last Friday, we published our eSports analysis: Hype Vs Reality, in which we where we discussed the segments, key players, and best practices for pro teams and leagues to successfully enter the eSports space. To access this analysis be sure to sign up for our premium subscription by clicking the "subscribe now" button below.
Looking for access all of our previously published analysis, insights, data, podcast interviews, and more? Subscribe now to unlock access!
On Wednesday, we will publish our other podcast interview with Walid Fattah, the CEO of Kourts, a leading tech startup in the world of tennis. On Thursday, we'll also publish our podcast interview with Brendan Donohue, Managing Director of the NBA 2K League. On Friday premium members will also be able to get access to our Tennis Tech analysis, where we will discuss the key segments, players, and trends.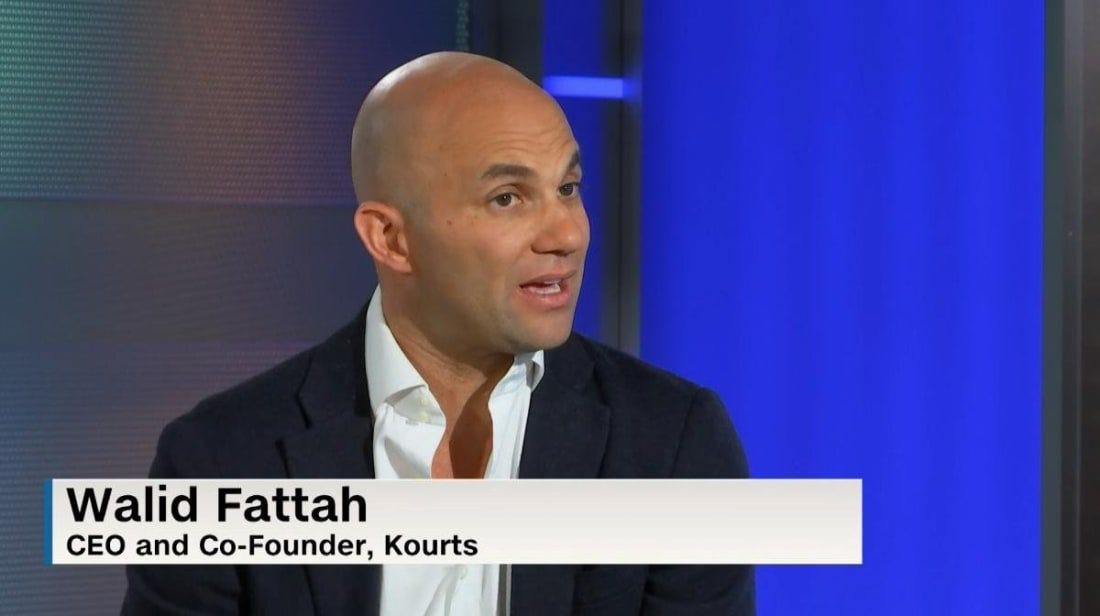 📰 Top Stories We're Reading This Week 
👓 Oculus Quest sold out across multiple retailers
👓 Meta View acquires assets of AR pioneer Meta
📈 Weekly Sports Startup Case Study & ROI: Kinduct & LA Dodgers (MLB)
⌚️Samsung Galaxy Watch 2 is already in development
🔊 Triton 2 will coach you to become a better swimmer with AI
🎮 Rick Fox to remain with Echo Fox in fight to oust investor 
💸 Puma, Cloud9 plan full retail play under multiyear extension
🎮 Re-emerging from the Shadows: McLaren Shadow Project season 2 launches
🏈 Robert Kraft urges public "not to be afraid and stand up" against anti-semitism 
💸 Latest Investment Trends
📊 Tech Stats of the Week
📸 Snapshots of the Week
Let's jump right into the insights and upside for all of these top stories
---
🎮
AR/VR/Video Sports News
👓 Oculus Quest sold out across multiple retailers| Via: Variety
Facebook's new Oculus Quest virtual reality (VR) headset seems to be a hit with early adopters, causing inventory shortages at a number of retailers. A week after its official launch, the headset was sold out at Amazon, Walmart and Newegg Tuesday.
A Facebook spokesperson acknowledged the inventory issues in a statement sent to Variety: "We're so glad to see the excitement and interest in Oculus Quest. While some of our retail partners are temporarily out of stock online, we're working to restore availability in all channels as soon as possible. That said, people can still buy Quest from Oculus.com and from many stores around the world."
Newegg listed both versions of the Quest (64GB and 128GB) as out of stock Tuesday. Amazon listed the 64GB version as "temporarily unavailable," but promised to ship the 128GB version within 1-2 months. Walmart listed both models as unavailable for online orders or in-store pic.
⬆️ The Upside: This should not as a surprise to see the Oculus Quest being sold out at various locations. The price ($400) and specs are very attractive. It is also great news for the VR industry as a whole. It shows that there is a demand for VR headsets that are affordable and have great features. We expect competitors to follow suit.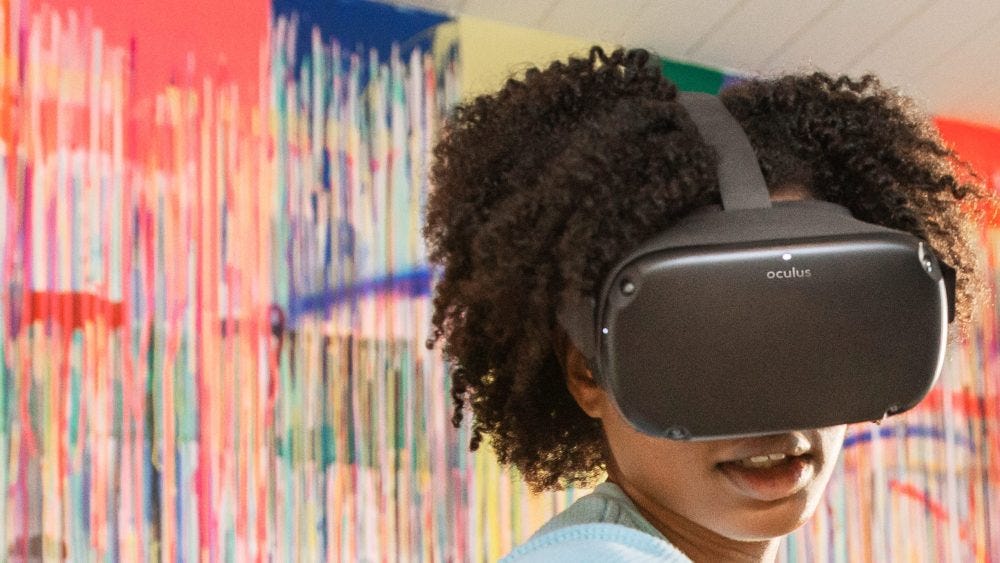 Picture: Facebook
👓 Meta View acquires assets of AR pioneer Meta | Venturebeat
New spatial computing company Meta View today announced it has acquired the assets of Meta, a pioneer in augmented reality head-mounted displays.
Meta, which shut down earlier this year, captured global recognition for its Meta 2 headset and wide field-of-view (FOV) display system that gave users an immersive view of digital content on the physical world.
Former Qualcomm executive and Vuforia president Jay Wright will take the reins as CEO, bringing fresh focus and experienced leadership as he charts the new company's course. San Mateo, California-based Meta View is a wholly new and unaffiliated entity, backed by Olive Tree Ventures and BNSG Capital. The company acquired the intellectual property assets of Meta Company from its lender.
"The potential for spatial computing is intoxicating," Wright said in a statement. "It has fostered a highly competitive and dynamic landscape that I've traversed for more than a decade. This experience and insight have equipped me to identify a different approach, and I couldn't be more excited to build a new company, a new product, and a world-class team to drive it forward."
⬆️ The Upside: We think this is great news for Meta. The company's new CEO brings a lot of knowledge and experience in the AR enterprise space. They also appeared to have identified a specific AR industrial use case which is a good move. That being said, like for any AR enterprise startups, we believe that effectively competing with companies Microsoft Hololens or magic Leap will be a challenge for Meta.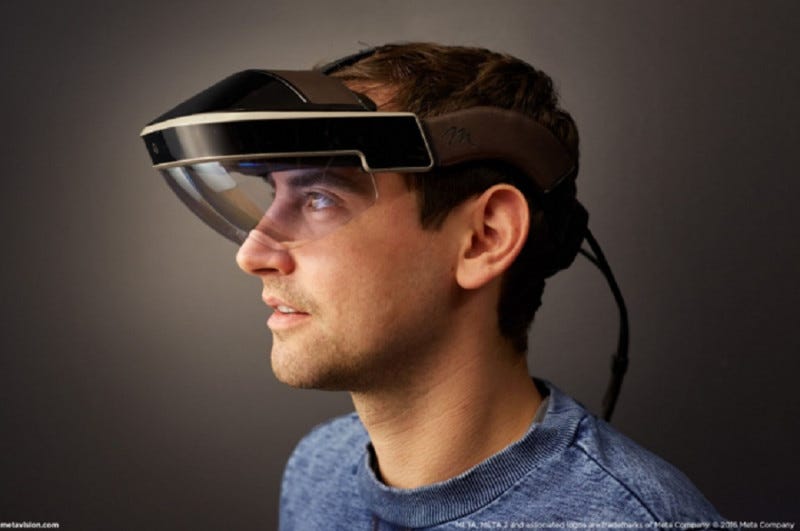 Photo: Meta's original AR enterprise glasses
---
📈
Our weekly Sports Tech Case Study / ROI
Each week we'll highlight a sports tech case study with a technology that helped sports teams get a solid ROI (injury reduction, ticket sales improvement, cost savings, diversity improvement, etc.).
So what's our weekly sports tech case study?
The LA Dodgers were looking for a system to integrate all the teams within their organization together onto one organized platform. The implementation goal was to have 8 teams from the MLB down to the Dominican League using the system. Allowing the sharing of information and enhancement of communication within each team from the medical staff, athletic therapists and the strength and conditioning staff was another use case requirement. With many players being moved within the minor league teams the system was quickly able to bring the strength coaches up to speed on the current training status of the player.
Solution and Benefits: Kinduct's system gives the Dodgers ability to provide and share information throughout the entire organization from top management, down to current roster players. Brandon McDaniel was able to sit down with one of Kinduct's Client Success Managers, to figure out a solution as to how the AMS platform was going to work the most efficient for the baseball club. With the Dodgers swinging at full force, here were some benefits they gained from Kinduct.
Communication with the Dodgers internal database to create reports linking performance baseball data from the games to workload metrics from practice and the weight room.
Integration of MLBAM Statcast information to look at pitching, hitting and fielding values.

Tracking muscle soreness from the players to identify potential scenarios of excess volume or maladaptation to training stimulus.

Establishing a consistent medical screening/performance testing database to evaluate year to year performance of player while allowing the comparison of players to track the development of upcoming prospects.

Providing recommended meal plans and nutritional menus for players in the offseason.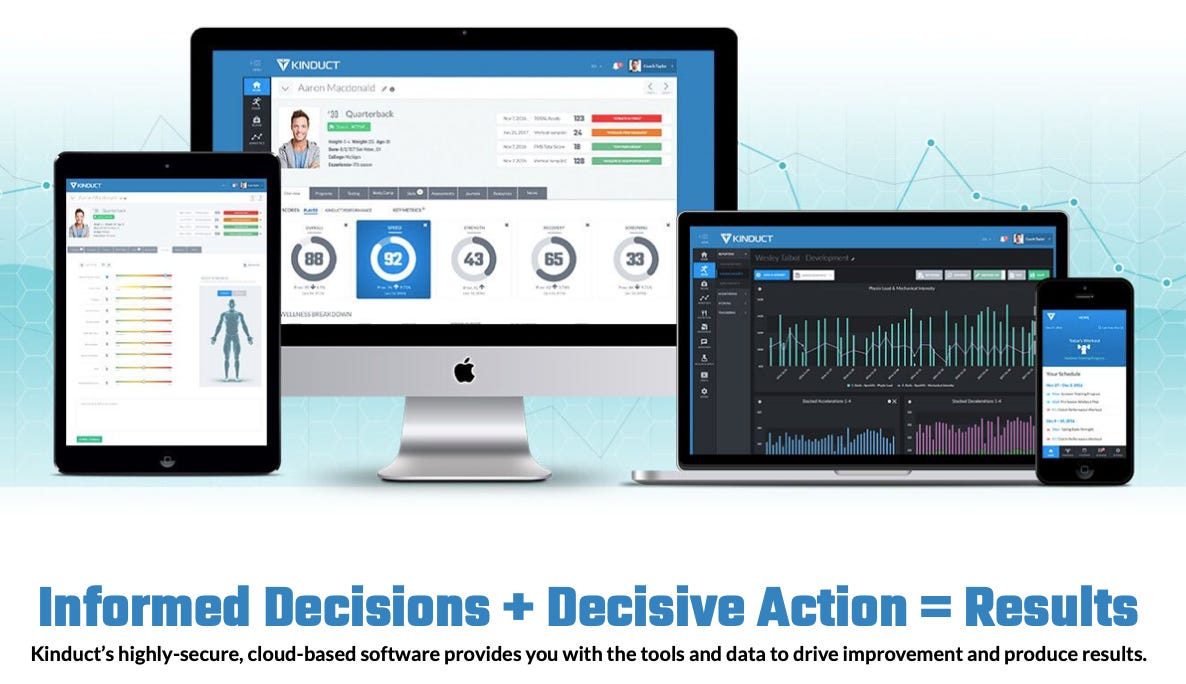 Picture: Kinduct
⬆️ The Upside: We believe that companies like Kinduct have built great platform capable of helping coaches prevent potential injuries by leveraging the myriad of wearables out there. Kinduct also helps sports organizations be more efficient. It is also worth point out that Kinduct has done a great job building its business in North America, but we believe that her solutions could appeal to many pro teams and academies in Europe.
---
🚑 Wearables, Health, Nutrition News
⌚️Samsung Galaxy Watch 2 is already in development | Via: Wearable
Samsung is reportedly already working on the next Galaxy Watch smartwatch, with details suggesting the next generation watch will get some 5G love.
The usually reliable folks at Sammobile claim to have the first evidence from sources, offering model numbers that are tied to the new smartwatches. That's SM-R820 and SM-R830 for the Wi-Fi and Bluetooth versions, and SM-R825 and SM-R835 for the LTE versions. So, it looks like there will be two versions, just like the first Galaxy Watch.
There may well be a Galaxy Watch 5G option, too, with SM-R827 and SM-R837 model numbers speculated to be linked to what could be Samsung's first 5G-ready smartwatch.
There are no details on what the new watches will look like, or whether they'll come in the same 42mm and 46mm sizes as the current models. We do appear to know the color options, though, with the watches said to come in black, silver and gold and with more colors possibly available closer to launch.
The only other bit of information shared is that it will feature 4GB of internal storage, which would mean it matches what pretty much every Samsung smartwatch has offered in the storage department.
⬆️ The Upside: This should not come as a surprise to see the Samsung Galaxy Watch 2 likely to be embedded with 5G. However, if true it will be interesting to see what will be the impact on the battery life and the price of the smartwatch.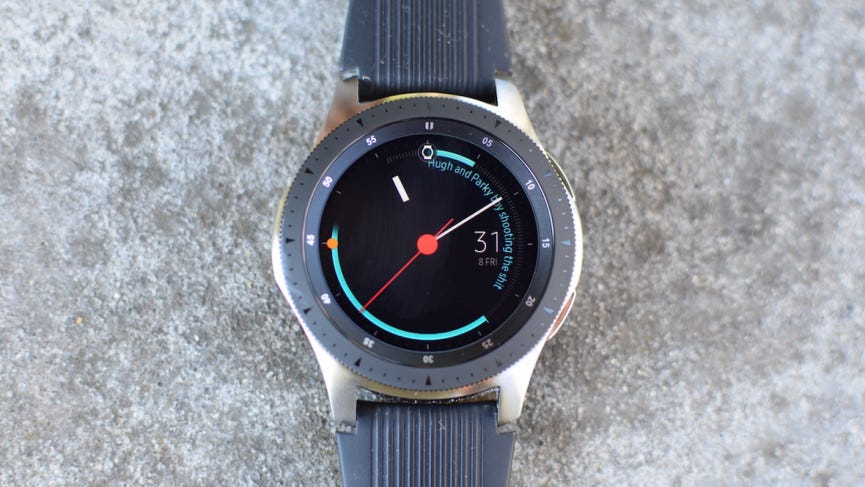 Picture: Samsung
🔊 Triton 2 will coach you to become a better swimmer with AI | Via: Wearable
Canadian startup TritonWear is ready to upgrade the swimming wearable it launched back in 2015 in the form of the Triton 2.
Like the first version, the device is still worn underneath your swimming cap or clipped to your goggles analyses your stroke based on the movement of your head. It can monitor key swim metrics like push-offs, turns, breathing events, dolphin kicks underwater, breakouts and more.
That data is sent wirelessly to a secondary, poolside unit called the Triton Connect. This then sends the data over Bluetooth to the coach or swimmer's tablet, where it's presented in real-time as graphs rather than as a stack of numbers to trawl through. others, the documents show.
If you fancy giving Triton 2 a try, you can pre-order it now from TritonWear's website setting you back $149 per year for one unit. If you want to add motion analysis to better analyse swim technique, that adds on an extra $39 onto that yearly total.
⬆️ The Upside: We think this is a great tracker for swimmers. $149 is a reasonable price for this type of tracker. That being said there are other trackers for swimmers out there such as Swimmo, the Moov Now, the Apple Watch 4, the Samsung Galaxy Watch, the Fitbit Versa also have some swimming tracking capabilities.
---
🎮 eSports & Crypto-Currency News
🎮 Rick Fox to remain with Echo Fox in fight to oust investor | Via: eSports Observer
Last week former NBA star and top esPorts investor NBA Rick Fox said that he will stay with Echo Fox amidst a fight to remove a shareholder who used racist comments towards him.Fox previously said that he planned to depart the team following the comments and threats to his family. In mid-May, Riot Games directed Echo Fox to remove the investor within 60 days or face potential consequences in the League of Legends Championship Series (LCS).
"My initial exploratory decision of leaving the organization I started—because I personally cannot support or be a part of something where there's an individual in the organization that is blatantly as racist as this person is, or that is also threatening my family. I don't want to be a part of that," said Fox on The GG Podcast. "I've decided over the last few months to change that approach of leaving."

"For me, I think it's important not only when there's injustice in society, that we not only point to it, that we not only expose it, that we not only put a light on it, that we don't stand for it," he continued. "But at times, if you don't pick up the fight yourself, there's a chance that that situation or that individual may go on to hurt others—may go on to continue to think that it's OK to conduct themselves that way. And so I made the decision that I'm going to fight […] to get this person out of Echo Fox, to get our company in a situation where it moves forward."
⬆️ The Upside: We think this is a good move by Rick Fox as he is a key player in the eSports industry. We believe that Rick Fox has been one of the reasons why many athletes and celebrities has invested and been involved in the world of eSports. It is also important that Rick Fox stands for what what he believes in.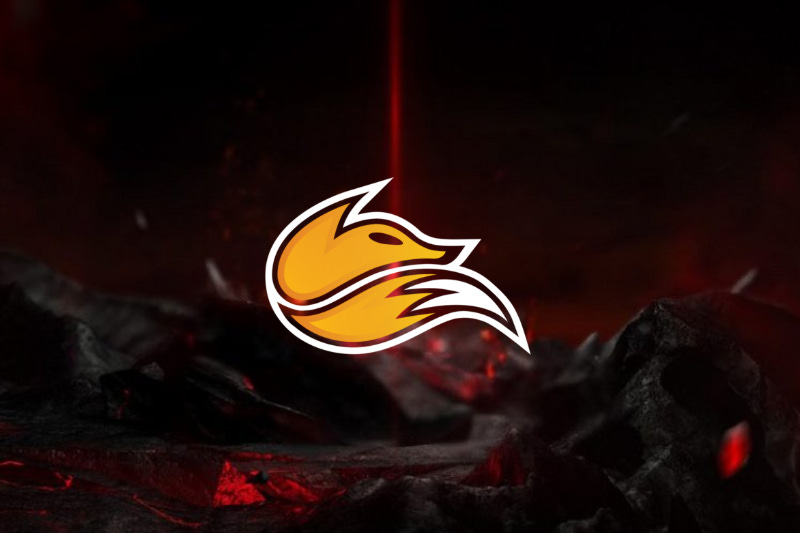 Photo: Riot Games
💸 Puma, Cloud9 plan full retail play under multiyear extension | Via: eSports Obverver
Puma has signed an expanded sponsorship with Cloud9 esports, locking in a multiyear deal to develop a full apparel collection, and claim the apparel/footwear category for the entire organization except for its Overwatch League franchise.
Precise terms were not disclosed, but the parties said it is an "eight-figure" deal. The prior Puma-Cloud9 deal, announced in January, only covered the League Championship Series  (LCS) League of Legends team for the spring season. 
Cloud9 lifestyle apparel will be available by September on Puma and Cloud9's websites to start, and in the Puma flagship store in New York. The goal, said Puma team head/digital marketing & gaming Matt Shaw, is to have the Cloud9 line across Puma's global retail channels by early summer of 2020.
"This is a big step in a new direction and one we're really excited to take," Shaw said.
Puma will also be developing custom products for Cloud9 team members to be worn "off stream and on stream," Shaw said. The deal is limited by Riot Games'  league-level apparel deal with We Are Nations, which produces and sells LCS jerseys that include a Puma logo, and by the Overwatch League's league-level apparel deal with Fanatics, which blocks Cloud9's London Spitfire  team brand from Puma. The Puma logo also appears on a generic Cloud9 jersey. Under this deal, Puma will make all Cloud9 kits other than LCS.
⬆️ The Upside: We think that this deal makes a lot of sense. Puma can leverage the growing popularity of eSports and Cloud9's solid brand in the eSports world. For Cloud9, it is a good deal financially speaking, and they can leverage Puma's solid brand recognition globally, as well as its expertise in sports apparel products.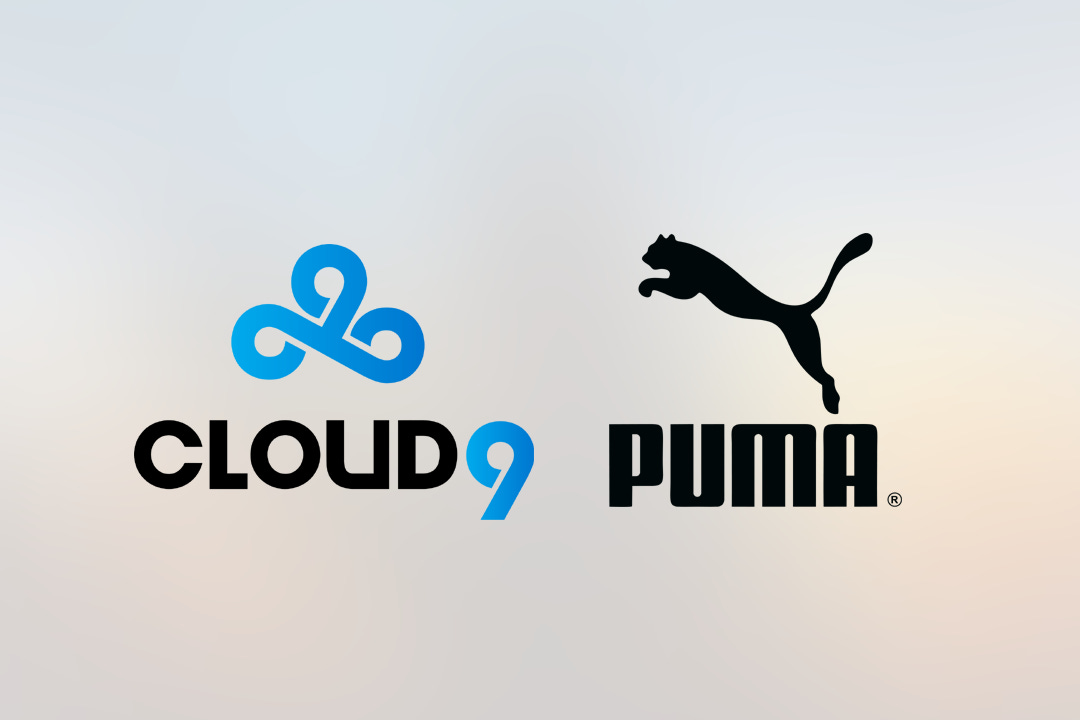 Picture: Cloud9/Puma
🎮 Re-emerging from the Shadows: McLaren Shadow Project season 2 launches
Last week, McLaren announced the season 2 launch of the McLaren Shadow Project, the most inclusive and diverse esports racing competition on the planet, which attracted more than half a million competitors in 2018. The competition format, which will span multiple games and platforms, continues McLaren's search for the brightest and best racing talent in esports.
From early July, gamers around the world will be able to enter qualifiers via mobile, PC, and console on the respective titles - Real Racing 3, rfactor 2 and Forza Motorsport 7 – as well as via multiple rounds of the Logitech G Challenge around the world to be in with a chance to be crowned the 2019 McLaren Shadow Project Champion. The prize offers winners once in a lifetime experiences and prizes including a seat on the McLaren Shadow esports team and access to the McLaren DNA driver development programme. In addition to going racing with McLaren, the champion will have a custom sim-racing set up installed in their home with help from McLaren Shadow Project partners, Logitech G and Alienware.
Alongside the online qualifiers, motorsport fans and racing gamers will have more opportunities to engage with McLaren Shadow Project in key markets across the world. Physical qualifiers will also be taking place later in the year with details to follow soon.
Winners from each qualifier will be invited to the McLaren Technology Centre in Woking UK in early December for the grand finals. As well as game play, finalists will be put through their paces in a programme that truly shadows McLaren's real world. They will be put through the same tests an F1 driver faces by the Human Performance division of McLaren Applied Technologies, and even get out onto a real-world track behind the wheel of a McLaren Automotive supercar.
In January 2019 20-year old Brazilian Igor Fraga won the McLaren Shadow Project. Igor has over 16 years of racing experience, competing in more than 200 races across multiple platforms and spanning four continents in his trailblazing career. His journey has taken him from karting through Formula 3 to esports and sim racing, with an unrelenting ambition to one day reach Formula 1. He is currently racing in the all new European F3 Regional Championship.
Alongside searching the elite end of the talent pool, this year's programme is also focused on engaging a broader, more diverse audience with the fun of racing gaming – with new initiatives including a monthly magazine show, keep an eye on mclaren.com/esports over the summer as these initiatives are announced.
Ben Payne, Head of esports at McLaren commented:

"We've said before that the transference of skills between virtual and real racing are both direct and profound. Seeing both Igor and Enzo [Bonito – another member of the McLaren Shadow team] racing single seaters is incredibly exciting, and we couldn't be more excited to launch the second season of the McLaren Shadow Project.

"Following the success of last year's competition, we've been working hard off-season with our best-in class technology and gaming partners including Logitech G, Alienware, Sparco and Huami to deliver a format and prize that excites and engages gamers and fans around the world. We are looking forward to the qualifiers kicking-off soon and seeing who we get through the qualifiers to join us at finals in December."
⬆️ The Upside: We think that this is a great move by McLaren (F1) which has become a key player in the eSports space. McLaren is a great example of how a sports organization can successfully enter the eSports market. You can listen to our podcast interview with Ben Payne, the head of esports at McLaren here.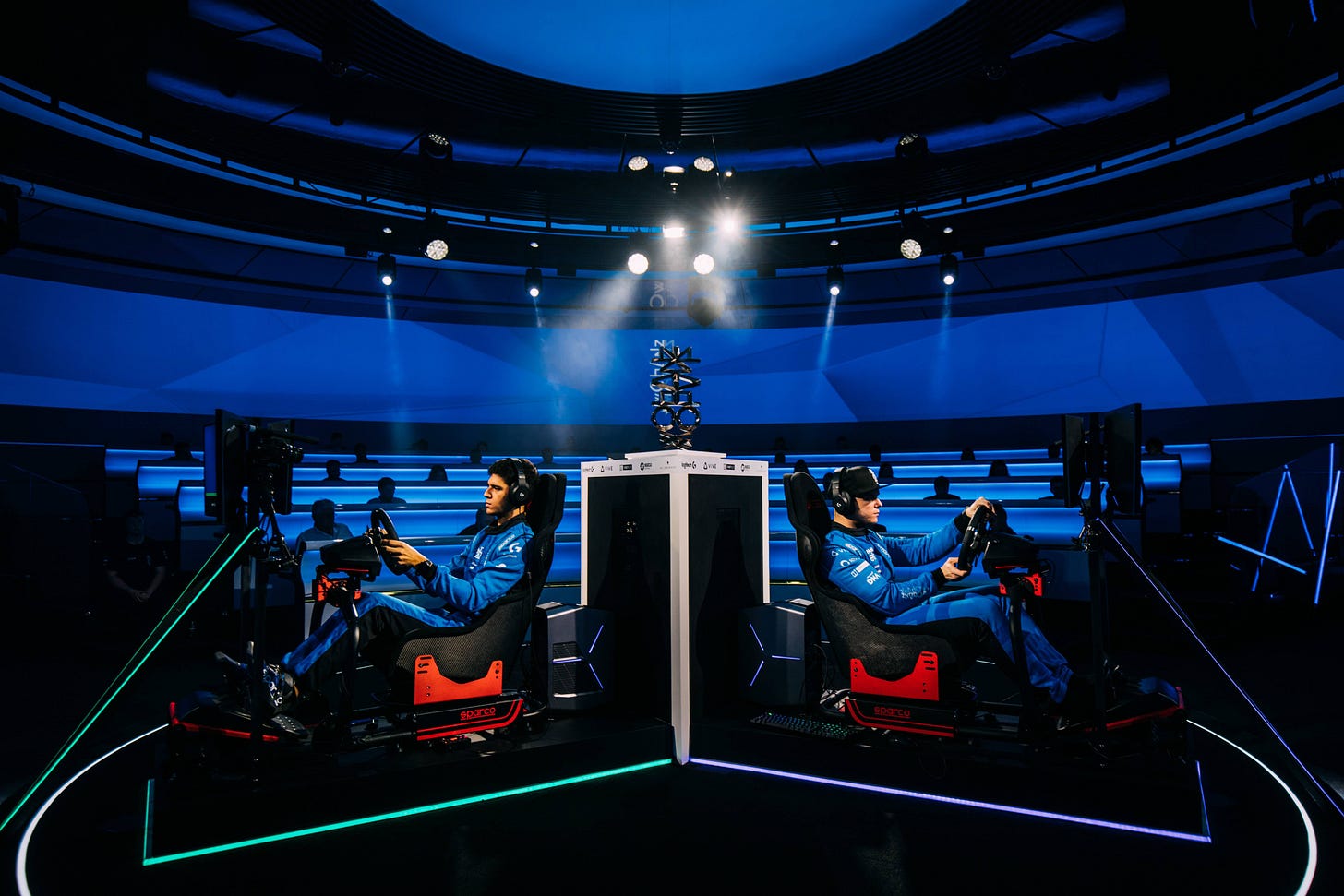 ---
🙌🏻 Social Impact Sports Tech News
🏈 Robert Kraft urges public "not to be afraid and stand up" against anti-semitism | Via: CNN
Robert Kraft has warned that failure to tackle anti-Semitism will open the door for other forms of racism and discrimination to flourish with the help of social media.
Kraft, owner of NFL franchise New England Patriots, stepped up his fight against anti-Semitism two weeks ago after his Major League soccer side New England Revolution team hosted Premier League Chelsea in a game that raised over $4 million for groups fighting against hate.
The match, which drew an attendance of around 25,000 at Gillette Stadium two weeks ago and was also attended by Chelsea owner Roman Abramovich, comes at a time where anti-Semitic incidents in the US have remained near historical levels in 2018 after surging the previous year, according to an annual report from the Anti-Defamation League.
"I think it's unfortunate in today's world that we still have this hatred," Kraft told CNN Sport when asked about the rise in anti-Semitism and the deadly attacks on synagogues in Pittsburgh and Poway, California.
"I think part of it is the growth of social media and the lack of discipline or being able to control people who are out of control in that area and can just say anything and it becomes fact.

"I believe humankind basically wants to do the right thing and that's what we have to do, to appeal to, and not be afraid to stand up. It's anti-Semitism today but that just opens the door to everything and so that's where we're at."
The decision by Kraft and Chelsea to hold a charity match came in the aftermath of last October's attack in Pittsburgh.
"When we saw this event happen in Pittsburgh we mutually wanted to do something to show our respect and concern and so it was really magnanimous of him (Abramovich) to bring his team here, especially when they are still competing for the Europa League and fly over here for seven hours," Kraft, who watched the game alongside Abramovich at Gillette Stadium, told CNN.
"They've visited schools, been to the Holocaust memorial in Boston, they were all at my home last night, both teams for a program. A lot of people talk about things but Chelsea actually does it and stands behind it.

"Chelsea has been a great role model and show great leadership and a great partner. We are honored to do this. I think it has turned out pretty well."
⬆️ The Upside: We think this is a great move and a great initiative by both Robert Kraft and Chelsea FC. Anti-semitic incidents are a real problem. In fact, according to this year's figures from the ADL, which tracks such incidents across the United States, 2018 was the third-highest year on record for assault, harassment and vandalism against Jews since the audit was begun in 1979. There were a total of 1,879 attacks against Jews and Jewish institutions across the country, according to the report.These numbers are down slightly from the 1,986 anti-Semitic incidents in 2017, the ADL said.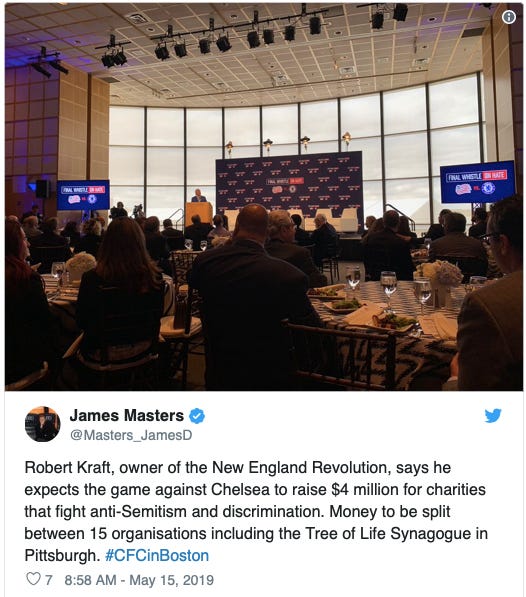 ---
💸 Sports Investment Trends — June, 2019
Meta View acquires assets of AR pioneer Meta. Read on here.
---
📊 Key Tech Sports Stats of The Week
$4.24B: Real Madrid is back on top of the rankings with an estimated valuation north of $4.2B, and is now the world's most valuable soccer team in the world, according to Forbes. Barcelona ranked second ($4B), followed by Manchester United ($3.8B), Bayern Munich ($3B), and Manchester City ($2.69B).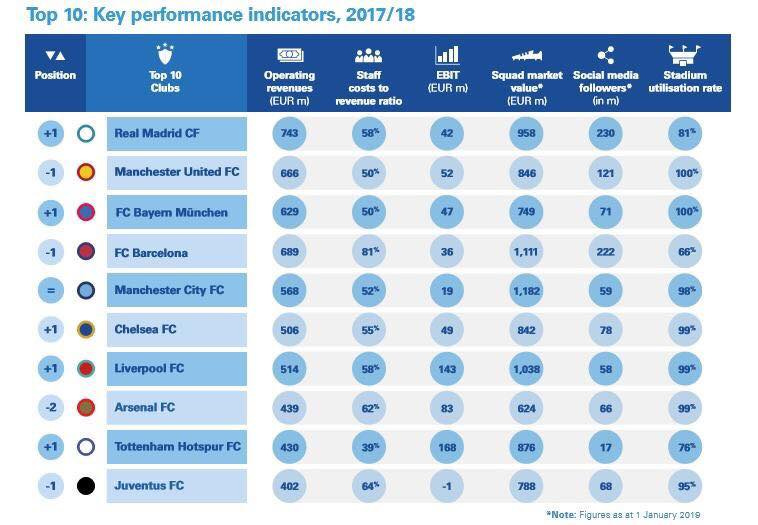 $1.75B: The 20 most valuable soccer teams are worth an average of $1.75B, 3.4% more than last year.

$499M: The average revenue for the 20 most valuable teams during the 2017-2018 season was $499M.
14.7M: According to Bob Hardt, about 14.7M people went to Broadway shows last season. That's five million more people than went to Yankees, Mets, Knicks, Nets, Rangers, Islanders, Giants and Jets games combined.
26.8k: Major League Baseball's overall average attendance of 26,854 is 1.4% below the 27,242 through a similar point last season, according to the AP.
71%: The winner of Game 1 of the NBA Finals has gone on to win the NBA Finals 71% of the time. 
25.8%: The Apple Watch is helping the company rule the wearable roost in 2019, according to the latest report from analytics firm IDC. In 1Q19, Apple captured 25.8% (12.8M units shipped) of the wearable space, followed by Xiaomi (13.3% or 6.6M units shipped).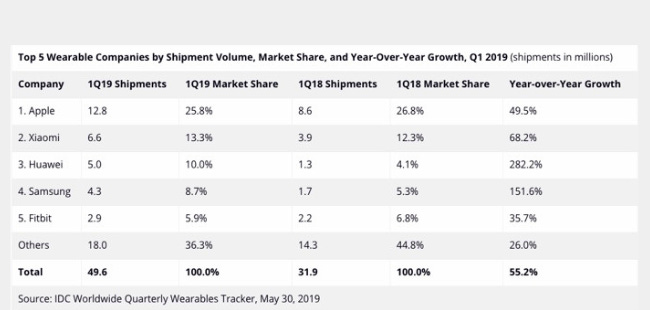 -14%: TV Viewership for the NBA playoffs down -14% heading into the NBA finals. Across 76 telecasts on ABC, ESPN, TNT and NBA TV, this year's playoffs are averaging 3.95M viewers, compared to 4.61M viewers over 78 games through the same point last year.
6: Liverpool FC, after beating Tottenham FC in the champions league final this weekend, has now won 6 Champions Leagues finals.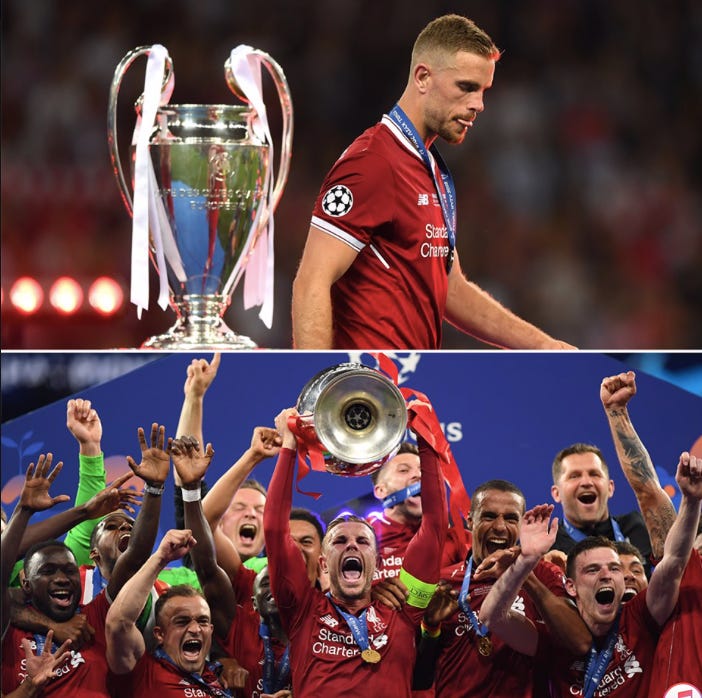 ---
📸 The Upside: Snapshots of The Week

FinTech company SoFi is reportedly set to put their name on the new home of the Rams and Chargers in Los Angeles. According to Don Muret of VenuesNow, the deal, which has not been officialize yet, is worth $400M+ over the course of 20 years.