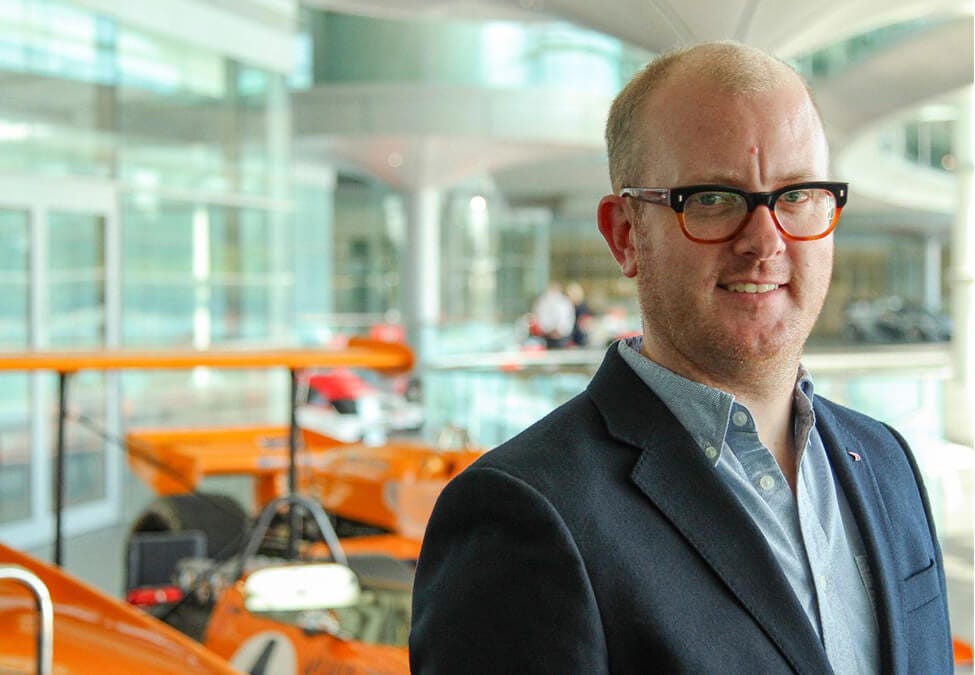 Ben Payne, Director of Esports at McLaren
This week we had the honor to interview Ben Payne, the head of eSports at McLaren, a top F1 team.
📝Show Notes: Throughout our conversation, we talked about McLaren's decision to enter esports, the response from their fans so far and the impact on their business, the recipe for success for a sports organization to enter the  esports market..and McLaren's goals in the eSports space in the coming years.
🚀Best Quotes: Here's some of the key discussion points and best quotes from our conversation with Ben:
On McLaren's decision to enter eSports: "Back in 2017 McLaren became the first Formula 1 team to enter esports. The reasons for that were kind of threefold. We were very keen to make sure that we were engaging the younger end of our fan demographic with content that was engaging and dynamic, and gaming and esports seemed to be a good opportunity for that. We wanted to be showing that McLaren continues to be at the bleeding edge of all technologies. As a group we also have McLaren Racing, McLaren Automotive, and McLaren Applied Technologies, and gaming is a sphere we've been in for some time, by licensing obviously, but from an esports perspective that seemed to be key as well. But also, the third reason was because we wanted to be able to tell stories with our partners outside of F1 in a new and dynamic way as well. So esports was kind of the perfect sweet spot for that. And so in 2017 we launched World's Fastest Gamer, which worked very well, and then in July of last year we moved into Shadow, which has been a phenomenal success so far".

On the response from McLaren's fans since they entered eSports: "I think our fans have been really delighted with the risks we've been taking over the last two years (..) The fans have enjoyed the content we've been able to publish around it. And we streamed over nine hours of content last year on our YouTube channel. And they've enjoyed engaging and picking their champion. Normally you just get to pick between Carlos Sainz and Lando Norris as a McLaren fan, but in January, in our finals, we had seven guys up there. (..) So our fans have really enjoyed it. They've appreciated the fact that we are evolving (..) Now when we launched Shadow, we gave away a seat on our esports team, and we've had half-a-million entrants to the program last year".

On how their eSports competition has changed the lives of some of the contestants: "When we launched World's Fastest Gamer back in 2017, we offered the best job in esports, an opportunity for somebody to become a Formula 1 simulator driver at McLaren, enter one of the most secretive spaces in our building to help our Formula 1 team build the most competitive car that we can. (..) And a 25-year-old kitchen-equipment salesman from Holland went from selling that stuff just outside Amsterdam in December to racing against Le Mans winners in the February of the following year. And we changed Rudy's life. Rudy van Buren won that first competition, and did a bunch of time in our simulator and helped the team immensely. And we also managed to give him some other life-changing opportunities driving our cars around the world".

On the opportunity for their eSports gamers to see how McLaren HQ operates through the eSports competition: "The fact that they can therefore sort of hone their skills and be competitive and then have a chance to come here, to McLaren HQ, in Woking, UK, and be put through the hardest job interview in esports by a bleeding-edge, world-leading human-performance scientists and technicians and mechanics and engineers, racing our cars on track, and then doing a bunch of racing, that is quite an enticing opportunity, that's a once-in-a-lifetime opportunity, to see behind the veil of how a Formula 1 team operates. And our finalist last year really enjoyed that'.

On the physical demand that is required by its eSports gamers: "The physical demands of our athletes far exceeds those in other esports spheres. That's not to demean those guys in any way. I've been to Katowice and seen Counter-Strike being played for seven hours. That's an insane effort by 10 guys. And you doff your cap to them (..) We recently did a 12-hour Sebring race. That's a long time to be in that sled, putting in highly competitive laps, when your average speed is 195 miles an hour, all right? That's quite a physical undertaking, and so therefore our athletes have to train for that level of endurance. Now I'm not saying they're going through the exact routines that Lando and Carlos would do for us. I'm not saying that at all. I'm just saying that what they are doing is they have to keep themselves fit, and they have to keep themselves as light as possible because these sleds are compact and they need to go racing in two/three-hour stints at a time, at serious pace. And so therefore their preparation is important".

On the fact that its eSports gamers have to go through a similar human performance training that its F1 drivers would do: "When we've taken guys here for human-performance work, they are going through the exact same human-performance operations and exercises that our Formula 1 drivers would do. And some of those are not physical. So, there's footage circling that we've put out, of the guys with those neck braces on, or head braces, so you can check their neck strength. It's all that's used by Formula 1 drivers. I've seen Lando and Fernando and Danny, and the guys check those neck muscles. We put the guys through that, but we also did cognitive work with them as well".

On the recipes for success for a team to enter the esports market and avoid getting out of the esports market too quickly due to lack of instant ROI: "I think you could ask 150 executives in the esports community what they think and you'd probably get 150 answers. I've been at McLaren for 18 months and I feel like the one takeaway I would give at this point is that one needs to walk before you can run. We live in a start-up society, and that's great. And you can see the advancement of a whole number of entertainment entities in that timeframe. I love it. But I think that you do see people stretched too thin too quickly, which leads to what you're describing (..) The recipe for success is to be transparent with your partners and your internal stakeholders as earlier and as regularly as you can be, and as honest with yourself as you can be. And hopefully success will be in your future. But certainly there's never any quick wins in this business, and there's an awful lot of blood, sweat, and tears that need to go into it. And I think everyone who is successful in this industry has had those times where they've had to really roll up their sleeves, and we're no different. And, actually, we're proud to be wiser for that experience, and I'm looking forward to the third year of our esports program".

On the need to operate an eSports team as a business: "I think what you need to do is you need to build yourself a way of operating on a budget that is feasible for that 12-month period (..) We check in with our finance teams here at McLaren Racing as regularly as Gil de Ferran and Zak Brown do with their various parts of their racing business. We are all held accountable to the money we bring into the business and spend on behalf of the business. And therefore you have to operate within agreed terms (..) We don't have the opportunity to play for hundreds of thousands of dollars as regularly as teams like TSM or Fnatic or Team Liquid would do. We go racing occasionally. But overhead costs are expensive. This kit is expensive to buy, to maintain, and to ship. And also your athletes have day jobs in this sphere. There's not a great deal of racing esports athletes who are full time. They will have a day job of some capacity, to keep ends met. And so therefore you have to manage your team as transparently as possible".

On McLaren's future plans in eSports: "We want to continue to build the racing esports audience, and we are absolutely devoted to try and make that audience as big as it possibly be. And we have KPIs in place, which, obviously, I won't share, but are competitive over the next sort of four years. We do five-year planning process at the back end last year. And there's strong growth forecast there for the audiences that we want to showcase, the partners we partner with and bring on board in that timeframe. So we want to continue to have the biggest, most open and diverse racing esports program on the planet, which we are thinking we are right now, but we think that there is more growth out there".

On the impact eSports has had on McLaren's business so far: "I think the impact that esports has had on McLaren's whole business is just about showing a different way of approaching the sort of sports model from a delivery and promotional perspective. We've done 50-years-plus of F1 racing here in McLaren, and we're sat in a building that's testament to that sort of level of success over many decades. Esports is still very embryonic, so we are always asking the question of why when we're internal, because we're a fresh, new team that is doing things very differently to teams that who've been doing things at the same way for a long time and very successfully".